The global trailer axle market was valued at $5.93 billion in 2021, and is projected to reach $9.36 billion by 2031, growing at a CAGR of 4.8% from 2022 to 2031.
The COVID-19 crisis has created uncertainty in the market, owing to major impact in the supply chain, falling business confidence, and increasing panic among the customer segments. Governments across the world announced total lockdown and temporary shutdown of industries, thereby adversely affecting the overall production and sales. Countries around the globe imposed stringent restrictions ranging from days to months of lockdown periods. Owing to this pandemic, many businesses have been halted and are still waiting for the market conditions to improve. For the trailer axle market, the year 2020 is estimated to be a negative performing year, owing to the decreasing demand and supply outlook from the COVID-19 crisis restrictions in end-use industries such as manufacturing, electronics, and textile & apparel, construction industries among others. Demand from end use industries has reduced as there is limited operational activity. The overall production activities of these industries have declined, owing to operations with limited workforce capacity and inadequate health safety measures. This expected weak business performance directly impacts the overall sales of the trailer axles. The spread of the COVID-19 pandemic has negatively impacted the global trailer axle market, owing to decrease in the number of new trailer orders, decrease in the production of trailers, and commute restrictions. For instance, the top 25 trailer manufacturers built 211,807 trailers in 2020, down 34% from the 322,341 units built in 2019. In addition, Hyundai Translead of San Diego, California built 34,739 truck trailer in 2020, down 47% from 2019.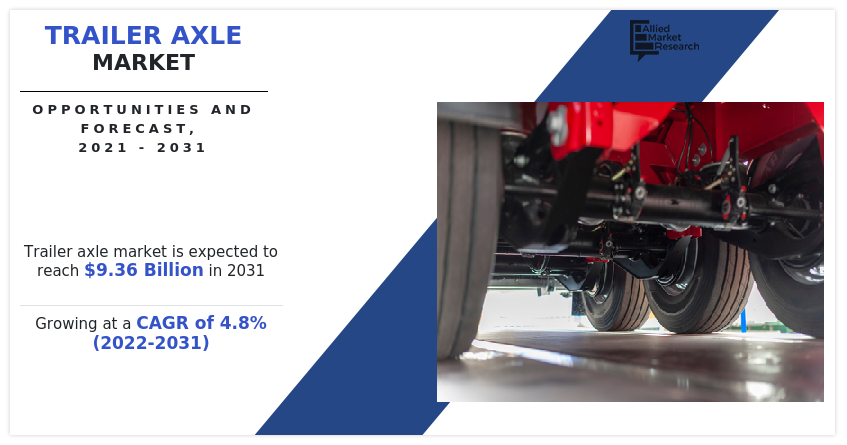 Axle is a central shaft utilized for rotating the wheels as well as support the weight of the vehicle. It is an essential component in automobile and is categorized into three types such as front, rear, and stub. The axle is controlled by the movement of the steering in the vehicle. It is utilized in cars, trucks, trailer, buses, and other vehicles. In addition, axle types used in trailers are of two types such as leaf spring axles and torsion axles. Spring axles uses a spring to support the trailer and load. Spring axles are inexpensive and relatively easy to maintain. Torsion axles are made up of a square spindle surrounded on all four sides by rubber. The spindle is connected to torsion arms that then attach to the wheels.
The growth of the global trailer axle market has propelled due to expansion of automotive & transportation industry, introduction of e-axle in trailers, and introduction of emission regulations for transport refrigeration units. However, fluctuating prices of raw materials used for manufacturing of axles is the factor restraining the growth of the market. Furthermore, increase in use of lightweight material for manufacturing of axle is the factor expected to offer growth opportunities during the forecast period.
The trailer axle market is segmented on the basis of trailer type, axle type, capacity, application, sales channel, and region. By trailer type, it is segmented into dry van & box, refrigerator, chemical & liquid, tippers, flatbed, and others. By axle type, it is classified into single axle, tandem axle, and three or more than three-axle. By capacity, it is fragmented into lower than 8,000 lbs, 8,000-15,000 lbs, 15,000-25,000 lbs, and more than 25,000 lbs.
By application, it is bifurcated into lightweight trailers, medium-weight trailers, and heavy trailers. B sales channel, it is fragmented into original equipment manufacturer (OEM), and aftermarket. By region, the report is analyzed across North America, Europe, Asia-Pacific, and LAMEA.
Some leading companies profiled in the trailer axle market report comprises American Axle & Manufacturing, Inc., BPW Group, Dana Incorporated, DexKo Global Inc., Dexter Axle Company, FUWA K Hitch, GuangZhou TND Axle Co., Ltd., Hendrickson Corporation, Hitachi Ltd., JOST Axle Systems, Meritor, Inc., SAF-Holland, Schmitz Cargobull, Shandong Huayue, and ZF Friedrichshafen AG.
Trailer Axle Market

---

By Axle Type
Three or more than three-axle is projected as the most lucrative segment
Expansion of automotive and transportation industry
In recent years, automotive and transport industry has gone through several changes across the globe. In automotive industry, introduction of electric vehicle owing to environmental concerns has been observed, which in turn resulted in development of e-axle for electric vehicle as well for trailers. E-axle aids in reducing emissions, carbon footprints, and electricity generation through regenerative braking in vehicles.
Similarly, in transportation industry, dependence of e-commerce companies on logistics service providers to ensure transportation of goods through warehouse and distribution hub is increased, owing to the significant expansion of e-commerce activities. Thus, logistics companies which offers less than truckload (LTL) and full truckload (FTL) freight shipping services are increasingly adopting trailers due to their load carrying capacity. , trailers offer the lowest cost of transportation per ton per km as compared to rigid truck, which is further enhancing its adoption for logistics operations. Hence, expansion of automotive and transportation industry is driving the growth of the trailer axle industry.
Trailer Axle Market

---

By Application
Heavy trailers is projected as the most lucrative segment
Introduction of e-axle in trailers
Electric axles have started to make their way to medium and heavy duty vehicles as well as in trailers. The utilization of e-axle offers reduction in maintenance cost, lower fuel consumption and lower emissions from the vehicle. Electric axle in trailer captures the energy that is created when a trailer is rolling free along the road and use this to generate electric energy to charge an onboard lithium-ion battery.
Manufacturers across the globe are focused on electrification of vehicles owing to environmental concerns. Therefore, there is an adoption of e-axles in trailers as well. Numerous manufacturers are developing and introducing e-axle in trailers to reduce carbon footprints. For instance, in March 2022, Primary connect, Woolworths Group's supply chain and logistics arm, launched a new e-axle trailer in Australia. The e-axle trailer uses kinetic energy from its own axle and wheels to generate electricity. The trailer is part of Woolworths initiatives to aid reduce emissions and enable more sustainable supply chain operations. Thus, introduction of e-axles in trailer is one of the key factors that drive the growth of the trailer axle industry during the forecast period.
Introduction of emission regulations for transport refrigeration units
Reefer trailer are utilized for the transportation of food products and manufacturing of chemicals or pharmaceuticals in temperature-controlled conditions. Reefer trailer are equipped with refrigeration units to keep the food items fresh until it is delivered to the destination. Refrigeration units in reefer trailer must run constantly to keep the food fresh, which in turn results in high fuel consumption.
Therefore, some countries have introduced new transport refrigeration emission rules for transport refrigeration units operating in trucks and trailers. For instance, in February 2022, California Air Resource Board (CARB) introduced new rules for transport refrigeration units (TRU). The new rules include transition of diesel-powered trucks TRUs to zero-emission, a particulate matter emission standard for newly manufactured non-truck TRU engines (on trailers, domestic shipping containers, railcars, and generator set units), and the use of lower global warming refrigerants. In addition, from 31 December 2022, newly manufactured truck TRUs, trailer TRUs, and domestic shipping container TRUs are required to use a refrigerant with a global warming potential less than or equal to 2,200 or no refrigerant at all.
The introduction of these new regulation for TRUs in trailer is expected to drive the demand for new & improved trailers, which in turn will contribute to the growth of the market. Hence, introduction of emission regulations for transport refrigeration units is anticipated to be driving the growth of the trailer axle market.
Trailer Axle Market

---
By Region
LAMEA would exhibit the highest CAGR of 7.1% during 2022-2031
The trailer axle market is segmented into Trailer Type, Axle Type, Capacity, Application and Sales Channel.
Key Benefits For Stakeholders
This report provides a quantitative analysis of the market segments, current trends, estimations, and dynamics of the trailer axle market analysis from 2021 to 2031 to identify the prevailing trailer axle market opportunities.
The market research is offered along with information related to key drivers, restraints, and opportunities.
Porter's five forces analysis highlights the potency of buyers and suppliers to enable stakeholders make profit-oriented business decisions and strengthen their supplier-buyer network.
In-depth analysis of the trailer axle market segmentation assists to determine the prevailing market opportunities.
Major countries in each region are mapped according to their revenue contribution to the global market.
Market player positioning facilitates benchmarking and provides a clear understanding of the present position of the market players.
The report includes the analysis of the regional as well as global trailer axle market trends, key players, market segments, application areas, and market growth strategies.
 Trailer Axle Market Report Highlights
Aspects
Details
By Trailer Type

Dry van & box
Refrigerator
Chemicals & liquid
Tippers
Flatbed
others

By Axle Type

Single Axle
Tandem axle
Three or more than three-axle

By Capacity

Lower than 8,000 lbs
8,000-15,000 lbs
15,000-25,000 lbs
More than 25,000 lbs

By Application

Lightweight trailers
Medium-weight trailers
Heavy trailers

By Sales Channel
By Region

North America (U.S., Canada, Mexico)
Europe (United Kingdom, Germany, France, Italy, Rest of Europe)
Asia-Pacific (Rest of Asia-Pacific, China, Japan, India, Australia)
LAMEA (Latin America, Middle East, Africa)

Key Market Players
BPW Bergische Achsen KG, DexKo Global, Hendrickson USA, L.L.C., Jost Werke AG, Jiangling Group Shandong Huayue Vehicle Parts Co., Ltd, Guangdong Fuwa Engineering Group Co., Ltd., Dana Incorporated, Meritor, Inc., Rogers Axle & Spring Works, Willex Trailer and Axle Sales, Guangzhou TND Axle Co., Ltd, ZF Friedrichshafen AG, SAF-HOLLAND S.A., Schmitz Cargobull, American Axle & Manufacturing, Inc