The global train battery market was valued at $483.0 million in 2021, and is projected to reach $748.30 million by 2031, growing at a CAGR of 4.7% from 2022 to 2031.
COVID-19 has presented the world with an unprecedented economic, humanitarian, and healthcare challenge. Lockdown measures have helped to contain the spread of coronavirus, but exacted an immense economic toll. On the business side, the railway sector is one of the hardest hit sectors. Following the pattern witnessed in countries where COVID-19 spread earlier, lockdown measures and other restrictions have impacted the railway industry. Furthermore, coronavirus has introduced unexpected challenges within the railway sector. However, with the relaxation of lockdown measures and the consequent opening of markets across the world, the demand for train battery is anticipated to grow considerably in the near future.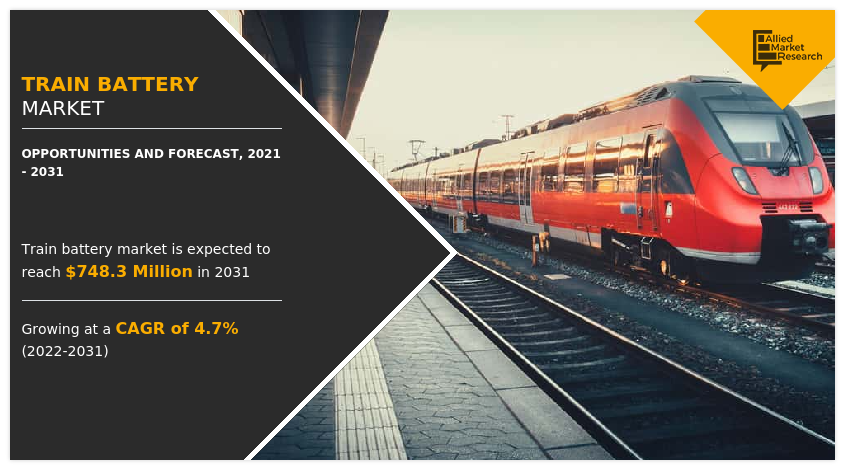 The train battery market is segmented into Battery Type, Rolling Stock Type, Application and Train Type.
Battery technology has greatly improved over the past 20 years broadening the scope of use of battery in trains. The battery is usually fitted in a battery box underneath the coach/rolling stock. A train battery performs very crucial role. It undergoes into dusty atmosphere, moderate to high vibration along with varying temperatures and in a continuous charge-discharge mode. Train batteries are used for locomotive starting, lighting, on board auxiliary system in engines and coaches.
Locomotives require a battery to start the engine as well as to provide electrical power for lighting and controls when the engine is off and power is not being produced by the alternator. Diesel trains use heavy-duty industrial batteries both for starting and for operating a range of equipment on board. The train batteries include a DC power, which is supplied to the coaches. Power to trains was previously supplied through diesel engines; however, they were not considered economical, due to their high maintenance cost. Also, they were not considered to be good for the environment, due to their harmful emissions. Further, their constant use led to need for electrification of railways. The search for alternative fuels to reduce the import cost of fossil fuels led to implementation of train batteries and electrification of the railway system.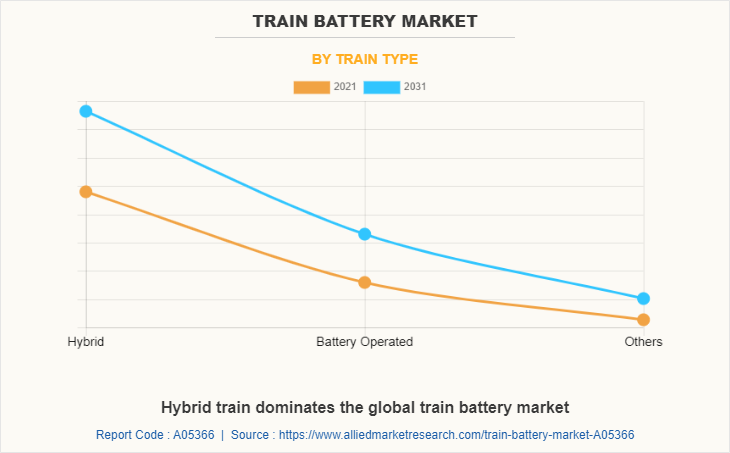 Factors such as increase in allocation of budget for the development of railways, surge in demand for a secure, safer, and efficient rail transport, and rise in demand for trains with better passenger capacity are some of the factors propelling the demand of train batteries. However, government regulations on train batteries and high capital requirement are factors expected to hamper the train battery market growth.
Furthermore, improvement in railway infrastructure in developing countries and increase in development & testing of autonomous train are expected to create numerous opportunities for the industry players in the future.
The train battery market is segmented on the basis of battery type, rolling stock type, application, train type, and region. By battery type, the market is divided into lead acid, nickel cadmium and lithium ion. By rolling stock type, the market is segmented as locomotive, metro, monorail, tram, freight wagons and passenger coaches. By application, the market is segmented as starter battery and auxiliary battery. On the basis of train type, the market is segmented as hybrid, battery operated and others. By region, the train battery industry is analyzed across North America, Europe, Asia-Pacific, and LAMEA.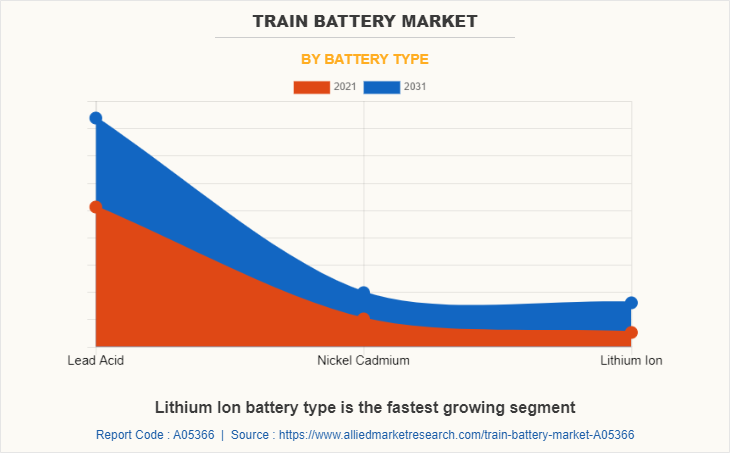 Increase in allocation of budget for the development of railways
Infrastructure by allocating a higher budget. For instance, India's finance minister allocated a budget of $14.11 billion for its railway sector in February 2021. Also, this 2021 railway budget highlighted the national transporters' plan for 100% electrification of the board gauge network by December 2023.
In addition, various countries across the globe are continuously increasing their rail budget to deploy the latest technologies and improve their infrastructure. Similarly, in June 2021, in China, which has seen the length of its high-speed railway network increase by 91% between 2015 and 2020, the new guidelines indicated that the country's detection of speed has come at a high price. Furthermore, revenue of China's rail industry increased by 6% in 2019 to $117 billion, and it reached $125 billion by the end of 2020. Thus, an upsurge in budget allocation and increase in development of rail infrastructure acts as a key factor that drives the growth of the railway sector, which, in turn, is propelling the train battery market.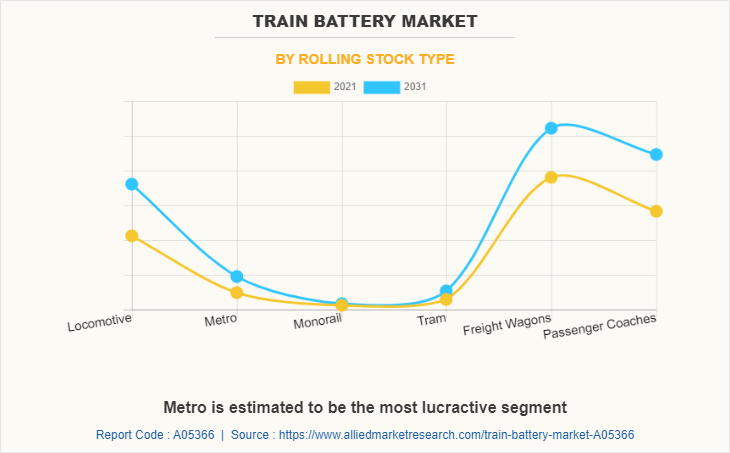 Improvement in railway infrastructure in developing countries
Improvement in railway infrastructure increases the speed and efficiency of railway systems for freight and passenger transportation. In addition, the deployment of an autonomous train needs to be backed up by a large investment. Governments of developing countries are investing heavily to meet the requirements of the latest technology setup required for autonomous trains, which boosts the demand for train batteries.
For instance, according to the India Brand Equity Foundation organization, in November 2021 stated that the Indian Railways announced that approximately 102 semi-high-speed Vande Bharat Expresses are expected to begin operations by 2024, with at least 10 new trains scheduled to launch by August 2022 that are estimated to connect 40 cities. The initiative gave a major boost to the Indian Railways on infrastructure modernization. All these factors are anticipated to offer numerous opportunities for train automation players operating in the country. Hence, such improvements in developing countries are expected to create opportunities for the train battery market expansion during the forecast period.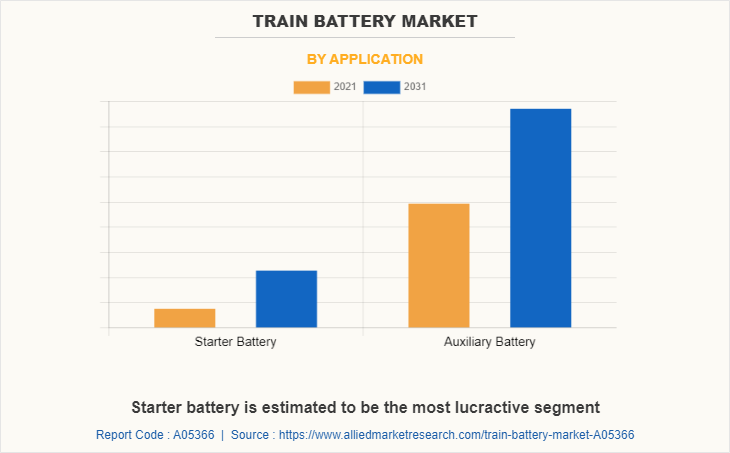 Key Benefits For Stakeholders
This report provides a quantitative analysis of the market segments, current trends, estimations, and dynamics of the train battery market analysis from 2021 to 2031 to identify the prevailing train battery market opportunities.
The market research is offered along with information related to key drivers, restraints, and opportunities.
Porter's five forces analysis highlights the potency of buyers and suppliers to enable stakeholders make profit-oriented business decisions and strengthen their supplier-buyer network.
In-depth analysis of the train battery market segmentation assists to determine the prevailing market opportunities.
Major countries in each region are mapped according to their revenue contribution to the global market.
Market player positioning facilitates benchmarking and provides a clear understanding of the present position of the market players.
The report includes the analysis of the regional as well as global train battery market trends, key players, market segments, application areas, and market growth strategies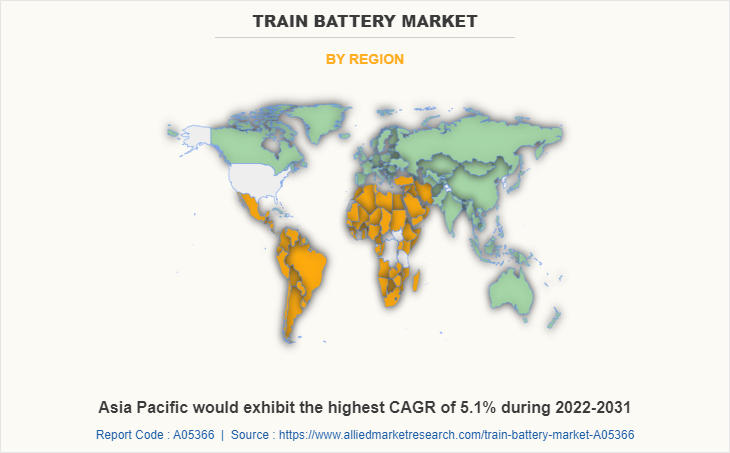 Train Battery Market Report Highlights
Aspects
Details
By Battery Type

Lead Acid
Nickel Cadmium
Lithium Ion

By Rolling Stock Type

Locomotive
Metro
Monorail
Tram
Freight Wagons
Passenger Coaches

By Application

Starter Battery
Auxiliary Battery

By Train Type

Hybrid
Battery Operated
Others

By Region

North America (U.S., Canada, Mexico)
Europe (France, Germany, United Kingdom, Russia, Rest of Europe)
Asia-Pacific (China, Japan, India, South Korea, Rest Of Asia Pacific)
LAMEA (Latin America, Middle East, Africa)

Key Market Players
East Penn Manufacturing Company, GS Yuasa Corporation, AEG Power Solutions, BorgWarner Akasol AG, Shield Batteries Limited, HBL Power Systems Limited, Hitachi Rail Limited, Saft, Fengri Power & Electric Co., Limited, Amara Raja Batteries Limited, Hoppecke Batteries, Inc, Shuangdeng Group Co, Ltd, Leclanche, Ecobat, ENERSYS, Power & Industrial Battery Systems GmbH, Exide Industries Ltd