Travel Accommodation Market Research, 2031
The global travel accommodation market was valued at $632.80 billion in 2021, and is projected to reach $1,974.30 billion by 2031, growing at a CAGR of 11.3% from 2022 to 2031.
According to the United Nations World Tourism Organization (UNWTO), 100% of the global destinations have imposed restrictions on travel after the WHO declared the outbreak of COVID-19 a pandemic, which has directly impacted the business travel and business travel lodging worldwide. The UNWTO recorded around 1.5 billion international tourist arrivals in 2019 and it dropped by 74% to 381 million in 2020. The year 2020 witnessed a loss of 1 billion international tourist arrivals and a loss of around $1.3 trillion in tourism exports resulted in travel accommodation market negatively.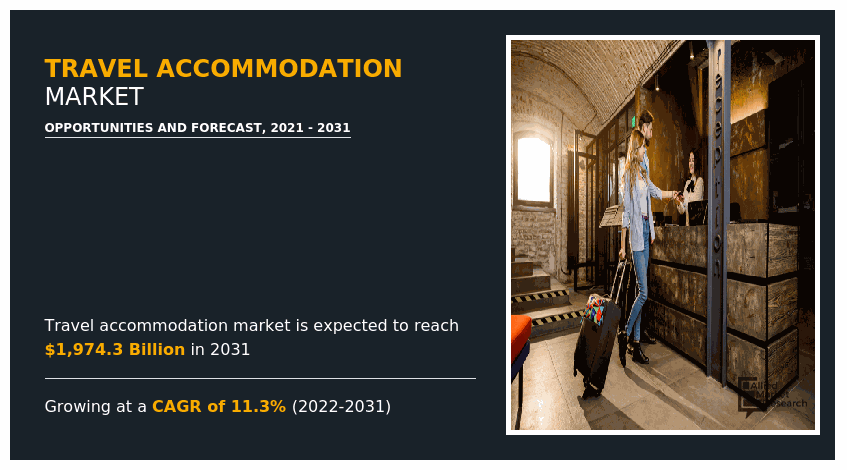 Europe is one of the prominent regions in the market that solely accounted for approximately 39% of the total market share in 2021. Travel accommodation refers to establishments used by travelers for the purpose of stay and is regarded as the most basic concern of every traveler. Various accommodations are available for lodging, including hotels, resorts, hostels, vacation rentals, and others. The ideal choice of stay can be determined depending upon multiple factors such as purpose of travel, budget of travel accommodation, availability of the property, and mode of booking. Furthermore, accommodation can be booked through various sources, which include online travel agencies, hotel websites, booking through agents, and direct bookings. 
The tourism and hospitality industry has created significant potential for the growth of the travel accommodation market. Individuals worldwide are increasingly exploring niche destinations and travelling across countries for various reasons such as pleasure and holidays. In several regions, tourism has become a major player of international business and has simultaneously become a major source of income. This has created a huge demand for travel accommodations in these regions and hence, boosted the growth of the global market.
However, Fraud attacks on travel accommodation are rampant and frauds have increased with continuous evolution in fraudulent techniques. Consumers today turn toward digital channels for making online accommodation bookings, due to increased convenience and flexibility. However, the online booking scams have also witnessed a manifold increase. This has created an inexplicable challenge not only for the e-commerce merchants, but also for the travel accommodation industry.
In the face of troubling scientific certitude and stands around the unsustainable state of environment, an increased number of engaged stakeholders in the industry have saunter toward sustainability over the past few years. Leading stakeholders in the industry are spending significant time and resources to create eco-friendly accommodation even in the face of high short-term development costs and murky return on investments (ROI). Front runners in the tourism industry are successfully finding new opportunities in social and environmental issues to create new business models, corporate strategies, and collaborative partnerships.
The travel accommodation market is segmented into Type, Application, Price Point and Mode of Booking.
The global market is segmented into type, application, price point, mode of booking and region. The type segment comprises hotel, hostel, resort, vacation rental, and others. The applications covered in the study include leisure, professional, and others. On the basis of price point, the market is categorized into economy, mid-range, and luxury. Depending on mode of booking, it is segregated into online travel agency, hotel website, and others. Region wise, it is studied across North America (U.S., Canada, and Mexico), Europe (Germany, Spain, UK, Italy, France, Switzerland, and rest of Europe), Asia-Pacific (India, China, Japan, Australia, and rest of Asia-Pacific), and LAMEA (Latin America, Middle East, and Africa).
By type, the global market is segmented into hotels, hostels, resorts, vacation rental, and others. Hotels hold major travel accommodation market share as hotels provide guest services such as short-term lodging and meals to travelers at a certain cost. Vacation rentals are one of the most trending accommodations for the travelers today. They provide the users with various customized stay options. In addition, there are a few more types of travel lodging options for travelers such as motels, guesthouses, campsites, and couch surfing.
Travel Accommodation Market

---
By Application
Leisure travel holds major market share as owing to the increasing spending power of travelers in Asia-Pacific. Furthermore, rise in adoption of camping, eco tourism, and other traveling purposes among developing economies are few of the major factors supporting the market growth.
People primarily travel either for leisure and vacations or for professional purpose. Travel accommodations are thereby used by these travelers depending on their purpose of travel and choice of stay. Several other factors determine these choices, such as budget, demographics, and destination. The report studies the application segment across leisure, professional, and others.
Travel Accommodation Market

---
By Price Point
The market is headed by the mid-range accommodations services all across the world, owing to the affordable rates and adequate offering of basic amenities by the properties.
Market is headed by the mid-range accommodations services all across the world, owing to the affordable rates and adequate offering of basic amenities by the properties.
Travel Accommodation Market

---
By Mode Of Booking
The market is headed by direct booking mode all across the world, owing to the ease of booking at the hotels and other properties.
The online booking sector is experiencing major transformation due to factors such as digital trends and technological advancements. Increase in internet penetration and the ability to surf through multiple travel options simultaneously have made it convenient and flexible for the net savvy travelers to book accommodation beforehand.
Travel Accommodation Market

---
By Region
Europe holds major market share all across the world due to increase in tourists arrival in the region. The travelers are prioritizing Europe as their leisure destination in from past couple of years.
Region wise, the global market for travel accommodation is analyzed across North America, Europe, Asia-Pacific, and LAMEA. Europe leads the global market in terms of revenue; however, Asia-Pacific is expected to grow at the highest CAGR during the travel accommodation market forecast period.
The key players profiled in the report include Marriott International, Hyatt Hotels Corporation, Wyndham Destinations, Hilton Worldwide Holdings Inc., Accor Hotels Group, Radisson Hotel Group, Airbnb Inc., A&O Hotels and Hostels GmbH, Red Lion Hotels Corporation, and Oyo Rooms.
Key Benefits For Stakeholders
This report provides a quantitative analysis of the market segments, current trends, estimations, and dynamics of the travel accommodation market analysis from 2021 to 2031 to identify the prevailing travel accommodation market opportunities.
The market research is offered along with information related to key drivers, restraints, and opportunities.
Porter's five forces analysis highlights the potency of buyers and suppliers to enable stakeholders make profit-oriented business decisions and strengthen their supplier-buyer network.
In-depth analysis of the travel accommodation market segmentation assists to determine the prevailing market opportunities.
Major countries in each region are mapped according to their revenue contribution to the global market.
Market player positioning facilitates benchmarking and provides a clear understanding of the present position of the market players.
The report includes the analysis of the regional as well as global travel accommodation market trends, key players, market segments, application areas, and market travel accommodation market growth strategies.
 Travel Accommodation Market Report Highlights
Aspects
Details
Type

Hotels
Hostels
Resorts
Vacation Rentals
Others

Application

Leisure
Professional
Others

Price Point
Mode of Booking

Online Travel Agency
Direct Booking
Others

By Region

North America (U.S., Canada, Mexico)
Europe (France, U.K., Italy, Spain, Rest of Europe, Germany)
Asia-Pacific (China, India, Japan, Australia, Rest of Asia-Pacific)
LAMEA (Latin America, Middle East, Africa)

Key Market Players
Marriott International, Hyatt Hotels Corporation, Wyndham Destinations, Hilton Worldwide Holdings Inc., Accor Hotels Group, Radisson Hotel Group, Airbnb Inc., A&O Hotels and Hostels GmbH, Red Lion Hotels Corporation, Oyo Rooms