Turbomolecular Pumps Market Outlook - 2025
The global turbomolecular pumps market size was $1,005 million in 2017, and is projected to reach $1,529 million in 2025, growing at a CAGR of 5.4%.A turbomolecular pump is a multi-stage axial-flow turbine in which rapidly revolving blades deliver compression by augmenting the possibility of gas molecules progressing in the pumping direction. This pump is optimized for molecular flow circumstances and necessitates an aptly sized dual stage rotary oil-free scroll pump or vane pump so as to deplete to environment.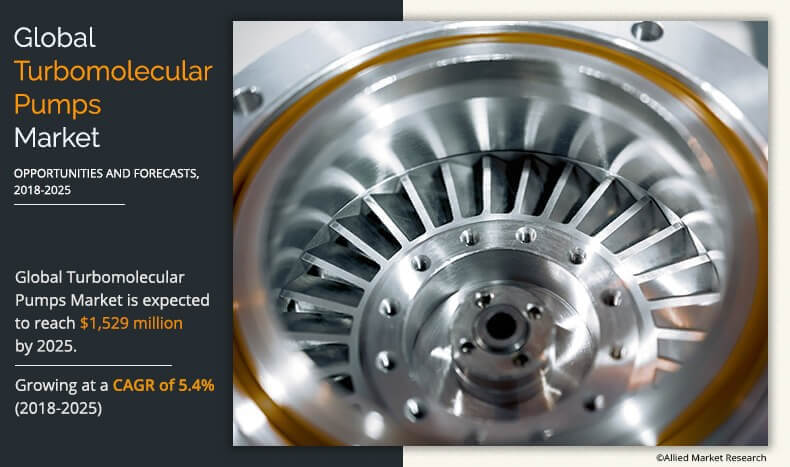 Increase in demand for flat-panel displays globally boosts the need of turbomolecular pumps. Owing to the high vacuum and dirt-free neighboring condition requirements for manufacturing FPDs, a turbomolecular pump and abatement machine are vital components. Therefore, the capability of turbomolecular pumps to proficiently carry out such corrosive and harsh-duty applications is estimated to fuel the turbomolecular pumps market demand. In addition, surge in demand for mobile phone, and other electronic equipment worldwide boosts the need for semiconductor, which in turn drives the growth of the turbomolecular pumps market. However, these pumps require a small backing pump to efficiently perform in high atmospheric pressure conditions, which further increases the cost of the pump. Therefore, high cost of manufacturing the pump is estimated to hamper the growth of the turbomolecular pumps market. On the other hand, design improvements and technological advancements in the global turbomolecular pumps market are influenced by the requirements and trends in the application segments, specifically the analytical instrumentation, photo voltaic, and semiconductor processing, thereby estimated to create remunerative opportunities for the turbomolecular pumps market.
Manufacturing of semiconductor chips is carried out in high vacuum that ranges from 103 to 107 mbar. This vacuum range facilitates proper atmosphere for the doping process in semiconductors. Hence, because this application requires high and ultra-high vacuum, oil-free, and clean surrounding condition, a turbomolecular pump and abatement equipment are crucial components required to produce them. Also, with the use of turbomolecular pumps, corrosive and toxic gases are pumped proficiently. In addition, owing to the technological advancements related to artificial intelligence (AI) and Internet-of-Things (IoT), the semiconductor market is projected to grow rapidly, which further demands turbomolecular pumps for generating ultra-high vacuum pressures, thus, driving the development of the turbomolecular pumps industry.
Turbomolecular pump manufacturers have been adopting newer strategies, such as acquisitions and product launches, to stimulate the growth of the market; for instance, in 2017, Pfeiffer Vacuum GmbH acquired Nor-Cal Products, a manufacturer of premium-quality vacuum components and chambers for semiconductors, coatings, universities, and research facilities. This acquisition has helped Pfeiffer to gain benefit from Nor-Cal's high profile, and its radical online and offline sales channel to conquest new customers and raise its turbomolecular pumps market share in North America. Similarly, in August 2017, Pfeiffer Vacuum expanded its business by establishing a new service center in Malaysia, thereby improving the aftermarket sales of the company.
A turbomolecular pump needs only a part of the power utilized by an oil diffusion pump to produce similar levels of vacuum. Hence, a shift made from a diffusion pump to a turbomolecular pump provides substantial quantity of energy savings on a scale of kilowatts per tool. In addition, owing to the low operating cost, lowered downtime, and high performance offered by turbomolecular pumps, the solar industry has been gradually moving towards them. Moreover, the magnetically levitated turbomolecular pump uses magnetic fields for its operation, thereby reducing the need for lubricants and failure of bearings used. Furthermore, manufacturers have been producing clean, green, and leakage-free turbomolecular pump solutions for various application segments, such as leak detection, analytical instrumentation, and others. Thus, the increased focus for saving energy and using renewable energy globally is projected to fuel the growth of the industry.
The global turbomolecular pumps market is segmented based on product, application, and region. On the basis of product, the market is fragmented into magnetically levitated, oil lubricated, and hybrid. The magnetically levitated segment is anticipated to dominate the global market throughout the study period. Based on application, the market is categorized into analytical instrumentation, semiconductors, R&D, and others. The analytical instrumentation segment is projected to dominate the global market in the near future.
By Product
By product, the turbomolecular pumps market is segmented into magnetically levitated, oil lubricated, and hybrid. Among these, the hybrid type segment is expected to grow at a significant growth rate during the turbomolecular pumps market forecast period, owing to its high compression ratios, high pumping speed, and low residual vibrations.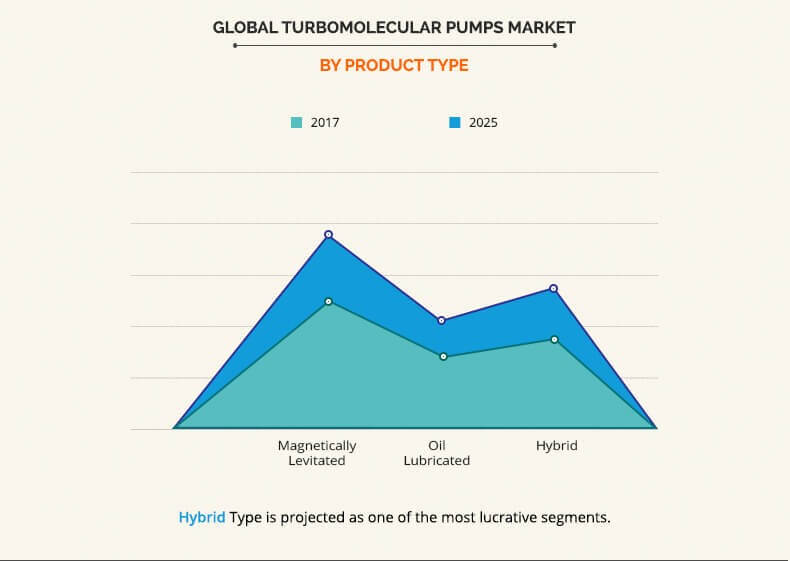 By Region
The turbomolecular pumps market is analyzed across North America, Europe, Asia-Pacific, and LAMEA. Among these, Asia-Pacific holds a significant share in the global market and is projected to register the highest CAGR of 5.9%, followed by LAMEA. North America and LAMEA possess high growth potential, due to increase in demand for semiconductors and flat-panel displays in the regions. In addition, U.S. was one of the largest R&D investors in the world in 2017. The R&D sector uses turbomolecular pumps for its activities, hence, is estimated to fuel the growth of the market.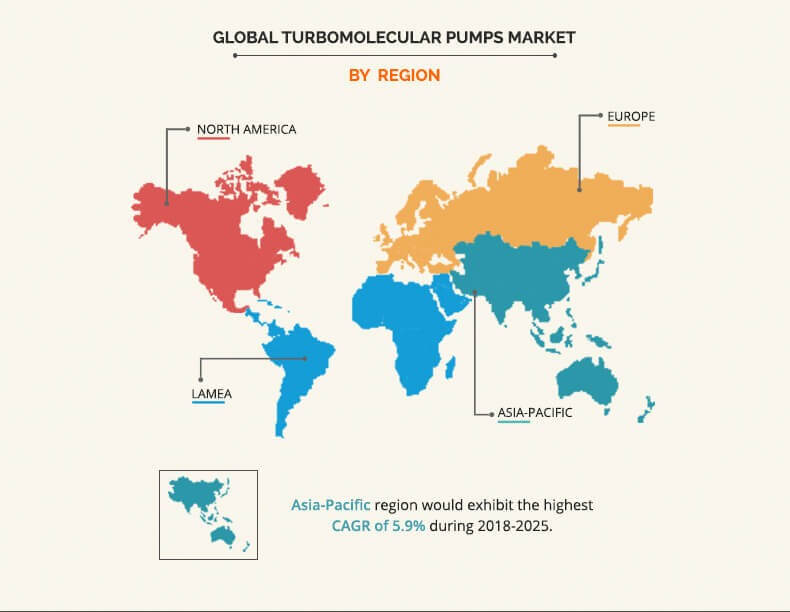 Key Benefits for Turbomolecular Pumps Market:
The study provides an in-depth analysis of the global turbomolecular pumps market along with the current trends and estimations to elucidate the imminent investment pockets.
Information about the key drivers, restraints, and opportunities and their impact analyses on the market size is included in the study.
Porter's five forces analysis illustrates the potency of the buyers and the suppliers operating in the industry.
The quantitative analysis of the global turbomolecular pumps market from 2017 to 2025 is provided to determine the market potential.
Turbomolecular Pumps Key Market Segments:
By Product
Magnetically Levitated
Oil Lubricated
Hybrid
By Application
Analytical Instrumentation
Semiconductor
R&D
Others
By Region
North America
Europe

Germany
France
UK
Rest of Europe

Asia-Pacific

China
India
Japan
Republic of Korea
Rest of Asia-Pacific

LAMEA

Latin America
Middle East
Africa
Key Market Players Profiled in the Report
Agilent
Atlas Copco
Busch
Ebara Technologies, Inc.
KYKY Technology Co. LTD.
Osaka Vacuum, Ltd.
Pfeiffer Vacuum GmbH
Shimadzu Corporation
Ulvac
Welch
 Turbomolecular Pumps Market Report Highlights
Aspects
Details
By PRODUCT TYPE

MAGNETICALLY-LEVITATED
OIL LUBRICATED
HYBRID

By APPLICATION

ANALYTICAL INSTRUMENTATION
SEMICONDUCTOR
RESEARCH & DEVELOPMENT (R&D)
OTHERS

By Region

North America (U.S., Canada, Mexico)
Europe (France, Germany, Italy, Spain, UK, Russia, Rest of Europe)
Asia-Pacific (China, Japan, India, South Korea, Australia, Thailand, Malaysia, Indonesia, Rest of Asia-Pacific)
LAMEA (Brazil, South Africa, Saudi Arabia, UAE, Argentina, Rest of LAMEA)

Key Market Players
AGILENT TECHNOLOGIES, PFEIFFER VACUUM GMBH, OSAKA VACUUM, LTD., SHIMADZU CORPORATION, KYKY TECHNOLOGY CO.,LTD., ATLAS COPCO AB, GARDNER DENVER, INC. (WELCH), BUSCH GROUP, EBARA CORPORATION (EBARA TECHNOLOGIES, INC.), ULVAC, INC.