The U.S. pearlescent pigment market size valued for $204.6 million in 2021 and is estimated to surpass $353.4 million by 2031, exhibiting a CAGR of 5.7% from 2022 to 2031. 
Report Key Highlighters:
The study covers the market analysis for the U.S. The segment analysis of the country in terms of value and volume during the forecast period 2021-2031 is covered in the U.S. pearlescent pigment market report.
Over 6,000 product literatures, annual reports, and other such documents of major industry participants along with authentic industry journals have been analyzed for generating high-value industry insights.
The U.S. pearlescent pigment market is highly fragmented, with various players operating in the U.S. including BASF SE, Eckart GmbH, Sun Chemical, IFC Solutions, Kuncai Americas, Sensient Technologies Corporation, DIC Corporation, KP Pigments, Merck KGaA, Glitter Unique, LLC, and Sandream Specialties.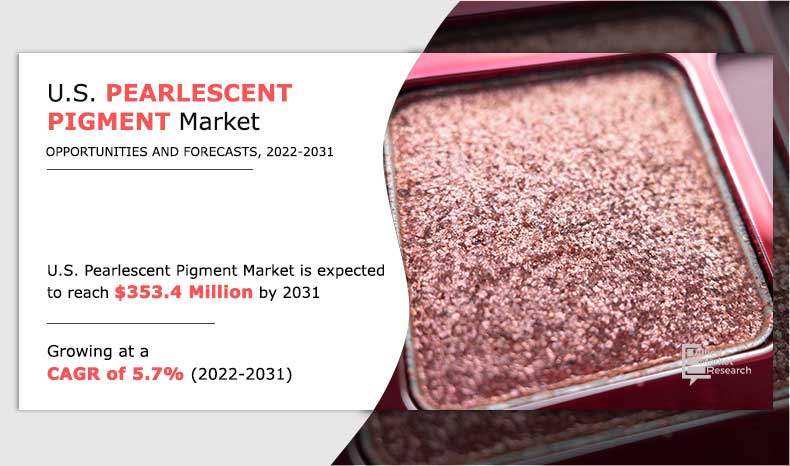 Pearlescent pigments, also known as pearl pigments, are manufactured using a mica foundation. The most commonly used pearlescent pigment is titanium dioxide. These pigments emit less volatile organic compounds and are considerably more eco-friendly than traditional lead and heavy metal-based coatings, which are the key causes that drive the pearlescent pigment's increased demand. 
Bismuth oxychloride (BiOCl) is substrate-free pearlescent pigment type that is made by hydrolyzing an acid bismuth solution in the presence of chlorides. The process parameters of pearlescent pigment can be changed to modify the final aspect ratio of the crystals which have a low aspect ratio and are commonly utilized in cosmetics. Crystals with a greater aspect ratio have a brilliance and are primarily used in nail polish, buttons, and jewelry. 
Surge in demand for pearlescent pigment from cosmetics and personal care industry propels the market growth of pearlescent pigment in the U.S. 
Pearlescent pigments are primarily coated mica platelets, which offer both color and exhilarating visual effects to numerous color cosmetic applications such as blush, eye shadow, nail paint, and others. These pigments offer intense and dramatic colors with a broad range of iridescent, pearlescent, shimmering, and complex effects. These pigments are widely used in color cosmetics for lip, eye, and face that gently diffuse ambient light in order to help lessen the appearance of fine lines and wrinkles.
Pearlescent pigments are processed with black titanium dioxide for usage in cosmetics. This ensures that they exhibit stable color on all skin colors. The pearlescent pigments are transparent and due to their smooth surfaces, they reflect light. They are widely used in lipsticks and eyeshadows in order to provide them with a glitter and pearly effect. 
Bismuth Oxychloride powders are widely used as functional fillers in cosmetic products for their unique properties including the silver-white pearl effect. The high gloss dispersion based on Bismuth Oxychloride is ideal for wax-based formulations such as lip gloss. In pressed powders, they can greatly enhance the pay-off as well as binding properties. 
Furthermore, these pigments offer an irresistible shine of gold, silver, or various other ranges of beautiful colors. The usage of substrate-based pearlescent pigments in shampoo formulations creates iridescent effects that cannot be achieved with conventional stearate pearling agents. 
Moreover, in combination with dyes and other color pigments, pearl luster pigments enable the creation of a broad range of colorful luster effects with an superior color shade and luster. Consequently, the growth in use of pearlescent pigments in cosmetics and personal care industry is expected to offer lucrative growth rate during the forecast period.
However, increase in veganism restrains the demand for natural pearl essence, and thereby hinders the U.S. pearlescent pigment market growth during the forecast period. 
Natural pearl essence is extracted from fish scales. Guanine is a lustrous material primarily found in the epidermal layer and scales of most fishes such as oil Sardine Mackerel, Herring & various carps bleak, and ribbon fish.
Herrings are the major species exploited for the production of natural pearl essence in the U.S. 
In recent years, there has been growth in concern about animal health and animal cruelty among the populace. One of the major factors propelling market growth is the surge of vegan consumerism across the U.S. where consumers are against animal cruelty and are inclining toward cosmetics & personal care products that do not contain any animal ingredients. There is a shift in the cosmetics market primarily driven by ethically conscious consumers opting for vegan products. 
Further, according to "Vegetarianism in America" study conducted by the Vegetarian Times, 3.2% of U.S. adults follow a vegetarian-based diet. About 0.5% of those are vegans, who do not consume animal products. Moreover, as per The Advisory Committee on the Dietary Guidelines for Americans, Americans should shift their food intake to a more plant-based diet that emphasizes cooked dry beans and peas, fruits & vegetables, whole grains, nuts, and seeds.
Nevertheless, product launches and innovation associated with pearlescent pigment are anticipated to offer ample growth opportunities for the market growth in coming years. 
On the basis of application, the U.S. pearlescent pigment industry is classified into cosmetics & personal care and others. The others segment dominated the U.S. pearlescent pigment market share in 2021. 
Key Players and Strategies: 
Major players operating in the U.S. pearlescent pigment market includes BASF SE, Eckart GmbH, Sun Chemical, IFC Solutions, Kuncai Americas, Sensient Technologies Corporation, DIC Corporation, KP Pigments, Merck KGaA, Glitter Unique, LLC, and Sandream Specialties. 
Manufacturer such as Sun Chemical launched new effect pigments including Flamenco Summit Orange and Reflecks Dimensions Metallic Orange in 2022. Flamenco Summit Orange is an effect pigment based on patented multilayer technology which offers a clean orange color and brilliant reflectivity. With its smooth shimmering effects, Flamenco Summit Orange, can be utilized across numerous skin care, cosmetics, and personal care formulations. It is produced with 100% U.S. Mica sourced from a mine of Sun Chemical in Hartwell.
Further, Reflecks Dimensions Metallic Orange is a borosilicate-based effect pigment with an intense, metallic color. It delivers an eye-catching glimmer and its rich chroma and enriched sparkling effects are made by its patented multilayer technology and are excellent for bold statement looks. It can be employed across all beauty applications owing to its warm, intense sparkling, chromatic color, and glittering effects.
U.S. Pearlescent Pigment Market

---
By Application
Cosmetics and Personal Care is the fastest growing segment
U.S. pearlescent pigment market, by application
Others segment was the highest revenue contributor to the market in 2021. Other applications of pearlescent pigments include paints and coatings, printing ink, plastics, resin art, aerated concrete, leathers, graphic arts, textile printings, electronics products, rubbers, paper and pulps, household appliances, food, packaging, and many more. 
Pearlescent pigments in paints and coatings provide color, opacity, gloss control, rheological control, and other services such as corrosion inhibition or magnetic moment. They also help to lower coating costs by acting as a volume filler. Pearlescent pigments are utilized as small particles with sizes ranging from 0.01 to 100 micrometers and compositions ranging from carbon black to sand. Due to their relatively high refractive index, they contribute light-scattering qualities to coatings, scatter all wavelengths of light and are seen as white by the human eye. Pearlescent Pigment coatings and paints are utilized in bridges, aircraft, pipelines, washing machines, automobiles, and a variety of other products based on their hardness, elastic modulus, glass transition temperature, toughness, and abrasion resistance.
Pearlescent pigments are widely used to increase attractiveness through enhance pearl effect on the surface of plastics which includes artificial leather, wallpaper, plastic packaging film, cosmetics, shampoo packaging, home appliance plastic parts, artificial pearls plastic buttons and other plastic products. Pearlescent pigments are extensively used in the printing ink industry to increase the particular aesthetic impact of products such as cosmetics packaging, cigarette cases, drink labels, gift packaging, business cards, wall paper, and many others. 
Printing inks are also used to print on packaging materials to make the package attractive to buyers, as it is one of the powerful techniques to sell items which is largely utilized in printing publications for newspapers, periodicals, and journals.
Further, pearlescent pigments are utilized in face tissue paper, envelope grades, cover papers, corrugated cases, and specialized papers where it provides unsurpassed performance in brightness and cooler play. Pearlescent pigment glitters are employed diverse printing applications to provide a touch of sparkle in order to grab the consumer's eye which creates an effect which changes with each background it is put on.
KEY BENEFITS FOR STAKEHOLDERS
This report provides a quantitative analysis of the market segments, current trends, estimations, and dynamics of the U.S. pearlescent pigment market analysis from 2021 to 2031 to identify the prevailing U.S. pearlescent pigment market opportunities.
The market research is offered along with information related to key drivers, restraints, and opportunities.
Porter's five forces analysis highlights the potency of buyers and suppliers to enable stakeholders make profit-oriented business decisions and strengthen their supplier-buyer network.
In-depth analysis of the U.S. pearlescent pigment market segmentation assists to determine the prevailing market opportunities.
Market player positioning facilitates benchmarking and provides a clear understanding of the present position of the market players.
The report includes the analysis of the U.S. pearlescent pigment market trends, key players, market segments, application areas, and market growth strategies.
 U.S. Pearlescent Pigment Market Report Highlights
Aspects
Details
By Application

Cosmetics and Personal Care
Others

Key Market Players
BASF SE, Eckart GmbH, Sun Chemical, IFC Solutions,, Kuncai Americas, Sensient Technologies Corporation, DIC Corporation, KP Pigments, Merck KGaA