Ultra-Mobile Devices Market Research, 2030
The global ultra mobile devices market was valued at $45.83 billion in 2020, and is projected to reach $113.83 billion by 2030, growing at a CAGR of 9.6% from 2021 to 2030.
Post the COVID-19 pandemic, there is a steep reduction in 5G growth as well as Ultra-Mobile Devices sales worldwide during the first two quarters of 2020.COVID-19 uncertainties have affected consumer buying confidence due to which consumers are still being more cautious and have cut down their spending on essentials instead of luxury items.
This report comprises study of global Ultra Mobile Devices Market that focuses on its diversified applications across industries such as healthcare, entertainment, telecom & IT, retail, consumer electronics, and others (education and BFSI). Ultra-mobiles is a device that provides the complete functionality of a PC and the portability of a tablet. Ultra-mobile devices include Ultra Mobile Phones, Computing Devices and tablet PCs such as Apple's MacBook Air, Lenovo Yoga 3 Pro, Microsoft's Surface Pro, Panasonic Toughbook, and Chrome books from Google. These devices can support 32-bit x86 processors and can run a complete PC operating system such as Windows 7, Windows Vista, Mac, or Windows XP. Ultra-mobile devices are further available in various screen sizes ranging from 7 to 13.9 inches. The diversified range of features provided by ultra-mobile device bridges the gap between traditional laptops or PCs and tablets. Therefore, ultra-mobile devices are being adopted diversely, for multiple purposes, across all age groups.
The ultra-mobile device market growth is driven by increase in trends of continuous learning & enhancement of business and extended portability. Furthermore, integration of extra feature in the device is expected to create lucrative opportunity in the global ultra-mobile device market. However, higher cost of the product and lower battery life restrains the growth of the Ultra Mobile Devices Market globally.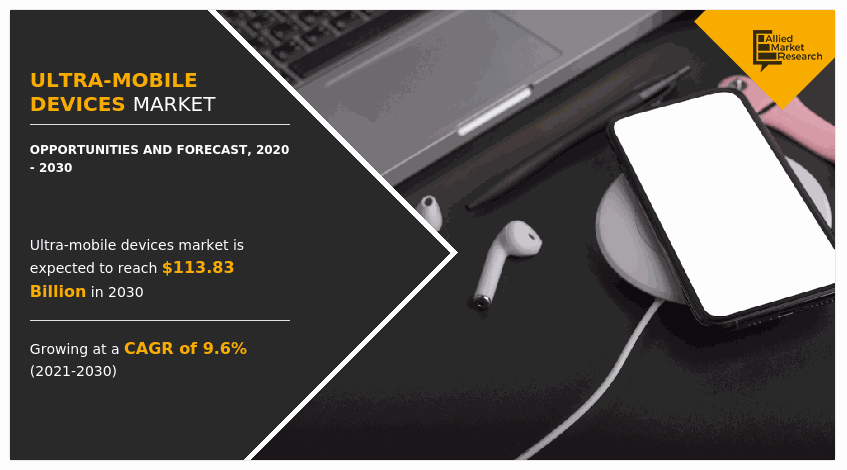 Segment Review
The Ultra Mobile Devices Market is segmented on the basis of type, industry vertical, and region. By type, it is divided into premium ultra-mobiles, basic ultra-mobiles, and utility ultra-mobile devices. Depending on industry vertical, it is classified into healthcare, IT & telecom, retail, consumer electronic, and others. Region wise, it is analyzed across North America, Europe, Asia-Pacific, and LAMEA.
On the basis of type, the premium ultra-mobile device segment dominated the overall Ultra Mobile Devices Market Size in 2020, and is expected to continue this trend throughout the forecast period. This is attributed to rise in standards of living, technology awareness among people, and increase in disposable income in the emerging countries such India, Japan and South Korea. In addition, Asia-Pacific and LAMEA are expecting potential growth in premium Ultra Mobile Devices Market Share during forecast period owing to their developments, government initiatives regarding development of technology and increase in awareness about technology and cost-effective consumer electronics, all of which provide lucrative growth opportunities. However, the utility-mobile device segment is expected to witness significant growth in the upcoming years. This is attributed to rise in market for ultra-mobile device; growth in cognitive intelligence applications, prediction, and analytical software; increase in use of mobile phones & applications; and rise in concern for system.
Ultra-Mobile Devices Market

---
By Type
Premium ultra-mobile devices dominates the market in 2020 and is expected to maintain its dominance over the forecasted period.
By Industry Vertical, the consumer electronics sector segment held the largest share in 2020 and is expected to continue this trend during the forecast period. The electronics and semiconductors sector segment is highly dependent on ultra-mobile device systems, owing to increase in population and evolution of ultra-mobile device market. In addition, surge in use of consumer electronics devices, such as mobile devices, laptops, tablets, personal computers, satellites, television, and radar along with falling prices of these devices, facilitated the growth of ultra-mobile devices in the consumer electronic sector. However, the IT & Telecom segment is expected to witness the highest growth in the upcoming years. This is due to the rapid increase in adoption of advanced ultra-mobile device systems. IT & telecom organization deploy ultra-mobile device systems in their operations for different functionalities such as monitoring systems and security. In addition, major IT & Telecom players are inclined toward investing in technology advancement to develop telecom systems that are more network-savvy, safer, and energy-efficient, which is expected to provide lucrative growth opportunities for the IT & Telecom sector.
Ultra-Mobile Devices Market

---
By Industry Vertical
Retail industry is projected as one of the most lucrative segments.`
The report focuses on the growth prospects, restraints, and ultra-mobile device market analysis. The study uses Porter's five forces analysis of the smart devices industry to understand the impact of various factors, such as bargaining power of suppliers, competitive intensity of competitors, threat of new entrants, threat of substitutes, and bargaining power of buyers on the ultra-mobile device market trends.
The ultra-mobile device market in Asia-Pacific is expected to witness the highest growth in the upcoming years. This is attributed to emerging technologies, falling prices of consumer electronics, industrialization, and government initiatives. In addition, emerging markets offer a huge potential customer base, which attract global manufacturers. Furthermore, the IT & telecommunication industries in India are blooming, whereas the electronics market in China is expected to grow at a significant rate, which drives the growth of Ultra Mobile Devices Industry in this region
Ultra-Mobile Devices Market

---
By Region
Asia-Pacific is projected as one of the most significant region.
Impact of COVID-19 on the Ultra-mobile Device Market Trends
The COVID-19 pandemic drastically affected businesses across the globe. Most of public had forced to stay at home due to lockdowns imposed by governments of different countries. Lots of people and organization along with educational institute adopt work from home policy. Online classes amid the ongoing Covid-19 pandemic has boosted the import of mobile phones in globe As online teaching is continuing, demand for smartphones has grown substantially in the emerging countries, leading to a growing manufacturing of mobile devices during the COVID-19 Pandemic. This situation also seen in the corporate sector. For tackling this situation various industry verticals focusing on advanced technology such as augmented reality and virtual reality, and IoT across industries to perform various operations. For instance, in July 2021, in emerging countries such as India  the average selling price or ASP for smartphones to the highest ever $226 in July-August, up 19% from the same period last year. Also the launching of high speed network technology such as 5G network were rolled out during COVID-19 Pandemic which will also boost the demand for ultra-mobile device in the Market. The demand for ultra-mobile device systems for industrial is projected to increase, which is anticipated to accelerate the Ultra Mobile Devices Industry growth.
Top Impacting Factors   
Business enhancement and extended portability.
The enterprise application of ultra-mobile device equips its users with a perceptible amount of portability and supports in business advancement in terms of enhanced productivity and deployment of work-ready apps. The integrated technological innovations provided by ultra-mobile device act as a strategic enabler and add functional value to the business. Several organizations are adapting ultra-mobile devices to ensure quick deployment with immense impact on their business performance. The pace of adoption of ultra-mobile device across the diversified range of organization is expected to drive the market during the forecast period.
Key Benefits For Stakeholders
This report provides a quantitative analysis of the market segments, current trends, estimations, and dynamics of the ultra-mobile devices market analysis from 2020 to 2030 to identify the prevailing ultra-mobile devices market opportunities.
The market research is offered along with information related to key drivers, restraints, and opportunities.
Porter's five forces analysis highlights the potency of buyers and suppliers to enable stakeholders make profit-oriented business decisions and strengthen their supplier-buyer network.
In-depth analysis of the ultra-mobile devices market segmentation assists to determine the prevailing market opportunities.
Major countries in each region are mapped according to their revenue contribution to the global market.
Market player positioning facilitates benchmarking and provides a clear understanding of the present position of the market players.
The report includes the analysis of the regional as well as global Ultra Mobile Devices Market Trends, Ultra Mobile Devices Market Size, key players, market segments, application areas, and Ultra Mobile Devices Market Growth strategies.
 Ultra-Mobile Devices Market Report Highlights
Aspects
Details
By Industry Vertical

Healthcare
Telecom & IT
Retail
Consumer Electronics
Others (BFSI, Education and Entertainment)

By Type

Premium ultra-mobile devices
Basic Ultra-Mobile devices
Utility Ultra-Mobile devices

By Region

North America (U.S., Canada)
Europe (U.K., Germany, France, Italy, Spain, Rest of Europe)
Asia-Pacific (China, India, Japan, South Korea, Australia, Rest of Asia-Pacific)
LAMEA (Brazil, Rest of LAMEA, Algeria)

Key Market Players
Apple Inc., HTC Corporation, Google Inc., Dell Inc., Sony Corporation, ASUSTeK Computer Inc., Lenovo, HP Development Company, L.P., Microsoft Corporation, Samsung Electronics Co., Ltd.