Ultra Wideband Market Statistics: 2027
Ultra-Wideband (UWB) is a communications technology that employs a wide bandwidth (typically defined as greater than 20% of the center frequency or 500MHz). UWB is usually used in short-range wireless applications but can be sent over wires. Ultra-Wideband can carry high data rates with low power and little interference.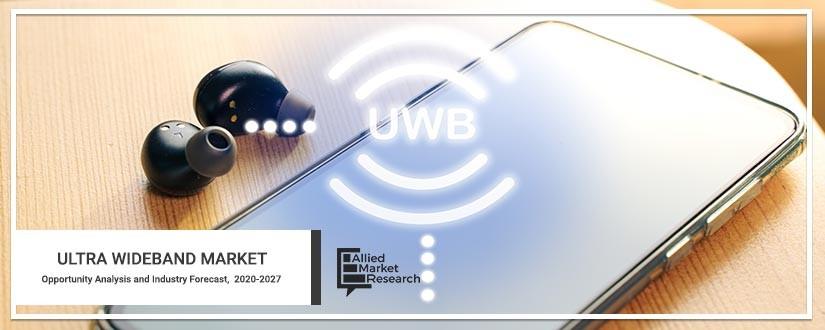 Ultra-wideband has 2 types of applications, which include applications involving radar, in which the signal penetrates nearby surfaces but reflects surfaces that are farther away, allowing objects to be detected behind walls or other coverings; and voice and data transmission using digital pulses, allowing a very low powered and relatively low cost signal to carry information at very high rates within a restricted range. 
COVID-19 scenario Analysis:
The emergence of COVID-19 pandemic has severely affected almost all industries across the world. Further, lockdown enforcements and restrictions on movements of non-essential goods as well as resources in various countries has disrupted the supply chain of electronic components & networking equipment. Thus, this has led to delay in supply of electronic components required in manufacturing of equipment. 
It is expected that the U.S. and global tech market growth is slowing down to nearly 2% in 2020, due to which ICT spending in major economies such as the U.S. have declined in the first half of 2020, but it is expected to recover in the second half. 
In addition, there is a notable ramp-up in technologies such as work-from-home infrastructure, collaboration tools, virtualization infrastructure, VPN networking, mobile devices, security, desktop support and zoom during the COVID-19. Interest for video conferencing solution is surging during the crisis. This generates large amount of data and will require high end technologies to analyze.
Furthermore, there are strong indications that the current decrease in demand for technology and digital solutions will be just a short-term phenomenon. In the medium-to-long run the COVID-19 technology impact may be extremely positive. Everyone is forced to embrace new technologies and discover their benefits. Additional investments in digital infrastructure can be expected.
Top impacting factors: Market Scenario Analysis, Trends, Drivers and Impact Analysis 
Ability to share frequency, large channel capacity, high performance in multipath channel,  growing use of UWB-based RTLS technology in resource utilization and workflow optimization requirement in manufacturing industries, growth of the industrial IoT in the forecast period, the increasing adoption of the technology based real time location system solutions for resource utilization and workflow optimization in industries, increasing technological advancements in terms of precision ,range and growing market competitiveness  are some of the major key drivers of this ultra wideband market. However, low network latency, low range, limited throughput, and premium pricing of ultra-wide band and need large frequency technology are some of the restraining factors of the ultra wideband market. Digital implementation solutions, super high density wireless sensors networks are 
Large channel capacity: 
One of the major advantages of the large bandwidth for UWB pulses is improved channel capacity. It is defined as maximum amount of data that can be transmitted per second over a communications channel. The trade-off between the range and the data rate makes UWB technology ideal for a wide array of applications in military, civil, and commercial sectors. 
Needs large frequency: 
One of the major challenges for ultra-wide band is that it uses a large frequency range and therefore interferes with other wireless standards that share the same frequencies.
Therefore, many countries have set strict rules on the maximum power that you are permitted to transmit.
Ultra-wide band with wireless technology: 
Wireless technologies have drastically transformed. From phones to wearable devices, from cars to electrical appliances, wireless technologies are changing the way one uses and communicates with these machines. Ultra-wide band can provide precise, secure, real-time localization capabilities unrivaled by other wireless technologies such as Wi-Fi, Bluetooth, and GPS. Hence, technology companies have been working toward finding new use cases for the technology.
Key benefits of the report:
This study presents the analytical depiction of the global ultra wideband market archiving industry along with the current trends and future estimations to determine the imminent investment pockets.
The report presents information related to key drivers, restraints, and opportunities along with detailed analysis of global ultra wideband market share.
The current market is quantitatively analyzed to highlight the global ultra wideband market growth scenario.
Porter's five forces analysis illustrates the potency of buyers & suppliers in the ultra wideband market. 
The report provides detailed ultra wideband market analysis based on competitive intensity and how the competition will take shape in coming years. 
 Ultra Wideband Market Report Highlights
Aspects
Details
By Type

Impulse Radio
Multiband ultra-wideband

By System Type

Vehicular radar system.
Imaging systems
Communication and measurement systems

By Technology Type
By Application

Internet Access & multimedia Service
Location Based Service
Wireless Peripheral Interface

By Organizational Size

Small & Medium Enterprise
Large Enterprise

By Industry Vertical

IT & Telecom
BFSI
Manufacturing
Healthcare
Automotive & Transformation
Retail and consumer electronics
Residential

By Region

North America (US, Canada)
Europe (Germany, UK, France, rest of Europe)
Asia-Pacific (China, Japan, India, rest of Asia-Pacific)
LAMEA (Latin America, Middle East, Africa)

Key Market Players
Samsung Electronics Ltd., Alereon Inc., Johanson Technology Inc., IBM Corp., Redpoint positioning Corp., Zebra Technologies corp., Intel Corp., 5D Robotics Inc., Pulse link Inc., Fujitsu Inc.