The global ultralight aircraft market was valued at $5.6 billion in 2021, and is projected to reach $9.7 billion by 2031, growing at a CAGR of 6% from 2022 to 2031.
Airport traffic and income have been significantly and immediately impacted by COVID-19. Global passenger travel decreased as a result of the COVID-19 pandemic. The problem first appeared in Asia-Pacific, however according to ACI, the rapid spread of the virus and the containment measures put in place as a result, such as government advice to stay home and airport closures, led to a 22.9% decline in global air traffic in February and a 53.1% decline in March 2020. This amounted to a drop in passenger volume of 620 million in the first quarter of 2020. Owing to a 90% global reduction in passenger travel, April was an especially challenging month. Global shutdown of tourism industry also had a major impact on ultralight aircraft market. Majorly, ultralight aircrafts are used for tourism and recreational purpose, suffering from major consumer loss. However, quick revival of tourism industry and usage of ultralight aircraft in various industry has allowed the market to recover at a notable pace.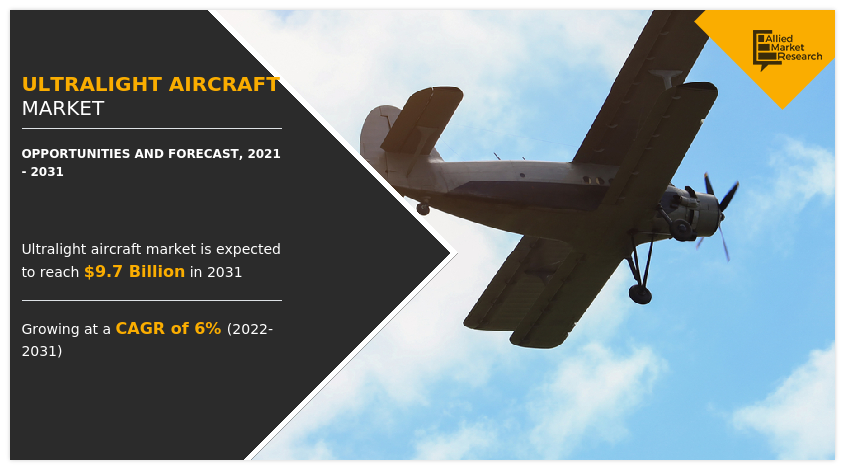 The ultralight aircraft market is segmented into Technology, Propulsion, Takeoff and End Use.
Ultralight aircraft have developed into specially designed aircraft of very low weight and power but with flying characteristics similar to conventional light aircraft. Originally, ultralights were simply hang gliders modified for power by installation of small engines similar to those used in chain saws. Although upgraded variants are currently utilized for training, police patrol, and other activities, including a planned use in conflict, they are still primarily designed for recreational flight. Ultralights can be powered or unpowered. They should weigh no more than 155 pounds when unpowered. If powered, they have an empty weight of no more than 254 pounds, a fuel capacity of no more than 5 US gallons, a top speed in level flight of no more than 55 knots, and a power-off stall speed of no more than 24 knots.
Ultralight Aircraft Market

---

By Technology
Unmanned is projected as the most lucrative segment
Growth of the ultralight aircraft market is driven by factors such as low cost of acquisition and maintenance, and absence of regulatory norms limiting civilians to fly an ultralight aircraft in certain regions. Placement of ultralight aircraft in recreational and sports activities are backed by increasing expenditure trends by civilians across the globe to support business opportunities within the region. Rise in disposable income across the globe and increasing delays in delivery of conventional aircraft is expected to impact ultralight aircraft in a positive manner to a certain extent. Rise in sports, tourism, and recreational activities post COVID-19 is supporting business opportunities within the segment. In Q1 2022, there were an expected 117 million foreign visitors, up from 41 million in Q1 2021, an increase of 182% year over year. About 47 million of the additional 76 million overseas arrivals were counted in March 2022.
Ultralight Aircraft Market

---
By Propulsion
Electric and hybrid is projected as the most lucrative segment
The ultralight aircraft market is segmented on the basis of technology, propulsion, takeoff, end use, and region. By technology, it is categorized into manned and unmanned. The propulsion segment is further sub divided into conventional propulsion and electric & hybrid propulsion. Depending on takeoff, the market is fragmented into commercial takeoff and landing (CTOL) and vertical takeoff and landing (VTOL). The end use segment is bifurcated into civil and commercial & military. Region wise, the market is analyzed across North America, Europe, Asia-Pacific, and LAMEA.
Companies have adopted product development and product launch as their key development strategies in the ultralight aircraft industry. Moreover, collaborations and acquisitions are expected to enable leading players to enhance their product portfolios and expand into different regions. The key players that operate in the ultralight aircraft market AutoGyro, Pilatus Aircraft Ltd, Pipistrel, Textron Inc, VOLOCOPTER GMBH, Cirrus Aircraft, Vulcanair, Piper Aircraft, Neva Aerospace, and Boeing.
Ultralight Aircraft Market

---
By Takeoff
VTOL is projected as the most lucrative segment
Low cost of acquisition, maintenance, and operation
The dimensions and weight of ultralight aircraft are significantly less than those of commercial aircraft. The definition of ultralight aircraft is based on maximum takeoff weight (MTOW). Due to lenient ownership laws in many nations, purchasing an ultralight aircraft is simpler. In developed nations such as the U.S., Canada, and Australia, ultralight and light aircraft are often used for leisure and sporting activities. Some ultralight aircraft also utilize fuel intended for automobiles, which lowers the cost of operating the aircraft. An ultralight aircraft typically requires 2-3 liters of fuel per hour, making operation cheap.
Inefficient supply chain and increase in backlogs of general aviation and commercial aircraft
The sudden outbreak of COVID-19 in 2019, imposition of global trade and travel restriction in 2020 and 2021, followed by the Ukraine-Russia war in 2022 has posed a notable amount of challenges in business operations, majorly in cross border trade. Governments across the globe have limited their trade dependencies on European regions and are aligning their inclination toward Asia-Pacific, Africa, and the Middle East. The inter-European trade infrastructure is also undergoing a major shift, casing notable business losses.
Ultralight Aircraft Market

---

By End Use
Civil and commercial is projected as the most lucrative segment
Rise in business travel, tourism activities, and other commercial applications of ultralight aircraft
There has been continuous evolution in the application of ultralight aircraft. From hand gliders that are just used for recreational activities, now ultralight aircrafts are used for commercial, military, civil and commutation purpose along with increased usage in tourism and recreational activities. Innovation in design and commercializing aircraft models as per changing consumer requirement has been primary factor driving the ultralight aircraft industry growth.
Rise in concerns related to operational safety and regulatory landscape
There have been notable debates and increasing concerns toward operational safety of ultralight aircraft. Major countries such as the U.S., Russia, UK, Germany, India, and China have minimal to no regulatory landscape towards acquisition and operations of ultralight aircraft. With technological advancements of ultralight aircrafts, such as allowing them to cruise at higher speed and automated operations has raised several concerns toward safe operation of these aircrafts. Moreover, design modifications and integration of more electric components and commercialization of all electric ultralight aircraft has generated requirement to have a comprehensive regulatory framework toward manufacturing these aircrafts as well.
Ultralight Aircraft Market

---

By Region
Asia-Pacific will exhibit highest CAGR of 6.6% during 2022-2031
KEY BENEFITS FOR STAKEHOLDERS
This study presents the analytical depiction of the global ultralight aircraft market analysis along with the current trends and future estimations to depict imminent investment pockets.

The overall ultralight aircraft market opportunity is determined by understanding profitable trends to gain a stronger foothold.

The report presents information related to the key drivers, restraints, and opportunities of

the global Ultralight Aircraft market with a detailed impact analysis.

The current ultralight aircraft market is quantitatively analyzed from 2021 to 2031 to benchmark the financial competency.

Porter's five forces analysis illustrates the potency of the buyers and suppliers in the industry.
 Ultralight Aircraft Market Report Highlights
Aspects
Details
Technology
Propulsion

Conventional Propulsion
Electric and Hybrid

Takeoff
End Use

Civil and Commercial
Military

By Region

North America (U.S., Canada, Mexico)
Europe (UK, Germany, France, Russia, Italy, Rest Of Europe, Spain)
Asia-Pacific (China, India, Japan, Australia, South Korea, Rest Of Asia-Pacific)
LAMEA (Latin America, Middle East, Africa)

Key Market Players
AutoGyro, Pilatus Airraft Ltd., Pipistrel, Textron Inc., VOLOCOPTER GMBH, Evektor, P&M Aviation, Legend Aero, Vulcanair, Cirrus Aircraft