The global ultrasonic sensor market size was valued at $4.90 billion in 2020, and is projected to reach $10.43 billion by 2028, registering a CAGR of 11.10% from 2021 to 2028. 
The ultrasonic sensor market registered declining growth and was impacted negatively due to COVID-19.
Ultrasonic sensor is a type of electronic device, which is used to calculate the distance of any object through emitting ultrasonic sound waves and converts the reflected sound into an electrical signal. These waves are faster than the speed of audible sound. It consists of two main parts, transmitter and receiver. Transmitter is used to emit the sound by piezoelectric crystals, whereas receiver is used to receive the reflected signal. Ultrasonic sensors are used in many applications and industries, such as food & beverages, to calculate liquid level in bottles. In addition, the sensor is used in manufacturing for control maximizing efficiency and automated process in factory. Ultrasonic sensor industrial grade products are a highly reliable for detecting objects and measuring distance and fill level. The industrial ultrasonic sensor price is versatile in nature and proven to be a better substitute to capcitive or optical sensors.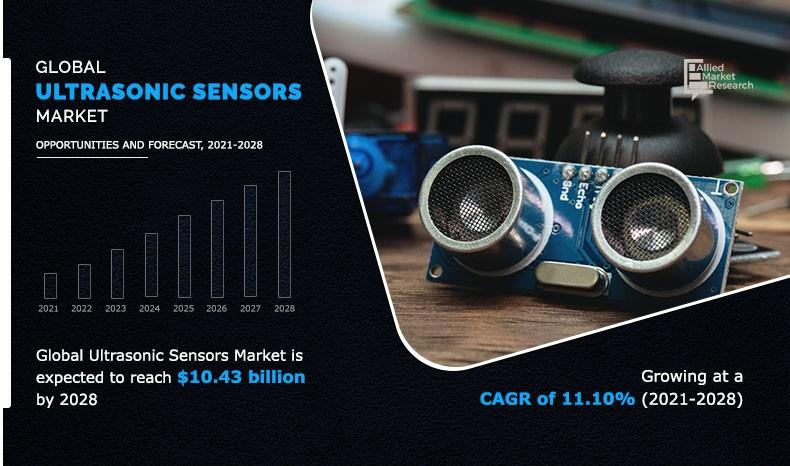 Get more information on this report : Request Sample Pages
The global ultrasonic sensor market share is anticipated to witness significant growth during the forecast period. Factors, such as growing use of ultrasonic sensors for object detection, pallet detection, and distance measurement across numerous industries, drive the ultrasonic sensor market growth. It is also widely used in the food & beverages industry for various purposes such as material handling, processing, and hygiene detection. However, limitation of ultrasonic sensors, such as limited detection range, is a major restraint to the global ultrasonic sensor market revenue. In addition, growing demand from the healthcare sector for numerous applications, such as echocardiograms and echo graphs, is expected to create opportunities for the ultrasonic sensors industry.
Ultrasonic Sensor Market

---
By Application
Level Monitoring

segment is projected as one of the most lucrative segments.
Get more information on this report : Request Sample Pages
The global ultrasonic sensor market is segmented into product type, application, end user, and region. By product type, the market is bifurcated into proximity detection and range measurement. On the basis of application, it is divided into level monitoring, anti-collision detection, distance measurement, object detection, loop control, robotic sensing, and others. Depending on end user, the market is segregated into automotive, industrial, consumer electronics, healthcare, food & beverages, aerospace & defense, and others.
Ultrasonic Sensor Market

---
By End User
Automotive

segment is expected to secure leading position during forecast period.
Get more information on this report : Request Sample Pages
Region-wise, the ultrasonic sensor market trends are analyzed across North America (the U.S., Canada, and Mexico), Europe (Germany, France, the UK, Italy, Russia, and Rest of Europe), Asia-Pacific (China, Japan, India, South Korea, Australia & New Zealand, and Rest of Asia-Pacific), and LAMEA (Latin America, the Middle East, and Africa). Asia-Pacific is dominating the ultrasonic sensors market, owing to growing demand for consumer electronics and automotive products. Asia-Pacific is also projected to register significant growth rate during the forecast period. Furthermore, North America holds subsequent position and is anticipated to increase its growth rate by the end of the forecast period, followed by Europe. 
Leading ultrasonic sensor manufacturers, such as Honeywell International Inc., Murata Manufacturing Co., Ltd, and Rockwell Automation, Inc., are focusing their investments on technologically advanced, cost-effective, and more secure products & solutions for various applications.
Ultrasonic Sensor Market

---
By Region
Asia-Pacific

region would exhibit the highest CAGR of 13.10% during 2021-2028
Get more information on this report : Request Sample Pages
Top Impacting Factors
The prominent factors that impact the ultrasonic sensor industry growth are increasing adoption of robotics in industrial sectors and growing ultrasonic sensor usage in the healthcare industry. In addition, rising adoption of ultrasonic sensor in the food & beverages sector drives the ultrasonic sensor market growth. However, availability of other substitute sensors restricts the market growth. On the contrary, rise in adoption of surveillance drones and increase in usage of ultrasonic sensors in smart applications are expected to create lucrative opportunities for the market. Therefore, these factors are expected to definitely affect the development of the global ultrasonic sensor market during the forecast period.
Competition Analysis
Competitive analysis and profiles of the major ultrasonic sensor market players, such as Balluff GmbH, Banner Engineering Corp., Baumer Group, Hans Turck GmbH & Co. KG (Turck), Honeywell International Inc., Murata Manufacturing Co., Ltd, OMRON Corporation, Pepperl+Fuchs SE, Rockwell Automation, Inc., and Sick AG, are considered in the report.
Covid-19 Impact Analysis
The outbreak of COVID-19 has significantly affected the electronics and semiconductor sector. Business and manufacturing units across various countries were closed, owing to increase in number of COVID-19 cases, and are estimated to remain closed in 2021. Furthermore, partial or complete lockdown has disrupted global supply chains, posing challenges for manufactures to reach customers. The overall production process has been adversely affected, but the surge in ultrasonic sensor usage in the healthcare industry has boosted the overall ultrasonic sensor market trends globally.
The COVID-19 pandemic is impacting the society and overall economy across the globe. The impact of this outbreak is growing day-by-day as well as affecting the overall business globally. The crisis is creating uncertainty in the stock market, falling business confidence, massive slowing of supply chain, and increasing panic among the customer segments.
Asian and European countries under lockdowns have suffered major loss of business and revenue due to the shutdown of manufacturing units in these regions. The operations of the production and manufacturing industries have been heavily impacted by the outbreak of the COVID-19, thereby declining the growth of the ultrasonic sensor market outlook in 2020.
The COVID-19 pandemic has impacted the electronics sector as the production facility has stalled, which, in turn, resulted in significant demand for electronics and semiconductor products in industries. Its major impact includes large-scale manufacturing interruption across Europe and interruption in Chinese parts exports, which are expected to hinder the ultrasonic sensor industry. 
Key Benefits For Stakeholders
This study comprises analytical depiction of the global ultrasonic sensors market size along with the current trends and future estimations to depict the imminent investment pockets.
The overall ultrasonic sensor market analysis is determined to understand the profitable trends to gain a stronger foothold.
The report presents information related to key drivers, restraints, and opportunities with a detailed impact analysis.
The current ultrasonic sensors market forecast is quantitatively analyzed from 2020 to 2028 to benchmark the financial competency. 
Porter's five forces analysis illustrates the potency of the buyers and the ultrasonic sensor market share of key vendors.
The report includes the market trends and the market share of key vendors.
Key Market Segments
By Product Type
Proximity Detection
Range Measurement
By Application
Level Monitoring
Anti-Collision Detection
Distance Measurement
Object Detection
Loop Control
Robotic Sensing
Others 
By End User
Automotive
Industrial
Consumer Electronics
Healthcare
Food & Beverages
Aerospace & Defense
Others
By Region
North America
Europe

Germany
France 
UK
Italy
Russia
Rest of Europe

Asia-Pacific

China
Japan
India
South Korea
Australia & New Zealand
Rest of Asia-Pacific

LAMEA

Latin America
Middle East 
Africa
KEY PLAYERS
Balluff GmbH
Banner Engineering Corp.
Baumer Group
Hans Turck GmbH & Co. KG (Turck)
Honeywell International Inc.
Murata Manufacturing Co., Ltd
OMRON Corporation
Pepperl+Fuchs SE
Rockwell Automation, Inc.
Sick AG