The global undersea warfare systems market was valued at $15.8 billion in 2021, and is projected to reach $24.8 billion by 2031, growing at a CAGR of 4.7% from 2022 to 2031.
The COVID-19 crisis has created uncertainty in the undersea warfare systems industry, massive slowing of supply chain, falling business confidence, and increasing panic among the customer segments. Governments of different regions have already announced total lockdown and temporary shutdown of industries, thereby adversely affecting the overall production and sales. The impact of the COVID-19 pandemic has resulted in delayed development of undersea warfare systems and slowdown of trials & demonstration and restrictions in operation of key players. Governments across the world prioritized the healthcare industry to combat the widespread COVID-19 virus, which adversely affected performance of the defense industry. However, global defense spending reached $1.83 trillion in 2020, a 3.9% annual increase. As a proportion of GDP, global spending sharply increased from an average of 1.85% in 2019 to 2.08% in 2020 as military budgets were maintained despite severe economic crisis caused by COVID-19 pandemic and series of lockdowns introduced around the world in response. The pandemic lockdowns were lifted and then re-instated to curb ascendance of the COVID-19 infections as public utilities were gradually opened in major countries such as the UK, India, and Italy. Shortage of components, subsystems, and electronic systems, owing to regulations associated with import and export of goods have resulted in delayed manufacturing. Development of undersea warfare systems was further impacted by material shortage, owing to manufacturing shutdowns in China, South Korea, and Taiwan. However, post pandemic, the development of undersea warfare systems has been observed. With the relaxation of lockdown measures, vaccination drives, and the consequent opening of markets across the world, the demand for undersea warfare systems is anticipated to grow considerably in the near future.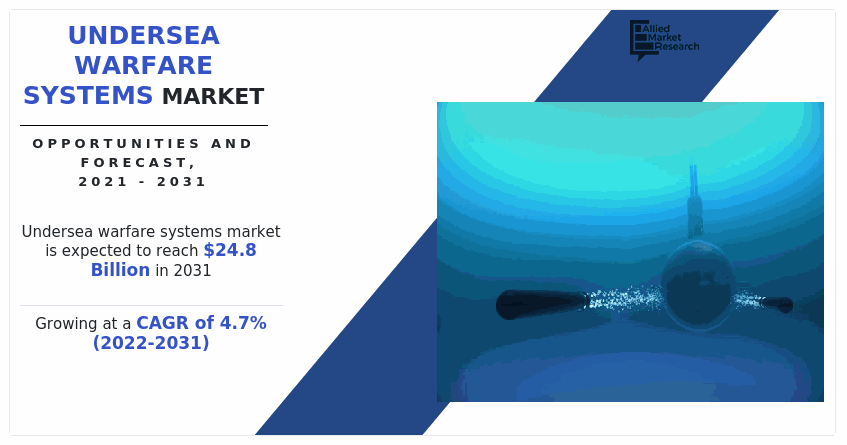 Undersea warfare refers to combat and C4ISR (command, control, communications, computers, intelligence, surveillance, and reconnaissance) activities conducted under the surface of water to address security threats and maintain battlespace dominance in underwater environments. Undersea warfare systems are both offensive system & defensive systems, and are intended to monitor, detect, categorize, track, localize, and identify underwater threats and neutralize them. Undersea warfare systems include sensors, weapon systems, unmanned underwater vehicles, countermeasure systems, and communication systems. Moreover, these systems can be operated manually, autonomously, and remotely.
Rise in demand for stealth undersea warfare systems, advent of underwater drones for undersea warfare, and government support for strengthening undersea warfare capabilities act as the key driving forces of the global undersea warfare systems market. However, operational complexities associated with undersea unmanned systems and high upfront and operational costs of attack submarines hinder the market growth. On the contrary, development of lightweight torpedoes and rise in defense spending are expected to create lucrative market opportunities for the expansion of the global market during the forecast period.
The global undersea warfare systems industry is segmented into type, mode of operation, application, and region. By type, the market is classified into weapon systems, communication & surveillance systems, sensors & computation systems, countermeasure systems & payload, and unmanned underwater vehicles. According to mode of operation, it is fragmented into manned operations, autonomous operations, and remote operations. On the basis of application, it is categorized into combat, C4ISR, and others (training & transport and special missions). Region wise, it is analyzed across North America, Europe, Asia-Pacific, and LAMEA.
Undersea Warfare Systems Market

---
By Type
Communication and surveillance systems is projected as the most lucrative segment
The key players profiled in this undersea warfare systems market report include BAE Systems Plc., General Dynamic Corporation, Kongsberg Gruppen, L3Harris Technologies Inc., Leonardo S.p.A., Lockheed Martin Corporation, Northrop Grumman Corporation, Raytheon Technologies Corporation, SAAB AB, and Thales Group.
Rise in demand for stealth undersea warfare systems
Submarines are valuable operational assets, which make a substantial contribution to three key aspects of marine operational warfare, including sea denial, maritime power projection, and sea control. Submarines have vital operational features such as stealth, flexibility, lethality, and endurance. They substantially enhance the mission advantage and sea strength, and is almost undetectable while fully submerged.
As countries construct regional/global maritime surveillance systems, the operational stealth of submarines is becoming increasingly important. For instance, under Project 75, the Indian Navy commissioned its 4th stealth Scorpene-class submarine in November 2021. The Project involves six submarines of Scorpene design. Among these, the three submarines, including Khanderi, Kalvari, and Karanj have already been commissioned in the Navy. Furthermore, the Russian Navy received three nuclear-powered, stealth submarines in the last quarter of 2021to boost the country's seaborne deterrence forces. Hence, rise in demand for modern stealth submarines is anticipated to fuel the growth of the unmanned warfare systems market during the forecast period.
Undersea Warfare Systems Market

---

By Application
C4ISR is projected as the most lucrative segment
Government support for strengthening undersea warfare capabilities
Various nations across the world are finding ways to gain supremacy in naval operations to enhance their defense capabilities. As water covers more than 3/4th of the Earth's surface, strengthening the naval forces is imperative to effectively defend the national borders. In April 2022, Officials of the U.S. Naval Undersea Warfare Center (NUWC) Division awarded contracts worth $49 million to 13 companies (including key players such as Booz Allen Hamilton Inc., L3Harris Technologies, and nine other players) for the Sensors and Sonar C15 Rapid Prototyping Development project. These 13 companies are to develop research models for applications on surface warships, submarines, surveillance, autonomous vehicles, submerged cables, distributed networks, irregular warfare, and aircraft. Furthermore, in May 2022, the Australian Defense Minister Peter Dutton announced a $1.44 billion investment in developing leading-edge unmanned submarine technology to strengthen Australia's undersea warfare capabilities amidst growing regional tensions. Such developments are expected to propel the growth of the global undersea warfare systems market.
Advent of underwater drones for undersea warfare
Unmanned aerial vehicles, commonly known as drones, are being developed and deployed as unmanned underwater vessels (UUVs) or underwater drones to gain a strategic edge in oceans. The countries such as the U.S., China, Russia, and the UK are all developing and deploying the vessels. UK, which is escalating its military existence in the Pacific region, is expected to deploy its first extra-large underwater drone to supplement its Astute-class submarines already present in the region. Furthermore, the Navy of the UK is developing Manta—an underwater drone—which is an unmanned version of the existing S201 manned submersible developed by a British manufacturer MSubs.
U.S. is working on Orca, an extra-large unmanned undersea vehicle (XLUUV). In 2019, the U.S. Navy awarded Boeing contracts worth a total of $274.4 million to produce five Orca XLUUVs. Orca can be used for various operations such as anti-submarine warfare, anti-surface warfare, mine countermeasures, strike missions, and electronic warfare. To catch up with rise in defense capabilities of its neighbors, the Indian Defence Public Sector Shipyard Garden Reach Shipbuilders & Engineers Limited (GRSE), in September 2020, bought four HUGIN autonomous underwater vehicle (AUV) systems developed by Kongsberg Maritime.
Undersea Warfare Systems Market

---

By Region
Asia-Pacific would exhibit the highest CAGR of 5.7% during 2022-2031
The undersea warfare systems market is segmented into By Type, Mode of Operation and Application.
Key Benefits For Stakeholders
This report provides a quantitative analysis of the market segments, current trends, estimations, and dynamics of the undersea warfare systems market analysis from 2021 to 2031 to identify the prevailing undersea warfare systems market opportunities.
The market research is offered along with information related to key drivers, restraints, and opportunities.
Porter's five forces analysis highlights the potency of buyers and suppliers to enable stakeholders make profit-oriented business decisions and strengthen their supplier-buyer network.
In-depth analysis of the undersea warfare systems market segmentation assists to determine the prevailing market opportunities.
Major countries in each region are mapped according to their revenue contribution to the global market.
Market player positioning facilitates benchmarking and provides a clear understanding of the present position of the market players.
The report includes the analysis of the regional as well as global undersea warfare systems market trends, key players, market segments, application areas, and market growth strategies.
 Undersea Warfare Systems Market Report Highlights
Aspects
Details
By Type

Communication and Surveillance Systems
Sensors and Computation Systems
Countermeasure Systems and Payload
Unmanned Underwater Vehicles
Weapon Systems

By Mode of Operation

Manned Operations
Autonomous Operations
Remotely Operations

By Application
By Region

North America (U.S., Canada, Mexico)
Europe (U.K., Germany, France, Russia, Rest of Europe)
Asia-Pacific (China, Japan, India, South Korea, Rest Of Asia Pacific)
LAMEA (Latin America, Middle East, Africa)

Key Market Players
BAE Systems Plc, General Dynamics Corporation, Kongsberg Gruppen, L3Harris Technologies, Inc., Leonardo S.p.A., Lockheed Martin Corporation, Northrop Grumman Corporation, Raytheon Technologies Corporation, Saab AB, Thales Group