Unified Communication Market Outlook: 2023
Unified communications provide various benefits to enterprises operating in varied industry verticals by providing real-time unified access to interaction through integration of multiple communication platforms. Unified communication service providers have introduced innovative products and solutions to enable ease of access and high level of interoperability to achieve high productivity and informed decision making through collective efforts. Moreover, there are various forms in which unified communications are available, these include video, telephony, conferencing, mobility, unified messaging, IM and presence, and contact center. The mobility segment is anticipated to witness the highest growth rate during the forecast period. The global unified communication market size was valued at $32,879 million in 2016, and is projected to reach at $74,244 million by 2023, growing at a CAGR of 12.60% from 2017 to 2023.
The increase in need for mobility, need to reduce cost of administrative processes, and the increased market for cloud solutions supplements the market growth across various industry domains. Unified communications facilitate businesses with real-time communication, interoperability, and easier access to required information. It provides unified interface to integrate multiple devices, which enables seamless interaction for informed decision making. The increased market for cloud-enabled solutions is expected to drive the market growth.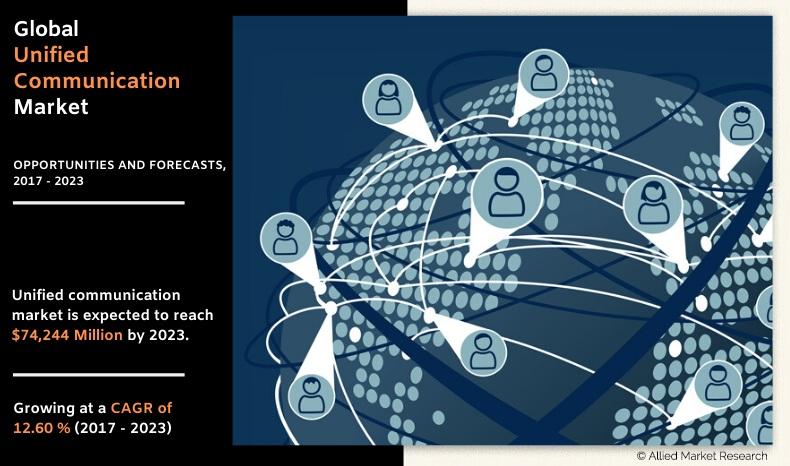 Segment overview
The global unified communication market is segmented based on application, industry vertical, and geography. Applications covered in the study include video, telephony, conferencing, mobility, unified messaging, IM and presence, and contact center. Varied industry verticals covered in the unified communication market report are energy and utilities, IT and telecom, retail, healthcare, manufacturing, BFSI, public sector, aerospace and defense, and others. Based on region, the unified communication market is analyzed across North America (U.S., Mexico, and Canada), Europe (UK, Germany, France, and rest of Europe), Asia-Pacific (China, India, Japan, and rest of Asia-Pacific), and LAMEA (Latin America, Middle East, and Africa).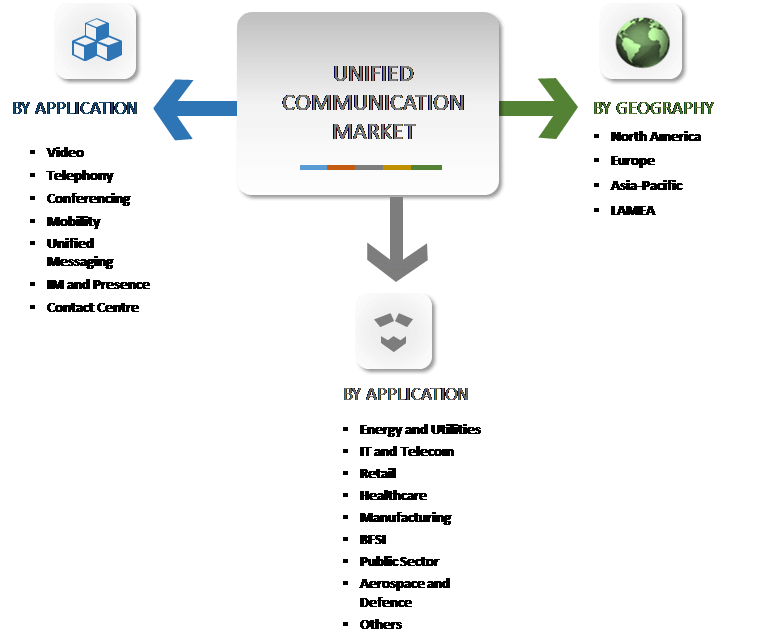 The IT and telecom segment dominated the overall unified communication market in 2016 and is expected to continue this trend during the forecast period, due to rise in adoption of cloud solutions, growth in business for outsourced services, and surge in number of connected devices.
The North America region dominated the overall unified communication market share in 2017, owing to increase in demand for connected interfaces, growth associated with cloud technology, and penetration of bring your own devices (BYOD) in the U.S., However, Asia-Pacific is expected to witness the highest growth rate during the forecast period.
Top impacting factors
The global unified communication market analysis covers several factors that include rise in need for improved communication solutions, increased application areas, increase in market for cloud solutions and proliferation of smart devices, growth associated with end-use industries, demand from developing economies, and others. All these factors collectively provide opportunities for unified communication market growth.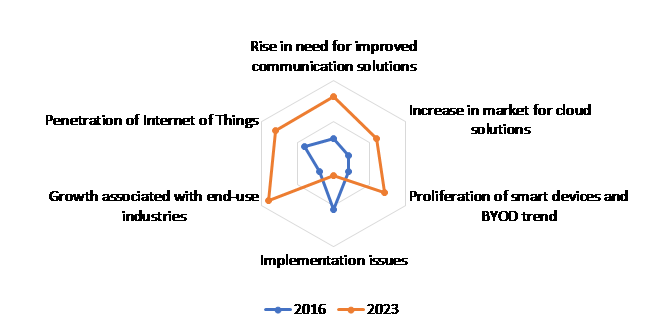 Proliferation of smart phones and BYOD trend
The growth in sales of mobile phones has increased the adoption of unified communication among end users. According to "Ericsson Mobility Report" published in 2015, the number of smartphone users is expected to reach 6.1 billion by 2020. In addition, 90% of the population is supposed to have access to high-speed internet and 80% of the new smartphone users are expected to be from Asia-Pacific and LAMEA. Further, another analysis from Cisco states that India is expected to have around 650 million smartphones by 2019. Moreover, increased adoption for bring your own device (BYOD) among enterprise from all industry verticals is expected to drive the demand for unified communication during the forecast period.
Increased market for cloud-based solutions
Rise in adoption of cloud-based technology along with usage of social media platforms drives the growth of the market. At present, cloud technology is adopted widely amongst all the businesses, which provide enterprise affordable communication solutions. Cloud computing allows the model to function from anywhere and anytime. In addition, the implementation of cloud enables organizations to combine supplementary infrastructure technologies such as software-defined perimeters to create robust and highly secure platforms. Hence, the rise in the adoption of the cloud-based solutions drives the growth of the unified communication market.
Penetration of Internet of Things
The growth in demand for low cost data storage, backup, and data protection augments the growth of the IoT market among end users that include small and medium enterprises (SMEs) and large enterprises. Moreover, end user organizations shift toward cloud computing technologies and deployment of cloud-based IoT software and platform is on an increase. Further, according to 11th annual Visual Networking Index by Cisco the number of machine-to-machine connections is expected to reach 12.2 billion by 2020. Further, IoT is anticipated to account for nearly half of the connected devices by 2020. In addition, Cisco predicts the Internet of Everything market to be $19 trillion opportunity by 2024–2025.
Impact of developing economies
Increase in demand for advanced solutions and technological advancements collaboration market due to the presence of untapped demands and surge in need for better integration of communication platforms in the countries such as China, Japan, and Australia provide enormous opportunities for the market growth.
Key Benefits for Unified Communication Market:
The study provides an in-depth global unified communication market size along with current trends and future estimations to elucidate the imminent investment pockets.
Current and future unified communication market trends are outlined to determine the overall attractiveness and to single out profitable trends to gain a stronger foothold in the global market.
The report provides information on key drivers, restraints, and opportunities along with their impact analysis.
Quantitative analysis of the current market and forecast for the period of 2016-2023 is provided to highlight the financial appetency of the unified communication market forecast.
Porters Five Forces analysis illustrates the potency of buyers and suppliers that participate in the unified communication industry.
 Unified Communication Market Report Highlights
Aspects
Details
BY APPLICATION

Video
Telephony
Conferencing
Mobility
Unified Messaging
IM and Presence
Contact Centre

BY INDUSTRY VERTICAL

Energy and Utilities
IT and Telecom
Retail
Healthcare
Manufacturing
BFSI
Public Sector
Aerospace and Defense
Others

BY REGION

North America (U.S, Canada, Mexico)
Europe (UK, Germany, France, Rest of Europe)
Asia-Pacific (China, India, Japan, Rest of Asia-Pacific)
LAMEA (Latin America, Middle East, Africa)

Key Market Players
AASTRA, ALCATEL-LUCENT, AT&T, CISCO, CONNECT SOLUTIONS, HEWLETT-PACKARD, IBM, MICROSOFT, SIEMENS ENTERPRISE COMMUNICATIONS, VERIZON COMMUNICATIONS