Unilateral Biportal Endoscopy Market Research, 2031
The global unilateral biportal endoscopy market size was $295.31 million in 2021, and is projected to reach $548.43 million by 2031, growing at a CAGR of 6.4% from 2022 to 2031. UBE procedures use endoscopic equipment and supplies to perform unilateral biportal endoscopic spine surgery. They are minimally invasive or non-surgical treatments. Numerous instruments and pieces of equipment, such as procedure-specific scopes, video monitors, imaging tools, anesthetic monitoring tools, light sources, video processors, insufflators, endoscope cabinets, and endoscopy carts or trolleys, are used during endoscopy to ensure a safe and efficient procedure. The primary users of endoscopic equipment include gastroenterologists, gynecologists, nephrologists, neurologists, cardiologists, hepatologists, and surgeons who perform liver transplants. The use of tiny tubes, handheld cameras, and surgical instruments through one or more tiny incisions constitutes the minimally invasive surgical procedure known as an endoscopy. Less pain, a shorter or no hospital stay, or fewer issues with pre- and post-surgery care are the main advantages of UBE endoscopic procedures. As a result, these procedures are less expensive, more efficient, and safer than conventional open operations. The U.S., Canada, UK, Germany, Australia, and a few Middle Eastern countries like the UAE have health insurance companies that cover these procedures further providing unilateral biportal endoscopy market opportunity.
The World Health Organization (WHO) on January 30, 2021 declared COVID-19 as a pandemic and general wellbeing crisis of international concern. COVID-19 has impacted around 210 countries across the globe, owing to the COVID-19 pandemic. State-run administrations across the globe declared inescapable lockdowns as well as social distancing measures to forestall breakdown of the healthcare structure. States have additionally given constraints and preventions on undertakings and elective surgeries. These obstructions continue to influence the growth of different industries and the enhanced response toward these regulations affects the industry. The distribution, production, and store network have been impacted, due to lockdowns across the globe. In addition, the UBE market had a negative impact during the pandemic. All elective procedures were either cancelled or postponed due to the overcrowding of COVID-19 cases in hospitals. Due to reduction in endoscopic procedures across the world and the success rate of this treatment was decreased. Contrary to other surgical procedures, UBE endoscope sales have increased as fewer hospitals and clinics are able to follow and put into practice the exacting COVID-19 guidelines proposed by governing bodies. To reduce the danger of infection, it is advised to employ personal protective equipment, negative pressure suites, and ward isolation. As a result, UBE endoscopic therapy has become expensive overall. The UBE endoscopy market's expansion in 2020 has been constrained by these issues. The market is anticipated to rebound in the upcoming years which will be anticipated by the widespread use of vaccines.
The growth of the unilateral biportal endoscopy market size is driven by need to diagnose and treat a number of serious spinal disorders such as spinal stenosis and herniated discs. Although, UBE doctors and surgeons are in great demand all around the world, with the exception of the UK, where the United Kingdom Central Council for Nursing, Midwifery, and Health has been training nurse UBE for the past ten years, this scarcity of skilled workers in endoscopy is also anticipated throughout Asia-Pacific, Latin America, and Europe. In addition, this scarcity has been seen as a major restraint in the market. To address this issue, a few industry participants, including Olympus, have set up training facilities. The business operates 22 endoscopic training facilities in Asia alone. Such activities will raise knowledge of the most recent developments in endoscopy technology and boost the pool of qualified endoscopic experts.
Furthermore, players in the UBE endoscopy equipment market are encouraged to increase their presence in emerging nations by surge in prevalence of cancer, quick advancements in healthcare infrastructure, rapid expansion of medical tourism, and lax regulatory environments present in these nations. The Middle East, Latin America, and Asia-Pacific are now witnessing a rise in the establishment of UBE endoscopic equipment manufacturing facilities. Important companies like Stryker and KARL STORZ have already established their production and R&D centers in these nations.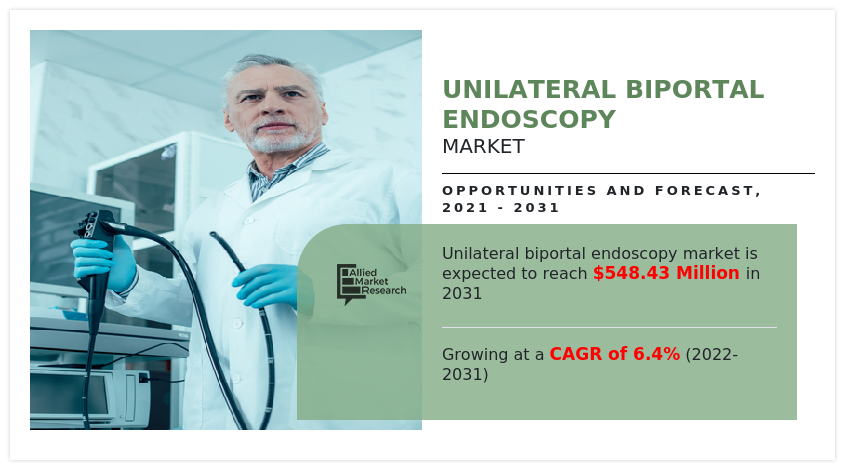 The UBE market is segmented on the basis of product type, indication, end user, and region. By product type, the market is bifurcated into endoscope and accessory devices. By indication the market is classified into herniated discs, spinal stenosis and others. The others segment is further segmented into scoliosis, degenerative disc disease. By end user, the market is fragmented into hospitals and ambulatory surgical centers. Region wise, the market is analyzed across North America, Europe, Asia-Pacific, and LAMEA.
Product Type Segment Review
By product type, the endoscopy segment held largest unilateral biportal endoscopy market share in 2021. The growth of this segment is attributed to technological advancements in endoscopes offering image-guided technology with Artificial Intelligence (AI) and machine learning gaining popularity in the field. The accessory devices segment is expected to show fastest unilateral biportal endoscopy market growth due to increasing use of accessories in various surgical procedures.
Indication Segment Review
By indication, the herniated discs segment was the highest revenue contributor to the market in 2021 and is set to maintain its position through unilateral biportal endoscopy market forecast. The growth of this segment is attributed to increasing number of patients undergoing endoscopic procedures for herniated discs. Moreover, spinal stenosis segment is set to be the fastest growing segment with a CAGR of 7.2% owing to minimized collateral tissue damage and faster recovery.
End User Segment Review
By end user, the hospitals segment was the highest revenue contributor to the market in 2021. The growth of this segment is attributed to the presence of sophisticated surgical equipment in these settings. Additionally, the ambulatory surgical centers segment is anticipated to be the fastest growing segment due to increasing number of healthcare professionally-owned ambulatory care settings to cater to the rising demand for minimally invasive surgeries.
Region Segment Review
Region wise, North America was the highest revenue contributor in 2021. The growth of this segment is attributed to the favorable reimbursement policies for endoscopic procedures in the U.S., high investments by hospitals to purchase new endoscopic equipment, strong focus on research activities to improve endoscopy techniques, as well as the implementation of a new funding model by Canadian hospitals. Asia Pacific is set to grow at a highest CAGR due to surge in medical expertise and technological advancement in medical sector.
Key players that operate in the global UBE market are CONMED Corporation, Endovision Co. Ltd., Jiangsu Bonss Medical Technology Co. Ltd., Joimax GmbH, Karl Storz, Maxmorespine, Maxer Endoscopy GmbH, Richard Wolf, Smith & Nephew and Stryker Corporation.
Key Benefits For Stakeholders
This report provides a quantitative analysis of the market segments, current trends, estimations, and dynamics of the unilateral biportal endoscopy market analysis from 2021 to 2031 to identify the prevailing unilateral biportal endoscopy market opportunities.
The market research is offered along with information related to key drivers, restraints, and opportunities.
Porter's five forces analysis highlights the potency of buyers and suppliers to enable stakeholders make profit-oriented business decisions and strengthen their supplier-buyer network.
In-depth analysis of the unilateral biportal endoscopy market segmentation assists to determine the prevailing market opportunities.
Major countries in each region are mapped according to their revenue contribution to the global market.
Market player positioning facilitates benchmarking and provides a clear understanding of the present position of the market players.
The report includes the analysis of the regional as well as global unilateral biportal endoscopy market trends, key players, market segments, application areas, and market growth strategies.
 Unilateral Biportal Endoscopy Market Report Highlights
Aspects
Details
By Product Type

Endoscope
Accessory Devices

By Indication

Herniated Discs
Spinal Stenosis
Others

By End User

Hospitals
Ambulatory Surgical Centers

By Region

North America (U.S., Canada, Mexico)
Europe (Germany, France, U.K., Italy, Spain, Rest of Europe)
Asia-Pacific (Japan, China, Australia, India, South Korea, Rest of Asia-Pacific)
LAMEA (Brazil, South Africa,, Saudi Arabia, Rest of LAMEA)

Key Market Players
Endovision Co. Ltd., Smith & Nephew, CONMED Corporation, Stryker Corporation, Karl Storz, Maxer Endoscopy GmbH, Richard Wolf, Joimax GmbH, Kinetix Lifesciences, Jiangsu Bonss Medical Technology Co. Ltd.