Ugv Market Statistics 2021-2030:
The unmanned ground vehicle market was valued at $2.12 billion in 2020, and is projected to reach $6.04 billion in 2030, registering a CAGR of 11.4%.
The rapid spread of COVID-19 had a significant impact on the global unmanned ground vehicle market, owing to the implementation of strict lockdown measures across the world. COVID-19 pandemic led to several challenges for the unmanned ground vehicle industry such as disruption in the supply chain of essential raw materials, logistics challenges, reduction in defense spending across various countries, and others. On the other hand, the defense systems manufacturers and service providers had to reduce expansion and R&D investments to withstand the decline in revenue and operating performance of the defense industry. The delay in purchase orders and slow production rate were some of the challenges observed in the unmanned ground vehicle market throughout the year, and are expected to continue for a few years.
The unmanned ground vehicle (UGV) is a mechanical machine that moves along the surface of the ground with a purpose to carry or transport things. In addition, it can be employed in a variety of applications where the presence of a human operator would be inconvenient, dangerous, or impossible. UGV provides a flexible robotic platform along with providing multipurpose mobility support. The major applications of these vehicles are in the defense sector, which include providing surveillance information, carrying supplies, and assists in explosive activation. Moreover, UGVs are used for civilian applications such as nuclear plant operations, urban research & rescue, agricultural harvesting & spraying, firefighting, and crowd control.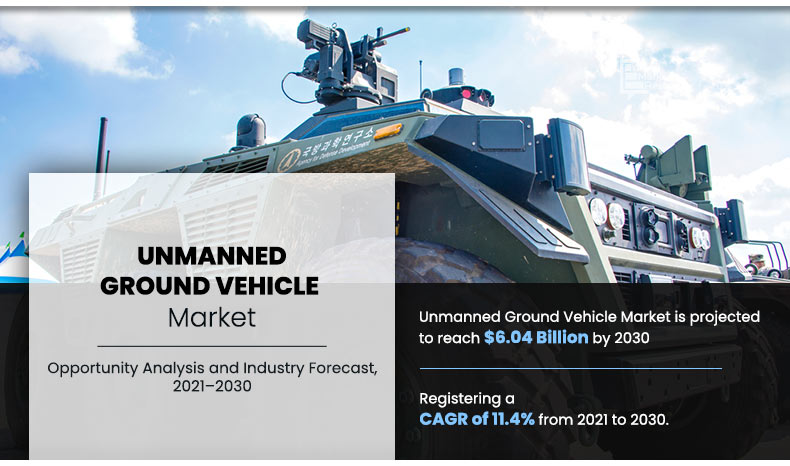 Reduction in risk of human lives and impressive vehicle combat performance in civilian applications, which includes homeland security and commercial purpose are the major market driver for the UGV market. However, reduction in defense budgets by developed countries, issues related to reliability & bandwidth, and restricted battery life of vehicles are the restraints for the UGV market. On the contrary, increase in operational efficiency and demand for autonomous control systems are some of the lucrative market opportunities for the growth of UGV market.
Unmanned Ground Vehicle Market

---
By Application
Commercial is projected as the most lucrative segment
The UGV market is segmented on the basis of application, size, mode of locomotion, operation, and region. Depending on application, it is categorized into defense and commercial. By size, it is categorized into small, medium, and heavy. By the mode of locomotion, it is classified into tracked, wheeled, and legged. According to operation, it is bifurcated into teleoperated and automated. Region wise, it is analyzed across North America, Europe, Asia-Pacific, and LAMEA. 
The key players profiled in this report include Armtrac Inc., Autonomous Solutions Inc. (ASI), Clearpath Robotics Inc., DOK-ING Ltd., General Dynamics Corporation, GESAR INC., Horiba Mira Ltd., ICOR Technology, Northrop Grumman Corporation, and Teledyne FLIR LLC.
Unmanned Ground Vehicle Market

---
By Size
Heavy is projected as the most lucrative segments
Reduction In Risk Of Human Life
The major use of the UGV is in the defense sector, as these machines can be remotely operated and sent ahead of the army platoon to examine the terrain. This technology allows to spot the enemy targets, thus neutralizing them. In addition, UGVs are used to detect explosives and detonate them, thereby reducing the chances of human casualty and increasing mission performance. Moreover, autonomous UGVs are commonly used in tough terrains, places with harsh weather conditions, or areas that are inaccessible to humans. In such environments, the usage of these UGVs eliminate the possibility of harm to defensive troops.  Thus, most countries are increasing the development & usage of UGVs at the battlefields. For instance, in November 2021, Turkey's defense announced the mass production of lightweight, medium-class, and heavy-class UGVs.
Increase In Demand For Ugvs In Civilian Applications
Civilian operations include home usage and rescue operations. Home usage includes cleaning floors and harvesting crops. UGVs are used in rescue operations such as in case of a disaster. Moreover, the perimeter and border security needs have increased the demand for civilian applications.  Furthermore, during search and rescue efforts, autonomous UGVs are utilized to identify people and assess disaster damage.
Unmanned Ground Vehicle Market

---
By Mode Of Locomotion
Legged is projected as the most lucrative segments
Humans can be poisoned by the environment, such as exposure to dangerous substances and radioactive radiation during certain calamities. Such risky situations are successfully addressed with the assistance of autonomous UGVs, which enable the rapid location of victims, rapid assessment of losses, and prompt operations in the affected areas without jeopardizing human safety.
Restricted Battery Life Of Vehicles
UGVs contain multiple power sources such as a battery, fuel-cell, or ultra-capacitor but most of the UGVs are battery-powered. UGV features a restricted battery life making it a major restraining factor for the market. UGVs are required and equipped with all other components of any vehicle system. In addition, according to applications, sensors, propulsion system, and communication system include tether cable, line-of-sight radio, multihop links, low-bandwidth, or non-line-of-sight radio mounted on UGVs that make the vehicle weight-sensitive, which makes the battery of the vehicle more exhaustive. However, increase in R&D of advanced battery chemistries such as lithium-ion will help to improve the battery life of UGVs in future.
Unmanned Ground Vehicle Market

---
By Operation
Autonomous is projected as the most lucrative segments
Demand For Autonomous Control Systems
The autonomous control system is the one that operates without a human controller, it uses sensors to perform the tasks. Fully autonomous UGVs with artificial intelligence and the ability to carry out operations with minimal human interaction are being developed across the globe. It assists in safety and efficiency of applications ranging from transportation to warfare, which provide opportunities to the market. In addition, the use of autonomous UGVs by arm forces is expected to enhance their combat capabilities. Moreover, R&D operations are being carried out to innovate or develop autonomous unmanned defense systems & vehicles to improve the safety of forces on the battlefield.
For instance, in January 2022, Defense Advanced Research Projects Agency (DARPA) announced to conduct Robotic Autonomy in Complex Environments with Resiliency (RACER) off-road UGV program with the goal to develop and demonstrate the ability of autonomous platforms to travel at the speed that maintain pace with crewed vehicles in complex terrain In addition, in September 2021, Russia's equivalent of DARPA, the Foundation for Advanced Studies (FPI) developed marker UGV. Marker UGV is a Russian combat robot patrolling without human assistance, navigating its way across a 100-kilometer route, and working with a swarm of drones.
Unmanned Ground Vehicle Market

---
By Region
Asia-Pacific would exhibit the highest CAGR of 13.85% during 2021-2030.
Covid-19 Impact Analysis
The COVID-19 impact on the unmanned ground vehicle market is unpredictable, and is expected to remain in force for a few years. 
The COVID-19 outbreak forced governments across the globe to implement stringent lockdown and ban import–export of raw material items for most of 2020 & few months in 2021. This led to sudden fall in the availability of important components for manufacturing UGV components.
Moreover, nationwide lockdown forced UGV manufacturing facilities to partially or completely shut their operations.
Adverse impacts of the COVID-19 pandemic have resulted in delays in activities and initiatives regarding development of advanced UGVs across the globe.
Key Benefits For Stakeholders
This study presents analytical depiction of the global UGV market analysis along with the current trends and future estimations to depict imminent investment pockets.
The overall market opportunity is determined by understanding profitable trends to gain a stronger foothold.
The report presents information related to key drivers, restraints, and opportunities of the global UGV market with a detailed impact analysis.
The current UGV market is quantitatively analyzed from 2020 to 2030 to benchmark the financial competency.
Porter's five forces analysis illustrates the potency of buyers and suppliers in the industry.
 Unmanned Ground Vehicle Market Report Highlights
Aspects
Details
By Application
By Size
By Mode of Locomotion
By Operation
By Region

North America (U.S., Canada, Mexico)
Europe (Germany, UK, France, Russia, Rest of Europe)
Asia-Pacific (China, India, Japan, South Korea, Rest of Asia-Pacific)
LAMEA (Latin America, Middle East, Africa)

By KEY PLAYERS

Armtrac Inc.
Autonomous Solutions Inc. (ASI)
Clearpath Robotics Inc.
DOK-ING Ltd.
General Dynamics Corporation
GESAR INC.
Horiba Mira Ltd.
ICOR Technology
Northrop Grumman Corporation
Teledyne FLIR LLC.