Upcycled Cosmetic Ingredients Market Research, 2031
The global upcycled cosmetic ingredients market size was valued at $231.5 million in 2021, and upcycled cosmetic ingredients market forecast to reach at $433.5 million by 2031, growing at a CAGR of 6.6% from 2022 to 2031.
Upcycled cosmetics are new cosmetic components derived from plant-based waste that is typically too valuable to be wasted. The upcycled cosmetic ingredients can be utilized in place of traditional ingredient lists, which are frequently detrimental to humans and the environment. 
Upcycled cosmetic ingredients are gaining massive popularity owing to an increase in the demand for vegan as well as environment-friendly cosmetics. Upcycling discarded materials from fruits, vegetables, beans, and other organic components helps in significantly reduce the production of organic waste material and also helps provide the most natural benefits for skin and hair, which helps in increasing the sales for the upcycled cosmetic ingredients market
There is a significant progress of the creation of sustainable, eco-friendly, and non-toxic goods in the cosmetics and beauty sector. More number of companies adapt their production practices and ingredient lists to be environmentally friendly as the demand for sustainable beauty grows. According to estimates, the market for natural and organic cosmetics would grow from $34.5 billion in 2018 to $54.5 billion by 2027, demonstrating the  importance of the business. Thus, the growth of the natural and organic cosmetics market is estimated to propel the upcycled cosmetic ingredients market demand.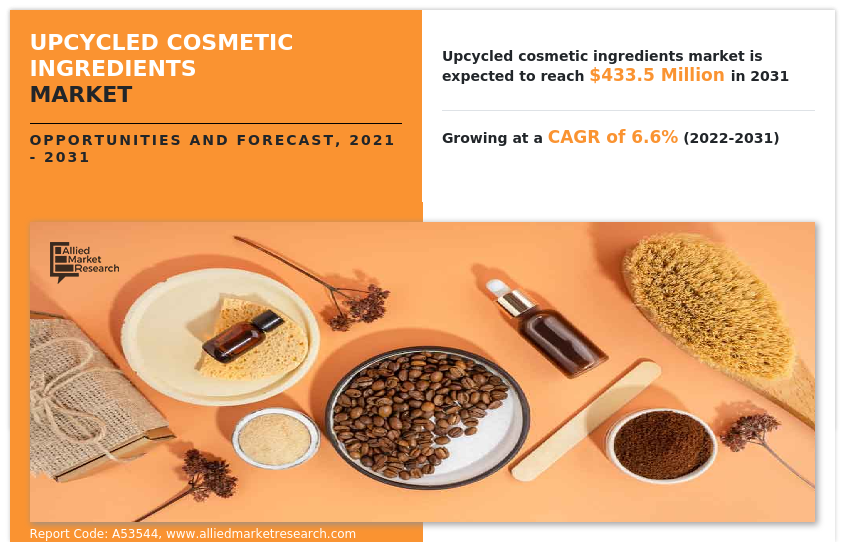 The increase in demand for upcycled cosmetic ingredients owing to their functional benefits such as coffee grounds, orange peel, berry extract, and chickpea brine (also known as aquafaba) may drive up the market demand. For instance, coffee contains nutrients and antioxidants that are good for the skin, hair, and scalp. It can be used to exfoliate the skin, treat acne, boost blood circulation, and maintain a healthy pH level. The Frankie-Shop offers coconut coffee scrub which is good for a facial exfoliator. Moreover, oranges are not only one of the healthiest, and richest in vitamin C fruits, but their peel can also be used in skin care and is known to help tone the skin, combat wrinkles and prevent acne and blackheads. Daylesford Organic Limited offers an all-natural hand balm composed primarily of orange peel. Apart from that, chickpea brine or auafaba has frequently appeared in the beauty sector because it is full of qualities that are healthy for both skin and hair. The protein-rich brine clears blocked pores and softens the overall  appearance of the skin. Lush Retail Ltd. (Lush) is renowned for employing natural ingredients, and several of their products, for instance, Angel Hair shampoo and Good Day Sunshine soap, include aquafaba as their primary ingredient. Aquafaba, according to Lush, helps to create a thick blend and emulsifies all the ingredients for a smooth product when blended.
he demand for new crops of botanicals used as cosmetic ingredients, as well as the costs associated with their production, processing, and packaging, can be reduced by using by-products. Monocultures used in the cosmetics industry may require a lot of resources to grow and are bad for biodiversity. Producing rose essential oils, for example, may be considered unsustainable because it typically takes 5 tons of rose petals to generate just 1 kilogram of oil. Although upcycling ingredients necessitates the use of energy, water, and other resources, the process can be done in a sustainable manner. Extensive research is generally conducted to trace their path and the morality of their production from the farm to the supplier. As a result, unsustainable methods of obtaining the ingredient may hinder the upcycled cosmetic ingredients market growth.
There is an increase in repurposing food waste as basic ingredients in the cosmetics business. The coronavirus pandemic has disrupted supply networks for cosmetic chemicals, giving the organization further momentum. According to AMR analysis, the adoption rate of upcycled ingredients may increase as the cosmetics industry develops goods for a circular economy and switches to regional supply chains for its raw ingredients. Food by-products, sometimes known as food side streams, are already recognized as a source of natural components. Many cosmetic and personal care products use certain substances, such palm kernel oil. The increased consumer desire for natural and organic personal care products has increased the need for such raw materials. Another important factor is sustainability, with cosmetic and ingredient companies promising to use more plant-based and natural ingredients in their cosmetic formulations.
The growth in demand for products that are not only good for people but also good for the environment and sustainable has created an opportune market for upcycled cosmetic ingredients. In addition, key manufacturers are eager to launch novel ingredients in order to stay ahead of the competition. P2 Science, Inc., for example, launched the CitroSperse product line focused on color cosmetics in November 2022. It is made up of ten bio-based ingredients, including upcycled forestry byproducts. In addition, in November 2022, Symrise, a largest producer of flavors and fragrances launched SymFerment, a skincare ingredient based on probiotic science. It collaborated with Probi, a leading producer of probiotics for the medical and food industries, to develop the component. The partners used upcycling to turn valuable by products into a potent cosmetic component. The fermentation broth, which is created during the manufacturing process, provides micronutrients to the skin. This provides immediate skin benefits in a variety of cosmetic applications, including dermo-cosmetics and face- and body-care.
The upcycled cosmetic ingredients industry is segmented on the basis of application and region. On the basis of application, the upcycled cosmetic ingredients industry is classified into skin care, hair care, and color cosmetics. On the basis of region, the market is studied across North America (the U.S., Canada, and Mexico), Europe (Germany, UK, France, Italy, Spain, Rest of Europe), Asia-Pacific (China, Japan, India, South Korea, Australia, and rest of Asia-Pacific), and LAMEA (Brazil, South Africa, Rest of LAMEA).
Upcycled Cosmetic Ingredients Market

---
By Applications
skin care application garners the largest revenue share of global upcycled cosmetic ingredients market in 2021 owing to wide availability of products from manufacturers.
Get more information on this report :
Request Sample Pages
Cosmetic manufacturers use upcycled cosmetic ingredients in formulations of different skin care products such as cleansers, moisturizers, face wash, scrbs, body oils, and other skin care products. These products are used to nourish the skin while also repairing damaged skin through exfoliation and moisturization. The use of upcycled ingredients in skin care products is significant because these ingredients have numerous skin benefits and thus this segment garners the largest upcycled cosmetic ingredients market share . In recent years, recycled ingredients such as coffee grounds, nutshell powders, seed oils and powders, fruit peel powders and extracts have been widely used in the manufacture of skin care products. Coffee grounds and other similar coarse materials derived from fruits and vegetables, such as skins and seed powders, are used to make body scrubs and exfoliators because they are highly effective in removing dead skin cells and imparting luster to the skin. Similarly, the oils and extracts from discarded fruit and vegetable peels are used to moisturize the skin and give it a healthy glow. The growth in demand for organic and chemical-free ingredients in skin care products drives an increase in the use of upcycled ingredients in skin care product production, as upcycled ingredients are natural and also help to protect the environment, which is appealing to consumers.
Shampoos, conditioners, hair oils, hair serums, hair masks, and other hair care products are used to protect the hair from damage, to make it smooth and shiny, and to provide nutrition to the hair in order to promote hair growth. Upcycled ingredients are increasingly being used in hair products such as hair oil and hair serums because they are highly beneficial in providing nourishment to hair. Moreover, there is an increase in  use of fruit peel extracts and fruit seed extracts in the development of shampoos and conditioners in an effort to reduce synthetic ingredients in shampoos while also providing additional benefits to the hair. Newer innovations in products such as hair scrubs and hair masks rises the demand for natural ingredients in hair care products, which increases the demand for upcycled ingredients in hair care product production. Further advancements in hair care product production procedures and ingredient formulations is expected to increase demand for hair care products containing upcycled ingredients.
Color cosmetics include eyeshadows, concealers, bronzers, lipsticks, blush, foundation, primers, and other products. The use of such products has grown significantly in recent years, putting pressure on manufacturers to develop value-added products to boost sales, which has resulted in the inclusion of upcycled ingredients in the production of such products. Color cosmetics are commonly used in makeup to enhance the features of the wearer as well as to create a more aesthetic appearance. The users are concerned about the quality of the products they use because they are applied for long periods of time throughout the day and can cause skin damage if made with inferior ingredients. Natural and upcycled ingredients are increasingly being used in the production of colored cosmetics, as manufacturers strive to create products that provide additional benefits to consumers. Furthermore, the growth in consumer preference for environmentally sustainable and natural products drives up the demand for color cosmetic products containing upcycled ingredients.
Upcycled Cosmetic Ingredients Market

---

By Region
North America garners largest revenue share in 2021 owing to high acceptance of product from cosmetic manufacturers and favorable government policies.
Get more information on this report :
Request Sample Pages
The increased consumer preference for value-added and high-quality products encourages the use of upcycled cosmetic ingredients in the North America region. The U.S. has several cosmetics manufacturers, with many of them operating on a global scale. Furthermore, there are several smaller manufacturers in the region who use locally sourced as well as natural ingredients to manufacture their products. There is a significant increase in demand for natural and organic cosmetic products in the region, prompting manufacturers to use more organic and sustainable ingredients. The presence of several cosmetics brands in the region also contributes to market expansion. Europe has the highest concentration of cosmetic manufacturers, and several of the largest cosmetics brands of the world are based there. Consumer preference for high-quality products in the region promotes market growth in Europe. The majority of consumers of Europe prefer high-quality products that provide multiple benefits to both the consumer and the environment. The presence of proper waste management and disposal systems in the Europe region makes it much easier to produce upcycled cosmetic ingredients in the region.
The increase in urbanization in Asia-Pacific region, combined with an increase in spending on natural cosmetic products, helps to boost the  market of the region. There is a rise in demand for high-quality products in the LAMEA region as its middle-class population grows.
Some of the major players analyzed in this report are Givaudan, Symrise, Cargill, OLVEA, Mibelle Biochemistry, P2 Science, Inc., Rahn AG, Hair O'right International Corporation, Lignopure, and SOPHIM IBERIA S.L.
Key Benefits For Stakeholders
This report provides a quantitative analysis of the market segments, current trends, estimations, and dynamics of the upcycled cosmetic ingredients market analysis from 2021 to 2031 to identify the prevailing upcycled cosmetic ingredients market opportunities.
The market research is offered along with information related to key drivers, restraints, and opportunities.
Porter's five forces analysis highlights the potency of buyers and suppliers to enable stakeholders make profit-oriented business decisions and strengthen their supplier-buyer network.
In-depth analysis of the upcycled cosmetic ingredients market segmentation assists to determine the prevailing market opportunities.
Major countries in each region are mapped according to their revenue contribution to the global market.
Market player positioning facilitates benchmarking and provides a clear understanding of the present position of the market players.
The report includes the analysis of the regional as well as global upcycled cosmetic ingredients market trends, key players, market segments, application areas, and market growth strategies.
 Upcycled Cosmetic Ingredients Market Report Highlights
Aspects
Details
Market Size By 2031
USD 433.5 million
Growth Rate
CAGR of 6.6%
Forecast period
2021 - 2031
Report Pages
230
Applications

Skin Care
Hair Care
Color Cosmetics

By Region

North America (U.S., Canada, Mexico)
Europe (Germany, France, UK, Spain, Italy, Rest of Europe)
Asia-Pacific (China, Japan, India, South Korea, Australia, Rest of Asia-Pacific)
LAMEA (Brazil, South Africa, Rest of LAMEA)

Key Market Players
RAHN AG, Lignopure GmbH, Cargill, Incorporated, Givaudan SA, OLVEA Group, Mibelle AG, Hair O'right International Corporation, Symrise, P2 Science, Inc., SOPHIM