The global urban air mobility(UAM) market size was valued at $2.3 billion in 2021 and is projected to reach $30.7 billion by 2031, growing at a CAGR of 30.2% from 2022 to 2031. Urban air mobility also known as advanced air mobility is a newly developed idea that envisions an accessible, economical, safe, and sustainable air transportation system for delivering cargo, managing emergencies, and moving people throughout metropolitan areas. UAM is a part of a larger ecosystem for on-demand mobility where consumers can dispatch or use urban aviation services, courier services, shared automated vehicles, shared mobility, public transportation, and other cutting-edge and emerging transportation technologies to access mobility and goods delivery services on demand. This could also relieve the pain on many continually overburdened infrastructures such as those in cities with a rapidly growing population. Cities such as Singapore, Dubai, Dallas, and Los Angeles have already been experimenting with Urban Air Mobility projects for some time.
Throughout the COVID-19 epidemic, the urban air mobility market has grown slowly, mostly because supply chain bottlenecks have delayed the manufacture of UAM aircraft. Instead, UAM industry participants like EHang Holdings Limited, a prominent provider of autonomous aerial vehicle (AAV) technology, are putting forth their successful implementation of a strategy to aid society during the COVID-19 pandemic emergency.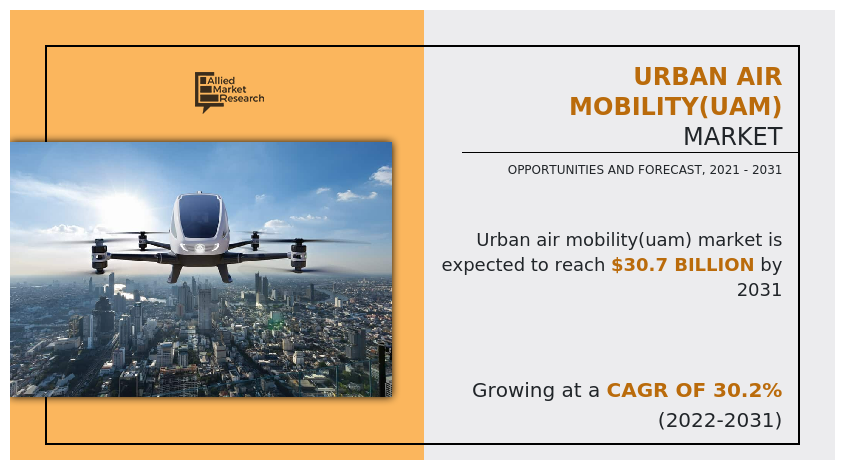 Undoubtedly, traffic congestion causes a significant amount of time to be lost every day around the world. On their commute to work or home, people get caught in traffic, which wastes fuel and reduces productivity. Furthermore, this has an impact on the metropolitan economy. If we don't choose new sustainable solutions, the issue of traffic congestion and its terrible impacts won't be under control. Urban air mobility transportation can help in reducing traffic congestion. Leading transportation businesses are using new technology today and preparing to build intelligent aerial vehicles for urban air mobility. The efficacy and efficiency of transportation will improve with electric aircraft, drones, and flying taxi services. These factors are projected to increase the urban air mobility(UAM) Market demand over the coming years. However, the higher initial investment required for research & development and for developing required infrastructure development for urban air mobility is anticipated to hamper the Urban Air Mobility(UAM) Market Growth.
The industry players are investing a lot of effort in the research and development of smart and unique strategies for sustainable transportation systems. These strategies include product launches, mergers & acquisitions, collaborations, partnerships, and refurbishing of existing technology. In July 2020, Hyundai Motor and Uber has announced a partnership to develop new Uber Air taxis for future urban mobility named SA-1 which is a vertical takeoff and landing vehicle based on electric power. For instance, in May 2022, Volocopter the pioneer in urban air mobility announced a partnership with Microsoft to provide and develop a cloud-based computing system for the company's eVotel, urban air mobility vehicles, and for autonomous flying vehicles.
The key players profiled in the urban air mobility(UAM) Industry report include Ehang, Lilium Gmbh, Airbus, Wisk Aero LLC., Bell Textron, Volocopter GmbH, Workhorse Group Inc., Joby Aviation., Kitty Hawk, and Archer Aviation.
The global urban air mobility market is segmented on the basis of platform, platform operations, range, platform architecture, and region. By platform, the market is sub-segmented into air taxis, air shuttles & air metro, personal air vehicles, cargo air vehicles, air ambulance & medical emergency vehicles, and last-mile delivery vehicles. By platform operations, the market is classified into piloted and autonomous. By range, the market is classified into intercity and intracity. By platform architecture, the market is sub-segmented into rotary wings and fixed wings hybrid. By region, the market is analyzed across North America, Europe, Asia-Pacific, and LAMEA.
The urban air mobility (UAM) market is segmented into Platform, Platform Opeations, Range and Platform Architecture.
Urban Air Mobility(UAM) Market

---
By Platform
Air taxis sub segment is held the highest market share in 2021
By platform, the air taxi sub-segment dominated the market in 2021. A small aircraft or an electric flying vehicle used for on-demand trips is an air taxi. It is also known as an urban air mobility vehicle and is regarded as an alternative for travel in urban areas with congested roadways. Also, the air taxi has the capability to serve as a transportation system in rural areas. For instance, Jaunt air mobility has decided to set up eVTOL assembly plant in India for air taxis. These are predicted to be the major factors affecting the urban air mobility market size during the forecast period too.
By platform, the last mile delivery sub-segment is anticipated to show the fastest growth in 2021. The employment of aerial delivery drones to complete the final mile delivery of the goods is a result of the growing need to increase delivery efficiency and reduce delivery time. Additionally, the global market for last-mile delivery vehicles is expanding due to the introduction of superior UAM vehicles. As a result, multinational logistics firms like DHL International GmbH are forming successful alliances to expand their presence in the market.
Urban Air Mobility(UAM) Market

---

By Platform Opeations
Autonomous sub-segment is anticipated to grow at the fastest CAGR during the projected time frame
By platform operations, the autonomous sub-segment dominated the global urban air mobility market share in 2021. The growth in urban air mobility technology is creating a huge potential for a convenient and efficient mode of transportation for people in urban areas. Urban Air Mobility (UAM) is a vision for transportation that could revolutionize social mobility. To realize the UAM goal, it will be essential to increase vehicle automation and autonomous vehicle operations. An economically feasible transportation system that can support the significant anticipated demand will require autonomy. While autonomous systems might be useful for many different aspects of a developed UAM ecosystem, they are crucial for the actual cars. Thousands of flights above a major city are expected to take place simultaneously under a mature system. Vehicles may need response times and degrees of decision-making and control that are beyond the capability of even highly trained human operators because they will operate in practically all weather situations and in close proximity to people, property, and other vehicles. These factors is anticipated to drive the urban air mobility(UAM) Market Share over the coming years.
Urban Air Mobility(UAM) Market

---

By Range
Interacity is projected to grow at fastest CAGR during the forecasted period
By range, the intercity sub-segment dominated the global urban air mobility market share in 2021. The development of technology has made urban air travel a viable alternative. Additionally, these cars are outfitted with technology that enables them to carry 2 to 4 passengers over distances between 50 and 250 kilometers. These intercity aircraft also reduce travel times between two cities in half. These aircraft are the only high-speed transportation options that do not necessitate significant infrastructure. As a result of these factors the demand for intercity urban air mobility market share in the forecasted period.
Urban Air Mobility(UAM) Market

---

By Platform Architecture
Fixed wing segement is anticiapted to grow at a fastest CAGR over the coming years
By platform architecture, the rotary wings sub-segment dominated the global urban air mobility market share in 2021. The rotary wings are majorly used in urban air mobility vehicles due to the stability provided by the rotary wings. Also, the load-carrying capacity of rotary wings is good and provides better stability in order to provide a safe and secure passenger experience. The rotary wings vehicle are capable to take off and land vertically which means it's eliminated the requirement of a runway for flying purpose. These factors are anticipated to boost the rotary wings urban air mobility market opportunity in the forecasted time.
Urban Air Mobility(UAM) Market

---

By Region
Asia-Pacific held the highest market share in 2021 and is anticiapted to continue its dominace fore the forecaste period
By region, Asia-Pacific dominated the global market in 2021 and is projected to remain the fastest-growing sub-segment during the forecast period. Urban traffic congestion and the need for quick transit have caused the Asia-Pacific market for urban air mobility to rise at an exponential rate in recent years. The Asia-Pacific urban air mobility market is anticipated to be driven by increasing R&D spending as well as a growing focus on improving air mobility over the coming years. For instance, in June 2022, Ehang Holdings limited which is world's leading autonomous vehicle technology platform company and Tianxingjian Cultural Tourism Investment and Development LLC the enterprise of Hunan province government in china has signed the contract of 25 units of EH216 urban air mobility vehicles to promote aerial tourism in Aizhai wonder tourist area in Jishou, Hunan, China.
Impact of COVID-19 on the Global Urban Air Mobility Market Industry
COVID-19 has negatively impacted vario

us industries and business around the globe

that has led to

a

dra

stic decline in investment by business in future technology such as urban air mobility

.

China is the leading produc

er and exporter of urban air mobility vehicles

. However, China being the epicentre of the coronavirus pandemic, its export was affected,

leading to a decline in urban air mobility

production.

Sales of urban air mobility

are directly proportional to the demand from end-use industries namely automotive,

taxi services, supply chain,

and others. However, the

demand for air mobility vehicles

was greatly affected owing to import-export restrictions, closed borders, and supply chain disruptions

due to the outbreak of the COVID-19 pandemic

.

Economic slowdown has af

fected the setup of new urban air mobility

projects across the world as majority of government funding were diverted towards healthcare sector owing to rapid spread of the COVID-19 virus

, impacting the market to the great extent.
Key Benefits For Stakeholders
This report provides a quantitative analysis of the urban air mobility(UAM) market forecast, segments, current trends, estimations, and dynamics of the urban air mobility(uam) market analysis from 2021 to 2031 to identify the prevailing urban air mobility(uam) market opportunities.
The market research is offered along with information related to key drivers, restraints, and opportunities.
Porter's five forces analysis highlights the potency of buyers and suppliers to enable stakeholders make profit-oriented business decisions and strengthen their supplier-buyer network.
In-depth analysis of the urban air mobility(uam) market segmentation assists to determine the prevailing market opportunities.
Major countries in each region are mapped according to their revenue contribution to the global market.
Market player positioning facilitates benchmarking and provides a clear understanding of the present position of the market players.
The report includes the analysis of the regional as well as global urban air mobility(uam) market trends, key players, market segments, application areas, and market growth strategies.
 Urban Air Mobility(UAM) Market Report Highlights
Aspects
Details
Platform

Air Taxis
Air Shuttles and & Air Metro
Personal Air Vehicles
Cargo Air Vehicles
Air Ambulance & Medical Emergency Vehicles
Last-mile Delivery Vehicles

Platform Opeations
Range
Platform Architecture

Rotory Wing
Fixed Wing Hybrid

By Region

North America (U.S., Canada, Mexico)
Europe (Germany, United Kingdom, France, Spain, Italy, Rest of Europe)
Asia-Pacific (China, Japan, India, South Korea, Australia, Rest Of Asia Pacific)
LAMEA (Brazil, UAE, Saudi Arabia, South Africa, Rest of LAMEA)

Key Market Players
Kitty Hawk, Volocopter GmbH, Lilium, The Boeing Company, EHang, Airbus, Neva Aerospace, Workhorse Group Inc., Opener, Pipistrel Group