U.S. Advanced Wound Care Market Overview:
The U.S. advanced wound care market size was valued at $3.35 billion in 2019 and is expected to reach $4.97 billion by 2027, registering a CAGR of 9.9% from 2020 to 2027. 
Advanced wound care patients are at the higher risk during COVID-19 pandemic: Governments suggested providers to minimize the procedure or shift to the less risky area for the treatment. This would hamper the growth of the market during COVID-19 pandemic.
Wound healing process can be facilitated in two different ways, namely, traditional wound care (TWC) and advanced wound care (AWC). Chronic wounds take more time to heal and are expensive to treat. Thus, advanced wound care is developing as a standard solution for treating chronic wounds. Moreover, traditional wound care products such as hydrocolloids, hydrogels, film & foam dressings, and alginates are increasingly being replaced with advanced wound care products, owing to their enhanced efficiency & effectiveness in managing wounds by enabling rapid healing. Moreover, they offer various advantages such as maintenance of a hydrated environment for appropriate flow of oxygen, temperature consistency, protection of wound site from exogenous infection, and ease in pain associated with dressing changes.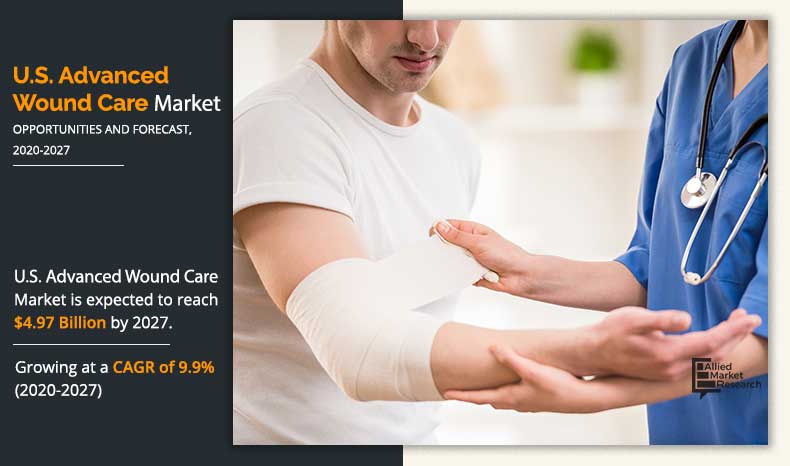 Chronic wounds are prevalent and costly to the U.S. health care system. According to a study by the Medicare beneficiaries, nearly 15% of beneficiaries have a chronic wound or infection every year, where most common chronic wounds are a result of diabetes and venous or arterial insufficiency. Furthermore, healthcare providers face major challenges in delivering care to wound patients during the COVID-19 pandemic. In addition, wound patients with multiple comorbidities are at an increased risk of infection of COVID-19.
The major factors that drive the U.S. advanced wound care market include rise in geriatric population and increase in incidences of diabetes, obesity, and chronic conditions. In addition, changes in healthcare system further drives growth of the market. However, high cost of wound care products is anticipated to hamper the market growth in the future. On the contrary, technological advancements to deal with complex wounds provide immense opportunities for market players.
U.S. Advanced Wound Care Market Segmentation 
The U.S. advanced wound care market is segmented into product, application, and end user. By product, the market is categorized into infection management, exudate management, active wound care, and therapy devices. The infection management is sub segmented into silver dressings, non-silver dressings, and collagens. The exudate management segment is further divided into hydrocolloid dressings, foam dressings, alginate dressings, and hydrogel dressings. The active wound care segment is subdivided into skin substitutes and growth factors. The skin substitute segment is further segmented into xenograft, allografts, and cell-based bioengineering. The therapy devices segment is further segmented into negative pressure wound therapy (NPWT), oxygen & hyperbaric oxygen equipment, electromagnetic therapy devices, and others. Applications covered in the study include chronic wounds and acute wounds. The chronic wounds segment is further segregated into pressure ulcers, diabetic foot ulcers, venous leg ulcers, and arterial ulcers. The acute wounds is further fragmented into burns & trauma, and surgical wounds. Depending on end user, the U.S. advanced wound care market is classified into hospitals and community health service centers.
Product segment review
On the basis product, the therapy devices segment acquired largest U.S. advanced wound care market share in 2019, owing to increase in the incidence rate of chronic diseases such as diabetes & obesity and rise in demand for innovative & advanced wound care products.
U.S. Advanced Wound Care Market

---
By Product
Therapy devices segment holds the dominant position in 2019 and would continue to maintain the lead over the forecast period.
Application segment review
On the basis of application, the chronic wound segment is projected to exhibit the highest CAGR during the forecast period. This is attributed to surge in prevalence of post-operative surgical wounds, rise in geriatric population, increase in awareness and improved diagnosis, and technological advancements, which has driven demand for use of advanced wound care products worldwide.
U.S. Advanced Wound Care Market

---
By Application
Chronic Wounds is projected as one of the most lucrative segments.
The report provides a comprehensive analysis of the key players operating in the U.S. advanced wound care market, namely 3M (Acelity Inc.), Adynxx, Inc., B Braun Melsungen AG, Coloplast A/S, ConvaTec Group Plc, Essity AB (BSN Medical GmbH), Integra Lifesciences (Derma sciences), Investor AB (Mölnlycke Health Care AB), Johnson & Johnson, Medline Industries, Inc., Medtronic Plc., Organogenesis Holdings Inc., and Smith & Nephew Plc. The other players in the value chain include (profiles not included in the report) Paul Hartmann, Human Biosciences Inc., Kinetic Concept, Inc., and Mimedx Group.
Key Benefits For Stakeholders
This report provides a detailed quantitative analysis of the current U.S. advanced wound care market trends and future estimations from 2020 to 2027, which assists in identifying the prevailing advanced wound care market opportunities. 
An in-depth analysis of various regions is anticipated to provide a detailed understanding of the current trends to enable stakeholders formulate region-specific plans.
A comprehensive analysis of the factors that drive and restrain the growth of the market is provided.
The key regulatory guidelines for the U.S. advanced wound care market are critically dealt across the country.
An extensive analysis of various regions provides insights that are expected to allow companies to strategically plan their business moves.
 U.S. Advanced Wound Care Market Report Highlights
Aspects
Details
By Product

Infection Management

Silver Wound Dressings
Non-silver Dressings
Collagen Dressings

Exudate Management

Hydrocolloids Dressings
Foam Dressings
Alginate Dressings
Hydrogel Dressings

Active Wound Care

Skin Substitutes
Growth Factors

Therapy Devices

Negative Pressure Wound Therapy (NPWT)
Oxygen and Hyperbaric Oxygen Equipment
Electromagnetic Therapy Devices
Others

By Application

Chronic Wounds

Pressure Ulcers
Diabetic Foot Ulcers
Venous Leg Ulcers
Arterial Ulcers

Acute Wounds

Burns & Trauma
Surgical Wounds

By End User

Hospitals
Community Health Service Centers

Key Market Players
3M (ACELITY INC.), ADYNXX, INC., B BRAUN MELSUNGEN AG, COLOPLAST A/S, CONVATEC GROUP PLC., ESSITY AB (BSN MEDICAL GMBH), INTEGRA LIFESCIENCES (DERMA SCIENCES), INVESTOR AB (MÖLNLYCKE HEALTH CARE AB), JOHNSON & JOHNSON, MEDLINE INDUSTRIES, INC., MEDTRONIC PLC., ORGANOGENESIS HOLDINGS INC., SMITH & NEPHEW PLC.