U.S. Solar Battery Market Outlook - 2030
The U.S. solar battery market was valued at $16.9 million in 2020, and is projected to reach $37.7 million by 2030, growing at a CAGR of 8.2% from 2021 to 2030. Solar battery is used for storage of solar power. Basically, solar battery is installed with inverter. In addition, it is rechargeable and can be used in solar panel systems. For instance, in industrial applications, solar battery can be utilized with other renewable power sources such as hydropower and wind power. In coming years, solar battery is expected to be used with other renewable power sources as a part of renewable electricity mix to provide sustainable energy solutions. Some of the significant applications of solar battery are solar charging stations, storage for power plants, and storage system for off-grids. Moreover, the application of solar battery can effectively reduce carbon footprints. Implementation of solar battery can make a nation energy independent and reduce the dependence on imported fossil energy resources.
The COVID-19 has affected the public funded solar energy projects and residential solar business as it depends on the consumer spending of individual persons and consumer spending has been significantly affected by COVID-19.
Factors contributing toward the U.S. solar battery market growth are rise in demand for eco-friendly and cost-effective energy solutions for industrial and commercial energy storage. In addition, the awareness regarding clean energy in developed country such as U.S. has increased the demand for solar battery from all the end users. In addition, ongoing infrastructural investments and smart city projects are the major factors influencing the commercial solar battery market growth. Some of the major players and component manufacturers include Tesla, U.S. Battery Mfg. Co., and SUN-XTENDER. U.S. was the once a solar manufacturing hub, and now not only the U.S. but also the rest of the world depends on China for its solar supply chain. On the contrary, U.S. might once again become a solar manufacturing hub if there are proper government policies.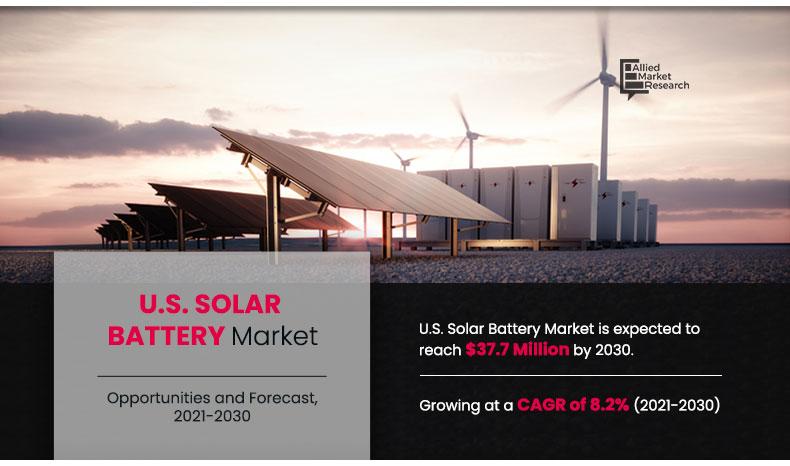 The U.S. solar battery market is segmented on the basis of type and end user. On the basis of type, the market is categorized into lead acid, lithium ion, flow battery, and others. Lithium ion is further bifurcated into lithium iron phosphate, lithium manganese oxide, lithium NMC oxide, and others. Depending on end user, it is segregated into residential, commercial and industrial. The U.S. solar battery market share is analyzed for each and every segment. 
The U.S. solar battery market analysis covers in-depth information of the major industry participants. Some of the major players in the U.S. solar battery market include Adara power, Aims Power, BBI Battery, Enersys, Fortress Power, Goal Zero, Panasonic Corporation, Power Sonic Corporation, Tesla. Inc, Simpliphi Power, Inc, Sunpower, Solaredge Technologies Inc, and U.S. Battery Manufacturing Co.
Other players in the value chain of the U.S. solar battery market are Enphase Energy, and others.
The key players adopt numerous strategies, such as product launch, business expansion, acquisition, partnership, collaboration, joint venture, and agreement, to stay competitive in the U.S. solar battery market.
For instance, in December 2019 LG Chem and GM announced that they will form a joint venture in Ohio and invest up to $2.3 billion by 2023. The aim of joint venture will be production of battery cells for electric vehicles. 
U.S. Solar Battery Market, by Type
By type, the lithium-ion segment garnered 79.3% share, in terms of volume, in 2020, and is expected to grow at a CAGR of 7.7% during the forecast period. This is attributed to its ability of delivering more lifetime cycles in than other types of battery. In addition, lithium-ion batteries are also easier to install and can be place anywhere, i.e., outdoors or indoors. Furthermore, as they are solid, it does not need maintenance or refills. The only disadvantage is the lengthy production process of lithium-ion and purification of the raw material.
U.S. Solar Battery Market

---
By Type
Lithium Ion is projected as the most lucrative segment.
U.S. Solar Battery Market, by End User
By end user, the industrial segment garnered 45.3% share in 2020 in terms of volume, and is projected to be the largest end user during the forecast period. The demand for solar battery is more from industrial sector, owing to the presence of large industrial consumer base and their high energy demand. Furthermore, some of the major industries are cutting their carbon emission because of which the demand for solar batteries in increasing. 
U.S. Solar Battery Market

---
By End User
Industrial is projected as the most lucrative segment.
Key benefits for stakeholders
The report outlines the current trends and future scenario of the market from 2021 to 2030 to understand the prevailing opportunities and potential investment pockets.
The U.S. solar battery market size is provided in terms of volume and revenue.
The report provides an in-depth analysis of the market along with the current and future U.S. solar battery market trends.
This report highlights the key drivers, opportunities, and restraints of the market along with impact analysis during the forecast period.
Porter's five forces analysis helps analyze the potential of buyers & suppliers and the competitive scenario of the U.S. solar battery industry for strategy building.
The study provides a comprehensive analysis of the factors that drive and restrain the market growth.
Impact of COVID-19 on the U.S. Solar Battery Market
 The outbreak of COVID-19 might delay majority of utility-scale projects that are anticipated to come online in 2021.
 Solar rooftop demand households and businesses might decrease, owing to lack of government support. 
The final investment decisions for some of the solar energy projects might delay owing to outbreak of COVID-19
Solar energy sector for residential installations depends on door-to-door education, income of individual persons, and others. As person-to-person contact is not allowed, owing to social distancing rules which is slowing down the pace of solar installation for residential. The increased unemployment has decreased the spending power, which is also hindering the solar rooftops installations from residential sector.
The right economic policies might help the solar projects to pace-up in the U.S. 
The public funded solar projects might get delay owing to increased unemployment because of COVID-19.
Energy storage sector has loosed momentum owing to the Covid 19 crisis. As batteries sector has complex supply chain that comprises modules, cells, installers and packs.  
Right recovery plans and financial packages would help recover from these problems. During the 2008 financial crisis, the planned stimulus packages helped solar PV and wind sector. 
Key Market Segments
By Type
Lead Acid
Lithium Ion

Lithium Iron Phosphate
Lithium Manganese Oxide
Lithium NMC Oxide

Flow Battery
Others
By End User
Residential
Commercial
Industrial