U.S. Thrombectomy Devices Market Outlook - 2025
The U.S. thrombectomy devices market was valued at $501.9 million in 2017, and is expected to reach $750.4 million by 2025. This market is anticipated to grow at a CAGR of 5.1% during the forecast period. Thrombectomy devices are used to treat blood clots present in the arteries, veins, and capillaries. These devices are carefully designed to minimize damage to the vessel wall during the procedure, with minimum blood loss. They are available in different sizes and diameters, and depending on the affected area, the required catheter is chosen. These devices are used to treat acute myocardial infraction, peripheral arterial diseases, deep vein thrombosis, pulmonary embolism, and neurovascular thrombosis conditions.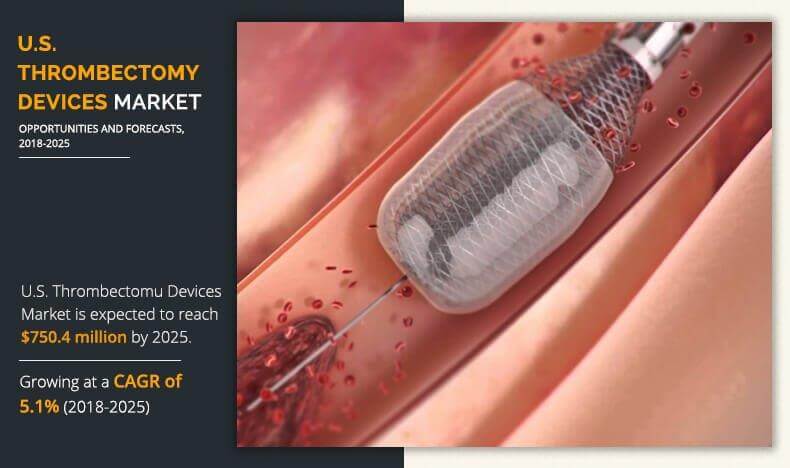 This is attributed by the increase in the incidence of chronic diseases due to the sedentary lifestyle and unhealthy living conditions and habits in the current generation. In addition, rise in geriatric population has led to increase in the incidence of cardiovascular diseases, which is expected to be one of the growth factors of the thrombectomy devices market. Furthermore, growth in demand for minimally invasive procedures and better healthcare infrastructure along with the increase in the competition has led to technological advancements and innovations. These factors are further anticipated to drive the thrombectomy devices market. However, lack of trained professionals and complicated use of these devices restrict the market growth. In addition, deep vein thrombosis and pulmonary embolism sometimes remain underdiagnosed and can lead to serious health conditions, which can only be avoided by escaping the sedentary lifestyle and creating awareness among all age groups.
The report covers the U.S. thrombectomy devices market analysis based on five categories, which include technology, type, disease, and utility. Based on the technology used, the U.S. thrombectomy devices market is categorized into mechanical thrombectomy devices, aspiration thrombectomy devices, and rheolytic thrombectomy devices. Based on type, the market is divided into automated thrombectomy devices and manual thrombectomy devices. On the basis of utility of devices, the market is classified into reusable thrombectomy devices and disposable thrombectomy devices. Furthermore, the U.S. thrombectomy devices market is segmented into three types of diseases, namely, peripheral thrombectomy devices, coronary thrombectomy devices, and neurovascular thrombectomy devices.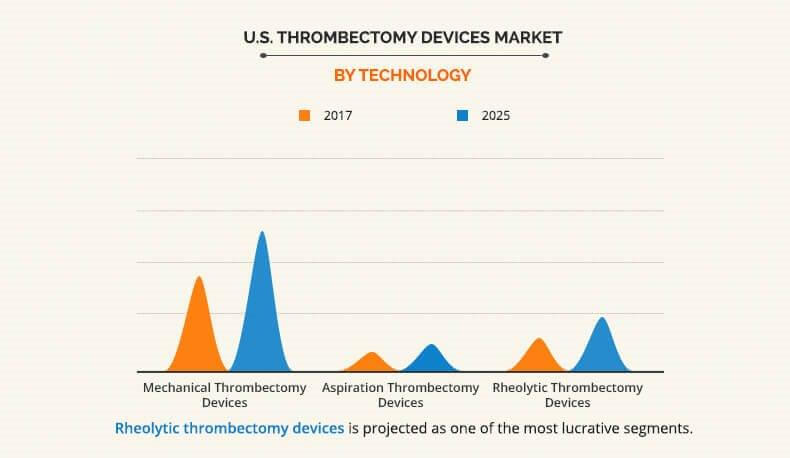 The U.S. thrombectomy devices market size is analyzed by the technology vertical in the report. By technology, the mechanical U.S. thrombectomy devices market occupied the largest share in 2017, this trend is expected to continue throughout the forecast period as mechanical thrombectomy devices have replaced traditional manual aspiration thrombectomy devices due to better debulking of clot from large, proximal arteries. In addition, large vessel occlusions can be treated better by mechanical aspiration thrombectomy devices rather than chemical thrombolysis, which is usually futile.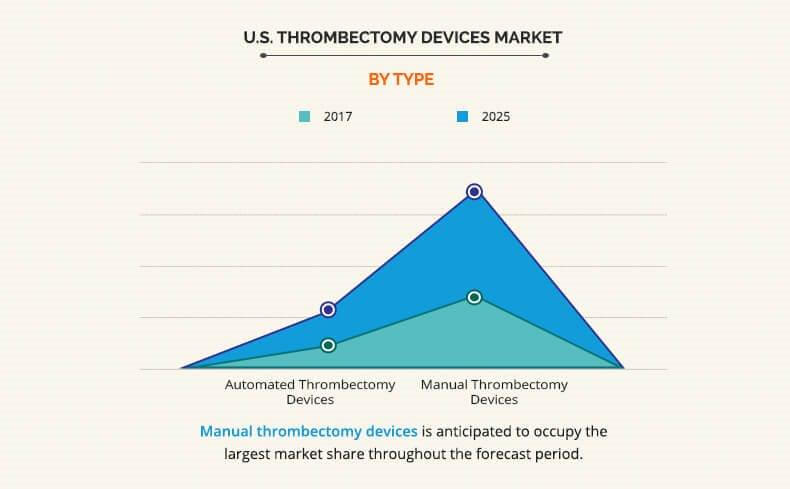 The U.S. thrombectomy devices market share is also analyzed through type of devices. By type, manual thrombectomy devices occupied the largest share in 2017. Manual devices save electricity and reduce procedural cost in treating removal of thrombus. The trending manual devices include Export Aspiration Catheter by Medtronic plc, which is used to remove large venous clot without vessel occlusion. Other manual thrombectomy devices include the Pronto offered by Vascular Solutions, Solitaire FR Revascularization Device manufactured by Medtronic plc and others.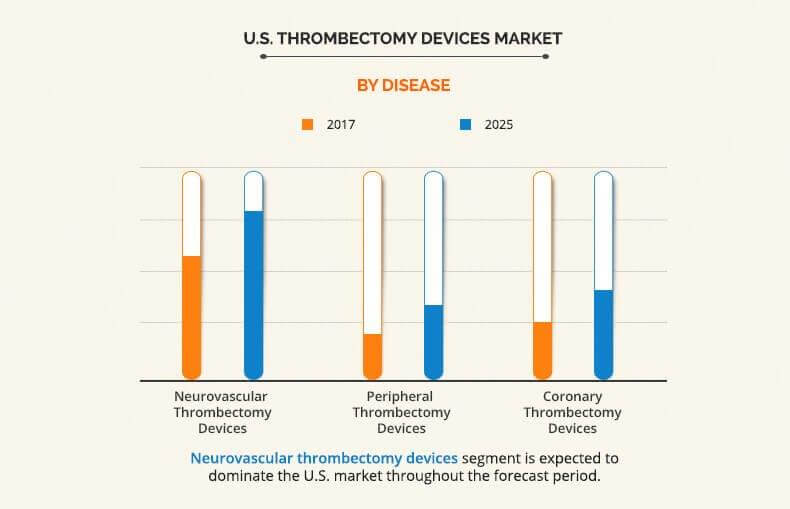 Furthermore, the U.S. thrombectomy devices market trends are also analyzed through diseases. By disease, the neurovascular thrombectomy devices are anticipated to occupy the largest share in 2025. Neurovascular thrombectomy devices are a widely preferred modality as they are more advantageous than intravenous (IV) recombinant tissue plasminogen activator in recanalization. Furthermore, they have high efficiency in treating large occlusions and they also decrease the risk of hemorrhage.
The growing competition and continuous technological advancements have led to acquisitions by major players in the U.S. thrombectomy devices market. For instance, in August 2017, Philips completed the acquisition of The Spectranetics Corporation, a U.S.-based global leader in vascular intervention and lead management solutions. Likewise, Penumbra Inc., executed the acquisition of a controlling interest in its joint venture, MVI Health Inc. After closing the transaction, Penumbra increased its ownership to 90% of the equity of MVI Health for $20 million in upfront cash consideration.
There have also been considerable product developments in the industry. For instance, U.S. FDA has cleared numerous thrombectomy devices recently. Penumbra Inc. received 510(k) clearance from the U.S. FDA to market its ACE64 aspiration thrombectomy system for the revascularization of large vessel occlusions in patients with acute ischemic stroke. Likewise, Medtronic plc's Neurovascular business unit received U.S. FDA clearance of the Riptide(TM) Aspiration System, this system is a part of the Acute Ischemic Stroke (AIS) product portfolio of the company. Furthermore, CERENOVUS, part of the Johnson & Johnson Medical Devices Companies, received 510(k) clearance from the U.S. FDA for EMBOTRAP II Revascularization Device, a next generation stent retriever used to capture and remove life-threatening blood clots from the brain following an ischemic stroke.
The key players profiled in this report include Boston Scientific Corporation, Medtronic Plc., Teleflex Incorporated, Penumbra Inc., Koninklijke Philips N.V., AngioDynamics, Inc., Terumo Corporation, Johnson and Johnson, Stryker Corporation, and Capture Vascular, Inc. The other players considered in the value chain analysis (but not in the report) include Argon Medical Devices, Inc., Inari Medical, Inc., and others.
Key Benefits for U.S. Thrombectomy Devices Market:
The report provides an extensive analysis of the current U.S. thrombectomy devices market trends and future estimations of the market.
The U.S. thrombectomy devices market scenario is comprehensively analyzed with respect to the technology, type, utility, and disease.
The U.S. thrombectomy devices market growth estimations in this report are based on high-end analysis of the key developments for 20182025.
Recent developments, key manufacturers, and market shares of U.S. thrombectomy devices market are listed in this report to analyze the competitive scenario of the market.
 U.S. Thrombectomy Devices Market Report Highlights
Aspects
Details
By Technology

Mechanical Thrombectomy Devices
Aspiration Thrombectomy Devices
Rheolytic Thrombectomy Devices

By Type

Automated Thrombectomy Devices
Manual Thrombectomy Devices

By Disease

Neurovascular thrombectomy devices
Peripheral thrombectomy devices
Coronary thrombectomy devices

By Utility

Reusable Thrombectomy Devices
Disposable Thrombectomy Devices

Key Market Players
Penumbra, Inc., Capture Vascular, Inc., Teleflex Incorporated, TERUMO MEDICAL CORPORATION, BOSTON SCIENTIFIC CORPORATION, Angiodynamics Inc., KONINKLIJKE PHILIPS N.V., Stryker Corporation, JOHNSON & JOHNSON, MEDTRONIC PLC