Utility poles Market Outlook - 2026
The global utility poles market size valued at $45.6 billion in 2018, and is projected to reach $58.8 billion by 2026, growing at a CAGR of 3.2% from 2019 to 2026. Utility poles are also called power poles or electricity poles, which support wires and electric cables that carry electricity from power companies to end users. These support three facilities including electric power, cable television, and telephone. Material used in the production of utility pole is wood, concrete, composite, and steel, and depending on the use of the material, life span of typical utility pole varies.
Some of the factors that drive the utility poles market growth include growing global energy consumption, expansion of the global telecommunication industry, and approval of steel as a green material. Utility poles are mainly employed to support and connect electric wires that carry electric current. Therefore, energy transmission and energy distribution are the two major applications of the utility poles where they play a significant role in supporting utility infrastructure and fulfilling energy needs as per the demand. On the other hand, the rise in trend for underground cables and wiring network limits the growth of the global market. In addition, strict regulations against deforestation are anticipated to challenge the global market growth during the forecast period. Nevertheless, the emergence of composite utility poles that exhibit superior properties and are cost-effective in nature is projected to offer profitable growth opportunities in the next five years. Acceptance of composite material in utility industry is the recently observed utility poles market trends across the globe.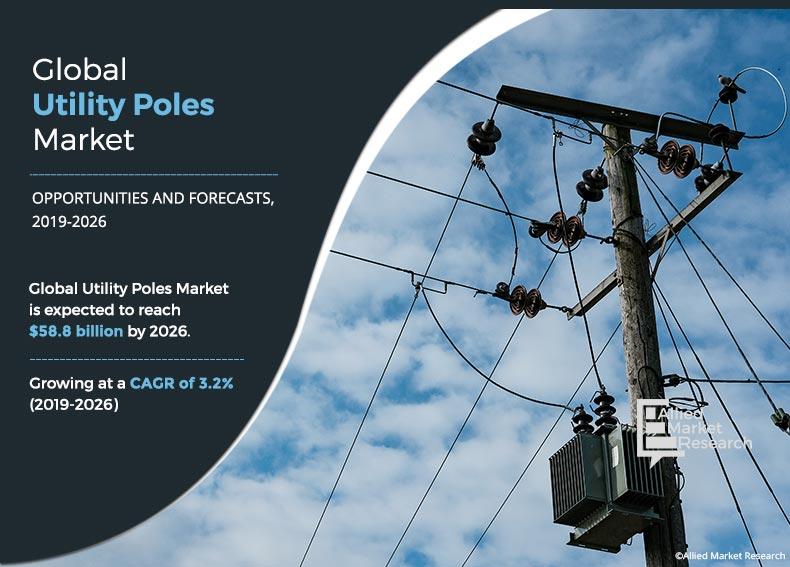 The global utility poles market is segmented into type, material, pole size, application, and region. By type, the global market is segmented into transmission poles and distribution poles. By material, the market is divided into concrete, wood, steel, and composites. By pole size, the market is categorized into below 40ft, between 40 & 70ft, and above 70ft. By application, it divided into electricity transmission & distribution, telecommunication, street lighting, heavy power lines, sub transmission lines, and others. Region-wise, the global market is studied across North America, Europe, Asia-Pacific, and LAMEA.
Among all regions, Asia-Pacific emerged as the global leader in this market in 2018. This can be highly credible to presence of highly populous countries such as India and China, which are generating greater demand for electricity and increasing electricity access rate across the region. Expanding electricity transmission infrastructure in response to growth in electricity is also a key factor generating healthy demand for utility in this region.  
Some of the major market players studied and profiled in the global utility poles market are Valmont Industries Inc., Skipper Ltd., Nippon Concrete Industries Co. Ltd., El Sewedy Electric Company, Hill & Smith Holdings PLC, Stella-Jones, FUCHS Europoles GmbH, Omega Factory, Pelco products Inc., RS Technologies Inc., and others.  
For instance, in August 2018 Hill & Smith acquired Ohio- based Engineered Endeavors, Inc. (EE). EE manufactures utility poles for the power distribution and wireless cellular markets. The acquisition helps Hill & Smith to diversify its product portfolio and leverage on EE's property and customer network
Global Utility Poles Market, by Type
By type, the distribution poles market accounted for the largest utility poles market share in 2018. Increase in energy demand across the globe is the basic factor that drives the energy generation activities, which is further followed by energy distribution as per the demand. Therefore, there is an increase in the demand for distribution poles with growth in the energy consumption.
Utility Poles Market

---
By Type
Distribution Poles is projected as the most lucrative segment.
Global Utility Poles Market, by Material
By material, the wood segment accounted for the largest market share in 2018, and it is anticipated to be the largest market during the forecast period. Wood is the pioneering material used in the pole making, therefore, it is highly adopted in the utility poles. Utility poles that are made from wood are pressure treated with specific additives to keep woodpeckers, insects, fungi, and fires away from the pole. Douglas fir, Jack Pine, Lodgepole Pine, and Pacific Silver Fir are the types of trees used to make utility poles.
Utility Poles Market

---
By Material
Wooden poles is projected as the most lucrative segment.
Global Utility Poles Market, by Pole Size
By pole size, between 40 ft to 70 ft pols are the highly adopted poles and also generated highest revenue in 2018. Utility poles from 40 ft. to 70 ft. size categories are used in both energy transmissions well as energy distribution applications. An increase in the size of the pole offers the ability to handle greater load tension. Therefore, poles with greater ground clearance known for handling higher energy load. Apart from this, the telecom industry is also a significant consumer of this category poles wherein increasing in broadband users is mainly surging demand for poles with 40 ft. to 70 ft. size.
Utility Poles Market

---
By Pole Size
Between 40 & 70ft is projected as the most lucrative segment.
Global Utility Poles Market, by Application
By the application, the energy transmission and distribution segment accounted for the highest market share in 2018. This is due to increase in global energy needs, and therefore results in energy generation activities where electricity is mainly transported and then distributed. This makes energy transmission and distribution segment the largest consumer of utility poles over others.
Utility Poles Market

---
By Application
Electricity Transmission & Distribution is projected as the most lucrative segment.
Global Utility Poles Market, by Region
By region, Asia-Pacific is the largest as well as the fastest-growing region and is expected to explore multiple opportunities in the future. Asia-Pacific's positive outlook toward the electronics industry and increase in demand for telecom service drives the growth of the market. The region is witnessing growth in demand for electricity, and therefore, has undertaken major transmission and distribution (T&D) projects for upgrading the transmission network with ultra-high voltage technologies. In addition, rise in focus on technological advancements and presence of several new players are projected to augment the growth of the market in the coming years.           
Utility Poles Market

---
By Region
Asia-Pacific holds a dominant position in 2018 and would continue to maintain the lead over the forecast period.
Key Benefits for Stakeholders:
The report provides an in-depth analysis of the utility poles market forecast along with the current and future market trends
This report highlights the key drivers, opportunities, and restraints of the market along with the impact analyses during the forecast period
Porter's five forces analysis helps analyze the potential of the buyers & suppliers and the competitive scenario of the global utility poles industry for strategy building
The global utility poles industry closely analyzes the world energy outlook
A comprehensive utility poles market analysis covers factors that drive and restrain market growth
The qualitative data in this report aims on market dynamics, trends, and developments
 Utility Poles Market Report Highlights
Aspects
Details
By Type

Transmission Poles
Distribution Poles

By Material

Concrete
Wood
Steel
Composites

By Pole Size

Below 40ft
Between 40 & 70ft
Above 70ft

By Application

Energy transmission & distribution
Telecommunication
Street lighting
Heavy power lines
Subtransmission lines
Others

By Region

North America (U.S., Canada, Mexico)
Europe (Germany, France, Italy, Spain, UK, Rest of Europe)
Asia-Pacific (China, Japan, India, South Korea, Australia, Rest of Asia-Pacific)
LAMEA (Brazil, Saudi Arabia, South Africa, Rest of LAMEA)

Key Market Players
VALMONT INDUSTRIES INC., SKIPPER LTD., NIPPON CONCRETE INDUSTRIES CO., LTD., EL SEWEDY ELECTRIC COMPANY, HILL & SMITH HOLDINGS PLC, STELLA-JONES INC., FUCHS EUROPOLES GmbH, OMEGA FACTORY, PELCO PRODUCTS INC., RS TECHNOLOGIES INC.