UV Light Stabilizers Market Research, 2030
The global UV light stabilizers market size was valued at $462.9 million in 2020, and is projected to reach $871.5 million by 2030, registering a CAGR of 6.6% from 2021 to 2030.
The UV light stabilizers market in significantly affected by the emergence of COVID-19, owing to the shutdown of manufacturing units globally. However, the market is expected to register significant growth in the coming years due to the adoption of smart technologies in the regions worldwide.
UV light stabilizer protect plastic or wooden components from long-term effects of UV radiations. A polymer photo-degradation process occurs when a substance is exposed to UV radiation, resulting in deterioration of physical properties of the substance such as changes in color, loss of strength, elongation & tensile strength properties, or chalking of surface. For instance, plastic or wooden chairs kept in gardens become brittle and lose their glossiness and chairs kept in open stadiums appear to be chalky or sometimes crack into pieces. Therefore, manufactures use UV light stabilizers to protect components that are exposed to UV radiations to prevent damage & losses.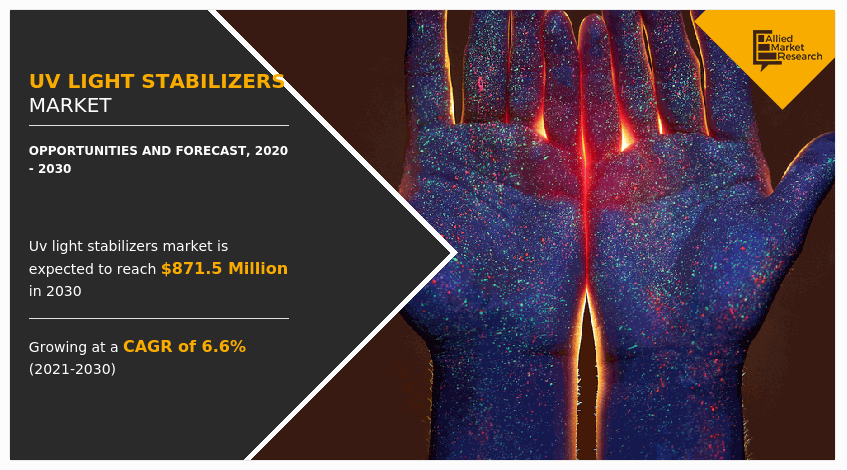 Get more information on this report : Request Sample Pages
UV absorbers, hindered amine light stabilizers (HALS), and quenchers are the key types of UV light stabilizers. Among these, HALS occupies more than 70% of global UV stabilizer market share, followed by UV absorbers, constituting around 23%. UV absorbers are cost-effective, which is expected to boost the demand for UV light stabilizers forecast.
UV Light Stabilizers Market

---

By Type
HALS generated the highest revenue in 2020.
Surge in demand for wood and plastic coatings for protection against UV radiations drives the growth of the UV light stabilizer market share. In addition, increase in use of wood and plastics for decking applications has triggered the demand for UV light protection coatings, which, in turn, fosters the growth of the UV light stabilizers market growth. The ongoing development of the housing and construction industries in Asia-Pacific is expected to notably contribute toward the UV light stabilizers market analysis. In addition, the use of nanotechnology in the coating industries supplements the UV light stabilizers market growth.
The value chain UV light stabilizers industry includes various stakeholders such as manufacturers of components, semiconductor manufacturers, original equipment manufacturers, and service providers. Each of these players shares a specific value at their point of operation, which, in turn, contributes toward the competitive value of the product. R&D activities, innovations, marketing strategies, and aesthetic concerns enhance overall value associated with end deliverables by each of the market players.
UV Light Stabilizers Market

---

By Application
Automotive Coating is expected to be the most lucrative segment in 2030.
SEGMENTATION
The global UV light stabilizers market share is segmented into type, application, and region. By type, the market is fragmented into UV absorbers, HALS, and quenchers. On the basis of application, it is categorized into floor coating, decking, automotive coating, furniture coating, and others. Region wise, the market is analyzed across North America, Europe, Asia-Pacific, and LAMEA.
UV Light Stabilizers Market

---

By Region
Asia-Pacific would exhibit the highest CAGR of 9.2% during 2021-2030
The key players mentioned in the UV light stabilizers industry are Altana AG, BASF AG, Akzo Nobel, Solvay, Lanxess, Clariant Ltd., Everlight Chemical Industrial, Mayzo, Valtris Speciality, and Lycus Ltd. These key players have adopted strategies, such as product portfolio expansion, mergers & acquisitions, agreements, geographical expansion, and collaborations to enhance their market penetration.
COVID-19 Impact
The COVID-19 pandemic has adversely impacted the UV light stabilizers market forecast as huge workforce of enterprises across the globe is working from home. This led to decline in tourism, which, in turn, reduced the demand for light stabilizers. Although the COVID-19 pandemic has forced field work of several major projects to halt temporarily, the UV light stabilizers market opportunity is expected to remain robust with cumulative number of shipments being marginally unaffected in the next three-year period from 2020. New projects throughout the world have been stalled, which, in turn, have affected the demand in several industries, including manufacturing, industrial, and retail. Although market players faced minimal impact on procuring raw materials, as time and shipping costs are still major concerns. Moreover, rise in investments in development of smart cities has gained importance during the pandemic. Subsequently, demand for UV light stabilizers is anticipated to gain momentum post-pandemic. Key market players focus on positioning their companies for a strong recovery post pandemic. Market players have meticulously planned to strengthen their supply chain to benefit from post-pandemic opportunities. They further focus on availing additional opportunities with expanded market usage of UV light stabilizers technology, owing to price considerations and additional display offerings using micro-lenses. Hence, UV light stabilizers market players are anticipated to boost the market growth from various opportunities generated post-pandemic. Although COVID-19 had a major negative impact on UV light stabilizers market outlook, the outbreak of COVID-19 is expected to provide numerous opportunities for UV light stabilizers market trends during the forecast period.
Top Impacting Factors
The notable factors affecting the UV light stabilizers industry include increase in level of UV radiations due to ozone depletion that affects different materials such as plastics and wood. The growth of UV light stabilizers market is fueled with the boom in construction industry and increase in usability of plastic and wooden materials in the construction industry for applications such as floor coating, decking, and fencing. Plastic is a cheaper substitutes for traditional construction materials, hence, the adoption of plastic materials is widely witnessed in construction sector. However, the cost of UV stabilizers is high, which limits the market growth.
Increase in Level of UV Radiations
Synthetic polymers such as plastics as well as naturally occurring polymer materials such as wood are extensively used in building construction and other outdoor applications where they are routinely exposed to sunlight. The UV-B content in sunlight is known for adversely affecting the mechanical properties of these materials, casting a doubt over their usability. Any increase in the solar UV-B content owing to a partial ozone depletion would therefore tend to decrease the outdoor service life of these materials.
The cost for adding UV stabilizers would eventually lead to the price hike of the product. Customers incur the extra burden of cost. HALS are the most common type of stabilizers, which are used in many applications such as flooring, decking, and automotive. The maximum adoption of HALS is attributed to its early adoption as UV stabilizers and comparatively high shelf life compared to other UV stabilizers. However, the cost of HALS is high, thereby limiting the UV light stabilizers industry. UV absorbers are more affordable than HALS. However, the limited shelf life of UV absorbers minimizes their application.
Product Advancements and Increase in Disposable Income
Conventional UV absorbers are organic molecules with various chemical structures. They are incapable of exhibiting long-term stability in coatings. Inorganic compounds such as titanium dioxide, ceria, and zinc oxide absorb radiations in the UV region and they have the additional advantage of greater long-term protection. Their disadvantage is that because they are solid particles they can reduce the transparency of the coating film. This effect can be minimized by reducing their particle size to nanometers, the smaller the particle size, the greater the transparency.
Key Benefits For Stakeholders
This report provides a quantitative analysis of the market segments, current trends, estimations, and dynamics of the uv light stabilizers market analysis from 2020 to 2030 to identify the prevailing uv light stabilizers market opportunities.
The market research is offered along with information related to key drivers, restraints, and opportunities.
Porter's five forces analysis highlights the potency of buyers and suppliers to enable stakeholders make profit-oriented business decisions and strengthen their supplier-buyer network.
In-depth analysis of the uv light stabilizers market segmentation assists to determine the prevailing market opportunities.
Major countries in each region are mapped according to their revenue contribution to the global market.
Market player positioning facilitates benchmarking and provides a clear understanding of the present position of the market players.
The report includes the analysis of the regional as well as global uv light stabilizers market trends, key players, market segments, application areas, and market growth strategies.
 Key Market Segments & Key Market Players
Segments
Sub-segments
By Type

Uv Absorbers
Hals
Quenchers



By Application

Floor Coating
Decking
Automotive Coating
Furniture Coating
Others



By Region

North America
Europe

U.K.
Germany
France
Rest of Europe

Asia-Pacific

China
Japan
India
South Korea
Rest Of Asia Pacific

LAMEA

Latin America
Middle East
Africa



Key Market Players

altana ag
BASF
Akzo Nobel N.V.
solvay
Lanxess
clariant
everlights
Mayzo
valtris specialty chemicals
LYCUS