Vehicle-to-Everything

Cybersecurity Market – 2031:
The global V2X cybersecurity market was valued at $0.72 billion in 2021, and is projected to reach $5.7 billion by 2031, growing at a CAGR of 21.6% from 2022 to 2031.
Vehicle-to-everything (V2X) is a communication technology that allows a vehicle to communicate with other vehicles, road users, and infrastructure. The major purpose of V2X technology is to improve road safety, energy savings, and traffic efficiency on roads. The key components of V2X include vehicle-to-vehicle (V2V) & vehicle to- infrastructure (V2I), vehicle-to-pedestrian (V2P), vehicle-to-grid (V2G), vehicle-to-cloud (V2C), and vehicle to- device (V2D) communication systems. With the introduction of connected technology in new-generation vehicles the chance of cyber-attack is also increases. Events, such as unauthorized access to multiple vehicle connectivity solutions or breaking into the in-vehicle connectivity system has created the demand for V2X cybersecurity. Moreover, there is an increased investment in the production of connected vehicles thus, increase in the demand for V2X cybersecurity. V2X cybersecurity requires external cloud services due to continuously changing security protocols & cloud updates to store data and provide better security.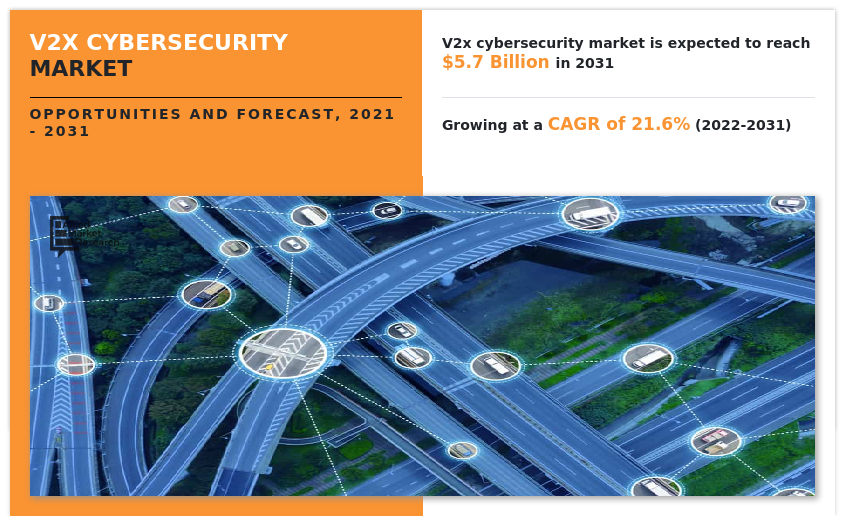 The Covid-19 pandemic has brought about marked changes in consumer habits and behaviors. Covid-19 is accelerating the development of autonomous vehicles, connected mobility and smart cities across the world, creating the new opportunities for the automotive industry and related intelligent solutions including V2X have stood out. For instance, Baidu, one of the leaders in autonomous and connected vehicle technology, has released 104 driverless vehicles in 17 cities across the China. These autonomous vehicles are helping carry out frontline anti-epidemic work such as cleaning, disinfecting, logistics, and transportation.
In addition, Baidu Apollo has won bids to build V2X pilot zones in Chongqing's Yongchuan district, Shanxi province's Yangquan city, and Anhui province's Hefei city. A V2X pilot zone within 20 square kilometers of Yongchuan district in Chongqing, is testing level-4 autonomous vehicles, which can drive almost all the time without human control.
Therefore, demand for autonomous and connected vehicles in emergency services are expected to the act as a positive impact on automotive industry in post COVID scenario. COVID-19 has impacted the operations of many OEMs, from production to R&D. While industry participants might see short-term disruption to autonomous vehicles (AV) development and roll-outs, this disruption may propel the adoption of V2X technology within the consumer segments and accelerate adoption in various commercial segments, which in turn will create an opportunity for V2X cybersecurity market.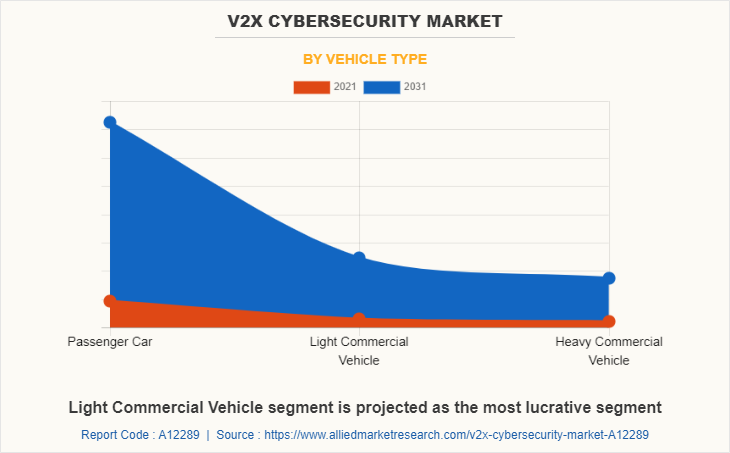 Factors such increase in cybersecurity mandates, advancement in Cellular-V2X (C-V2X) technology, and growing automotive cybersecurity threat are anticipated to boost the growth of the global V2X cybersecurity market during the forecast period. However, challenges in making secure applications, and high cost of implementation are expected to hinder the growth of the global V2X cybersecurity market during the forecast period. Moreover, increase in demand for connected vehicles, and enhancing vehicle security using adaptive security is expected to create an opportunity for the V2X cybersecurity industry in near future.
V2X cybersecurity market is segmented basis of unit type, vehicle type, propulsion type, communication, and region. On the basis of unit type, it is divided into on-board unit, and roadside unit. By vehicle type, it is segmented into passenger car, light commercial vehicle, and heavy commercial vehicle. By propulsion type, it is divided into ice, electric & hybrid, and others. By communication, it is divided into Vehicle-To-Vehicle (V2V), Vehicle-To-Infrastructure (V2I), Vehicle-To-Grid (V2G), and Others. By region, the market is analyzed across North America, Europe, Asia-Pacific, and LAMEA.
The key players that operate in this V2X cybersecurity market are Altran, APTIV, AUTOCRYPT Co., Ltd., Autotalks Ltd., Continental AG, ESCRYPT, Green Hills Software LLC, HARMAN International, ID Quantique SA, Infineon Technologies AG, Karamba Security, NXP Semiconductors, Qualcomm Technologies, Inc., SafeRide Technologies, and Vector Informatik GmbH.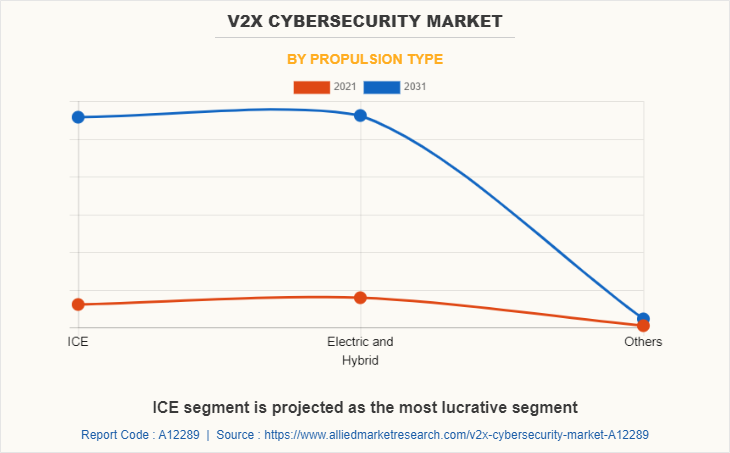 Increase in cybersecurity mandates
In recent years, the issue of cybersecurity has gained importance in automotive industry, and this trend is projected to continue in the future. The World Forum for Harmonization of Vehicle Standards (WP.29) of the United Nations Economic Commission for Europe (UNECE) has established two new regulations that require cybersecurity when new vehicle types are approved. The rules apply to passenger cars, trucks, buses, and vans, and include specifications for four distinct areas: managing cyber-attacks in automobiles, securing vehicles by design to reduce risks throughout the value chain, detecting and responding to security issues across a fleet of vehicles, as well as providing safe and secure software upgrades and maintaining vehicle safety, as well as establishing a legal framework for over-the-air updates to on-board vehicle software.
From July 2024, the new cybersecurity law will be mandatory for all new vehicle types in the European Union. Moreover, various countries across the globe are developing new rules for automotive cybersecurity For instance, South Korea and Japan are attempting to establish cybersecurity rules. Furthermore, the automotive industry is developing ISO/SAE 21434, Road vehicles – Cybersecurity engineering standard within the International Organization for Standardization (ISO) and the Society of Automotive Engineers (SAE). The standard implementation is intended to assist manufacturers in keeping up with evolving technology and cyber-attack strategies. Hence, the increase in cybersecurity regulations in the automotive sector is expected to fuel growth of the global V2X cybersecurity market during the forecast period. 
Advancement in Cellular-V2X (C-V2X) technology
Artificial intelligence (AI) and 5G have an important role in the future of the automotive industry as predictive capabilities are becoming more prevalent in cars, personalizing the driving experience. In addition, 5G and AI is better equipped with V2X to carry out critical communications for safer & secure driving. Moreover, Cellular-V2X is a key contributor to the expansion of vehicle automation by establishing lines of communication between vehicles, roadside units and pedestrians, making the vehicle more aware of its surroundings. The C-V2X technology is also designed to be compatible with upcoming 5G network technologies, which will further enable the mission-critical V2X communications and expected to act as ultimate platform to enable the Cooperative Intelligent Transport Systems (C-ITS) services. Thus, the rapidly emerging use cases include autonomous driving, platooning, vehicle safety and traffic efficiency expected to offer lucrative growth opportunities for automotive C-V2X. Also, the growing interest among the government agencies, automakers and mobile operators to conduct extensive tests & trails of C-V2X along with 5G connectivity are opening the future growth opportunities for V2X cybersecurity market. For instance, in January 2018, Continental, Ericsson, Nissan, NTT DOCOMO, OKI and Qualcomm Technologies, announced plans to carry out Cellular Vehicle-to-Everything (C-V2X) trials in Japan. In addition, in January 2019, a leading automaker Ford, has announced to deploy 5G enabled C-V2X in all their new vehicle models in the U.S. in 2022. Though, the C-V2X provides significant mobility benefits and transportation safety, it also vulnerable to cyber-attacks that could impact the user privacy, traffic and vehicle safety. The successful attacks on communications infrastructure can affect all endpoints, including vehicles. Owing to all these factors, the demand for V2X cybersecurity is expected grow significantly during the forecast period.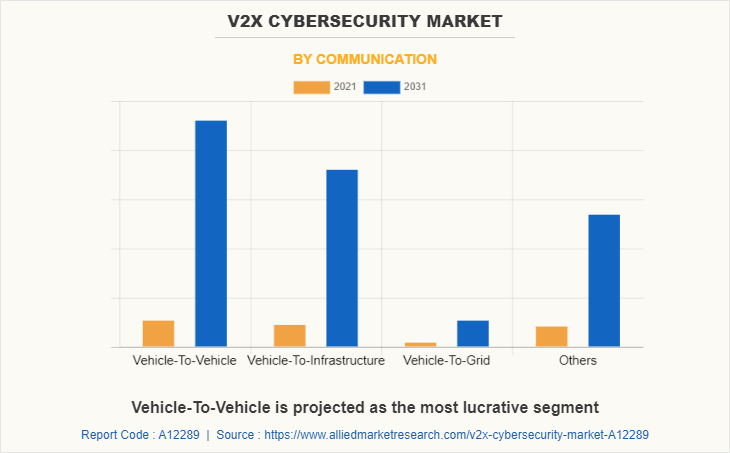 Challenges in making secure applications
The ability to enable 3rd party applications and services that may be pre-installed or added by car users is one of the benefits of shifting to Linux-based platforms. While this offers numerous potential benefits for all parties involved, it also opens up new attack avenues. Over the years, experts have witnessed disastrous effects of developers putting harmful code inside applications and making them downloadable in the desktop and mobiles from rendering devices unusable to ransomware assaults. Although OEMs can check which services and applications are offered to vehicles, black hat hackers will concentrate their efforts in this area if they use platforms that are well-known to them. According to the Upstream Security, around 13% of automotive cyber-attacks reported in 2019 were led by means of mobile applications. Rise in attacks on automobiles through vulnerable mobile applications is anticipated to obstruct growth the global V2X cybersecurity market during the forecast period.
Increase in demand for connected vehicles
Connected vehicles enable cars to communicate via V2X platform with drivers, other vehicles, road infrastructure, and the cloud. These services allow automotive dealers, fleet operators, and drivers to optimize resource usage, improve safety, and automate certain driver functions, while generating valuable data including vehicle performance and road conditions. Connected vehicles work by collecting information from their surroundings and communicating it to each other, as well as intelligent transportation infrastructure and provide transport authorities with real-time traffic data for better road management and improved infrastructure planning. Thus, increase in the demand for connected car services is majorly due to the demand for basic vehicle connectivity applications, such as real time updates, navigation, and in-car infotainments. Moreover, increasing demand for connectivity solutions, rise in the demand for an enhanced driving experience, and introduction of internet of things (IoT) in the automotive industry are the other key factors that are contributing toward the adoption of connected car.
Moreover, connected car services are important for development of autonomous vehicles. The United States Department of Transportation (USDOT) is dedicated to developing a new way of transportation, innovation, and safety while ensuring the country's position as an automation leader. Hence, to assist the safe development, testing, and integration of connected vehicle technologies, the USDOT is acting as a convener and facilitator, engaging with a broad coalition of industry, academic, state and municipal, safety advocacy, and transportation partners. The Automated Vehicles Comprehensive Plan was produced by USDOT in January 2021, with the purpose of enhancing the Department's efforts to prioritize safety while planning for the future of transportation. The plan specifies three aims to realize this vision for Automated Driving Systems (ADS): prepare the transportation system, update the regulatory environment, and promote collaboration and openness, all of which are based on the ideas articulated in the automated vehicle (AV) 4.0 program. Furthermore, as part of an EU strategy on internet-connected vehicles, the European Commission instructed auto producers in 2016 to ensure that new models include a host of digital technology that helps reduce fuel consumption and make roads safer.
Several companies, including Volkswagen, PSA, and Renault Nissan Alliance have launched their connected car models in the European markets. Such government initiatives are expected to expedite development of connected vehicles across the world. As cybersecurity ecosystem (software, hardware, and services) are of paramount importance to guard the connected vehicles against rising cyber-attacks, increase in demand for connected cars is expected to propel growth of the global V2X cybersecurity market during the forecast period.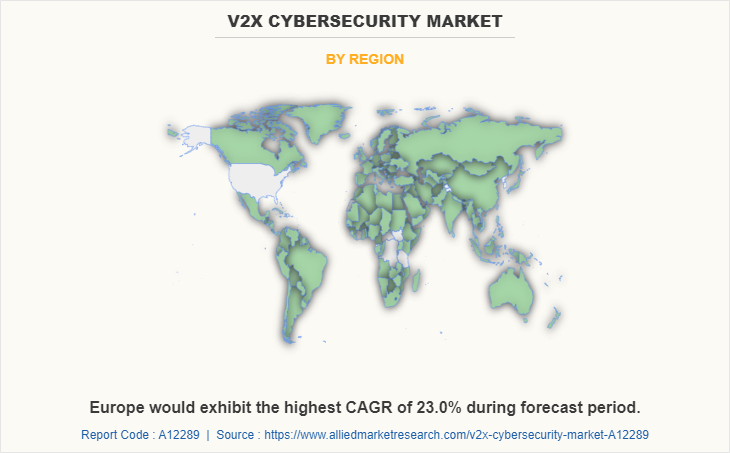 The COVID-19 outbreak forced governments across the globe to implement stringent lockdowns and ban import–export of essential raw material items for most of 2020, and few months in 2021. As a result of interrupted supply chains and production schedules caused by the COVID-19 pandemic, automotive production and sales suffered severely, which, in turn, negatively impacted the market for V2X cybersecurity market in 2020. While COVID-19 hindered the operations of numerous companies, cyber-attacks were on the rise. OEMs and smart-mobility service providers were among the top targets, with transportation being one of the top five industries targeted. According to Mimecast (IT security company), there's a higher than 95% likelihood that cyber-attacks will rise as cyber criminals take advantage of the pandemic's panic and disruption. The FBI issued several warnings about the growth in cyber-attacks, claiming that their Cyber Division was receiving up to 4,000 complaints each day. Interpol also reported an "alarming rate" of cyber-attacks on enterprises of all sizes. This included ransomware assaults like the one against a trucking firm in Massachusetts, U.S., in April 2020, in which hackers used the malware Maze to lock the carrier's system for nearly a week and make more than 781 megabytes of data public online. Such cyber-incidents are creating the demand for automotive cybersecurity which in turn is expected to propel the demand for V2X cybersecurity industry.
Key Benefits For Stakeholders
This report provides a quantitative analysis of the market segments, current trends, estimations, and dynamics of the V2X cybersecurity market analysis from 2021 to 2031 to identify the prevailing V2X cybersecurity market opportunities.
The market research is offered along with information related to key drivers, restraints, and opportunities.
Porter's five forces analysis highlights the potency of buyers and suppliers to enable stakeholders make profit-oriented business decisions and strengthen their supplier-buyer network.
In-depth analysis of the V2X cybersecurity market segmentation assists to determine the prevailing market opportunities.
Major countries in each region are mapped according to their revenue contribution to the global market.
Market player positioning facilitates benchmarking and provides a clear understanding of the present position of the market players.
The report includes the analysis of the regional as well as global V2X cybersecurity market trends, key players, market segments, application areas, and market growth strategies.
 V2X Cybersecurity Market Report Highlights
Aspects
Details
Market Size By 2031
USD 5.7 billion
Growth Rate
CAGR of 21.6%
Forecast period
2021 - 2031
Report Pages
353
By Unit Type

On-Board Unit
Roadside Unit

By Vehicle Type

Passenger Car
Light Commercial Vehicle
Heavy Commercial Vehicle

By Propulsion Type

ICE
Electric and Hybrid
Others

By Communication

Vehicle-To-Vehicle
Vehicle-To-Infrastructure
Vehicle-To-Grid
Others

By Region

North America (U.S., Canada, Mexico)
Europe (Germany, France, Russia, Netherlands, UK, Poland, Spain, Rest Of Europe)
Asia-Pacific (China, India, Japan, South Korea, Asean, Rest Of Asia-Pacific)
LAMEA (Brazil, UAE, Saudi Arabia, South Africa, Rest Of LAMEA)

Key Market Players
ESCRYPT, Aptiv, KARAMBA SECURITY, AUTOTALKS LTD., Altran, ONBOARD SECURITY (QUALCOMM), ID QUANTIQUE, INFINEON TECHNOLOGIES AG, CONTINENTAL, HARMAN INTERNATIONAL, TRILLIUM SECURE INC., AUTOCRYPT, GREEN HILLS SOFTWARE, NXP, SafeRide Technologies