Vaccines Market Overview 2031:
The global Vaccines Market size accounted for $38,061.15 Million in 2021, and is expected to reach $72,129.61 Million by 2031, registering a CAGR of 6.6% from 2022 to 2031. Vaccines, also known as immunizations, inject a weakened form of a disease into a person so the body begins producing antibodies or immunity against the disease. Effective immunization has eradicated a number of diseases, such as polio and smallpox, with high death rates. Vaccinations play a crucial role to maintain sustainable health of people across different countries; hence, they are employed in various regional disease-prevention strategies. The demand for vaccinations has increased over the past few years, owing to increase in incidence of both viral and bacterial infectious diseases. Vaccinations are essentially administered to people of different age groups, which strengthen their immune system throughout lifetime and offers protection against different types of infectious diseases. 
Vaccination is the administration of antigenic components that stimulate protective immunity against a specific infectious agent. The demand for vaccines has increased, owing to high incidences of diseases worldwide. For instance, the Saudi Ministry of Health has recommended influenza vaccination to all the pilgrims traveling to Hajj, especially those tourists who are suffering from chronic illnesses. These vaccines are mandatory for all healthcare professionals who working in the Hajj pilgrimage centers of Mecca and Medina. According to WHO, 325 million people, or roughly 4% of the world's population, live with viral hepatitis and the disease causes 1.34 million deaths per year.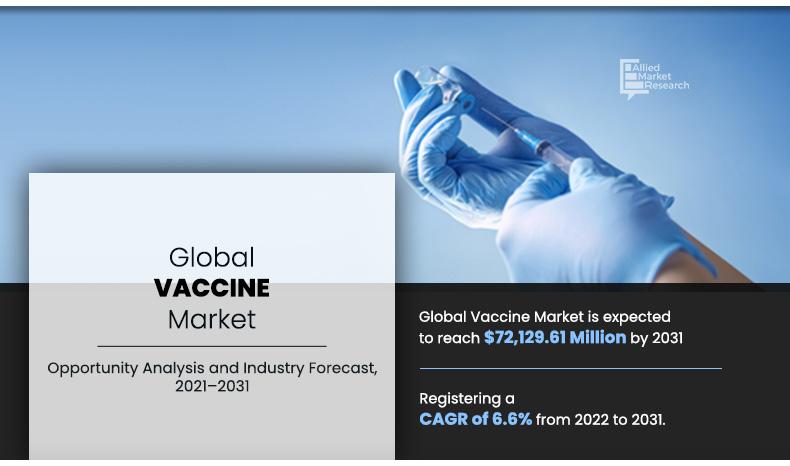 Surge in investment toward development of new vaccines is expected to drive the global vaccines market in the coming years. For instance, in June, 2021, Merck and Sanofi received an approval for six-in-one pediatric combination vaccine in the U.S. In addition, rise in incidence of various infectious diseases and growth in awareness regarding early disease diagnosis & prevention drive the demand for protective vaccines; thereby, boosting the vaccines market growth.
Several efforts undertaken by organizations, including the UNICEF has increased the vaccine adoption over the years. Pan American Health Organization (PAHO) revolving fund and UNICEF supply division's influence allows vaccines procurement at lower prices for various countries. Annually, PAHO and UNICEF procures vaccines for nearly 40 states and around 100 countries, respectively; thereby, positively impacting the adoption rate.
Immunization helps in preventing nearly 2-3 million deaths resulting from various diseases, including influenza, tetanus, diphtheria, measles, pertussis, and others. Furthermore, as per the WHO, more than 1.5 million deaths can be prevented, owing to improvement in global vaccination coverage. In 2018, around 116.3 million children under the age of 1 year received three doses of diphtheria-tetanus-pertussis (DTP3) vaccine globally. With increase in administration of vaccines, the vaccines business is expected to expand significantly over the upcoming years.
Limited coverage for vaccination coupled with prohibitive cost related to transportation and storage of vaccines is anticipated to negatively impact the industry expansion to certain extent in the near future. Moreover, stringent government regulations for product approval is expected to prolong the process of new product introduction in the market; thereby, restraining the Vaccines Market growt
 Impact of Covid-19 On Vaccines Market (Pre And Post Analysis)
Coronavirus (COVID-19) was discovered in late December in the Hubei province of Wuhan city in China. The disease is caused by a virus, namely, severe acute respiratory syndrome coronavirus 2 (SARS-CoV-2), which is transmitted from humans to humans. After its discovery in Wuhan, the disease has rapidly spread to other parts of the globe. This virus causes various symptoms in a patient; for instance, common symptoms include fever, dry cough, and fatigue. However, serious symptoms include difficulty in breathing or shortness of breath, chest pain or pressure, and loss of speech or movement. 
Vaccines Market

---
By Technology
Recombinant & Conjugate Vaccines segment held a dominant position in 2021.
Furthermore, the virus has high potential of lethality in the geriatric population. On March 11, 2020, the World Health Organization assessed that COVID-19 can be characterized as a pandemic. Thus, social distancing was observed as the most important measure to stop the spread of this disease. Furthermore, to maintain social distancing, various countries across the world adopted nationwide lockdown. Although the COVID-19 pandemic continues to impact the growth of various industries, and the immediate impact of the outbreak varies from industry to industry.
The overall impact of COVID-19 remains negative on the Vaccines Market as the focus of the market shifted from traditional vaccines to COVID-19 vaccines. Along with this, the pandemic has affected the supply chain resulting in lower demand and higher inventory adjustments. Moreover, major vaccine manufacturers have focused majorly on the COVID-19 manufacturing and divested some of their vaccines, as the R&D investments were high for COVID-19 vaccines.
Global Vaccines Market Segmentation
The vaccines market is segmented on the basis of technology type, indication, end user, and region. By technology type, it is categorized into recombinant & conjugate vaccines, live attenuated vaccines, inactivated vaccines, toxoid vaccines, and others. By indication, it is bifurcated into pneumococcal disease; influenza; human papilloma virus; meningococcal disease; rotavirus; varicella; measles, mumps, & rubella; diphtheria, pertussis & tetanus (DTP); polio; hepatitis; and other indications. By end user, it is divided into pediatric, adults, and travelers. By region, it is analyzed across North America, Europe, Asia-Pacific, and LAMEA.
Vaccines Market

---
By Indication
Pneumococcal Disease segment held a dominant position in 2021.
Segment Review
Depending on technology type, the recombinant & conjugate vaccines segment was the highest contributor to the market in 2021, and this trend is expected to continue during the forecast period, due to increase in number of regulatory clearance and significant role of recombinant vaccines such as glycoconjugates vaccine in the market. 
By indication, the pneumococcal disease segment dominated the market in 2021, and this trend is expected to continue during the forecast period, owing to introduction of novel pneumococcal vaccines in the market, initiatives taken by governments such as various immunization programs for pneumonia, and rise in awareness among patients regarding pneumococcal vaccines.
By end user, the pediatric vaccines segment dominated the market in 2021, and this trend is expected to continue during the forecast period, owing to rise in prevalence of numerous diseases, such as pertussis, influenza, diphtheria, & tetanus, rise in government & non-government funding for the development of novel vaccines, and surge in initiatives for raising awareness.
Vaccines Market

---
By End Users
Pediatric vaccines segment held a dominant position in 2021.
Region-wise, North America dominated the vaccine market in 2021, and is expected to be dominant during the forecast period, owing to investments made by the key players for various R&D activities as well as launch of new products in the U.S. In addition, extensive research in pharmaceutical and biotechnology companies is further anticipated to stimulate the growth of the vaccines market in North America. 
However, Asia-Pacific is expected to register highest CAGR from 2022 to 2031, owing to high burden of diseases, increase in affordability, and improvements in healthcare access in developing countries such as India and China. 
The key players that operate in the global Vaccines Market include, Serum Institute of India Pvt. Ltd., Pfizer, Johnson & Johnson, AstraZeneca plc, GlaxoSmithKline plc, Sanofi Aventis, Merck & Co., Inc., Emergent BioSolutions Inc., CSL Limited, and Novavax, Inc.   
Vaccines Market

---
By Region
Asia- Pacific region would exhibit the fastest CAGR of 8.1% during the forecast period.
Key Benefits for Stakeholders
The study provides an in-depth analysis of the Vaccines Market and the current trends & future estimations to elucidate imminent investment pockets.
It presents a quantitative analysis of the market from 2021 to 2031 to enable stakeholders to capitalize on the prevailing market opportunities.
Extensive analysis of the market based on procedures and services assists to understand the trends in the industry.
Key players and their strategies are thoroughly analyzed to understand the competitive outlook of the Vaccines Market.
 Vaccines Market Report Highlights
Aspects
Details
By Technology Type

Recombinant & Conjugate Vaccines
Live Attenuated Vaccines
Inactivated Vaccines
Toxoid Vaccines
Others

By Indication

Pneumococcal Disease
Influenza
Human Papilloma Virus
Meningococcal Disease
Rotavirus
Varicella
Measles, Mumps, & Rubella
Diphtheria, Pertussis, & Tetanus (DTP)
Polio
Hepatitis
Other Indications

By End User

Paediatric
Adults
Travellers

By Region

North America (U.S., Canada, Mexico)
Europe (Germany, France, UK, Italy, Spain, Rest of Europe)
Asia-Pacific (Japan, China, India, Australia, Rest of Asia-Pacific)
LAMEA (Brazil, Saudi Arabia, South Africa, Rest of LAMEA)

Key Market Players
AstraZeneca Plc., CSL Limited, Emergent Bio Solutions Inc., GlaxoSmithKline plc., Johnson & Johnson, Merck & Co., Inc., Novavax, Inc., Pfizer, Sanofi Aventis, Serum Institute of India Pvt. Ltd.