Global Vacuum Furnaces Market Research, 2031
The global global vacuum furnaces market size was valued at $934.1 million in 2021, and is projected to reach $1.3 billion by 2031, growing at a CAGR of 3.2% from 2022 to 2031. Vacuum furnace is a special type of furnace that surrounds the workpiece in the furnace with a vacuum. This allows the workpiece to be heat-treated in absence of oxygen and other air components, thereby enabling the temperature to rise above 3,000 degrees Celsius without damaging the workpiece.
The vacuum furnaces market was hampered during the outbreak of COVID-19 pandemic, owing to restrictions on manufacturing activities. In addition, vacuum furnaces could not be effectively installed through OEMs during the lockdown period.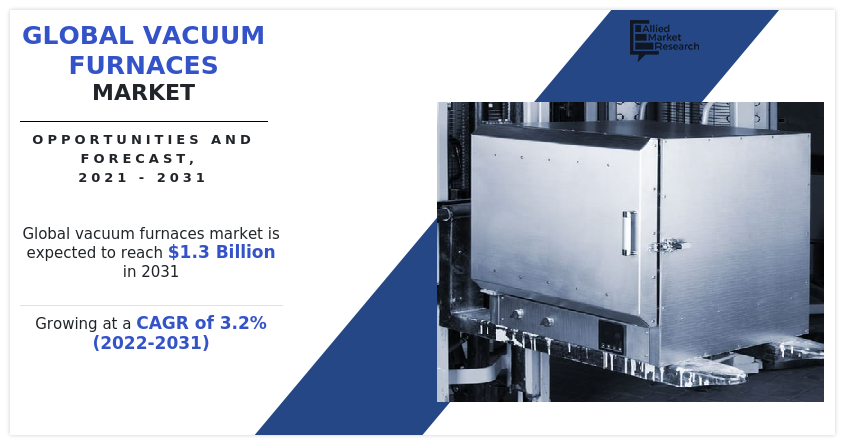 Industries that use metal in their processes are witnessing rapid growth all across the globe. This is attributed to rise in population, increase in disposable income of the people, and surge in global trade. The automotive industry is expected to reach pre-COVID-19 levels in the near future after negative impact of COVID-19. The extensive use of vacuum furnaces in automotive industry is anticipated to drive the demand for vacuum furnace. Furthermore, globalization is playing a major role in the growth of air travel across the world. This is leading to increased demand in aerospace sector, which eventually propels the vacuum furnaces market. Furthermore, the construction of residential and non-residential buildings is rising across the globe. This is fueled by rise in global population, surge in disposable income, and rapid rise in urbanization, especially in the developing nations such as Brazil, Argentina, India, and China. Building construction sector significantly uses products made of ceramics, such as tiles, decorative laminates, and WC seats. Manufacturers of these building products use vacuum furnaces in the manufacturing process. In addition to this, rise in elderly population, and rise in the number of diseases are fueling the demand for medical equipment. Manufacturing process of medical equipment requires them to be heat-treated. This positively influences the vacuum furnaces market growth.
Major players in the industry have focused on expanding their businesses to sustain harsh competition in the vacuum furnaces market. For instance, in September 2021, Centorr Vacuum Industries built six high-temperature and high-vacuum furnaces in its Workhorse product line, which will be used for precision heat treating, brazing, and annealing applications. Furthermore, in April 2020, Solar Manufacturing partnered with MetalPro Resources to expand its sales network in Ohio, Indiana, and Kentucky in the U.S. MetalPro has offices in Cincinnati, Indianapolis, and Cleveland, and it is known for offering many heat-treating services to its customers.
Global Vacuum Furnaces Market

---
By Type
Horizontal segment is expected to hold a majority share of the market throughout the study period.
The novel coronavirus had rapidly spread across various countries and regions, causing an enormous impact on the lives of people and the overall community. It began as a human health condition and later became a significant threat to global trade, economy, and finance. The COVID-19 pandemic halted the production of many components of intelligent parcel lockers due to lockdown. The economic slowdown initially resulted in reduced spending on various vacuum furnaces by different end-user industries. However, owing to the introduction of various vaccines, the severity of the COVID-19 pandemic has significantly decreased. As of mid-2022, the number of COVID-19 cases had significantly declined. This has led to the full-fledged reopening of vacuum furnace manufacturing facilities at their full-scale capacities. Furthermore, it has been more than two years since the outbreak of this pandemic, and many companies in the vacuum furnaces industry have already shown notable signs of recovery.
Furthermore, vacuum furnaces are widely used in R&D across industries, as they can maintain a controlled environment around the workpiece. Thus, rise in R&D activities is expected to fuel the market growth. Moreover, manufacturers are improving their products to make them more reliable and efficient. This is estimated to provide lucrative growth opportunities for the vacuum furnaces market during the forecast period.
Global Vacuum Furnaces Market

---
By End User Industry
Industrial segment held a dominant position in 2021 and would continue to grow at significant CAGR during the study period.
The vacuum furnaces market is segmented on the basis of type, operation, end-user industries, and region. By component, the market is bifurcated into horizontal and vertical. On the basis of operation, it is segmented into external heat treatment, and internal heat treatment. On the basis of end-user industry, the market is categorized into industrial, and research. By region, the market is analyzed across North America, Europe, Asia-Pacific, and LAMEA. Asia-Pacific held the largest vacuum furnaces market share in 2021, accounting for the highest share in revenue, and LAMEA is anticipated to grow with highest CAGR during the forecast period. This is attributed to increase in spending of on residential and non-residential building projects, and also increased investments in industrial sector.
Global Vacuum Furnaces Market

---
By Region
Asia-Pacific is the largest market throughout the study period.
Competition Analysis 
Key companies profiled in the vacuum furnaces market forecast report include ACME, AMG, Advanced Metallurgical Group N.V., Centorr Vacuum Industries, Chugai Ro Co. Ltd., ECM Group, Fours Industriels BMI, Gasbarre Products, Inc., IHI Corporation, Ipsen, Lakshmi Vacuum, Naberthern GmbH, Seco/Warwick S.A., Shanghai Haoyue Technology Co., Ltd., Solar Manufacturing, Stericox India Private Limited, Therelek, and T-M Vacuum Product.
Key Benefits For Stakeholders
This report provides a quantitative analysis of the market segments, current trends, estimations, and dynamics of the global vacuum furnaces market analysis from 2021 to 2031 to identify the prevailing global vacuum furnaces market opportunities.
The market research is offered along with information related to key drivers, restraints, and opportunities.
Porter's five forces analysis highlights the potency of buyers and suppliers to enable stakeholders make profit-oriented business decisions and strengthen their supplier-buyer network.
In-depth analysis of the global vacuum furnaces market segmentation assists to determine the prevailing market opportunities.
Major countries in each region are mapped according to their revenue contribution to the global market.
Market player positioning facilitates benchmarking and provides a clear understanding of the present position of the market players.
The report includes the analysis of the regional as well as global global vacuum furnaces market trends, key players, market segments, application areas, and market growth strategies.
 Global Vacuum Furnaces Market Report Highlights
Aspects
Details
Type
Operation

External Heat Treatment
Internal Heat Treatment

End User Industry

Industrial

Application

Aerospace
Automotive
Medical
Others

Research

By Region

North America (Mexico, U.S., Canada)
Europe (Germany, France, Italy, UK, Spain, Netherlands, Rest of Europe)
Asia-Pacific (China, Japan, India, South Korea, Australia, Indonesia, Vietnam, Rest of Asia-Pacific)
LAMEA (Brazil, Argentina, Saudi Arabia, UAE, South Africa, Kenya)

Key Market Players
AMG Advanced Metallurgical Group N.V., Centorr Vacuum Industries, Chugai Ro Co. Ltd, ECM Group, Fours Industriels BMI, Gasbarre Products, Inc., Ipsen, Seco/Warwick S.A, Solar Manufacturing, IHI Corporation, ACME, Nabertherm GmbH, Shanghai Haoyue Technology Co., Ltd., THERELEK, T-M VACUUM PRODUCTS, INC, Lakshmi Vacuum, Stericox India Private Limited