Vacuum Pumps Market Research, 2031
The global vacuum pumps market size was valued at $5.4 billion in 2021, and is projected to reach $9.3 billion by 2031, growing at a CAGR of 5.5% from 2022 to 2031.
A vacuum pump is a device that removes gas molecules from an enclosed space to partially generate a vacuum. The major function of vacuum pumps is to produce a partial vacuum inside a container. It is used in a wide range of applications such as chemical & petrochemicals, oil & gas, powered jet aircraft, tilt tanks, and assembly equipment. Vacuum is used to provide support for mechanical devices. For example, this pump can be equipped on engines of hybrid and diesel vehicles.
The COVID 19 outbreak has affected the growth of the vacuum pumps industry owing to the lockdown measure in the countries and delay in production and manufacturing of vacuum pumps which are utilized in automotive, foods & beverages, healthcare and pharmaceuticals, aerospace, and other sectors.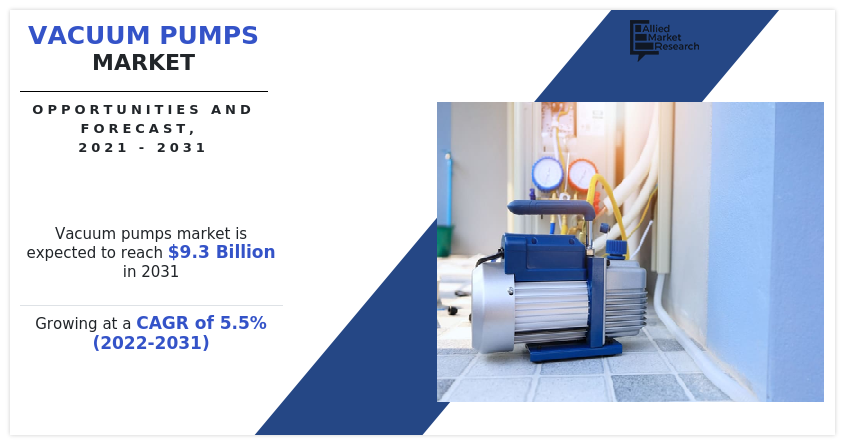 Vacuum pumps are used in healthcare and pharmaceutical sectors for delivering vacuum pressure for aspiration and ensuring that both patient rooms and surgery rooms are safe and efficient.. Moreover, semiconductor and electronics industries are expected to experience significant advances that will accelerate vacuum pumps market growth. For instance, according to the Semiconductor Industry Association, global semiconductor sales reached $144.8 billion in the third quarter of 2021, representing an increase of 27.6% year over year compared to third quarter of 2020, which boosted the sales of vacuum pumps. This is attributed to the fact that vacuum pumps are essential for the fabrication of semiconductors; therefore, the rising global demand for chips and the exceptional production efforts made by industry players will likely boost demand for these pumps. For example, Pfeiffer Vacuum introduced a new compact Roots Pump with high pumping speed. It is being used in many industrial vacuum applications, including electron beam welding and vacuum furnaces.
The vacuum pumps market is experiencing significant growth as a result of an increase in automotive, healthcare, and oil & gas activities. Furthermore, the growth of the market is driven by increased usage of vacuum pumps in cars for safety purposes, as they keep the engine functioning for a longer time, thus increasing the service life of the engine. Moreover, the implementation of regulatory standards to maintain clean rooms and surgical protocols, rapid technological advances, and increase in number of surgical procedures escalate the demand for vacuum pumps in the healthcare sector.
Vacuum pumps Market

---
By Lubrication
The dry vacuum pumps segment was the highest revenue contributor in 2021.
On the basis of lubrication, the dry segment generated the highest vacuum pumps market share in 2021, due to an increase in oil & gas activities. Dry vacuum pumps minimize the contamination from oil and other chemicals to offer higher purity. Moreover, they require less maintenance, as they do not require changing of oil frequently.
Vacuum pumps Market

---
By End User
The chemical and petrochemical segment dominated the market in 2021.
Depending on the end user, the chemical & petrochemicals segment accounted for the highest revenue in the global market in 202,1 owing to the expansion of small and large chemical industries. Vacuum pumps provide suction to drive the liquid filtration process.
The novel coronavirus (COVID-19) rapidly spread across various countries and regions in 2019, causing an enormous impact on lives of people and the overall community. It began as a human health condition and has now become a significant threat to global trade, economy, and finance. The COVID-19 pandemic halted the production of many products in the vacuum pumps market, owing to lockdowns. Furthermore, the number of COVID-19 cases is expected to reduce in the future with the introduction of the vaccine for COVID-19 in the market. This has led to the reopening of vacuum pumps companies at their full-scale capacities. This is expected to help the market recover by the end of 2022. After COVID-19 infection cases begin to decline, equipment & machinery producers must focus on protecting their staff, operations, and supply networks to respond to urgent emergencies and establish new methods of working.
Vacuum pumps Market

---
By Region
Asia-Pacific garnered the largest market share in the global vacuum pumps market in 2021.
Asia-Pacific registered the highest revenue in 2021 and is expected to register a significant CAGR in the vacuum pumps market forecast period, owing to the expansion of the automotive, oil & gas, healthcare, and aerospace sectors. Moreover, the presence of various electronic and semiconductors manufacturers in the Asia-Pacific countries such as China, Japan, and India is driving the market growth.
The vacuum pumps market is segmented into Lubrication, Pressure and End user. On the basis of type, the market is divided into dry vacuum pumps and wet vacuum pumps. Depending on pressure, it is categorized into low vacuum medium vacuum, high vacuum, ultrahigh vacuum, and extreme high vacuum. By end user, it is fragmented into automotive, chemical & petrochemical, aerospace & defense, oil & gas, healthcare & pharmaceutical, and others. Region wise, the market analysis is conducted across North America (the U.S., Canada, and Mexico), Europe (UK, France, Germany, Italy, and rest of Europe), Asia-Pacific (China, Japan, India, South Korea, and rest of Asia-Pacific), and LAMEA (Latin America, the Middle East, and Africa).
Competition Analysis
The key players that are operating in the vacuum pumps industry are Atlas Copco, Becker Pumps Corporation, Busch Vacuum Solutions (Busch Group), Ebara Corporation, Flowserve Corporation, GlobalVac & Air, Graham Corporation, Ingersoll Rand, Pfeiffer Vacuum GmbH, and ULVAC Inc.
Key Benefits For Stakeholders
This report provides a quantitative analysis of the market segments, current trends, estimations, and dynamics of the vacuum pumps market analysis from 2021 to 2031 to identify the prevailing market opportunities.
The market research is offered along with information related to key drivers, restraints, and opportunities.
Porter's five forces analysis highlights the potency of buyers and suppliers to enable stakeholders make profit-oriented business decisions and strengthen their supplier-buyer network.
In-depth analysis of the vacuum pumps market segmentation assists to determine the prevailing vacuum pumps market opportunity.
Major countries in each region are mapped according to their revenue contribution to the global market.
Market player positioning facilitates benchmarking and provides a clear understanding of the present position of the market players.
The report includes the analysis of the regional as well as global vacuum pumps market trends, key players, market segments, application areas, and market growth strategies.
 Vacuum pumps Market Report Highlights
Aspects
Details
Lubrication
Pressure

Low vacuum pumps
Medium vacuum pumps
High vacuum pumps
Ultra-high vacuum pumps
Extreme high vacuum pumps

End user

Automotive
Chemical and Petrochemical
Aerospace and Defense
Oil and Gas
Healthcare and Pharmaceuticals
Others

By Region

North America (U.S., Canada, Mexico)
Europe (Germany, France, UK, Italy, Rest of Europe)
Asia-Pacific (China, India, Japan, South Korea, Rest of Asia-Pacific)
LAMEA (Latin America, Middle East, Africa)

Key Market Players
Atlas CoVacuum pumpo AB, Becker Pumps Corporation, Busch Vacuum Solutions, Ebara Corporation, Flowserve Corporation, GlobalVac & Air, Graham Corporation, Ingersoll Rand, Pfeiffer Vacuum GmbH, ULVAC Inc.