The global vacuum truck market was valued at $1.5 billion in 2021, and is projected to reach $2.7 billion by 2031, growing at a CAGR of 6.5% from 2022 to 2031.
The COVID-19 impact on the vacuum truck market is unpredictable, and is expected to remain in force for a few years. The COVID-19 outbreak forced governments across the globe to implement stringent lockdown and ban import–export of essential raw material items for most of 2020, and few months in 2021. This led to sudden decline in availability of important raw materials for vehicle components. As a result of interrupted supply chains and production schedules caused by the COVID-19 pandemic, automotive production and sales suffered severely, which, in turn, negatively impacted the market for vacuum truck in 2020 and 2021.To prevent the spread of the COVID-19 virus, governments across the globe implemented strict lockdowns and made social distancing mandatory. Consequently, several organizations began work from home programs as precautionary measure. This led to a sudden decline in global demand for automobiles, which has affected the vacuum truck market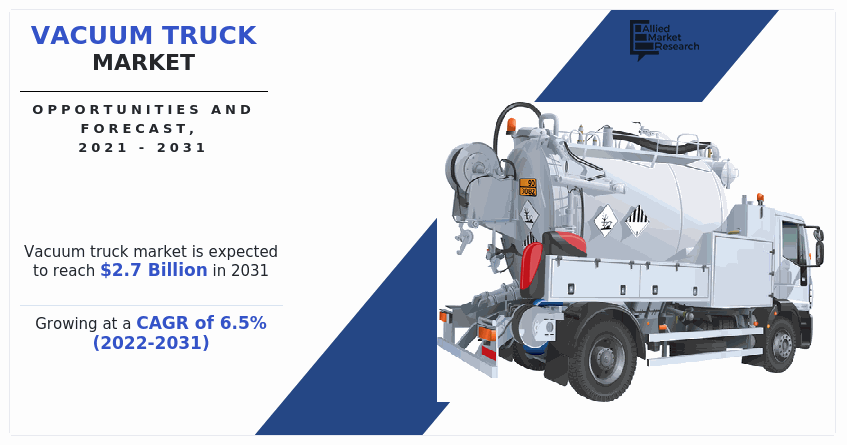 The vacuum truck market is segmented into Product Type, Application and Fuel Type.
Vacuum truck is a vehicle designed for collection and transportation of liquid product or waste, sludges, and slurries. It consists of a vacuum source (vacuum pump or blower), a debris receiver tank, and an inline filter. A dry and liquid suctioning vacuum truck (or super sucker) works on the principle of pneumatic transport (air movement). A vacuum pump removes air from the holding tank, which creates a vacuum inside it. The pressure in the tank equalizes with the opening of primary and secondary shutoff valves on suction. Pressure inside the tank allows the vacuum to suck materials into the tank to suck material such as debris or liquid waste. Some vacuum trucks are equipped with a pressurized water hose attachment.
Factors such as increase in need for industrial cleaning application, rise in environmental awareness, and surge in demand for waste management propel vacuum truck market growth. Yet, high operating cost & high demand for labor- efficient trucks are the factors that hinder the growth of the vacuum truck industry. However, rise in adoption of electric vacuum truck and technological advancements provide growth opportunities for the market.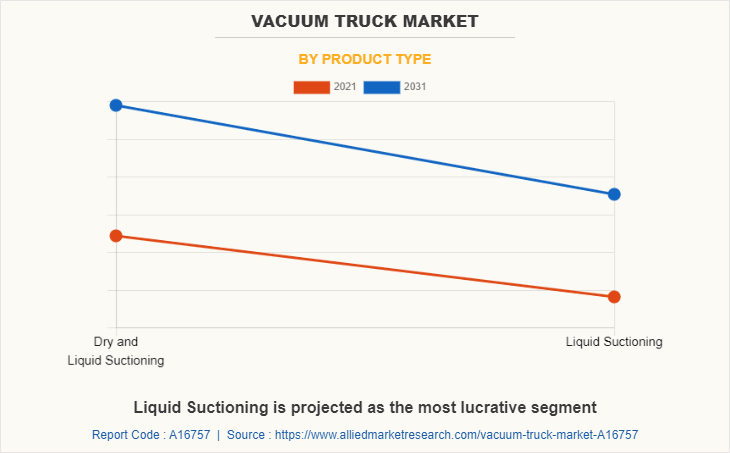 The vacuum truck market is segmented on the basis of product type, application, fuel type, and region. By product type, it is divided into dry & liquid suctioning and liquid suctioning. By application, it is segmented into industrial, excavation, municipal, general cleaning, and others. On the basis of fuel type, it is divided into electric and ICE. On the basis of region, it is analyzed across North America, Europe, Asia-Pacific, and LAMEA.
The key players that operate in this vacuum truck market report are CAPPELLOTTO S.P.A, Federal Signal Corporation, FULONGMA GROUP Co., Ltd, GapVax, Gradall Industries, Inc., Kanematsu Engineering Co., Ltd., Keith Huber Inc., KOKS Group bv., Rivard and Vac-Con among others.
Increase in need for industrial cleaning application
Industrial cleaning requires special equipment and vehicles to clean areas in industrial facilities, such as factories, manufacturing facilities, self-storage buildings, warehouses, and power plants. Small businesses or large industrial facilities, plumbing systems, and drains need cleaning. Furthermore, within industrial facilities, clogged drains is a widespread issue, which can lead to extensive damage. Drain clogs in a facility may cause destruction of pipes due to erosion, serious backups can lead to breaks, resulting in costly repairs.  In addition, applications for use of wet substances in vacuum equipment such as petro-chemical activities, emergency clean-up, technical chemical cleaning, industrial cleaning, offshore activities, and oil separation requires heavy-duty industrial drain cleaning equipment. These equipment include machines such as vacuum loader, hydro-jetting machines, drain snakes, and power rodding machines use to remove troublesome blockages. . Industrial vacuum tankers, commonly known as industrial vacuum loader, are used worldwide for cleaning liquid, slurries, and solid & dry wastages from hard areas. This machine has components such as cyclones, drop boxes, and most importantly, a special filtration system that filters the fine particles down. These trucks are developed and designed from as per the clients/ consumer requirements to tackle the most challenging dry and wet industrial liquid sludge or slurry cleaning application.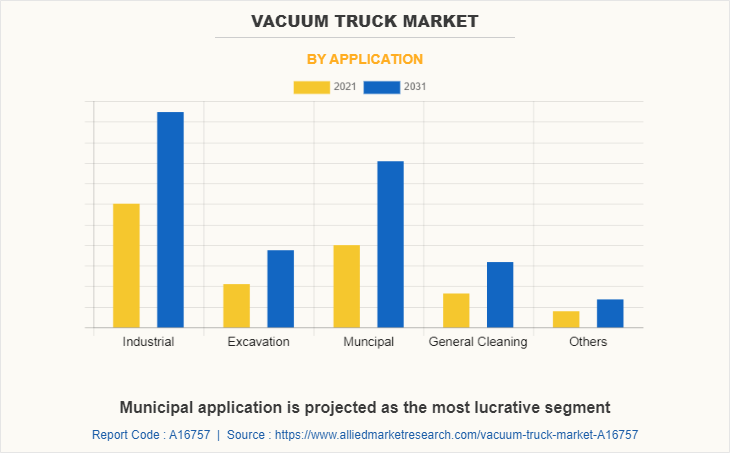 Moreover, multiple operations in the market have taken an active step to grow their industrial vacuum truck business by adopting various strategies. For instance, in North America, Hydrovacs sales have seen significant growth for construction application. In addition, these trucks break up the soil with high pressure water while the powerful vacuum system removes the debris into the debris tank. Furthermore, increase in safety of such vehicles and rise in development in developing countries have propelled the market growth. Moreover, numerous models, choose an offloading solution to ensure the finest fit for the cleaning application. Thus, surge in need for industrial cleaning application is anticipated to drive growth of the vacuum truck market. 
Raise in Environmental awareness
Industrial sites, factories, and construction sites produce toxic chemicals or use them in manufacturing. The chemicals are then exposed to rainwater, which causes them to be washed into the soil or directly into rivers, streams, or lakes. This is one of the main factors leading to an increase in industrial water pollution. Aquatic and marine life are very sensitive to the condition and temperature of water bodies. Thermal pollution can happen when harmful chemicals are deposited at the bottom of a water body. Over time, this can cause serious health issues for people living nearby, animals, and marine life. Governments of developed countries have taken necessary action to prevent hazardous waste that industries and medical facilities produce. For instance, United States Environment Protection Agency (USEP) enforces requirements under the Resource Conservation and Recovery Act regarding the safe handling, treatment, storage, and disposal of hazardous wastes.
Furthermore, vacuum trucks can be extremely useful in rescue missions and environmental disasters. For hazardous waste or oil spills, vacuum trucks are essential for quickly clearing and storing any dangerous materials, which stops them from contaminating the environment or entering local waterways. There have even been cases where vacuum trucks have been called in to assist emergency personnel with rescue missions. When disaster strikes and pits or trenches collapse on workers, emergency services can rely on vacuum tankers for quick suction of any sludge or soil from the accident site. For instance, in March 2020, Darrell Benish got trapped inside a large grain bin containing corn in Cedar Rapids, Lowa, U.S. that is where vacuum trucks, courtesy of Cedar Rapids Public Works, came in for an assist. The trucks were used to gradually remove the corn trapping Benish, which eventually helped to free him.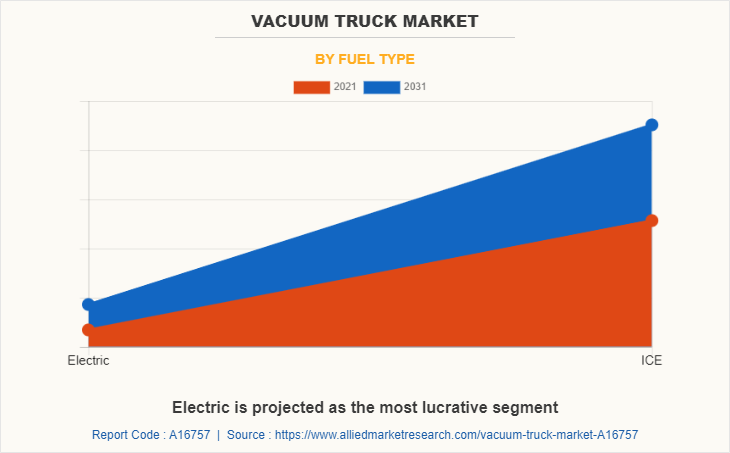 Moreover, the Environmental Protection Agency (EPA), US, encourages usage of vacuum trucks for transporting bio-solids due to their spill prevention and odor control abilities. These features curb the exposure of the hazards involved in these materials, for a healthier environment. Thus, strict government rules and laws imposed on industries for environmental awareness significantly drives the growth of the vacuum truck market.
High operating cost
The vacuum truck is integrated with various high-end technology such as pumps, filter system, off-loading system, suction hoses, and several sensors & transmitters. All these subsystem of the sewage/vacuum truck are associated with high cost; this eventually increases the cost of vacuum truck to be used in automobiles. In addition, regular maintenance necessary to keep these components in excellent working condition is expensive. Hydraulic filters used in vacuum trucks require timely draining of the fluid from the hydraulic tank and fluid reservoir. Rough usage of these machines minimizes the lifespan of the equipment, consequently leading to high maintenance cost. This may deviate consumer and propel them to adopt traditional/manual cleaning technique, thus, restraining the growth of the global vacuum truck market during the forecast period.
Increase in adoption of electric vacuum truck
Technology for electric-powered vehicles has been advancing to support vehicle efficiency and performance. Owing to rise in concerns about global warming & pollution, the usage of electric vehicles (EVs) is anticipated to escalate considerably. In 2020, global electric vehicle sales increased by 43%, and in some regions, such as Norway and the Netherlands, sales beat petrol and diesel vehicles. Electric vehicle sales in Europe exceeded half a million units in 2020, while the government in the U.S. proposed incentives to put millions of EVs on the road. Technological advancements in energy-efficient vehicles, enforcement of stringent emission regulations, and low operating costs of EVs are expected to contribute to rise in sales of electric vacuum truck across the globe. Leading vacuum and suction truck manufacturers are working to enhance the all-electric range of their vehicles. For instance, in September 2021, Fulongma Group Co. ltd. launched electric fecal suction truck that is mainly used for the urban and rural sanitation departments to suck and transport feces and other sewage. The fecal suction truck comes with a cruising range of 276km, its total tank volume is 2.11m3 and the battery energy density is 154wh/kg. In addition, manufacturers have made advancements in trucks for better performance.
The increase in use of EVs in the coming years is expected to stimulate the development of electric vacuum and suction trucks, which is anticipated to offer remunerative opportunities for the growth of the vacuum truck market during the forecast period.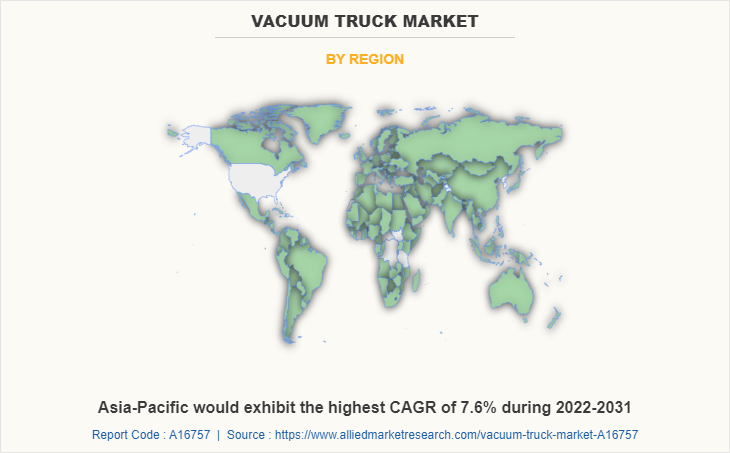 Key Benefits For Stakeholders
This report provides a quantitative analysis of the market segments, current trends, estimations, and dynamics of the vacuum truck market analysis from 2021 to 2031 to identify the prevailing vacuum truck market opportunities.
The market research is offered along with information related to key drivers, restraints, and opportunities.
Porter's five forces analysis highlights the potency of buyers and suppliers to enable stakeholders make profit-oriented business decisions and strengthen their supplier-buyer network.
In-depth analysis of the vacuum truck market segmentation assists to determine the prevailing market opportunities.
Major countries in each region are mapped according to their revenue contribution to the global market.
Market player positioning facilitates benchmarking and provides a clear understanding of the present position of the market players.
The report includes the analysis of the regional as well as global vacuum truck market trends, key players, market segments, application areas, and market growth strategies.
 Vacuum Truck Market Report Highlights
Aspects
Details
By Product Type

Dry and Liquid Suctioning
Liquid Suctioning

By Application

Industrial
Excavation
Muncipal
General Cleaning
Others

By Fuel Type
By Region

North America (U.S., Canada, Mexico)
Europe (Germany, France, Russia, United Kingdom, Rest of Europe)
Asia-Pacific (China, India, Japan, South Korea, Rest of Asia-Pacific)
LAMEA (Latin America, Middle East, Africa)

Key Market Players
KOKS Group bv, Federal Signal Corporation, FULONGMA GROUP CO LTD, GapVax, Kanematsu Engineering Co Ltd, Rivard, Keith Huber Inc, CAPPELLOTTO S P A, vac-con, inc., Gradall Industries Inc