Vehicle Exhaust Hose Market Research, 2030
The global vehicle exhaust hose market was valued at $525.40 million in 2021, and is projected to reach $760.60 million by 2030, growing at a CAGR of 4% from 2022 to 2030. The vehicle exhaust hose is used in an indoor automobile repair shop to remove vehicle exhaust emissions. It is important to remove exhaust fumes from automobile garages as it contains carbon monoxide, which is dangerous for human health. An exhaust hose's primary function is to provide a dedicated route for channeling exhaust fumes from a running vehicle to outside automobile garages, where the fumes can be safely vented. Vehicle exhaust hose is simple to operate and provides a safe way to remove exhaust gases. Exhaust hoses come in a wide range of temperature and size specifications, allowing specialists to find right fit for practically any type of vehicle, including sedans, buses, big trucks, minivans, and other vehicles.
Government rules managing social exclusion, lockdown limitations, and brief industry closures have slowed down car production, which has significantly affected the growth of the vehicle exhaust hose market.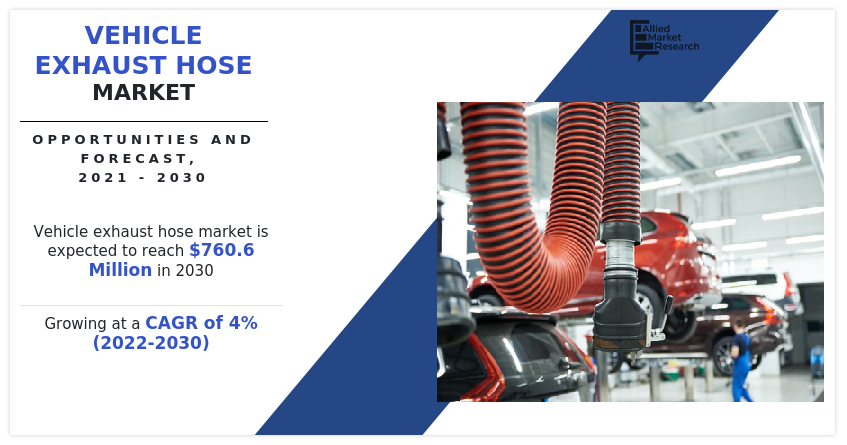 Primary reasons such as rising disposable income and increasing middle-class population are predicted to enhance sales of passenger automobiles and commercial vehicles, boosting revenue growth of the vehicle exhaust hose market. Continuous exposure to vehicle exhaust fumes can cause serious health problems such as irritating eyes, lungs, throat, and breathing related issues to workers coming in contact with engines fumes. Vehicle engines are major source of carbon monoxide which is harmful for human health as it replaces oxygen in the blood. These harmful vehicle exhaust fumes in automobile garages and repair shops pose the risk of cancer as well. As a result, requirement for creating a safe and healthy working environment is rapidly growing in automobile workshops and garages, which could drive up demand for vehicle exhaust hose over the forecast period. 
Increased demand from the automotive repair facilities, and efficient fume extraction systems in the vehicles are expected to drive vehicle exhaust hose market revenue growth in the predicted time span. In addition, vehicle exhaust hose demand is expected to be boosted by innovation in the field of exhaust hose for protecting mechanics and workers from vehicle fume.
However, demand for electric vehicles (EVs) is increasing particularly in Europe, the U.S., China, and India, which may hamper the global vehicle exhaust hose market. Demand for EVs is growing due to a variety of factors such as they are environment friendly, low maintenance, and offer better performance. In particular, on a total cost of ownership basis, electric cars are increasingly becoming more competitive in several countries, which will decrease the requirement for vehicle exhaust hose. These factors are anticipated to restrain revenue growth of the vehicle exhaust hose market.
The industry players are investing more on R&D of new innovative and unique products to sustain their growth in the market. This includes new product launches, partnerships, and mergers & collaborations. For instance, Detroit based startup, Remora, designed a carbon emission capture device which is designed to collect fumes directly from vehicles.
The key players included in this report are Masterflex Group., Air Cleaning Specialists, Inc., Nederman Holding AB, Novaflex Group, Eurovac, Flexaust Inc., Precision Hose & Expansion Joints, BISCO Enterprise, Inc., Dayco Products, LLC, and KEMPER GmbH.
The global vehicle exhaust hose market is segmented on the basis of type, end-use, and region. By type, the market is sub-segmented into single layer, double layer, and three layer. By end-use, the market is classified into passenger cars and commercial cars. By region, the market is analyzed across North America, Europe, Asia-Pacific, and LAMEA.
The vehicle exhaust hose market is segmented into Type and End-Use.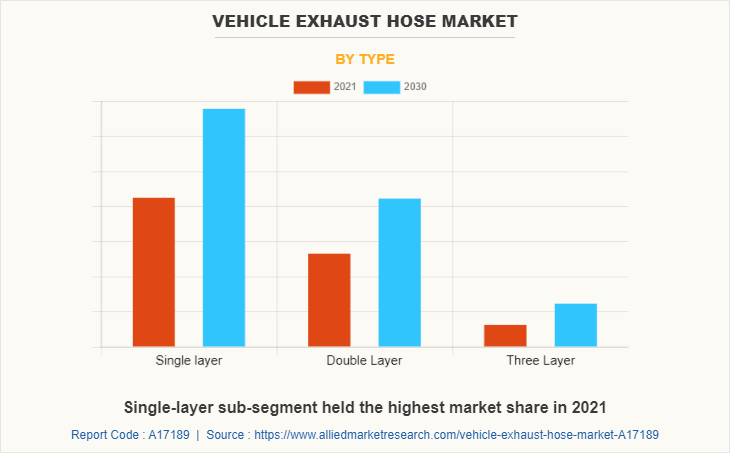 By type, the single layer sub-segment dominated the market in 2021. Due to its significant properties such as flexibility, toughness, and compressibility rate, single layer exhaust hose is rising in popularity. Single-layer exhaust pipes are also generally built of silicone-coated fiberglass, which is resistant to alkali and other chemicals. These are predicted to be the major factors affecting the vehicle exhaust hose market revenue growth during the forecast period.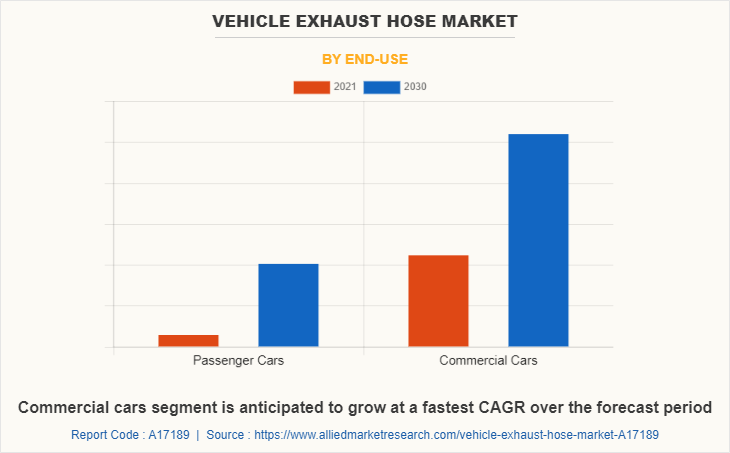 By end-use, the commercial cars sub-segment dominated the global vehicle exhaust hose market in 2021. In recent years, tremendous expansion of the industrial sector, particularly in countries such as India, Brazil, and China, as well as important improvements in commercial operations in logistics and strengthening economies around the world, has raised demand for commercial vehicles. Applications of exhaust hose in the commercial vehicle sector are bound to create a scope of growth for the sub-segment during the forecast period.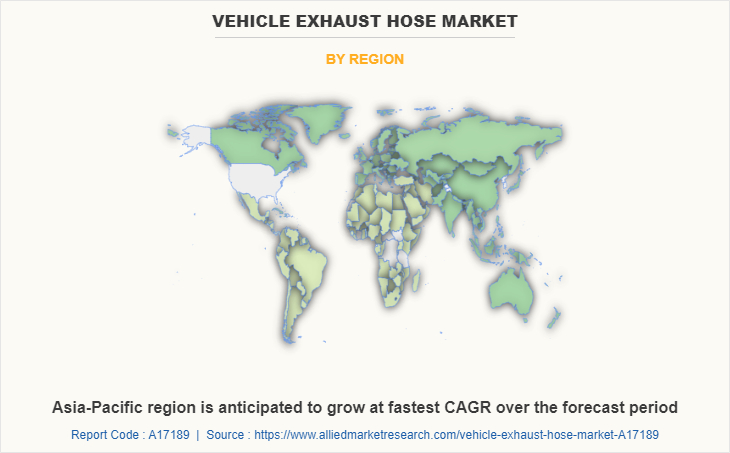 By region, North America dominated the global market in 2021, owing to strict pollution regulations regarding vehicle exhaust emission for vehicles and automobile repair garages, particularly in Canada and the U.S. Several regional car exhaust hose producers in the region are focusing their efforts on R&D and business expansion. For instance, WORKY, a company involved in designing and manufacturing of vehicle exhaust hose, launched a touchless vehicle fume extraction system called GTL for the American market. This will help to reduce cost required for changing the nozzle and save time as well. It will also help to improve working condition inside the automobile garages, which is further expected to fuel revenue growth of the regional market.
Key Benefits For Stakeholders
This report provides a quantitative analysis of the market segments, current trends, estimations, and dynamics of the vehicle exhaust hose industry analysis from 2021 to 2030 to identify the prevailing vehicle exhaust hose market opportunities.
The market research is offered along with information related to key drivers, restraints, and opportunities.
Porter's five forces analysis highlights the potency of buyers and suppliers to enable stakeholders make profit-oriented business decisions and strengthen their supplier-buyer network.
In-depth analysis of the vehicle exhaust hose industry segmentation assists to determine the prevailing market opportunities.
Major countries in each region are mapped according to their revenue contribution to the global market.
Market player positioning facilitates benchmarking and provides a clear understanding of the present position of the market players.
The report includes the analysis of the regional as well as global vehicle exhaust hose market trends, key players, market segments, application areas, and market growth strategies.
 Vehicle Exhaust Hose Market Report Highlights
Aspects
Details
By Type

Single layer
Double Layer
Three Layer

By End-Use

Passenger Cars
Commercial Cars

By Region

North America
Europe
Asia-Pacific
LAMEA

Key Market Players
BISCO Enterprise, Inc., Precision Hose & Expansion Joints, Novaflex Group, Masterflex Group, Nederman Holding AB, eurovac inc, Dayco Products, LLC, Air Cleaning Specialists, Inc., Flexaust Inc.