Vehicle Ignition Coil Market Statistics - 2026
The global vehicle ignition coil market was valued at $5.59 billion in 2018, and is projected to reach $7.55 billion by 2026, registering a CAGR of 3.9% from 2019 to 2026. By type, the coil-on-plugs segment was the highest revenue contributor     in 2018, accounting for $2.35 billion, and is estimated to reach $3.32 billion by 2026, registering a CAGR of 4.5% during the forecast period. In 2018, Asia-Pacific was anticipated to account for major market share. 
Automotive ignition coil, also known as spark coils, in a vehicle is an induction coil responsible for producing an electric spark that ignites the air and gasoline mixture in compression chamber, which helps in the vehicle movement. These coils help in smooth and efficient operation of the engine. Few coils include an internal resistor, while others depend on an external resistor to limit the current flow in the ignition coil. Earlier, every ignition coil system required mechanical contact breaker points and a capacitor (condenser) but now electronic ignition systems use a power transistor to provide pulses to the ignition coil. This has influenced the growth of the vehicle ignition coil market.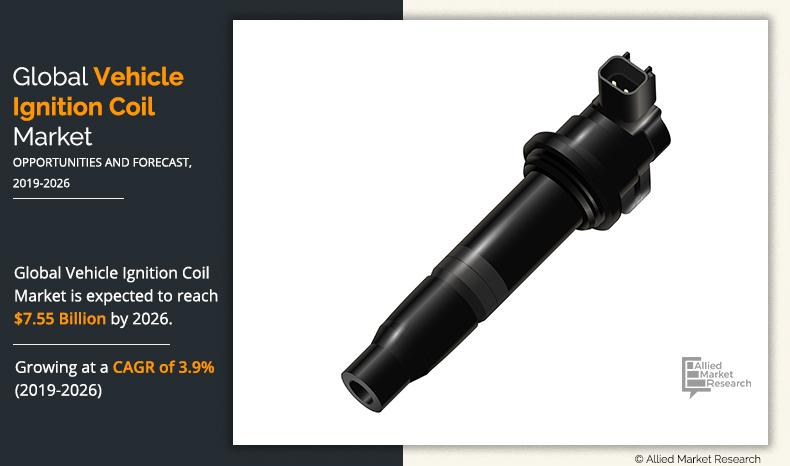 A modern passenger automobile may use one ignition coil for each engine cylinder (or pair of cylinders), eliminating fault-prone spark plug cables and a distributor to route high voltage pulses. Ignition systems are not required for diesel engines, which rely on compression to ignite the fuel/air mixture. There has been a demand for compact ignition coils for engine downsizing, as engine downsizing improves fuel efficiency and reduces carbon emissions. Engine downsizing involves integration of a smaller engine in a vehicle, which is capable of delivering power equivalent to a larger engine with the help of technologies such as a turbocharger or supercharger and direct injection technology. This is achieved by reducing the capacity of the engine and the number of cylinders. Vehicle with a smaller engine capacity makes vehicle light in weight and agile, reducing the overall weight of the vehicle. The vehicle ignition coil market trends are decided on the basis of forecast from 2019 to 2026.
The growth of the vehicle ignition coil market is driven by increase in vehicle production, rise in disposable income, and surge in sales of luxurious vehicles in developing countries. Moreover, the factors that drive the vehicle ignition coil market growth include increase in the automotive demand due to surge in urbanization, increase in technological development and advancements toward enhancing efficiency of automobiles, and demand for advanced ignition coils due to stringent emission and fuel efficiency norms. 
Vehicle Ignition Coil Market

---
By Type
Coil-on-plugs by type segment is projected as the most lucrative segments
However, factors such as rise in demand of electric vehicles and surge in trend of shared mobility hamper the stated growth. In addition, the increase in need for compact ignition coils due to engine downsizing, rise in air pollution, technological advancements toward solar energy powered vehicles, and surge in demand for vehicles that do not utilize ignition coils are the factors that restrain the growth of the vehicle ignition coil market. Furthermore, untapped developing markets in Africa and Asia are opportunistic for market expansion. 
The vehicle ignition coil market is segmented on the basis of type, vehicle type, distribution channel, and region. By type, it is classified into coil-on plugs, distributor-based ignition coils, distributor-less, and others. According to vehicle type, it is categorized into passenger vehicle, light commercial vehicle, and heavy commercial vehicle. By distribution channel, it is bifurcated into OEM and aftermarket. By region, it is analyzed across North America, Europe, Asia-Pacific, and LAMEA.
Comprehensive competitive analysis and profiles of major vehicle ignition coil market players such as BorgWarner, Denso, Diamond Electric Mfg. Corp, Federal-Mogul, HELLA GmbH & Co. KGaA, Hitachi automotive, Mitsubishi Electric Corporation, NGK Spark Plug, Robert Bosch, and Valeo SA are also provided in this report.
Vehicle Ignition Coil Market

---
By Vehicle Type
Passenger Car by Vehicle type segment is projected as the most lucrative segments
Increase in Vehicle Production
Original equipment manufacturers in the developing regions such as China, India, and Japan, are adapting to the changing regional and segment patterns of supply and demand with respect to their production & supply base footprints, supply chains, and product portfolio. In addition, rise in urbanization along with increase in population boost the demand for vehicles among consumers. For instance, North America is the home for largest vehicle producers in the world, including General Motors and Ford, which account for 25% of the global vehicle production. Moreover, emergence of global potential automobile manufacturers including General Motors and Volkswagen AG concentrating their plants in China through joint ventures with local manufacturers is expected to enhance the ignition coil demand and drive the growth of the vehicle ignition coil market globally.
Rise in Sales of Luxurious Vehicles in Developing Countries
Majority of luxurious vehicles are equipped with multiple vehicle ignition coils owing to their high power and excellent performance. Significant increase has been witnessed in the sales of luxury vehicles in the developing regions. For example, China has grown to become a major destination for sales of luxury vehicles. On an average, almost one-third of luxury vehicles are sold in China, in terms of value. 
Furthermore, India is one of the world's largest vehicle ignition coil market in terms volume, with luxury cars accounting for about 1% of vehicles sold in 2017, which generates high demand for vehicle ignition coils. However, vehicle manufacturers, both luxury and non-luxury segments, foresee a high potential for sales growth in the country and are seeking to invest further in this fast-growing market. 
In 2019, the growth rate of luxury vehicles industry was in the range of 3-7% and is expected to continue further. Therefore, surge in sales of luxury vehicles in the developing countries such as China and India, is expected to fuel the demand for vehicle ignition coil, thereby boosting the growth of the market.
Vehicle Ignition Coil Market

---
By Distribution Channel
OEM by distribution channel segment is projected as the most lucrative segments
Rise in Demand for Electric Vehicles
Increase in global concerns regarding the negative effect of climate change along with alarming pollution levels recorded in the major cities have created a significant demand for electric vehicles. The demand for fuel-efficient vehicles has increased recently owing to rise in price of petrol and diesel. Depletion of fossil fuel reserves and growth in tendency of companies to gain maximum profit from these oil reserves also contribute toward the increase in demand. Thus, these factors give rise to the need for advanced fuel-efficient technologies, leading to surge in demand for electrically powered vehicles for travel, which eliminates the demand for ignition coils as electric vehicles do not need ignition coil for their operations. Vehicle ignition coil is only present in vehicles having internal combustion engine (ICE). Hence, increase in sale of the electric vehicle is expected to restrict the growth of the global vehicle ignition coil market. 
Untapped Developing Markets in Africa and Asia
The developing nations of Asia-Pacific and Africa offer numerous growth opportunities. There is a rise in the demand for passenger vehicles in this region. This demand is anticipated to increase during the forecast period and is eventually projected to generate a demand for the vehicle ignition coils. 
This facilitates many automotive vehicle manufacturers to set up manufacturing plants in Africa and Asia to cater to the local demand and leverage low manufacturing costs for exporting vehicles and parts. For instance, in September 2017, Chinese car-maker BAIC opened an automotive assembly plant in South Africa that is expected to build 50,000 vehicles a year by 2022. In addition, in January 2017, Volkswagen South Africa began production at its Kenyan facility in Thika. This provides an opportunity for vehicle manufacturers in the African market, which is expected to create lucrative opportunities for the expansion of the vehicle ignition coil market
Vehicle Ignition Coil Market

---
By Region
Asia-Pacific by region segment is projected as the most lucrative segments
Key Benefits for Stakeholders:
This study presents analytical depiction of the vehicle ignition coil market analysis along with the current trends and future estimations to depict the imminent investment pockets.
The overall market potential is determined to understand the profitable trends to gain a stronger foothold.
The report presents information related to key drivers, restraints, and opportunities of the market with a detailed impact analysis.
The current vehicle ignition coil market size is quantitatively analyzed from 2018 to 2026 to benchmark the financial competency.
Porter's five forces analysis illustrates the potency of the buyers and suppliers in the vehicle ignition coil industry.
 Vehicle Ignition Coil Market Report Highlights
Aspects
Details
By Type

COIL-ON PLUGS
DISTRIBUTOR-BASED IGNITION COILS
DISTRIBUTOR-LESS
OTHERS

By Vehicle Type

PASSENGER CAR
LIGHT COMMERCIAL VEHICLE (LCV)
HEAVY COMMERCIAL VEHICLE (HCV)

By Distribution Channel
By Region

NORTH AMERICA (US, CANADA, MEXICO)
EUROPE (UK, GERMANY, FRANCE, ITALY, REST OF EUROPE)
ASIA-PACIFIC (CHINA, JAPAN, INDIA, SOUTH KOREA, REST OF ASIA-PACIFIC)
LAMEA (LATIN AMERICA, MIDDLE EAST, AFRICA)

Key Market Players
BORGWARNER INC, DIAMOND ELECTRIC MFG. CORP, DENSO CORPORATION, FEDERAL-MOGUL, HELLA KGAA HUECK & CO., HITACHI, LTD. (HITACHI AUTOMOTIVE SYSTEMS, LTD.), MITSUBISHI ELECTRIC CORPORATION, NGK SPARK PLUGS, ROBERT BOSCH GmbH, VALEO