The global vending machine market size was valued at $18.28 billion in 2019 and is anticipated to reach $25.25 billion by 2027, with a CAGR of 6.7% from 2021 to 2027. The market is expected to exhibit an incremental revenue opportunity of $6.97 billion from 2019 to 2027. Vending machines are devices used for the purpose of dispensing products such as food products, beverages products, tobacco products, and others. Vending machines are used at restaurants & clubs, offices, institutional buildings, residents, and others.  
Manufacturers are developing and launching internet of things (IoT)-based vending machines. This has enabled real-time data collection and an end-to-end IoT service to better monitor the machines.  As a result, it has become more convenient to gather consumer experience and expectations and provide an enhanced consumer shopping experience. Constant innovations and technological developments have led the industry to offer more modern, on-the-go solutions that are parallel with shifts in consumer behavior. Furthermore, innovations, such as voice recognition, interactive display system, and big data integration, have made it more convenient and user-friendly for consumers, thereby creating a positive impact on the vending machines market growth.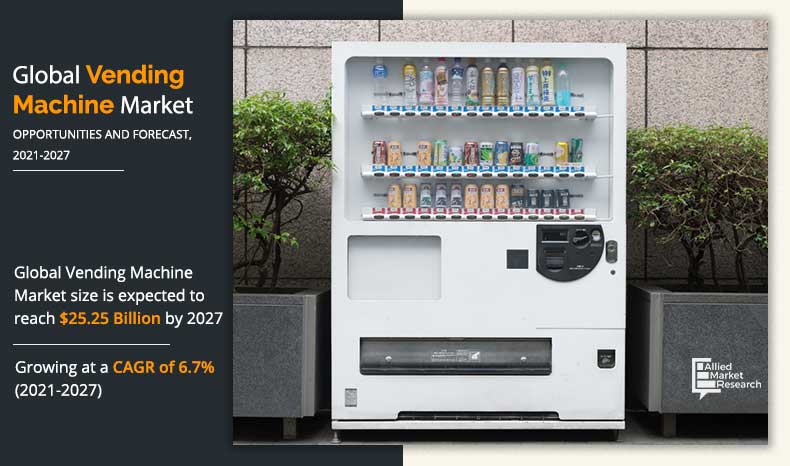 Strict regulations regarding the sales of unhealthy, junk food, and tobacco products in public places, institutions, and the majority of commercial spaces are expected to restrain the growth of the vending machine market. 
According to the vending machine market analysis, the market is segmented into type, application, technology, sales channel, and region. Based on type, the market is segregated into food vending machine, beverages vending machine, tobacco vending machine, and others. The beverages vending machine segment held the largest market share in 2019 and is expected to lead the vending machine market in the near future. Beverages vending machine is used in various applications, such as hotels & restaurants, corporate offices, and supermarkets among others globally and its demand is growing in developed countries.   
Vending Machine Market

---
By Type
The beverages vending machine segment held the major share of 55.73% in 2019
Based on application, the vending machine market segment into hotels & restaurants, corporate offices, public places, and others. Hotels & restaurants segment held the major vending machine market share. Hotels & restaurants help manufacturers introduce different types of vending machines in the market and cater to a large consumer base. Rise in trend of luxury dining and tourism is expected to drive the market growth. In addition, people with high disposable income spend more on luxury amenities, which further boosts the demand for restaurants & hotels. Therefore, establishments of hotels & restaurants in widespread locations provide lucrative opportunities for the global vending machine market growth.  
Vending Machine Market

---
By Application
The corporates office segment witness a CAGR of 7.5% from 2021-2027
The offline segment held the major share in the market. Specialty stores are introducing different types of vending machine products with various features, which attract consumers, thereby propelling the growth of the market. Moreover, the specialty retail industry is anticipated to witness uncertain growth, owing to macro-economic factors such as consumer spending and higher disposable income. Consumers pay more attention to the overall shopping experience while buying products at convenience stores. Attractive display and low price of vending machine products in the retail stores are expected to boost the sales of vending machine products. Therefore, establishment of convenience stores in widespread locations makes way for lucrative opportunities for the growth of the offline sales channel in the market.  
Vending Machine Market

---
By Technology
The automatic machine segment helds the higest market share of 53.37% in 2019
With strong global concerns about the pandemic, coronavirus has largely but negatively influenced the global vending machine market. Moreover, due to high demand and low supply trends, the prices and demand for vending machine products increased in 2020 to overcome economic instability. On the contrary, disruptions to the supply chain in shipping could lead to temporary shortages in the supply, putting upward pressure on prices in the short term.      
Vending Machine Market

---
By Sales Channel
The Online segment witness a CAGR of 7.7% from 2021-2027
Players in the market have adopted business expansion and product launch as their key developmental strategies to expand their market share, increase profitability, and remain competitive in the market. The key players profiled in the report include SANDENVENDO AMERICA, INC., Crane Merchandising Systems,  AZKOYEN GROUP, FUJI ELECTRIC CO., LTD, Fastcorp Vending LLC, Royal Vendors, Inc., Seaga Manufacturing Inc, Jofemar Corporation., Selecta TMP AG, and Bianchi Industry.    
Vending Machine Market

---
By Region
The North America region helds the higest market share of 37.21% in 2019
Key benefits for stakeholders    
The report provides quantitative analysis of the current vending machine market trends, estimations, and dynamics of the market size from 2019 to 2027 to identify the prevailing vending machine market opportunities.  
Porter's five forces analysis highlights the potency of buyers and suppliers to enable stakeholders to make profit-oriented business decisions and strengthen their supplier–buyer network.
In-depth analysis and the market size & segmentation assist to determine the market potential.
The major countries in each region are mapped according to their revenue contribution to the vending machine market.     
The market player positioning segment facilitates benchmarking and provides a clear understanding of the present position of the market players in the vending machine industry. 
 Vending Machine Market Report Highlights
Aspects
Details
By Type

FOOD VENDING MACHINE
BEVERAGES VENDING MACHINE
TOBACCO VENDING MACHINE
OTHERS VENDING MACHINE

By Application

HOTELS & RESTAURANTS
CORPORATE OFFICES
PUBLIC PLACES
OTHERS

By Technology

AUTOMATIC MACHINE
SEMI-AUTOMATIC MACHINE
SMART MACHINE

By Sales Channel
By Region

NORTH AMERICA (US, CANADA, MEXICO)
EUROPE (GERMANY, FRANCE, UK, ITALY, SPAIN, RUSSIA, REST OF EUROPE)
Asia-Pacific (CHINA, JAPAN, INDIA, AUSTRALIA, SOUTH KOREA, SINGAPORE, MALAYSIA, REST OF ASIA-PACIFIC)
LAMEA (BRAZIL, ARGENTINA, UNITED ARAB EMIRATES, SOUTH AFRICA, SAUDI ARABIA, TURKEY, REST OF LAMEA)

Key Market Players
AZKOYEN GROUP., BIANCHI INDUSTRY SPA, CRANE COMPANY., FASTCORP VENDING LLC., FUJI ELECTRIC CO., LTD., JOFEMAR CORPORATION., ROYAL VENDORS, INC., SANDENVENDO AMERICA, INC., SEAGA MANUFACTURING, INC., SELECTA GROUP B.V.