The global veterinary artificial reproduction market was valued at $1,349.4 million in 2020, and is estimated to reach $2,229.3 million by 2030, growing at a CAGR of 5.30% from 2021 to 2030.Veterinary artificial reproduction is used to breed cattle and other livestock using frozen semen. Artificial reproduction has to be carried out at the right time during the animal's heat cycle to attain best results. Previously, livestock had to be monitored for heat to breed them at the appropriate time. In recent years, synchronization protocols are being implemented to bring majority of herd into heat cycles so that they can all be bred at the same time. In addition, advancements in synchronization of heat cycles among herds have made artificial reproduction more feasible.
The COVID-19 cases are because of direct or indirect contact between humans. There has been no evidence or confirmation that animals can spread COVID-19 to humans. Furthermore, COVID-19 has weakened the supply chain and has created shortage of animal health products such as nutritional feed as well as vaccines globally.
Furthermore, artificial reproduction reduces risks involved with animal breeding and disease transmission, which has increased demand for artificial reproduction in animal husbandries. Artificial reproduction allows herders to breed livestock with superior genes. In cattle herding, artificial reproduction can result in female offsprings that have greater capabilities of milk production. By using semen from sires that have high fertility rates, herders can improve conception rates and produce more calves, and can predict qualities of calves to a certain extent.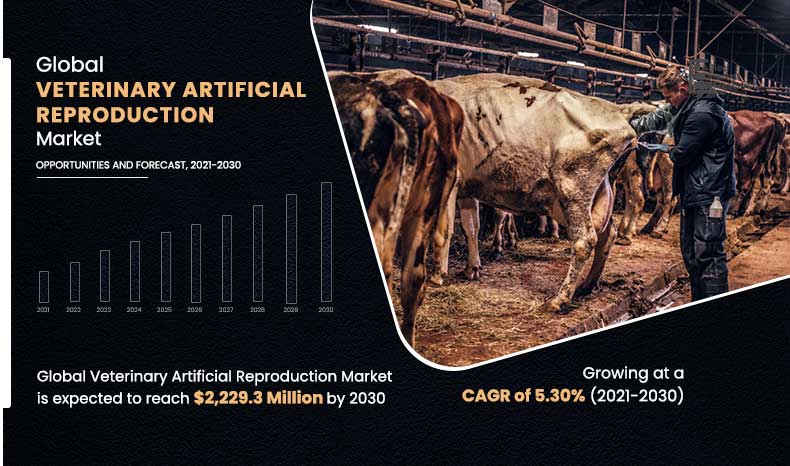 Artificial reproduction results in reduction of calving difficulties and weans larger calves that have better and more desirable carcasses. Artificial reproduction can increase profits of herders and have proved to be more efficient than natural breeding. Artificial reproduction process uses semen extenders that have antibiotics in them that prevents spread of bacterial diseases. Furthermore, artificial reproduction is considered to be more hygienic than natural breeding, which also contributes toward reduced spread of diseases.
Needs of farmers and production requirements change as the market changes. These changes often result in certain animal breeds unfeasible to raise. Artificial reproduction allows farmers to continue to farm these breeds in-situ. There have been no studies demonstrating that novel coronavirus can propagate among livestock. However, pandemic-induced lockdowns have affected supply chains and have resulted in a lack of veterinary products such as nutritional feed.
Governments across the globe have undertaken initiatives to support animal husbandries by providing them with telephonic assistance and delivering artificial insemination services to their doorstep. Growth in demand for animal products mainly due to growth in human population has also increased demand for artificial insemination as farmers try to meet growing demands. Artificial reproduction has also effectively reduced prices of bulls. Artificial insemination is also lucrative for farmers as calf prices are increasing and have contributed to growth of the veterinary artificial reproduction market. It allows breeders to breed genetically superior offsprings with desirable traits.
Animals cannot propagate COVID-19 to humans, according to the COVID-19 pandemic. The global supply chain has been disrupted by coronavirus pandemic, resulting in a lack of animal health items such as organic feed. As a result, it may be made up of animal feed, affecting reproductive ability.
veterinary artificial reproduction market segmentation
The veterinary artificial reproduction market is segmented on the basis of product, technique, end user, and region. By product, the market is categorized into equipment, reagents & kits, and others. By technique, the market is divided into artificial insemination, in-vitro fertilization (IVF) technology, and others. By end user, it is fragmented into veterinary hospitals, veterinary clinics, and others.
Region wise, the market is analyzed across North America (the U.S., Canada, and Mexico), Europe (Germany, France, the UK, Italy, Spain, and rest of Europe), Asia-Pacific (Japan, China, India, Australia, and rest of Asia-Pacific), and LAMEA (Brazil, South Africa, Saudi Arabia, and rest of LAMEA).
Segment review
Depending on product, the reagent & kits segment dominated the market in 2020, and is expected to continue this trend throughout the forecast period. This is attributed to growing infectious diseases in animals and rise in awareness about artificial insemination among people. On the basis of technique, the artificial insemination segment dominated the market in 2020, and is expected to continue this trend throughout the forecast period. This is attributed to increase consumption of animal protein and growth in demand for high cattle productivity & milk yield.
Europe accounted for a major share in the veterinary artificial reproduction market in 2020, and is expected to maintain its dominance during the forecast period, owing to rise in healthcare awareness, coupled with growth in demand for fishery and animal husbandry products, which is expected to drive the veterinary artificial reproduction market during the forecast period. Moreover, presence of major players operating in the region fuel growth of the market. However, Asia-pacific is expected to register highest CAGR from 2021 to 2030, owing to presence of a large livestock population in this region. Increase in demand for milk and animal-based protein, along with government initiatives propel the market growth. Furthermore, innovations and developments toward artificial reproduction are anticipated to further enhance growth in this region in the future.
The key players operating in the global market include Bovine Elite LLC, KRUUSE, Agtech Inc., IMV Technologies, Zoetis Inc., Neogen Corporation, National Meditek, Swine Genetics International, and Select Sires Inc., SEMEX.
Key Benefits For Stakeholders
The study provides an in-depth analysis of the global veterinary artificial reproduction market, and the current trends and future estimations to elucidate the imminent investment pockets.
It presents a quantitative analysis of the market from 2021 to 2030 to enable stakeholders to capitalize on the prevailing market opportunities.
Extensive analysis of the market based on procedures and services assists to understand the trends in the industry.
Key players and their strategies are thoroughly analyzed to understand the competitive outlook of the market.
Key Market Segments
By Product
Equipment
Reagents and Kits
Others
By Technique
Artificial Insemination
In- Vitro Fertilization (IVF) Technology
Others
By End User
Veterinary Hospitals
Veterinary Clinics
Others
By Region
North America
Europe

Germany
France
UK
Italy
Spain
Rest of Europe

Asia-Pacific

Japan
China
India
Australia
Rest of Asia-Pacific

LAMEA

Brazil
South Africa
Saudi Arabia
Rest of LAMEA
Key Market Players
Bovine Elite LLC
KRUUSE
Agtech Inc.
IMV Technologies
Zoetis Inc.
Neogen Corporation
National Meditek
Swine Genetics International
Select Sires Inc.
SEMEX