Veterinary Software Market Statistics - 2027
The global veterinary software market size was valued at $1.31 billion in 2019, and is projected to reach $2.08 billion by 2027, growing at a CAGR of 6.1% from 2020 to 2027. Veterinary software addresses the requirements of veterinary professionals beyond the practice management optimization. Veterinary software functionalities encompasses offering integrations to animal clinics and hospitals, maintaining a drug database for veterinary-focused pharmacies to consult, streamlining and ensuring industry compliance, and offering tools that support client engagement. Veterinary software creates efficiency and productivity within any part of animal-focused care delivery, so veterinary professionals can emphasize on their work. Veterinary software are available as stand-alone software or are built to integrate with or supplement veterinary practice management software.
Post COVID-19 emergence, veterinary practice management software is anticipated to witness growing demand owing to the need for remote patient monitoring, telehealth solution, and custom client communication facilitated by this software.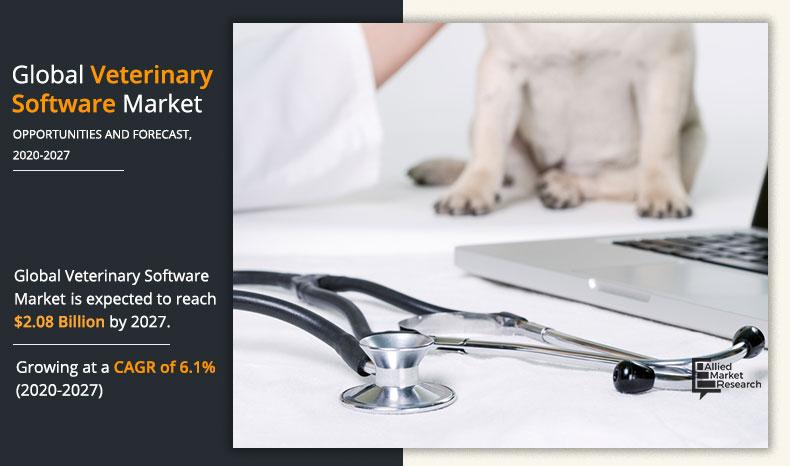 Increase in companion animal ownership, surge in spending on animal health, and increase in need for streamlining daily tasks in veterinary hospitals are some of the major factors that are driving the growth of the global market. Further, increase in awareness about animal healthcare and rise in demand of protein rich foods are expected to boost the market growth. However, lack of veterinary infrastructure facilities in the underdeveloped countries is anticipated to restrict the veterinary software market growth. On the contrary, increase in adoption of cloud based-technologies and rise in growth opportunities in emerging markets are anticipated to provide lucrative opportunities for the global market during the analysis period.
Veterinary Software Market

---
By Product Type
Veterinary Practice Management Software segment was one of the most lucrative segment in 2019.
On the basis of type, the integrated software segment is expected to lead the overall veterinary software market size in 2027. This is attributed to the advantage of facilitating integrating scheduling, charting, testing, billing, test reports and patient reminders onto a single platform. Due to this, veterinary practices can realize significant time and cost savings, increase productivity and improve patient care. Such benefits are expected to significantly contribute toward the growth of this market.
Veterinary Software Market

---
By Type
Integrated software segment is projected to witness highest growth rate during the forecast period.
According to end user, the hospital or clinic segment accounted for the highest share in the global veterinary software market in 2019, as clinics or hospitals are primary users of veterinary software. In addition, presence of large number of veterinary hospitals or clinics as compared to laboratories is driving the growth of this segment. The increase in demand for veterinary practice management as well as veterinary imaging software by vet hospitals is further fueling the growth of this market.  
Veterinary Software Market

---
By Deployment
Cloud deployment segment is projected as one of the most lucrative segments.
In 2019, North America accounted for the highest veterinary software market share, due to the presence of major key players operating in the region such as Covetrus, ClienTrax, and Idexx Laboratories serves as a major factor that contributes toward the growth of the global market. Moreover, high ICT spending and early adoption of advanced technologies across the healthcare industry in this region are the key factors that drive the market growth.
Veterinary Software Market

---
By Practice Type
Exclusive Small Animal Practices accounted for the highest market share in 2019.
Impact of COVID-19 on Veterinary Software Market:
The outbreak of COVID-19 is anticipated to have a considerable impact on the growth of the veterinary software market. In most of the countries, veterinary services are considered under the essential services and remained functional even during the lockdown imposed across the world. This has contributed significantly for continuation of revenue generation across veterinary practices and in turn leads to the growth of this market. In addition, the fear of spreading novel coronavirus has accelerated the veterinary practice engagement, which is positively impacting the growth of this market.
The report focuses on the growth prospects, restraints, and global veterinary software market trends. Moreover, the study includes Porter's five forces analysis of the industry to understand the impact of various factors such as bargaining power of suppliers, competitive intensity of competitors, threat of new entrants, threat of substitutes, and bargaining power of buyers on the growth of the market.
Veterinary Software Market

---
By End User
By end user, hospitals or clinics segment accounted for the largest share in veterinary software market
Segment review
The global veterinary software market is segmented into product type, deployment, software type, practice type, end user, and region. By product type, it is divided into veterinary practice management software, veterinary imaging software and others. In terms of type, it is bifurcated into integrated software and stand-alone software. Depending on deployment, it is categorized into cloud and on-premise. According to practice type, the veterinary software market is segregated into exclusive small animal practices, mixed animal practices and exclusive large animal practices. Exclusive large animal practices are further divided into equine and bovine practices. As per end user, it is fragmented into hospitals or clinics and reference laboratories. Region wise, it is analyzed across North America, Europe, Asia-Pacific, and LAMEA.
Veterinary Software Market

---
By Region
Europe would exhibit the highest CAGR of 7.7% during 2020-2027.
The key players operating in the global veterinary software market analysis include Animal Intelligence Software, Inc., ClienTrax, Covetrus, Inc., Hippo Manager Software Inc., IDEXX Laboratories, Inc., MWI Animal Health, Patterson Companies Inc., Petabyte Technology, Three Plus Group, Timeless Veterinary Systems, Vetspire, Inc., Vetter Software, Inc., VetZ GmbH, and VIA Information Systems.
Top impacting factors
Increase in need for streamlining daily tasks in veterinary hospitals
Advancements in veterinary medicines are leading to the increasing need for better collaboration technologies for veterinary practitioners and diagnostic labs & other service providers related to pets. The veterinary software provide important capabilities for vets such as automatic reminders, online appointment booking, payment integration, client communication facilities, health record management, and data backup & recovery. Some of the software also facilitate sending newsletter to clients with customizable content, automated surveys, text messages and medical reminders. Thus, these advantages of veterinary software are further propelling the growth of the veterinary software market.
Increase in adoption of cloud-based technologies
In the veterinary software market, cloud-based software or web-based software are getting increasing significance as it offers benefits such as low initial investment, maintenance, and operational costs; data centralization capabilities; storage flexibility; automatic software upgradation and greater level of interoperability. Although a limited number of players are presently offering cloud-based veterinary software, some existing players as well as new entrants are aiming at this segment to attain the potential growth opportunities.
Key Benefits For Stakeholders
This study includes the analytical depiction of the global veterinary software market forecast and trends to determine the imminent investment pockets.
The report presents information related to key drivers, restraints, and veterinary software market opportunity.
The current market size is quantitatively analyzed from 2019 to 2027 to highlight the financial competency of the veterinary software industry.
Porter's five forces analysis illustrates the potency of buyers & suppliers in the global market.
 Veterinary Software Market Report Highlights
Aspects
Details
By Product Type

Veterinary Practice Management Software
Veterinary Imaging Software
Others

By Type

INTEGRATED SOFTWARE
STAND-ALONE SOFTWARE

By DEPLOYMENT
By Practice Type

Exclusive Small Animal Practices
Mixed Animal Practices
Exclusive Large Animal Practices

By End User

Hospitals/Clinics
Reference Laboratories

By Region

North America (U.S., Canada)
Europe (UK, Germany, France, Rest of Europe)
ASIA-PACIFIC (China, India, Japan, Australia, Rest of Asia-Pacific)
LAMEA (Latin America, Middle East, Africa)

Key Market Players
THREE PLUS GROUP OY, ANIMAL INTELLIGENCE SOFTWARE, INC., HIPPO MANAGER SOFTWARE INC., COVETRUS, INC., IDEXX LABORATORIES, INC., VETTER SOFTWARE, INC., PATTERSON COMPANIES INC., PETABYTE TECHNOLOGY, TIMELESS VETERINARY SYSTEMS, MWI ANIMAL HEALTH, CLIENTRAX, VETSPIRE — FGSPIRE, INC., VETZ GMBH, VIA INFORMATION SYSTEMS