The global vetronics market was valued at $4.2 billion in 2020, and is projected to reach $6.5 billion by 2030, growing at a CAGR of 4.67% from 2021 to 2030.
The vetronics system can be coined as the combination of two words vehicle and electronics. The market refers to all electronics and communications systems that are used in vehicles for effective operations. This terminology is used for military and homeland security vehicles. Vetronics systems can be considered as the digital hub of military vehicles. The system is responsible to control several critical operations such as mobility system, inter-vehicle communication, and self-protection. Completely redundant vetronics system encompasses robust hardware and software interface to perform required operations. Military vetronics systems can be either line fit or retro-fit. In line fit, vehicle manufacturers integrate their pre-designated vetronics system within a set of military vehicles, whereas in retro-fit, the vetronics system are integrated in the aftermarket. Rise in demand to access open military vetronics with an open architecture to cater to single system multiple types of vehicles is expected to expand business opportunities.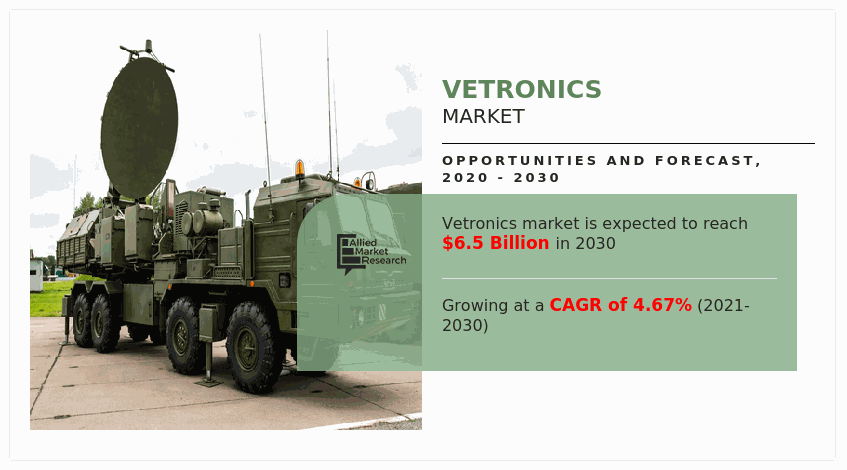 The COVID-19 pandemic has had an adverse effect on the overall military industry and thereby on the vetronics industry. Global outbreak of the pandemic, limited business operations and logistics support, and shift in budget allocation toward managing medical crisis limited business opportunities for the market. However, rise in geo-political conflicts across nations has provided a long-term boost for the vetronics market growth. Asia-Pacific and North America countries are more inclined toward increasing and modernizing their military fleet and ensure themselves to be combat ready in the coming years. Such factors are expected to propel the market growth.
Factors such as year-on-year rise in global defense budget expenditure, fueled by nations such as the U.S., Russia, China, and India, along with budget allocation toward acquisition and modernization of existing military vehicles is expected to drive the market in coming years. The total global military expenditure in 2020 was $1981 billion, which was 2.6% more as compared 2019. U.S., China, Russia, the UK, Germany, and India remains the highest market contributors. Rise in cross border conflicts at global level such as war situation between Russia and Ukraine and possible interference of NATO is anticipated to drive the business opportunities for the vetronics industry.
Vetronics Market

---

By Vehicle Type
Infantry Fighting Vehicle is projected as the most lucrative segments
The global vetronics market is segmented on the basis of platform, vehicle type, system, and region. By platform, it is divided into homeland security and military. By vehicle type, it is classified into main battle tank, light combat vehicles, armored personnel carriers, infantry fighting vehicles, and others. By system, it is divided into weapons & control system, command & communication, navigation & display, sensor & optronics, power systems, and Others. By region, the market is analyzed across North, Europe, Asia-Pacific, and LAMEA.
Companies have adopted product development and product launch as their key development strategies in the market. Moreover, collaborations and acquisitions are expected to enable leading players to enhance their product portfolios and expand into different regions. Key players operating in the vetronics market include Thales Group, Curtiss-Wright Corporation, Saab Ab, General Dynamics Corporation, BAE Systems, Leonardo S.p.A., Rheinmetall AG, Raytheon Technologies Corporation, L3harris Technologies, Inc, and Lockheed Martin Corporation.
Vetronics Market

---

By Platform
Homeland Security is projected as the most lucrative segments
Standardization of Vetronics System
There have been notable efforts by several government organizations such as military vetronics association (MILVA), ministry of defense of several nations, and NATO to ensure system standardization. These organizations are releasing mandates to standardize vetronics system on different platforms, suporting open architecture. Panel discussion and exhibitions are conducted by major industry players to boost standardization among vetronics systems and promote open architecture, enabling flexibility in operations and reducing the overall system cost. Integration of open architecture enables users to upgrade their system with new technologies without changing complete system, therefore reducing the overall cost of system upgrade. Manufacturing benefits such as economies of scale can also be achieved as the same system can be integrated on multiple platforms. Logistics optimization due to simplification of components, reduction in training and maintenance cost along with increase life-span of vehicle electronics can be leveraged through standardization and integration of open architecture.
Expanding scope of application
Continuous efforts in research and development done by major industry players such as Lockheed Martin Corporation, Thales Group, and L3Harris in military vetrionics and related subsystems has allowed them to widen their scope of application through releasing innovative and proprietary product range. With rise in hybrid vehicles and unmanned vehicles being integrated in military fleet, the vetroncis market is expected to witness an unprecedented growth rate in the coming years. Electronic motors are capable of generating much higher torque as compared to internal combustion (IC) engine. Electric motors with improved capacities will support hybrid electric drive architecture where IC engine is used to charge batteries within in turn will power the electric motors. A notable amount of vetroncis systems are required to ensure integration of these systems.
Vetronics Market

---

By System
Command and Communication is projected as the most lucrative segments
Increase in threat of cyber attacks
Redundant vetronics systems are no longer capable to manage rising data management and work bandwidth needed to engage in successful military operations. In addition, technologically advanced vetronics systems that are highly efficient and leverage the benefits of cloud computing are vulnerable to cyber-attacks. New vehicle electronics system regularly exchanges data and information with the central hub through cloud platforms to ensure effective operations. Continuous exchange of data poses a great opportunity for hackers to intercept or corrupt the information. Such factors pose a notable challenge to the military vetronics market.
Integration with Web 4.0
Integration of military vetronics system with web 4.0 state notable business opportunities for the market growth. Symbiotic web systems that are autonomous, collaborative, pro-active, analytical, and data driven along with reasoning and learning capabilities through artificial intelligence (AI) and connected with central processing hub via cloud provide several opportunities for business expansion. The market is emerging toward fully networked and integrated vetronics system, aiming to integrate vehicles, command and control system, aerial vehicles as well as other support vehicles on a single network. Such platforms ensure smooth data transfer across platforms, reduce lead time, and improve efficiency of operations.
Vetronics Market

---

By Region
Asia-Pacific would exhibit the highest CAGR of 5.9% during 2021-2030
Key Benefits For Stakeholders
This report provides a quantitative analysis of the market segments, current trends, estimations, and dynamics of the vetronics market analysis from 2020 to 2030 to identify the prevailing vetronics market opportunities.
The market research is offered along with information related to key drivers, restraints, and opportunities.
Porter's five forces analysis highlights the potency of buyers and suppliers to enable stakeholders make profit-oriented business decisions and strengthen their supplier-buyer network.
In-depth analysis of the vetronics industry segmentation assists to determine the prevailing market opportunities.
Major countries in each region are mapped according to their revenue contribution to the global market.
Market player positioning facilitates benchmarking and provides a clear understanding of the present position of the market players.
The report includes the analysis of the regional as well as global vetronics market trends, key players, market segments, application areas, and market growth strategies.
 Vetronics Market Report Highlights
Aspects
Details
By Vehicle Type

Main Battle Tank
Light Combat Vehicles
Armored Personnel Carriers
Infantry Fighting Vehicle
Others

By Platform

Homeland Security
Military

By System

Weapon and Control System
Command and Communication
Navigation and Display
Sensor and Optronics
Power System
Others

By Region

North America (U.S., Canada, Mexico)
Europe (U.K., Germany, France, Russia, Italy, Rest of Europe)
Asia-Pacific (China, Japan, India, Australia, Rest of Asia-Pacific)
LAMEA (Latin America, Middle East, Africa)

Key Market Players
Rheinmetall AG, Raytheon Technologies Corporation, L3Harris Technologies, Inc., Lockheed Martin Corporation, Thales Group, Curtiss-Wright Corporation, Saab Ab, General Dynamics Corporation, BAE Systems plc, Leonardo S.p.A