Vietnam Menstrual Cups Market Outlook - 2026
The Vietnam menstrual cups market size was $1.521 million in 2018, and is projected to reach $2.264 million by 2026, registering a CAGR of 5.2% from 2019 to 2026.
A menstrual cup is a type of feminine hygiene product. It's a small, flexible funnel-shaped cup made of rubber or silicone that can be inserted into the vagina to collect period fluid during menstruation. Its purpose is to prevent menstrual fluid from leaking onto clothes. Menstrual cups are reusable and disposable, wherein the reusable menstrual cups are shaped similar to a bell with a stem and disposable menstrual cups are shaped like a disc. These cups need to be removed every 4 to 12 hours (depending on the flow), and emptied, rinsed, & reinserted. The disposable cups are single use and needs to be disposed whereas reusable cups can be stored after wash and boiled for reuse. Reusable cups can be used for up to five years or more.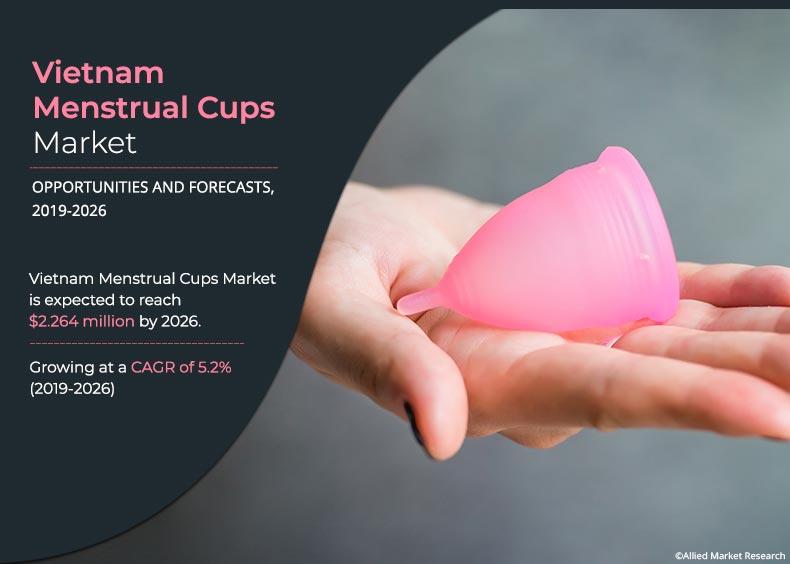 The Vietnam healthcare industry is on a high growth trajectory currently and Vietnam has good scope for developing menstrual cups manufacturing sites across the country, due to growth in health awareness and feminine hygiene products among the population. However, the menstrual cup manufacturers need to invest extensively to increase production capacity, as their demand is experiencing rapid growth. For instance, the demand for menstrual cups is high among the young generation and educated women owing to their safety and better use as compared to tampons and sanitary napkins. In addition, longer use of menstrual cups is completely safe as these cups are cost-effective and environment friendly. The personal beliefs and free movement after wearing menstrual cups are increasing the popularity of these products among Vietnamese women. Hence, these aforementioned factors help fuel the Vietnam menstrual cups market. 
The major factors that drive the growth of the Vietnam menstrual cups market include increase in awareness among the population about the available options during menstruation. Huge number of awareness campaigns are being conducted by women communities, educational institutes, and non-profit organization that also help boost the growth of the market. In addition, rise in women populace coupled with high costs of sanitary pads and tampons further fuels the market growth. However, additional substitutes as well as high cost of menstrual cups along with cultural resistance and limited level of acceptance of these sanitary protections are expected to hamper the market growth. On the contrary, rise in awareness about eco-friendly and safety sanitary protections is anticipated to create lucrative opportunities for the menstrual cup manufacturers in Vietnam in near future.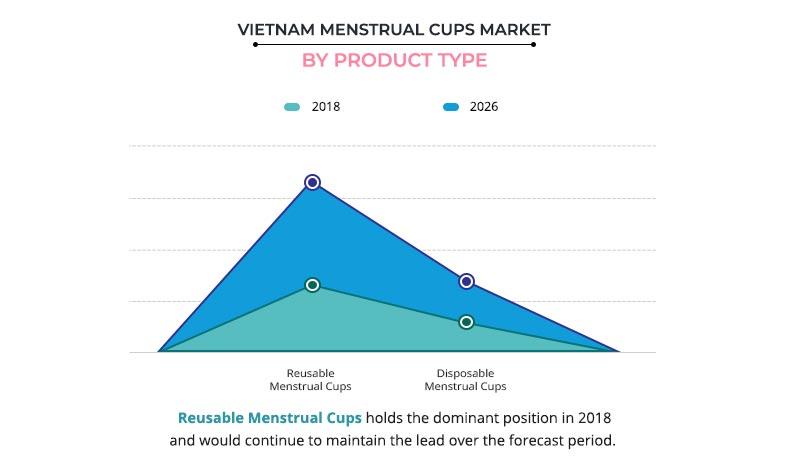 Product Type segment review
Based on product type, the Vietnam menstrual cups market is bifurcated into reusable menstrual cups and disposable menstrual cups. The reusable menstrual cups segment generated the highest revenue in 2018 and is anticipated to maintain its dominance throughout the forecast period, owing to their reusability that renders them cost-effective, large number of availabilities of the reusable products with the variety in material and sizes. However, disposable menstrual cups create wastes that are harmful for the environment. In addition, availability of the product is less in Vietnam as compared to reusable menstrual cups. Therefore, this is expected to hamper the disposable menstrual cups market growth in the near future.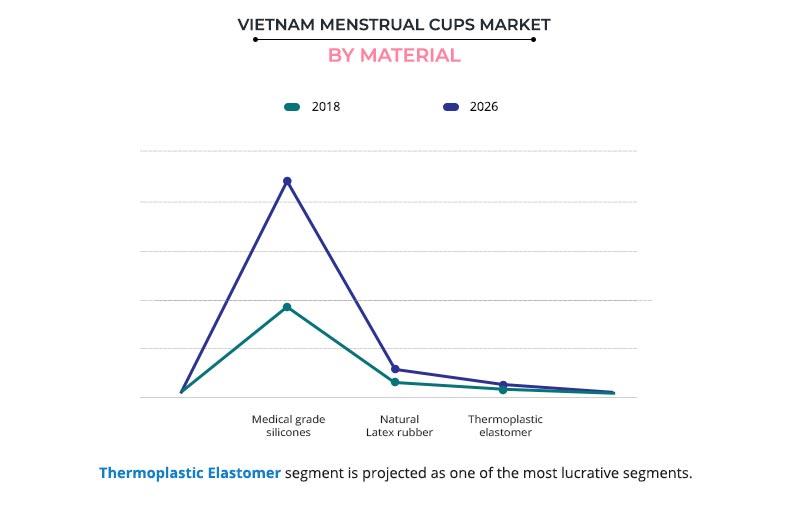 Material segment review
Based on the material of menstrual cups, the Vietnam menstrual cups market is segmented into medical grade silicones, natural latex rubber, and thermoplastic elastomer. The thermoplastic elastomer segment is projected to exhibit the highest growth during the forecast period. This is attributed to the increase in demand for cost-effective medical application and rise in awareness on environment-friendly menstrual care options. Hence, thermoplastic elastomers can be recycled, which make them cost-effective and eco-friendly.
The key players operating in the Vietnam menstrual cups market include Anigan, Diva International Inc., Fleurcup, Jaguara, s.r.o., Lingroup Co., Ltd. (Lintimate), Lune Group Oy Ltd., Lena Cup, Mooncup Ltd., Me Luna GmbH, OVA Vietnam Company Limited, Sterne (Si-Line), and YUUKI Company s.r.o., and others.
Key Benefits for Vietnam Menstrual Cups Market:
This report provides a detailed quantitative analysis of the current Vietnam menstrual cups market trends and forecast estimations from 2019 to 2026, which assists to identify the prevailing market opportunities. 
An in-depth Vietnam menstrual cups market analysis includes analysis of various regions is anticipated to provide a detailed understanding of the current trends to enable stakeholders formulate country-specific plans.
A comprehensive analysis of the factors that drive and restrain the growth of the market is provided.
Country-level market conditions are comprehensively analyzed in this report.
The projections in this report are made by analyzing the current trends and future market potential from 2019 to 2026 in terms of value.
Key market players within the market are profiled in this report and their strategies are analyzed thoroughly, which helps in understanding the competitive outlook of the Vietnam menstrual cups market.
 Vietnam Menstrual Cups Market Report Highlights
Aspects
Details
By Product Type

Reusable Menstrual Cups
Disposable Menstrual Cups

By Material

Medical Grade Silicones
Natural Latex Rubber
Thermoplastic elastomer

By Distribution Channel

Online Stores
Pharmacies/Retail Stores

Key Market Players
Anigan, Diva International Inc., Fleurcup, Jaguara, s.r.o., Lingroup Co., Ltd., Lune Group Oy Ltd., Lena Cup, Me Luna GmbH, Mooncup Ltd., OVA Vietnam Company Limited, Sterne (Si-Line), YUUKI Company s.r.o.