Vinyl Ester Market Statistics - 2030
The global vinyl ester market size was valued at $1.1 billion in 2020, and is projected to reach $2.1 billion by 2030, growing at a CAGR of 6.5% from 2021 to 2030.
The COVID-19 pandemic has severely impacted the vinyl ester industry landscape, as it has hampered global manufacturing and product supply and demand, and limited the global production activity.
Vinyl ester is a resin made by esterifying an epoxy resin with monocarboxylic acid. The resulting product is then dissolved in a solvent such as styrene. Vinyl ester is utilized in a wide range of industries, including pipes & tanks, building, transportation, and paint & coatings. It is a thermoset material that is commonly utilized as a replacement for polyester and epoxy. Vinyl ester has a number of physical advantages, including increased strength and corrosion resistance. As a result, it is a favorite substance among a variety of others. It has a low viscosity and is resistant to water absorption. It offers greater strength and mechanical properties than other materials.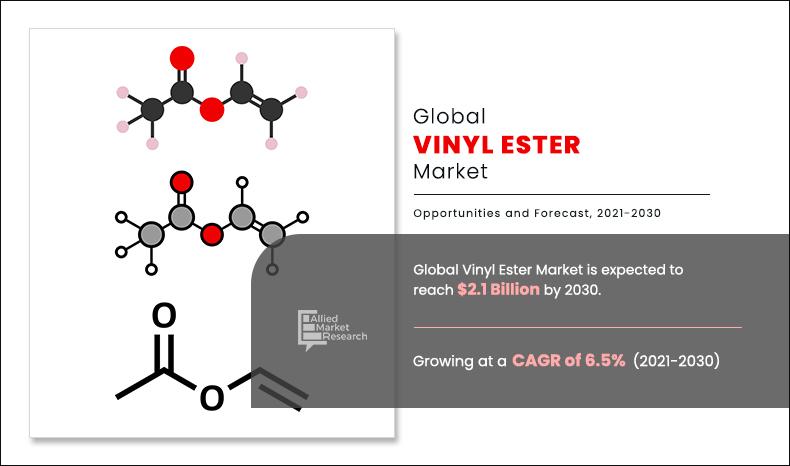 The vinyl ester market is being driven by an increase in demand for flue gas desulfurization (FGD) installations as a result of rise in environmental concerns and laws on hazardous emissions, as well as an increase in demand for corrosion resistant materials. Limestone slurry pipes and stack liners are two major applications of vinyl ester resins in the FGD process. These resins can be used in flake glass lining systems and new and retrofit FGD applications. In addition, the vinyl ester market is benefiting from increased infrastructural investments. The vinyl ester market is also being propelled by the constant demand for vinyl ester in the chemical and water and wastewater treatment end-use sectors. On the other hand, cheaper cost and easy availability of substitutes are hampering the vinyl ester market. In addition, surge in number of wind turbine installations worldwide followed by increase in applications of vinyl ester in mass transit buses and railways serves as an opportunity during the global vinyl ester market forecast period.
For the purpose of analysis, the vinyl ester market is segmented into type, application, and region. The report outlines the details about the different types of vinyl ester, including bisphenol A diglycidyl ether (DGEBA), epoxy phenol novolac (EPN), brominated fire retardant, and others. The applications covered in the study include pipes & tanks, paints & coatings, transportation, pulp & paper, and others. Moreover, it analyzes the current market trends of vinyl ester across different regions such as North America, Europe, Asia-Pacific, and LAMEA and suggests the future growth opportunities.
The key players profiled in this global vinyl ester market report include Polynt, Ashland Global Holdings Inc., INEOS, DIC CORPORATION, Interplastic Corporation, SHOWA DENKO K.K., Swancor, Reinchhold LLC 2, Sino Polymer Co., Ltd., and AOC, LLC.
Vinyl ester market, by type
By type, the Bisphenol A Diglycidyl Ether (DGEBA) segment is estimated to be the largest type segment of the vinyl ester market from 2020 to 2030. Bisphenol A vinyl ester resins are used in a host of chemical applications and FGD processes owing to their corrosion resistance property. The marine industry mostly uses vinyl ester resins as barrier coats, gel coats, and in the main composite body of ships.
Vinyl ester Market

---
By Type
Bisphenol A Diglycidyl Ether (DGEBA) is projected as the most lucrative segment.
Vinyl ester market, by application
By application, the pipes & tanks segment accounted for around 53.3% of the vinyl ester market share in 2020. Vinyl ester is used in high-temperature formulations, such as chemical storage vessels and chemical reactors. It is also used in electro-refining tanks and as topcoats for metal containers.
Vinyl ester Market

---
By Application
Pipes and Tanks is projected as the most lucrative segment.
Vinyl ester market, by region 
By region, Asia-Pacific is expected to be the fastest-growing market for vinyl ester during the forecast period, owing to the high demand from the various industries in China, such as water & wastewater treatment, chemical, pharmaceutical, food processing, and transportation. Environmental regulations on harmful emissions have also increased the demand for FGD systems, which use vinyl ester linings for protection from corrosion.
Vinyl ester Market

---
By Region
Asia-Pacific holds a dominant position in 2020 and would continue to maintain the lead over the forecast period.
Key benefits for stakeholders
Porter's five forces analysis helps to analyze the potential of buyers & suppliers and the competitive scenario of the vinyl ester market industry for strategy building.
It outlines the current vinyl ester market trends and future estimations from 2020 to 2030 to understand the prevailing opportunities and potential investment pockets.
The major countries in the region have been mapped according to their individual revenue contribution to the regional market.
The key drivers, restraints, & vinyl ester market opportunities and their detailed impact analysis are explained in the study.
The profiles of key players and their key strategic developments are enlisted in the report.
Impact of COVID-19 on the global vinyl ester market
COVID-19 is an infectious disease that originated in Hubei province of the Wuhan city in China in late December. The highly contagious disease, caused by a virus, severe acute respiratory syndrome coronavirus 2 (SARS-CoV-2), is transmitted from humans to humans. Since the outbreak in December 2019, the disease has spread to almost 213 countries around the globe with the World Health Organization declaring it a public health emergency on March 11, 2020. 
The disruption caused by the COVID-19 pandemic has already resulted in reduced output either from international or local players in the vinyl ester market. For instance, the transportation cost has increased, and shipping was delayed due to much fewer flights. A similar cost trend is witnessed in all major regions due to the lower number of flights and closing of international borders. Lower-income countries/markets faced multiple challenges including the shortage of labor and discrete supply of products.
 Vinyl ester Market Report Highlights
Aspects
Details
By Type

Bisphenol A Diglycidyl Ether (DGEBA)
Epoxy Phenol Novolac (EPN)
Brominated Fire Retardant
Other

By Application

Pipes & Tanks
Paints & Coatings
Transportation
Pulp & Paper
Others

By Region

North America (U.S, Canada, Mexico)
Europe (France, Germany, UK, Spain, Italy, Rest of Europe)
Asia-Pacific (India, China, Japan, South Korea, Australia, Rest of Asia-Pacific)
LAMEA (Latin America, Middle East, Africa)

Key Market Players
Ashland Global Holdings Inc., Reichhold LLC 2, Sino Polymer Co., Ltd., SHOWA DENKO K.K., Interplastic Corporation, Swancor, AOC, LLC., INEOS, DIC Corporation, Polynt