Virtual Cards Market Research, 2031
The global virtual cards market size was valued at $281.22 billion in 2021, and is projected to reach $1,893.08 billion by 2031, growing at a CAGR of 21.3% from 2022 to 2031.
During the COVID-19 pandemic, as the usage of cash reduced, adoption of virtual cards helped various small and medium enterprises to increase their productivity by implementing virtual cards as a mode of payment. This helped consumers to make payments for purchases using their virtual cards. Therefore, virtual cards had a positive impact on the economy during the COVID-19 pandemic.
A virtual card allows secure online transactions as it reduces the risk of exposing the underlying credit/debit card details to the vendor. Since they are only visible to the user, any chance of cloning or fraud is negligible. Moreover, every virtual card is meant for one time use. It is created for a single online transaction and is valid for a maximum of 48 hours. The credit limit and validity period may vary from bank to bank.
Virtual cards costs lower than physical cards since, a lot of virtual banks tend to have much fewer fees required for customers. Moreover, everything is run online, so the operating costs can be cut down by the virtual bank and in turn, they charge less on the virtual cards to their customers. In addition, virtual cards offer added security benefits to their customers as compared to physical cards. Moreover, customers can set their own spending limits in a virtual card, which allows them to save more. Therefore, these are some of the factors propelling the virtual cards market growth. However, there are chances of fraud if the smartphone is stolen, through which the user's virtual card is used which has access to the virtual card. Moreover, the demand for physical cards is still more than virtual cards. Therefore, these are some of the major factors limiting the growth of the virtual cards market. On the contrary, consumer trends towards touch less payments over physical payments and rapid innovation in the payments technology are expected to provide lucrative virtual cards market growth in the coming years.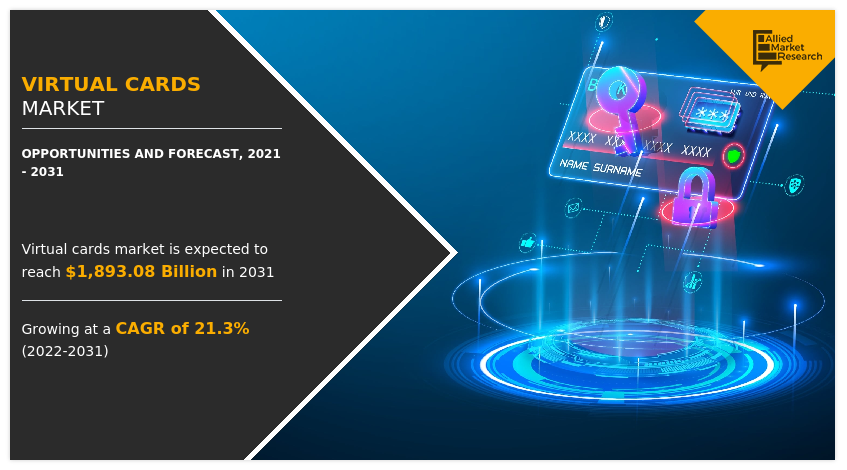 The virtual cards market is segmented on the basis of product type, industry verticals, end user, and region. By product type, it is segmented into B2B virtual card, B2C remote payment virtual cards, and B2C POS virtual cards. The B2B virtual card segment is further sub-segmented into debit card and credit card. By industry verticals, it is bifurcated into media and entertainment, hospitality, consumer goods, energy and utilities, advertising, education, and others. By end user, it is segregated into businesses and individuals. Region-wise, it is analyzed across Asia-Pacific, Europe, North America, and LAMEA.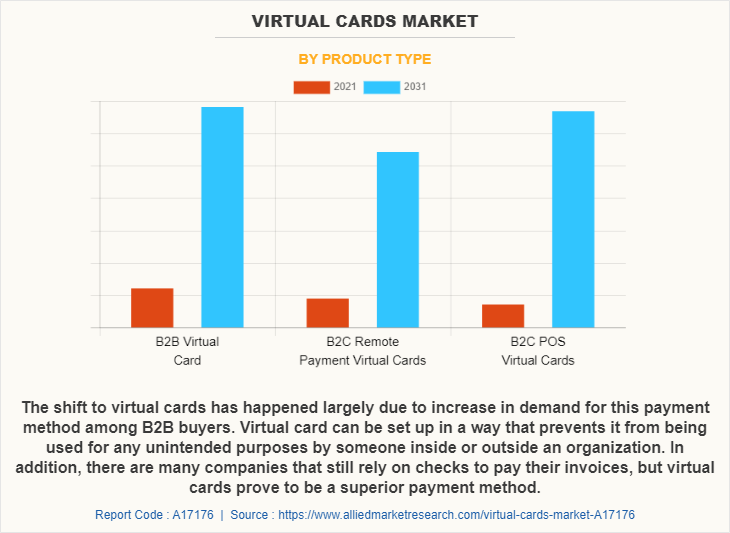 By product type, the B2B virtual card segment registered the highest growth in 2021. This is attributed to the fact that the shift to virtual cards has happened largely due to increase in demand for this payment method among B2B buyers. Virtual cards can be set up in a way that prevents it from being used for any unintended purposes by someone inside or outside an organization.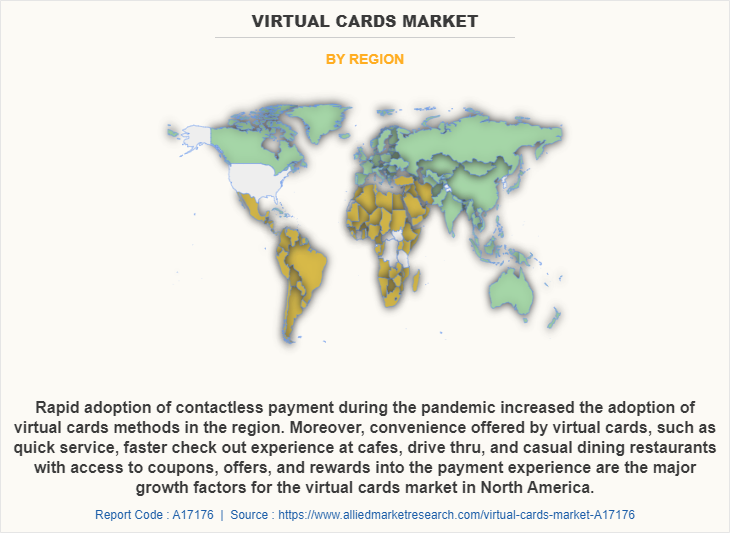 Region-wise, North America registered the highest growth in 2021. This is attributed to the fact that consumers in North America are choosing to shop with businesses that offer virtual cards options at the point of sale. Furthermore, millennials' preferences towards usage of cash is decreasing and over half of the population are likely to avoid shopping at stores that do not offer to pay through virtual cards industry.
The report analyzes the profiles of key players operating in the virtual cards market such as American Express, BTRS Holdings Inc. dba Billtrust, Bento Technologies Inc., Citigroup Inc., Capital One, DBS Bank Ltd., ePayService, HSBC Group, JPMorgan Chase & Co., Mastercard, Marqeta, Inc., Revolut Ltd., Stripe, Inc., State Bank of India, Standard Chartered Bank, Wise Payments Limited, and WEX Inc. These players have adopted various strategies to increase their market penetration and strengthen their position in the virtual cards industry.  
The report focuses on growth prospects, restraints, and trends of the virtual cards market analysis. The study provides Porter's five forces analysis to understand the impact of various factors, such as bargaining power of suppliers, competitive intensity of competitors, threat of new entrants, threat of substitutes, and bargaining power of buyers, on the virtual cards market.
COVID-19 impact analysis
The COVID-19 pandemic had a positive impact on the virtual cards market. This is attributed to the fact that during the pandemic, consumer were hesitant to use their physical cards for making any payments due to the fear of spread of virus. Moreover, major banks offered their services online and the concept of virtual cards market trends during that period, since customers found it interesting to use affirm virtual cards for making any transactions without touching any surface, such as card swipe machines, which are regularly touched by various people, and could be potentially contaminated with virus. Therefore, the demand for virtual cards increased during the COVID-19 pandemic. Thus, it had a positive impact on the virtual cards market outlook. 
Top impacting factors
Virtual cards offers added security benefits then physical cards
The reason virtual cards are considered much more secure and safe than physical cards is that the users have the option to terminate the account anytime they want with just a click of a button in case of any data leakage. Moreover, during each transaction, there is a one-time use bank number for users to perform the payment instead of using the same given set of bank numbers to third parties all the time. Contrary to checks or ACH payments, this can drastically improve the data security of the user's bank account details and protect their privacy even during transactions. With virtual cards, it is impossible for account theft on e-commerce fraud because criminals cannot access to the bank simply by obtaining the physical card. So, users have absolutely no worries about losing their card and getting their important bank details stolen by criminals. Therefore, this is one of the major driving factor of the virtual cards market.   
Consumer attraction towards physical cards
For many people, physical cards are the primary way to pay. A large section of customers are not satisfied with virtual cards and still want a physical card for making transaction. In addition, physical cards are considered more convenient by users who are not technologically advanced. Moreover, physical cards are almost universally accepted when the user is paying in person, whereas they cannot offer a virtual card number to pay for a number of services. Therefore, this is a major factor hampering the growth of virtual cards market.
Rapid innovation in payments technology
The COVID-19 pandemic has tremendously affected the social and economic well-being. However, it is one of the biggest drivers of digitalization across the globe. Digital payments, including virtual credit cards have emerged as a fool-proof way for businesses and enterprises to operate in the new normal post COVID-19. In the coming years, the advancement in technology might see acceleration in the adoption of virtual gift cards. This might also result in rapid innovations in the contactless technology that is expected to encourage FinTech startups and enterprises to heavily disrupt the financial sector. In addition, the rapid adoption of contactless payment methods to reduce the usage of cash is expected to provide major lucrative opportunities for the growth of the virtual cards market in the upcoming years.
Key benefits for stakeholders
This report provides a quantitative analysis of the market segments, current trends, estimations, and dynamics of the virtual cards market share from 2021 to 2031 to identify the prevailing virtual cards market opportunity.
The market research is offered along with information related to key drivers, restraints, and opportunities.
Major countries in each region are mapped according to their revenue contribution to the global virtual cards market forecast.
Market player positioning facilitates benchmarking and provides a clear understanding of the present position of the market players.
The report includes the analysis of the regional as well as global virtual cards market trends, key players, market segments, application areas, and market growth strategies.
 Virtual Cards Market Report Highlights
Aspects
Details
By End User
By Product Type

B2B Virtual Card
B2C Remote Payment Virtual Cards
B2C POS Virtual Cards

By Industry Vertical

Media and Entertainment
Hospitality
Consumer Goods
Energy and Utilities
Advertising
Education
Others

By Region

North America (U.S., Canada)
Europe (United Kingdom, Germany, France, Italy, Spain, Netherlands, Rest of Europe)
Asia-Pacific (South Korea, Rest of Asia-Pacific, China, India, Japan, Australia)
LAMEA (Latin America, Middle East, Africa)

Key Market Players
Mastercard, Billtrust (BTRS Holdings Inc.), Standard Chartered Bank, JPMorgan Chase & Co., ePayService, Capital One, WEX Inc., American Express, Bento Technologies Inc., Marqeta, Inc., State Bank of India, HSBC, Stripe, Inc., DBS Bank Ltd, Citigroup Inc., Wise Payments Limited, Revolut Ltd