Virtual Events Industry Market Research, 2031
The global virtual events industry market size was valued at $306.3 billion in 2021, and is projected to reach $1024.8 billion by 2031, growing at a CAGR of 13% from 2022 to 2031.
Virtual events fall in the category of services that are required by consumers on a frequent basis. Therefore, the demand for such products remains consistent among consumers. The outbreak of the novel coronavirus has drastically affected the growth of the virtual events market globally in a positive manor. This increase in growth of the virtual events market is majorly attributed to growing adoption of virtual events services as a primary medium of communication during the pandemic.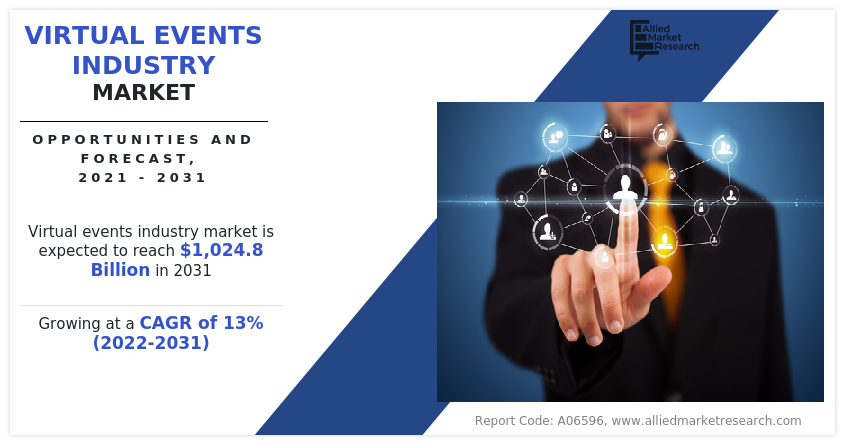 The virtual events industry market is segmented into Type, Source, Age group and Platform.
The growth of the virtual events industry market size can be attributed to such events being very cost-effective. The cost efficiency makes way to bring in a large number of attendees from all over the globe to a purposeful gathering. Thus, the increase in popularity of digitally simulated gatherings among event organizers and attendees due to their time efficacy is likely to fuel the market growth during the forecast period. Furthermore, virtual events help organizations reduce the overall cost associated with organizing a physical seminar, conference, or meeting as planners may save on venue, staff, meals, attendee's accommodation, and travel costs. Therefore, organizations of all sizes are adopting virtual events instead of preferring physical events, as they are quick to arrange, inexpensive, and bring relevant people to events.
The virtual events industry market share is an internet- or web-based event, which allows users to interact with a large crowd over a call or through any platform. Virtual events cover a wide range of activities, from video and audio conferencing to live streaming and broadcasting. The most common type of digitally simulated events includes webinars, conferences, virtual expos, fairs & festivals, entertainment, and others such as promotional events and sports events organized by companies during product launches and the introduction of new services.
New regulations regarding work in various IT/BPO firms are expected to boost the flexibility for these companies to adopt work-from-home and work-from-anywhere policies. The virtual events industry market share is witnessing higher demand as most of the firms have adopted the work-from-home policy, owing to the implementation of lockdown by the COVID-19-affected countries to prevent community spread of the disease.
Thus, stay-at-home measures have resulted in increased opportunities for virtual event companies to integrate new technologies and develop products and services with distinguishing features to gain a competitive edge over others. In addition, corporates are extensively using virtual meetings and conferences for business and client meetings. For instance, Microsoft claimed that Microsoft Team surpassed 44 million daily active users in March 2020 as organizations are increasingly using online platforms to continue their business process during the lockdown. Thus, the aforementioned factors, along with the increase in awareness of virtual events, propel the Virtual Events Industry Market Growth.
Advertisements and promotions remain a vital business practice pre-COVID, during COVID, or post-COVID to increase awareness about products and services offered by various companies. Before the pandemic, individuals preferred to attend events physically, however, post the outbreak, individuals are strictly restricted to staying home. Thus, virtual events are gaining momentum during the pandemic. Similar to how individuals are restricted to attain virtual events, sponsors are left with no choice other than virtual events. Thus, sponsorship provides material support to events or organizations. In addition, sponsorship enables them to virtually advertise their products and reach a large consumer base; thereby, fueling the adoption of their products.
Moreover, it helps to focus on consumer preference and to foster brand loyalty. Furthermore, it draws the attention of existing and potential customers of a brand or company and creates a positive impact on them; thereby, leading to an increase in brand loyalty. Sponsors further check the past proven records of a particular event as well as the probability of success of the event before they sponsor an event, as they invest in a plan and expect a positive return on the investment.
LCD projectors, video conferencing, and fast notebooks are the new standard requirements in the virtual event market. However, it is not only about state-of-the-art high-tech technology but also about versatile technology, which is easy to use. Advancements such as facial recognition, projection mapping, second screen, indoor way finding, radio frequency identification (RFID), and beacon attendee tracking make communication significantly easier. Moreover, the emergence of real-time communication is encouraging companies to adopt several communication technologies, such as video conferencing through Skype and FaceTime. The low cost and high effectiveness of such technologies are expected to offer remunerative opportunities for the expansion of the virtual event market during the forecast period.
Internet of Things has enabled every company and industry to globalize their business across boundaries. Globalization in business refers to change in a business from a company associated with a single country to one that operates in multiple countries. The leading UK-based business organizations such as Prudential, HSBC, Tesco, and Unilever have started venturing beyond national boundaries to tap more business opportunities.
Mergers & acquisitions of oversea companies for operational and logistical benefits are the key strategies implemented to globalize business. Similarly, virtual events play a vital role to increase awareness globally about the products and services offered. With fewer expenses and tedious work, business organizations can spread product and service awareness. Thus, the increase in globalization of business creates more demand for global-level advertisements and promotions, and virtual events can be used as a platform for global promotion.
The virtual events market is segmented on the basis of type, source, age group, and platform. Based on type, the market is divided into webinars, virtual expo fairs & festivals, entertainment, conference, and others. On the basis of source, it is categorized into ticket sales, sponsorship, and others. Based on age group, the market is classified into below 20 years, 21 to 40 years, and above 40 years. On the basis of platform, the market is categorized into web-based platforms and XR platforms. By region, the market is analyzed across North America, Europe, Asia-Pacific, and LAMEA. Region-wise, the action figure toys market is analyzed across North America (U.S., Canada, and Mexico) Europe (UK, France, Italy, Spain, Ireland, Rest of Europe) Asia-Pacific (China, India, Japan, South Korea Australia, and Rest of Asia-Pacific), LAMEA (Latin America, Middle East, and Africa).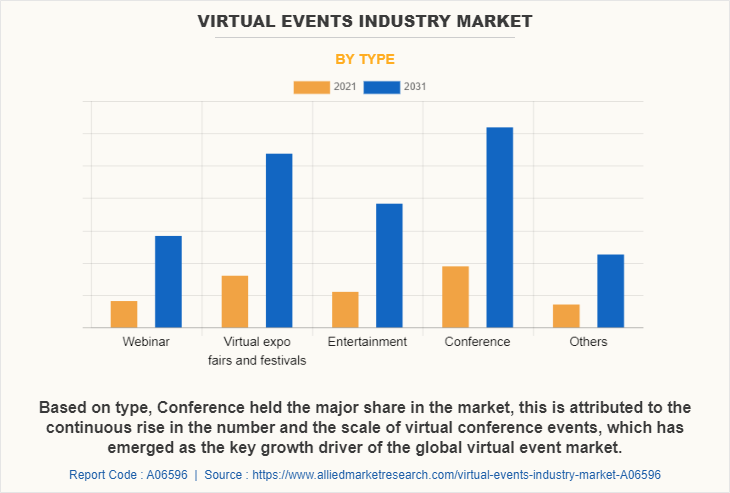 Based on type, the conference segment held the major share of the market in 2021. The virtual conference is longer in nature and typically has a larger audience. Virtual conferences can last for days, and even weeks depending on how an event organizer decides to break up the programming. Conferences are more engaging than webinars. They are often multi-day, are hosted online, and can include keynotes, panel discussions, live entertainment, educational sessions, training & certification, sales product demos, solution sessions, industry trends/thought leadership, and product training/adoption, all the aforementioned factors increases the virtual events industry market demand.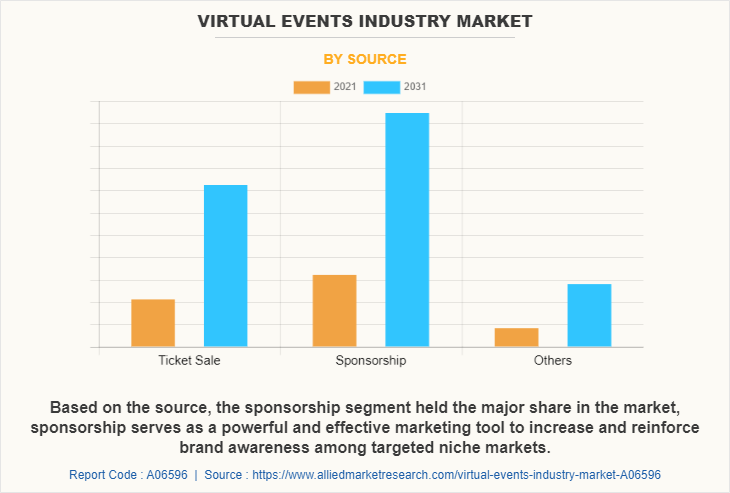 Based on the source, the sponsorship segment held the major share of the market in 2021. sponsorship serves as a powerful and effective marketing tool to increase and reinforce brand awareness among targeted niche markets. Moreover, it is the key for strong marketing, owing to the fact that most of the events use sponsorship support to offer more exciting programs and to help defray rising costs. Advertising is considered a quantitative medium, whereas sponsorship is considered a qualitative medium. In addition, sponsorship serves as an ideal solution that complements other marketing programs in delivering event-related messages to people.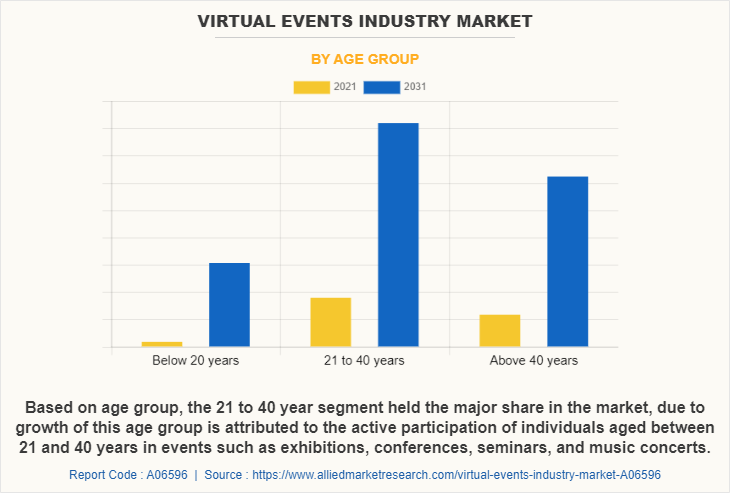 Based on age group, the 21 to 40 years segment held the major share of the market in 2021, an increase in interest toward entrepreneur & business seminars and conferences that offer proper guidelines & direction to the youth for establishing start-ups along with the arrangement of music concerts and festive gatherings is anticipated to positively impact the growth of the virtual events industry market opportunity.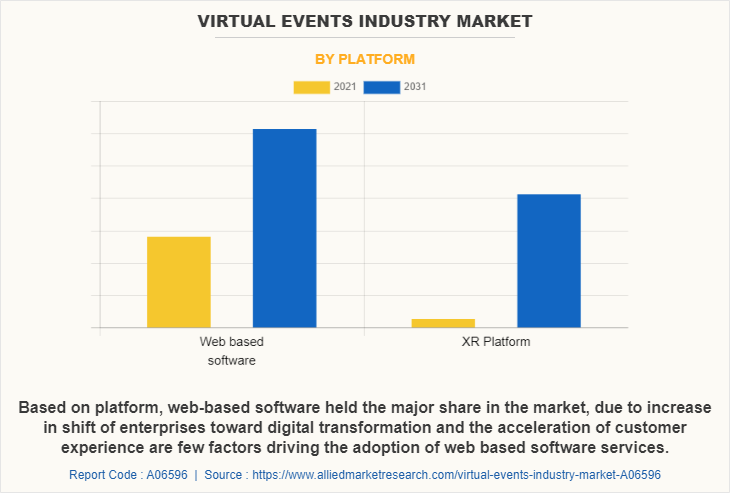 Based on the platform, the web-based software segment held the major share of the market in 2021 and is projected to maintain its dominance during the forecast period. The increase in shift of enterprises toward digital transformation and the acceleration of customer experience are a few factors driving the adoption of web-based software services. Web-based software is a collection of programs that access centralized data and run-on secure servers that are typically located outside the own local network or premises but are easily accessible via the Internet.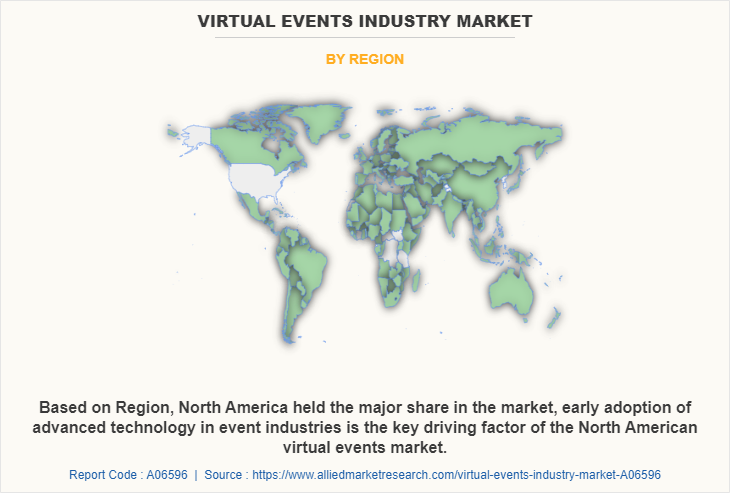 Based on region, North America has the highest peppermint oil market share in 2021. North America is a mature market for virtual events. Early adoption of advanced technology in event industries is the key driving factor of the North American virtual events market. Moreover, the increase in the number of multinational companies accelerates the growth of the market in this region. Furthermore, the rise in the "work from home" culture has further increased the demand for virtual events.
The prominent players analyzed in this report include Filmed, American Program Bureau, INC., Pace Digital, Revolution CMES, Showcase Events, Target Exhibitions, TCJ Management Co. Ltd, The Collaborative Exchange, Vietapps Co., Ltd., and Morph Digital Solutions Private Limited.
Key Benefits For Stakeholders
This report provides a quantitative analysis of the market segments, current trends, estimations, and dynamics of the virtual events industry market analysis from 2021 to 2031 to identify the prevailing virtual events industry market opportunities.
The market research is offered along with information related to key drivers, restraints, and opportunities in the virtual events industry market forecast.
Porter's five forces analysis highlights the potency of buyers and suppliers to enable stakeholders make profit-oriented business decisions and strengthen their supplier-buyer network.
In-depth analysis of the virtual events industry market segmentation assists to determine the prevailing market opportunities.
Major countries in each region are mapped according to their revenue contribution to the global market.
Market player positioning facilitates benchmarking and provides a clear understanding of the present position of the market players.
The report includes the analysis of the regional as well as global virtual events industry market trends, key players, market segments, application areas, and market growth strategies.
 Virtual Events Industry Market Report Highlights
Aspects
Details
Market Size By 2031
USD 1024.8 billion
Growth Rate
CAGR of 13%
Forecast period
2021 - 2031
Report Pages
259
By Type

Others
Webinar
Virtual expo fairs and festivals
Entertainment
Conference

By Source

Ticket Sale
Sponsorship
Others

By Age group

Below 20 years
21 to 40 years
Above 40 years

By Platform

Web based software
XR Platform

By Region

North America (U.S., Canda, Mexico)
Europe (Germany, UK, France, Italy, Spain, Ireland, Rest Of Europe)
Asia-Pacific (China, India, Japan, Australia, South Korea, Rest Of Asia-Pacific)
LAMEA (Rest of Latin America, Rest Of Middle East, South Africa)

Key Market Players
AMERICAN PROGRAM BUREAU, INC., TARGET EXHIBITIONS, MORPH DIGITAL SOLUTIONS PRIVATE LIMITED, VIETAPPS CO., LTD., TCJ MANAGEMENT CO. LTD, THE COLLABORATIVE EXCHANGE, SHOWCASE EVENTS, PACE DIGITAL, REVOLUTION CMES, LONDON FILMED