Virtual Private Network Market Statistics: 2027
The global virtual private network (VPN) market was valued at $25.41 billion in 2019, and is projected to reach $75.59 billion by 2027, growing at a CAGR of 14.7% from 2020 to 2027. A VPN can be defined as a way to offer secure communication between members of a group through the use of public telecommunication infrastructure, maintaining privacy through the use of a tunneling protocol and security procedures. VPNs mask users' internet protocol (IP) address so their online actions are virtually untraceable. VPN solutions & services establish secure and encrypted connections to provide greater privacy. VPNs provisioned using technologies, such as Frame Relay and Asynchronous Transfer Mode (ATM) virtual circuits (VC), have been available for a long time. However, from last few years, IP and Multiprotocol Label Switching (MPLS)-based VPNs have become more common.
Post COVID-19 emergence, virtual private network solution segment led the global VPN market owing to increasing demand for providing secure working environment while working from home, as employees are relying on internet from remote workplaces and increase in number of data breaches, and accessing restricted digital media content, news and media outlet across different regions.
Increase in data security concerns, rise in advanced & complex cyber threats, and upsurge in usage of mobile & wireless devices within organizations are the major factors that fuel the growth of the virtual private network market. In addition, increase in need for remote accessibility propels the growth of this market. However, lack of expertise in virtualization is expected to hinder the VPN market growth. On the contrary, increased adoption of private clouds is expected to provide lucrative opportunities for the virtual private network market growth in the coming years.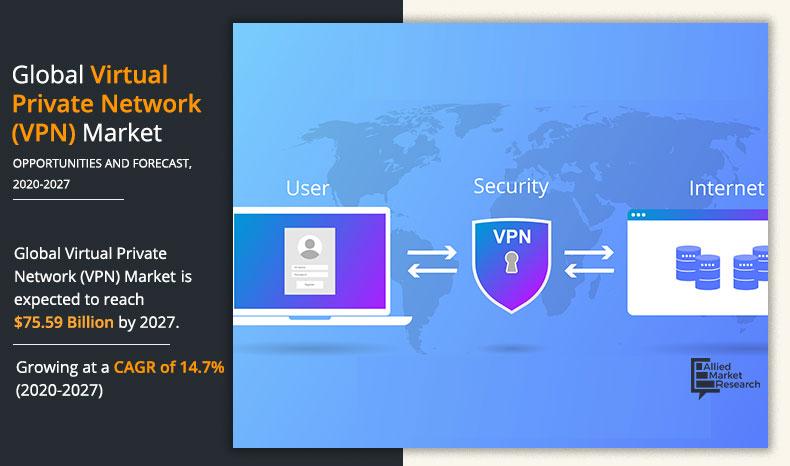 Get more information on this report : Request Sample Pages
On the basis of component, the solution segment dominated the overall virtual private network market size in 2019. This is attributed to the advantages of virtual private network solution such as hiding online identity, bypassing geo-blocks, preventing bandwidth throttling, avoiding online price discrimination, accessing region-blocked services, providing network scalability and offering cheaper leased-line alternatives.
According to end user, the commercial users segment accounted for the highest virtual private network market share in the global market in 2019. This is attributed to growing focus on establishing secure networking environment for businesses, increasing number of data breaches, and escalating cyber threats.
In 2019, North America accounted for the highest virtual private network market share, due to high spending on network security in this region. In addition, large presence of key market vendors in North America also propels the market growth in this region. Moreover, increase in demand from sectors, such as BFSI and telecom, among other industry verticals in North America acts as the key driving factors of the North America virtual private network market.
The emergence of COVID-19 is expected to have a considerable impact on the growth of the virtual private network market. The spending on the virtual private network industry is expected to upsurge compared to the spending planned before this pandemic, owing to multiple factors such as rise in number of cyber-attacks, increase in focus of offering data security especially after the rapid adoption of work from home culture, and growth in spending on networking infrastructure. After the COVID-19 outbreak, many organizations have started preferring private networks over public network usage. For instance, according to information published by ExpressVPN in March 2020, over 20% rise in private network usage in Mexico was indicated along with additional usage of up to 2 hours per day for business private networks compared to the pre-pandemic stage.
Virtual Private Network Market

---
By Component
Virtual private network
Solution

segment is projected as one of the most lucrative segments during the forecast period.
Get more information on this report : Request Sample Pages
In addition, fraudulent activities by hackers also accelerated during this pandemic while corporate companies as well as individual users are being affected by such activities. Therefore, with the emergence of COVID-19, the use of virtual private network is expected to enable enterprises and individual users to establish a safe & secure connection on internet and maintain privacy of the critical data even while working remotely during the pandemic period.
The report focuses on the growth prospects, restraints, and the global virtual private network market trends. Moreover, the study includes Porter's five forces analysis of the industry to understand the impact of various factors, such as bargaining power of suppliers, competitive intensity of competitors, threat of new entrants, threat of substitutes, and bargaining power of buyers, on the growth of the virtual private network market.
Virtual Private Network Market

---
By Type
Remote Access VPN

segment accounted for the highest market share in 2019.
Get more information on this report : Request Sample Pages
Segment review
The global virtual private network market is segmented into component, type, deployment, end user, and region. By component, it is divided into solution and services. According to type, the virtual private network market is segregated into remote access VPN, site-to-site VPN, and others. Depending on deployment, it is categorized into on-premise and cloud. As per end user, it is fragmented into commercial users and individual users. Commercial users are further classified into sub-segments such as BFSI, telecom & IT, government, healthcare, manufacturing and others. Region-wise, it is analyzed across North America, Europe, Asia-Pacific, and LAMEA.
The key players operating in the global virtual private network market analysis include Avast Software S.R.O., Checkpoint Software Inc., Cisco System Inc., Golden Frog GmbH, IBM Corporation, Juniper Networks Inc., Microsoft Corporation, NetMotion Software Inc., NordVPN, and Radio IP Software Inc.
Virtual Private Network Market

---
By Deployment Mode
Cloud

deployment mode segment accounted for the highest share in 2019.
Get more information on this report : Request Sample Pages
Top impacting factors
Upsurge in usage of mobile and wireless devices
Dropping prices for consumer devices and data plans have driven organizations to adopt more mobile devices into their workplace. Keeping connections secure and persistent is a necessity while employees are using mobile devices for working purposes. Currently, most of the employees can access any business application and connect to their corporate networks from anywhere through mobile applications in smartphones, laptops, tablets, and netbooks. As more and more work transactions are processed through mobile devices, security becomes a major concern. Mobile VPN technology and other mobile security products are expected to be crucial components as more mobile devices enter the workplace. Furthermore, the VPN market is witnessing growth as enterprises are adopting BYOD polices to increase performance while reducing costs. Private network tool confirms that remote workforce is securely connected to enterprise networks accompanied by protecting BYOD devices from malicious cyber-attacks.
Rise in advanced and complex cyber threats
The internet has become a universal platform for conducting business. As a result, attackers have targeted the internet to conduct theft and fraud. Mobile devices are not immune from this trend and both consumers and organizations are looking for products to secure transactions conducted on internet from outside the organization. Even though mobility allows workers to exhibit improved productivity, organizations have become more concerned about hackers accessing corporate networks by posing as remote employees. Cybercriminals have demonstrated that they can easily take advantage of users connecting through hotspots or through unsecured connections while organizations have little defense against these kinds of attacks. Hackers are constantly looking for new vulnerabilities to exploit, and enterprises need to be prepared for these zero-day attacks. Using encrypted sessions and enforcing organizational policies on the mobile endpoint help to prevent these attacks.
Virtual Private Network Market

---
By End User
Commercial Users

segment is projected to be one of the most significant segments during the forecast period.
Get more information on this report : Request Sample Pages
Growing need for remote accessibility
As a result of COVID-19, companies have already begun to shift their digital transformation priorities and focus to handle changes in network needs. VPN connections are essential for employees when working remotely and are often the IT team's first stage in enabling a virtual workforce.
For remote employees, the ability to access data at all times is critical. Businesses have facilitated their employees to be able to log on from any location. The ability to access the internet through enhanced wireless technologies has allowed applications to be downloaded onto mobile devices. In addition, employees use more applications than originally intended. As more applications are available for mobile or wireless devices, enterprises utilize these VPN applications to increase efficiency and enhance productivity, thereby driving the growth of the VPN market.
Virtual Private Network Market

---
By Region
Asia-Pacific would exhibit the highest CAGR of 17.4% during 2020-2027.
Get more information on this report : Request Sample Pages
Key benefits for stakeholders
This study includes the analytical depiction of the virtual private network market forecast and trends to determine the imminent investment pockets.
The report presents information related to key drivers, restraints, and virtual private network market opportunity.
The current market size is quantitatively analyzed from 2019 to 2027 to highlight the financial competency of the virtual private network market.
Porter's five forces analysis illustrates the potency of buyers & suppliers in the virtual private network market.
 Key Market Segments
By Component
By Type

Remote Access VPN
Site-to-Site VPN
Others

By Deployment
By End User

Commercial Users
Individual Users

By Region

North America
Europe

UK
Germany
France
Rest of Europe

Asia-Pacific

China
India
Japan
Australia
Rest of Asia-Pacific

LAMEA

Latin America
Middle East
Africa
 
Key Market Players
AVAST SOFTWARE S.R.O.
CISCO SYSTEMS INC
IBM CORPORATION
JUNIPER NETWORKS
MICROSOFT CORPORATION
NETMOTION SOFTWARE INC
RADIO IP SOFTWARE INC
NORDVPN
CHECKPOINT SOFTWARE INC.
GOLDEN FROG, GMBH