Virtual Router Market Outlook - 2025
A virtual router is a virtual instantiation of a hardware router. It is a software function that replicates the capabilities of a hardware-based Layer 3 IP router, in software. The significance of virtual router is on the rise, majorly for telecom service providers. It offers numerous benefits such as reduction in the total cost of ownership (TCO), scalability, flexibility, pay as you grow model, which has fueled the shift in preference of organizations toward virtual router. The global virtual router market size was valued at $90.00 million in 2017, and is projected to reach $515.00 million by 2025, growing at a CAGR of 24.40% from 2018 to 2025.
The services segment occupies major virtual router market share in 2017 and is expected to continue this tend during the forecast period, owing to growth in demand for professional as well as managed virtual router services as number of users are seeking more requirement-specific solutions and other support & maintenance services, to monitor activities from the customer's network to data centers.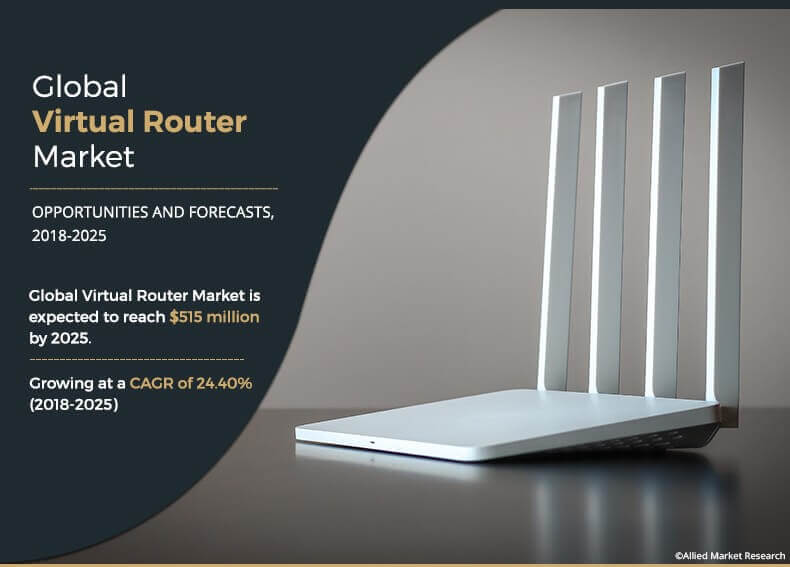 The service provider segment is anticipated to experience highest growth during the virtual router market forecast period owing to increased adoption of virtual router among telecom and cloud service providers, as it helps them to increase the overall network capacity latent by providing flexibility and scalability in routing functionalities.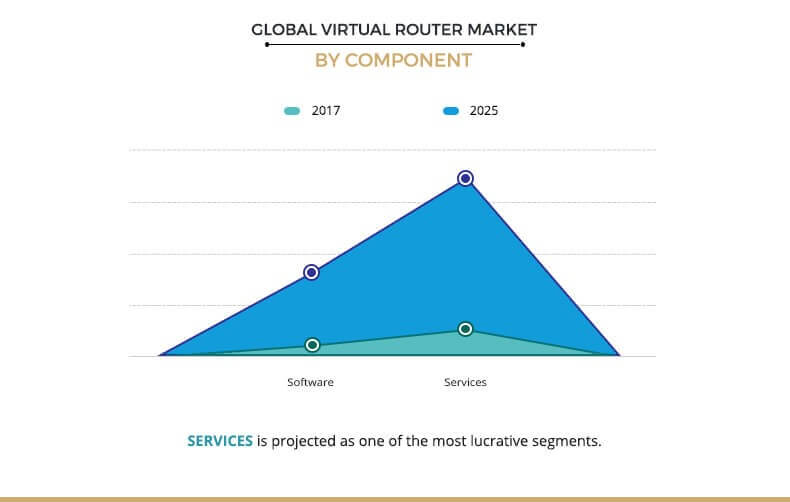 The Europe region dominated the overall market in 2017 primarily owing to growing demand for virtualization in networking. However, Asia-Pacific is expected to witness the highest growth rate during the forecast period.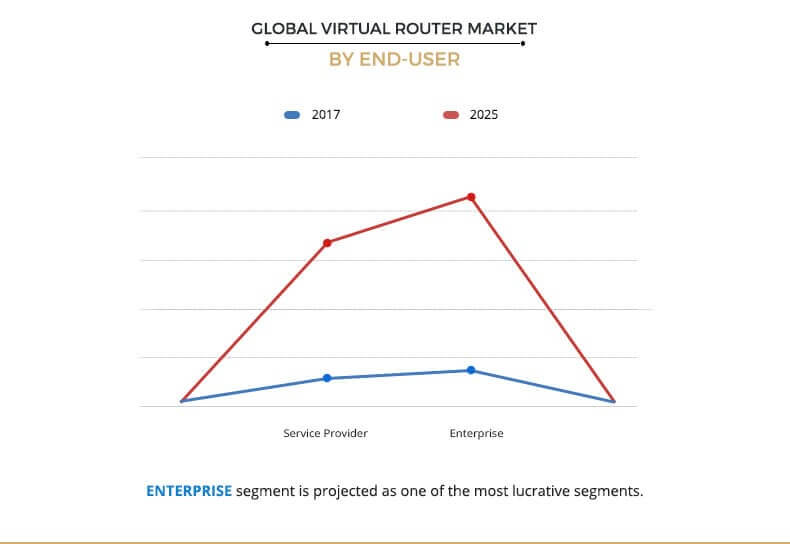 The report focuses on the growth prospects and restraints of the market based on the analysis of the global virtual router market trends. The study provides Porters five forces analysis of the virtual router industry to understand the impact of various factors such as bargaining power of suppliers, competitive intensity of competitors, threat of new entrants, threat of substitutes, and bargaining power of buyers on the growth of the virtual router market.
Segment review
The global virtual router market is segmented by component, end user, and region. Based on component, the market is segmented into software and services. In terms of end user, the market is segmented into service providers and enterprise. As per region, the virtual router market is analyzed across North America, Europe, Asia-Pacific, and LAMEA.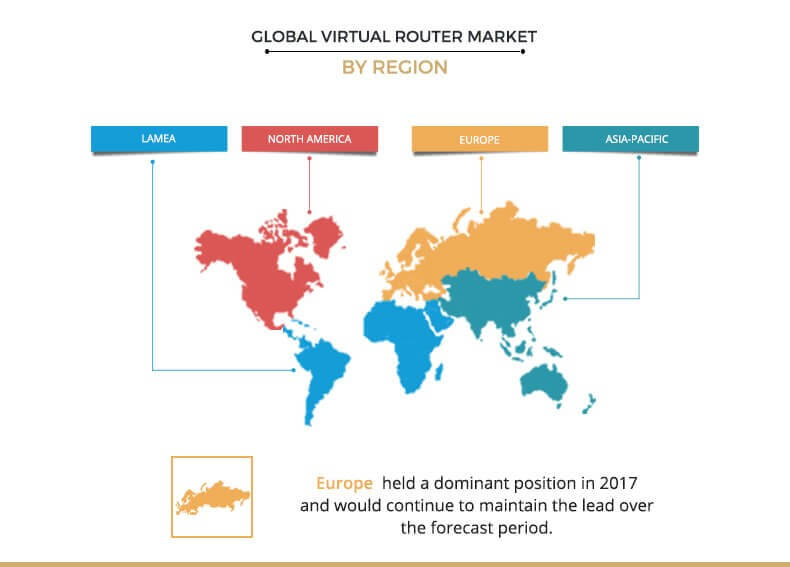 The key players operating in the global virtual router market include 128 Technology, Nokia, Cisco Systems, International Business Machines Corporation (IBM), Hewlett Packard Enterprise, Huawei Technologies Co., Ltd., 6WIND, Broadcom (Brocade Communications Systems), Ericsson, Juniper Networks, and Netronome.
Top impacting factors
The global virtual router market is influenced by numerous factors such as rise in need to improve network agility and efficient scale out by service providers, increase in demand for reduction in total cost of ownership (TCO), surge in the demand for software-defined networking (SDN) and network functions virtualization (NFV), are anticipated to increase the adoption of virtual router, and demand for private cloud. However, virtual router is unable to perform the functions of a heavy-duty core IP router, which is expected to hamper the virtual router market growth during the forecast period. These factors are anticipated to provide several opportunities for the virtual router market. However, each factor has its definite impact on the market.
Rise in need to improve network agility and efficient scale out by service providers
Rise in need to improve network agility and efficient scale out is expected to boost the growth of the virtual router market. Virtual routing enables easy and rapid scale-up of bandwidth and services for communication services providers (CSPs) edge network. CSPs feel the need to use virtual routers for distributed edge architectures, agile service introduction of lower bandwidth applications. It is also utilized to meet short-term service requirements associated with specific events and low-risk expansion into new markets and geographies. Furthermore, communication service providers also use virtual routers as a part of managed service offerings, to offload control plane intensive protocols from physical routers and as a part of transition to NFV and SDN. This approach replaces expensive and complex Layer 3 CPEs with low cost, simpler layer 2 CPE devices and results in comparatively lower Capex and Opex.
Demand for reduction in total cost of ownership (TCO)
Virtual routers are effective replacements for physical routers owing to their multiple benefits. Primarily, the benefit which is driving the demand for virtual router market is it reduces the total cost of ownership (TCO) by lowering the capex and opex of the organizations. Cloud based virtual routers help to reduce equipment, operating and facility costs. Further, cloud computing and network functions virtualization (NFV) can help manage rapid demand growth while reducing capital and operational expenditures (CAPEX and OPEX). Thus, service providers are paying more attention to it. These savings considerably lower service providers total cost of ownership (TCO) and increase agility, which is critical for progress in the current challenging telecom environment.
Virtualization and the cloud can be used in the telecom industry to improve the infrastructure and operations TCO. Initial efforts centered on virtualizations ability to optimize hardware. Currently, the focus has shifted to operations. While virtualizing some network functions can certainly achieve CAPEX savings, NFVs greatest impact is expected to be of enabling a new way of approaching telecommunications, meaning much more than just optimizing inefficiencies inherent in the current processes. Hence, to improve the performance, system availability, and application uptime, the virtual router is being adopted by the enterprises across all sectors.
Demand for private cloud
Private clouds are pools of virtual resources sourced from systems that can be automatically provisioned and allocated through a self-service interface. They are defined by privacy settings and management responsibilities irrespective of location or ownership. IT organizations rely on their internal data centers and private cloud platforms to support legacy applications and to run a multitude of apps that must be on private platforms for reasons that include privacy, compliance, performance, and cost. Software networking has become essential to provide the agility, flexibility, and integration needed for the network to compute, store, and support data center requirements of these private clouds. For private cloud deployments, network software and hardware must link the virtualized network and storage resources. Virtual router in the data center also offers benefits such as rapid provisioning of new data center compute and storage resources, with the facility to scale up resources up or down as required. Thus, the growing demand for private cloud presents a major virtual router market opportunity.
Key Benefits for Virtual Router Market:
This study includes global virtual router market analysis along with current trends and future estimations to determine the imminent investment pockets.
The report presents information related to key drivers, restraints, and opportunities.
The current market is quantitatively analyzed from 2017 to 2025 to highlight the financial competency of the virtual router market.
Porters five forces analysis illustrates the potency of buyers & suppliers in the global virtual router market analysis.
 Virtual Router Market Report Highlights
Aspects
Details
By Component
By End User

Service Provider
Enterprise

By Region

North America (U.S., Canada, Mexico)
Europe (UK, Germany, France, Rest of Europe)
Asia-Pacific (China, India, Japan, Rest of Asia-Pacific)
LAMEA (Latin America, Middle East, Africa)

Key Market Players
128 Technology, 6WIND, Brocade Communications Systems, Inc. (Broadcom Inc.), CISCO Systems, Ericsson, Huawei, Hewlett Packard Enterprise, International Business Machines Corporation (IBM), Juniper Networks, Inc., Netronome, NOKIA