Virtual Tour Market Research, 2030
The global Virtual Tour Market Size was valued at $448.10 million in 2020, and is projected to reach $6.5 billion by 2030, growing at a CAGR of 31% from 2021 to 2030.
The outbreak of the novel coronavirus has drastically affected the growth of the virtual tour market globally in a positive manor. This increase in growth of the virtual tour market is majorly attributed to growing surge in adoption of virtual services as a primary medium of communication during the pandemic.
Virtual tour is a new form of marketing that allows customers to experience services or products by a retailer in a virtual environment. A virtual tour can improve a business, as it gives a sense of luxury, builds more trust with customers, and increases engagement with the brand's website. Moreover, the virtual tour is considered one of the best and cost-effective methods to showcase and digitally commercialize any particular entity as it does not involve any complexity and high cost to create, which makes it a better option. In a similar manner, the real estate industry constantly looks for innovative ideas to display & commercialize their properties and virtual tour platforms serve a great utility in the same.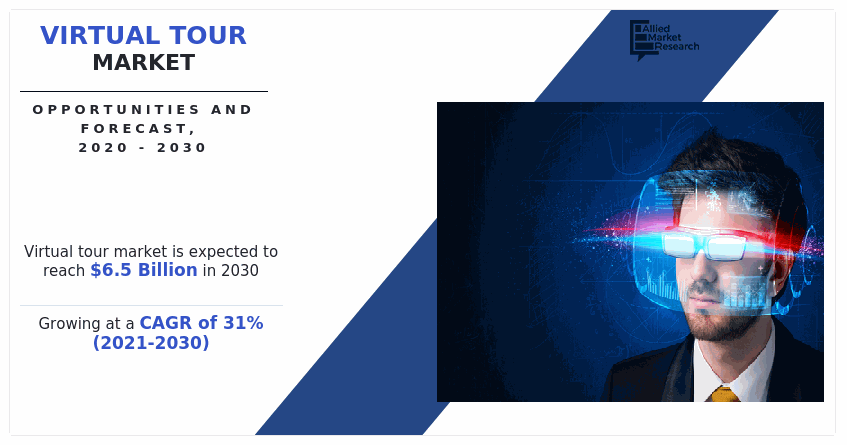 Advertisements and promotions remain a vital business practice pre-COVID, during COVID, or post-COVID to increase awareness about products and services offered by various companies. Before pandemic, individuals preferred to attend events physically, however, post the outbreak, individuals are strictly restricted to stay home. Thus, virtual events and tours are gaining momentum during the pandemic. Similar to how individuals are restricted to attain virtual events, sponsors are left with no choice other than virtual tours. Thus, sponsorship provides material support to events or organizations. In addition, sponsorship enables them to virtually advertise their products and reach a large consumer base; thereby, fueling the Virtual Tour Market demand.
Consumers prefer to use mobile event apps to participate in virtual events and tour. Others might want to join from their web browsers. Among the mobile users, there will be iPhone users and Android users—using a wide variety of smartphones and tablets. Event planners are responsible for smooth functioning of the event apps and event web portals on all devices and all browsers. If there are any restrictions that should be clearly mentioned beforehand. Not everyone is likely to be equally technically savvy—thus, the entire onboarding process has to be made as simple as possible. Thus, all these factors collectively are likely to hamper the Virtual Tour Market Growth.
Virtual tour market is segmented into type and application. Based on type, it is segmented into 360 virtual tour, 3D virtual tour, and virtual reality tour. Based on application, the market is segmented into tourism, real estate, art gallery & museums and others. Regionally, the market is segmented into North America, Europe, Asia-Pacific, and LAMEA.
Virtual Tour Market

---
By Type
3D Virtual Tour segment held the major share in the Virtual Tour Market in 2020.
Get more information on this report :
Request Sample Pages
Based on the type, 3D virtual tour segment held the major share in the market. The emergence of internet has led to intense exposure of people to social media sites. People first browse through websites, gather detailed information, and review the required product or service before making a purchase. In addition, social media such as Facebook, Twitter, and travel blogs have become a common medium for people to discuss travel plans. The consumers are experiencing the 3D virtual tour for various application such as tourism, real estate, museums, among others. Thus, above mentioned factors are attributable for the growth of the market through 3D virtual tour segment.
Virtual Tour Market

---
By Application
Tourism segment held the major share in the Virtual Tour Market in 2020.
Get more information on this report :
Request Sample Pages
Based on application, tourism segment held the major share in the market. Virtual tourism has seen a huge growth in the last few years due to the COVID-19 pandemic. In the Virtual reality tourism products, immersive VR strives to create an immersive environment for users, put the five senses of users in the VR space for natural interaction, use various output and input devices for interaction in line according to the law of movement, and pay attention to the experience of virtual simulation.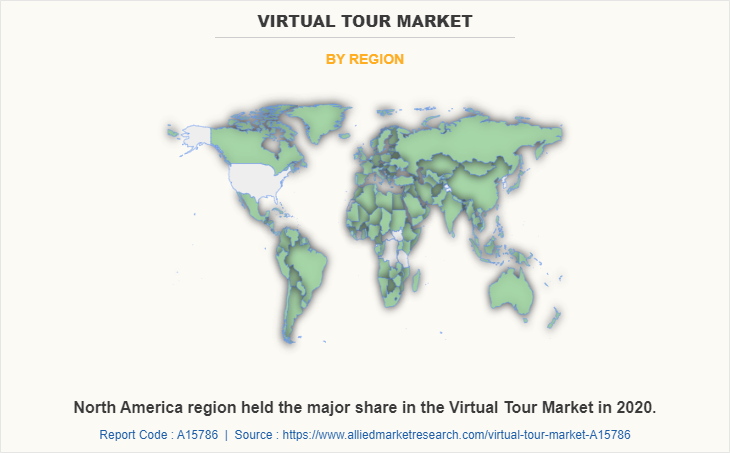 By region, North America has the highest virtual tour market share in 2020  and is likely to remain same throughout the Virtual Tour Market Forecast Period.  The growth is attributed to the increase in disposable income, adoption of technology, and greater penetration of internet facilities. Continuous advancements in technology; increased penetration of mobile devices & gaming consoles; and significant expansion in the gamer community is projected to drive growth during the forecast period. For instance, in February 2021, Sony announced to launch a next-generation VR headset for its PlayStation 5 console. This VR system is projected to ensure more accurate head-tracking, better resolution, and a wider field of view.
The key players profiled in the report include Pan 3sixty, Mi 360, 360 Pano Vr Solutions Pvt. Ltd, 360 Imagery, Exsight 360, Blueravenstudios, Invision Studio Inc, Starts360, Tourvista, and Eye Revolution Ltd. 
Key Benefits For Stakeholders
This report provides a quantitative analysis of the market segments, current trends, estimations, and dynamics of the virtual tour market analysis from 2020 to 2030 to identify the prevailing virtual tour market opportunities.
The market research is offered along with information related to key drivers, restraints, and opportunities.
Porter's five forces analysis highlights the potency of buyers and suppliers to enable stakeholders make profit-oriented business decisions and strengthen their supplier-buyer network.
In-depth analysis of the virtual tour market segmentation assists to determine the prevailing market opportunities.
Major countries in each region are mapped according to their revenue contribution to the global Virtual Tour Industry.
Market player positioning facilitates benchmarking and provides a clear understanding of the present position of the market players.
The report includes the analysis of the regional as well as global virtual tour market trends, key players, market segments, application areas, and market growth strategies.
 Virtual Tour Market Report Highlights
Aspects
Details
By Type

360 Virtual Tour
3D Virtual Tour
Virtual Reality Tour

By APPLICATION

Tourism
Real Estate
Art gallery and museum
Others

By Region

North America (U.S., Canada, Mexico)
Europe (Germany, France, U.K., Italy, Spain, Russia, Rest of Europe)
Asia-Pacific (China, Japan, India, Australia, South Korea, Indonesia, Malaysia, Rest of Asia-Pacific)
LAMEA (Brazil, Argentina, UAE, Nigeria, Saudi Arabia, South Africa, Rest of LAMEA)

Key Market Players
Exsight 360, Pan 3Sixty, Starts360, 360 Pano VR Solutions Private Limited, Invision Studio, Inc, Blue Raven Studios, TourVista, MI 360, 360 Imagery, Eye Revolution Ltd