Vision Guided Robotics Market Outlook-2022
The global vision guided robotics market size was valued at $3,834 million in 2015, and is expected to reach $7,718 million by 2022, at a CAGR of 10.7% from 2016 to 2022. Vision Guided Robotics includes robots with built-in cameras that are used as sensors to provide a feedback indication to the robot controller to move accurately to a variable target location. These vision-guided robotic systems operate freely, increase production efficiency, and enhance quality while reducing human errors and wastage of resources. Vision-guided robotics technology is rapidly transforming production processes by enabling robots to be highly flexible, also reducing the cost and complexity of fixed tooling that was connected with design and set up of robots.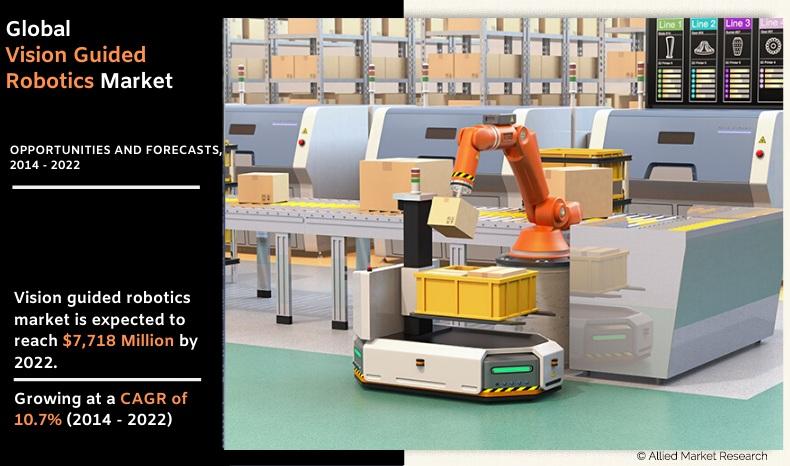 Segment Overview
The global vision guided robotics market has been analyzed and segmented based on types of components, industry verticals, and geography. The various components that make up a vision guided robotic system include hardware, software, and services. The different hardware components include camera, sensors, controllers, actuators, and others. Vision guided robotics system finds applications across a wide range of industries including automobile, electrical & electronics, healthcare & pharmaceutical, aerospace & defense, food & beverage, and others. The microscopic analysis of the vision guided robotics market is conducted by examining various regions such as North America, Europe, Asia-Pacific, and LAMEA.
Key Market Segmentation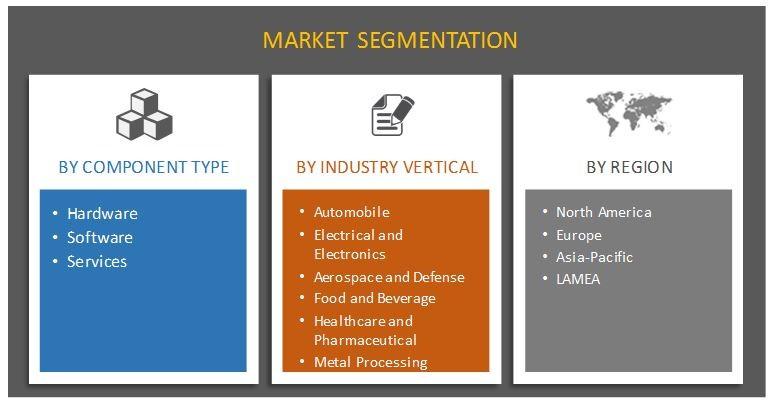 Top Impacting Factors
The global vision guided robotics market is influenced by a number of factors including need for automation and rising labor costs. In addition, awareness among SMEs and technological advancements also determine the extent of growth in the market. All these factors collectively create opportunities for the vision guided robotics market growth, while some of them account for limitations in the market. However, each factor would have its definite impact on the market.
Following are the key factors affecting the global vision guided robotics system market.
Top Impacting Factors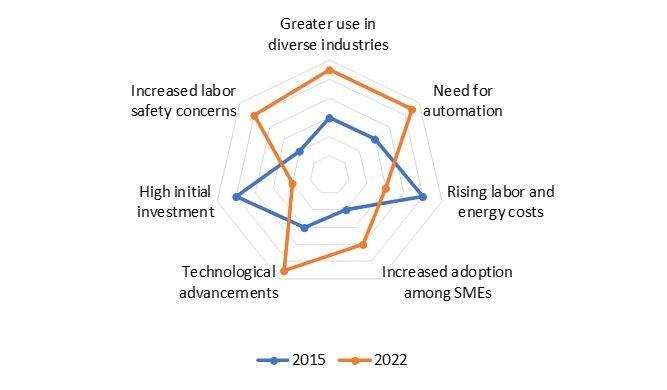 Increased Labor Safety Concerns:
With international labor safety standards becoming more stringent, robots are being employed in hazardous environments in place of humans. Robots are deployed in situations that are dangerous and unsafe for human beings to work, such as working in rough terrains and handling of hazardous substances. Robots enable organizations to avoid risks and reduce the number of work accidents. This factor leads to greater adoption of robotics solutions in the global vision guided robotics industry.
Greater use in Diverse Industries Including Food, Electronics, and Healthcare:
The use of robotics has increased in applications such as food & beverage, electronics, healthcare, and defense among others. These industries are increasingly using robots to meet their requirements and increase efficiency. Customized robots are deployed for these industries to meet their specifications. The escalating deployment of robotics in diverse applications has led to tremendous growth in the vision guided robotics market and its impact will increase in the coming years.
Need for Automation:
With the increasing need for automation in all industry sectors, the use of robots has multiplied significantly. Organizations are adopting robotics to automate their processes in order to deliver high quality products, increase their manufacturing capabilities, serve customers better, and efficiently manage their processes. This factor pushes organizations to adopt robotics and further strengthens the vision guided robotics market.
Rising Labor and Energy Costs:
Labor costs have increased worldwide, especially in developed countries. Organizations are implementing robotics solutions to reduce their labor costs and energy costs. However, the initial cost is high, the robotics solutions enable them to efficiently manage their processes, while reducing their overall operational expenditure. Rising costs would have a lower impact on the market in the future due to advancements in robotics technology.
Increased Adoption Among SMEs:
A rise in the acceptance of robotics by SMEs has been observed in recent times. SMEs use robots for efficient and better functioning of processes within the organizations. The customization of products for specific applications increases flexibility of usage required by smaller companies, which will be met by new technological advancements. Vendors in the market are developing specialized low cost and energy efficient robotics solutions for SMEs, which will enhance the adoption of robotics.
Technological Advancements:
With the advent of new technologies, better and efficient robotics solutions are being offered in the market. These robots perform tasks with higher accuracy and precision and help reduce costs. New technologies make robotics solutions compact and modular. Advanced technologies result in enhanced quality and flexible robots. Increasing use of augmented and modular robots would strengthen the market in the future.
High Initial Investment:
High initial costs required for the initial set up and integration limits the use of robots to heavy manufacturing organizations. Industries with high labor costs are more likely to use robots to reduce their labor costs and produce high quality products. Industries, where precision and accuracy play a major role like automotive and electronics, use robots to meet international quality standards. However, with new emerging robotic technologies, and growing competition in the market, the costs of vision guided robotic systems would reduce in the future.
Key Benefits for Vision Guided Robotics Market:
The report provides an overview of the trends, structure, drivers, challenges, and opportunities in the global vision guided robotics market.
Porters Five Forces analysis highlights the potential of buyers & suppliers, and provides insights on the competitive structure of the market to determine the investment pockets of the market.
Current and future trends adopted by the key market players are highlighted to determine overall competitiveness of the market.
The quantitative analysis of the market through 2014-2022 is provided to elaborate the market potential.
 Vision Guided Robotics Market Report Highlights
Aspects
Details
BY COMPONENT TYPE

Hardware
Software
Services

BY INDUSTRY VERTICAL

Automobile
Electrical and Electronics
Aerospace and Defense
Food and Beverage
Healthcare and pharmaceutical
Metal Processing

BY GEOGRAPHY

North America
Europe

UK
Germany
France
Italy
Rest of Europe

Asia-Pacific

China
India
Japan
South Korea
Rest of Asia-Pacific

LAMEA

Latin America
Middle East
Africa

Key Market Players
PLEORA TECHNOLOGIES INC, DENSO ROBOTICS, ALLIED VISION TECHNOLOGIES GMBH, OMRON CORPORATION, COGNEX CORPORATION, ISRA VISION AG, BASLER AG, BITFLOW, INC, FANUC AMERICA CORPORATION, YASKAWA AMERICA, INC
Other Market Players Mentioned in the Report
ABB Group, Agile Planet, Kawasaki Heavy Industries, KUKA AG, Bastian Solutions