Vitiligo is a hypopigmentation skin disorder characterized by the white patches on the skin that causes the loss of skin color due to low concentration of melanin in the skin cells. It affects the skin on all parts of the body, hair and inside of the mouth. Vitiligo is not life threatening disorder, however it is found in the people with dark skin and it affected people may feel stressful and have issues about their appearance. The common symptoms of vitiligo include the whitening of the skin and development of white patches on the skin anywhere on the body. Vitiligo disorder found in the age of 40. The exact cause of vitiligo is not known. The researcher found that it is an autoimmune disorder, in which the person's own immune system falsely acts against the skin cells which produces melanin. Treatment for vitiligo can restore the color to the affected spot on the skin. However, it cannot completely prevent skin discoloration. "Vitiligo Society" in Europe providing the funds for research projects with developing effective and safe treatments for patients and establishing the real causes of vitiligo as well.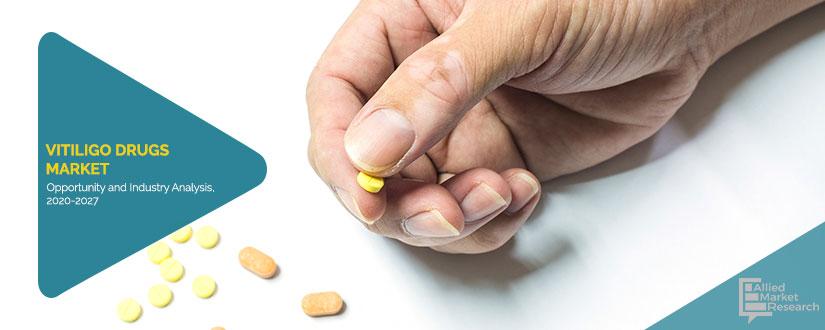 COVID-19 Scenario Analysis:
Pharmaceutical and biotech companies together with governments around the globe are working to address the COVID-19 outbreak, from supporting the development of vaccines to planning for medicines supply chain challenges. Currently, around 115 vaccine candidates and 155 molecules are in the R&D pipeline. Moreover, commonly used drugs such as Hydroxychloroquine have witnessed dramatic surge in demand for the management of COVID-19. Such high demand for these drugs has presented huge opportunity for manufacturers of COVID-19 management drugs, as many developed countries are short of these drugs. Owing to the demand for vaccine and treatment drugs for COVID-19, the pharmaceutical and biotechnology industry is expected to witness a significant growth in the future.
 As the COVID-19 virus outbreak in December 2019, the disease has spread to almost 100 countries across the globe with the "World Health Organization" announcing it a public health emergency. The global impacts of the COVID-19 pandemic are already starting to be felt, and will significantly affect the vitiligo drugs market in 2020. COVID-19 can affect the global economy in three main ways by directly affecting production and demand, by creating supply chain and market disruption, and by its financial impact on firms and financial markets.
Top impacting factors: Market Scenario Analysis, Trends, Drivers and Impact Analysis:
Globally, North America market contributes for the largest market share for Vitiligo Treatment and dominate overall market. This attributed to the factors including, increasing incidence of skin disorder such as vitiligo, increasing adoption rate of phototherapy treatment and rising investment in healthcare facilities.  However, Europe is considered as the second large market share for vitiligo treatment due to the presence of major market player, rising investment in research and development activities with the undergoing severe clinical trial. Whereas,  Asia Pacific is anticipated to expand the vitiligo drug market due to the rising government funding, growing adoption rate of new technology and drug and increasing medical tourism in countries. 
In 2019, "American Skin Association" (ASA) declared funding for 18 new grants for skin cancer and disease research. The ASA and its affiliates invested over US$ 50 million for the treatment of melanoma, psoriasis, and vitiligo. "American Academy of Dermatology" reported that in 2017, around150,000 patient were treated for vitiligo during 2013 in the U.S. and also announced that Vitiligo is listed among 24 skin diseases. "National Center for Biotechnology Information" (NCBI), in 2017, approximately 0.5-1% of the global population was diagnosed with vitiligo and 8.8% of India's population was diagnosed with vitiligo.
The factors such as increasing incidence of vitiligo disorder, changing lifestyle, rising awareness among the individuals, availability of appropriate treatment, Government undertaken initiatives to develop novel treatments for vitiligo, increasing development of new novel therapy and drug discovery, increasing clinical trial studies for launching new drug. Rising demand for the vitiligo treatment, increasing R&D activities are drive the growth of vitiligo drug market. However, the factors which restrain the growth of vitiligo treatment market such as high cost of treatment and stringent regulation for the drug development. The major opportunities available for vitiligo drug market includes, increasing investment in R&D for developing new drug, rising launch of new product therapy, increasing awareness among the individuals and presence of favorable government policies. 
New Product launch to flourish the market:
Major Key market manufacturer have been focusing on increasing research and development activities and producing new product solution for specific applications as there are varying demands based on the utilization. Leading market players have determined how improved accuracy can be influential in many applications. At present, there is no cure for vitiligo however, some drugs help restore the skin tone. Topical corticosteroids are prescribed as first-line treatment for vitiligo and inflammatory disease and It help in regain skin color. Other drug product such as tacrolimus or pimecrolimus, are used in the treatment of individuals who experience comparatively small areas of depigmentation
In 2017, "Aclaris Therapeutics, Inc." has introduce "Confluence Life Sciences, Inc.", a company focused on development of kinase inhibitors for the treatment of autoimmune disorders such as alopecia areata, vitiligo, and atopic dermatitis.
In 218, "Aclaris Therapeutics, Inc.", has launched "ATI 502" is a topically administered inhibitor of janus kinase (JAK), that is being developed for the treatment of alopecia areata, atopic dermatitis, androgenetic alopecia, and vitiligo.
In 2019, "Dr Reddy's Laboratories" has launched "Melgain lotion", a patented drug approved for treatment of vitiligo. It is effectively used in combination with other treatment methods for best results. It lightens the skin by increasing the elimination of melanin from skin cells.
In 2018, "STRATA Skin Sciences", has launched "XTRAC S3 308nm Laser". This is used for the treatment of skin disorders such as psoriasis and vitiligo. The XTRAC laser utilizes therapeutic UVB light for the treatment of affected skin areas without damaging surrounding healthy skin.
Key benefits of the report:
This study presents the analytical depiction of the global vitiligo drugs market along with the current trends and future estimations to determine the imminent investment pockets.
The report presents information related to key drivers, restraints, and opportunities along with detailed analysis of the global vitiligo drugs market share.
The current market is quantitatively analyzed to highlight the global vitiligo drugs market growth scenario.
Porter's five forces analysis illustrates the potency of buyers & suppliers in the market. 
The report provides a detailed global vitiligo drugs market analysis based on competitive intensity and how the competition will take shape in coming years. 
Questions answered in the Vitiligo Drugs Market research report:
Who are the leading market player's active in vitiligo drugs market?
What are the current trends will influence the market in the next few years?
What are the driving factors, restraints, and opportunities in the vitiligo drugs market?
What are the projections for the future that will help in taking further strategic steps?
 Vitiligo Drugs Market: Global Opportunity Analysis and Industry Forecast, 2020–2027 Report Highlights
Aspects
Details
By Treatment

Drug Class
Therapy
Surgery

By Type
By Route of Administration
By Distribution Channel

Hospital Pharmacies
Retail Pharmacies
Online Pharmacies

By Region

North America (U.S., Canada, Mexico)
Europe (France, Germany, Italy, Spain, UK, Rest of Europe)
Asia-Pacific (China, Japan, India, South Korea, Australia, Rest of Asia-Pacific)
LAMEA (Brazil, South Africa, Saudi Arabia, Rest of LAMEA)

Key Market Players
Bristol - Myers Squibb, Incyte Corporation, Clinuvel Pharmaceuticals Ltd., Applied Biology, Inc., F. Hoffmann-La Roche AG, Dr. Reddy's Laboratories Ltd., Boston Pharmaceuticals, Dermavant Sciences, Inc., Aclaris Therapeutics, Inc., GlaxoSmithKline plc, Pfizer, Inc.