The global vitrified tiles market size was valued at $448.6 billion in 2020, and is projected to reach $757.0 billion by 2030, registering a CAGR of 5.0% from 2021 to 2030. Vitrified tiles are a mixture of silica, clay, feldspar & quartz. These tiles are water and stain resistant, they are usually utilized as outdoor flooring. Hydraulic pressing of materials such as clay, quarts, feldspar, and silica results in a vitreous surface. They are also used in bathroom walls and kitchen floors, restaurants, workplaces, and shops, among other places. They are simple to install, clean, and maintain.
The COVID 19 outbreak has affected the growth of the vitrified tiles Market industry owing to the lockdown measure in the countries and delay in manufacturing and production of vitrified tiles which are utilized in residential and commercial spaces, and others.
One of the major factors driving the vitrified tiles market growth rapidly in the construction industry. The high demand for vitrified tiles, which are used in the flooring and walls of residential and non-residential buildings, has a significant impact on the demand for vitrified tiles. They're frequently utilized as a replacement for marble and granite floors. Furthermore, growing earnings from economic expansion as well as expanding population and urbanization, have boosted the demand for buildings in many nations, resulting in significant growth for the vitrified tile industry.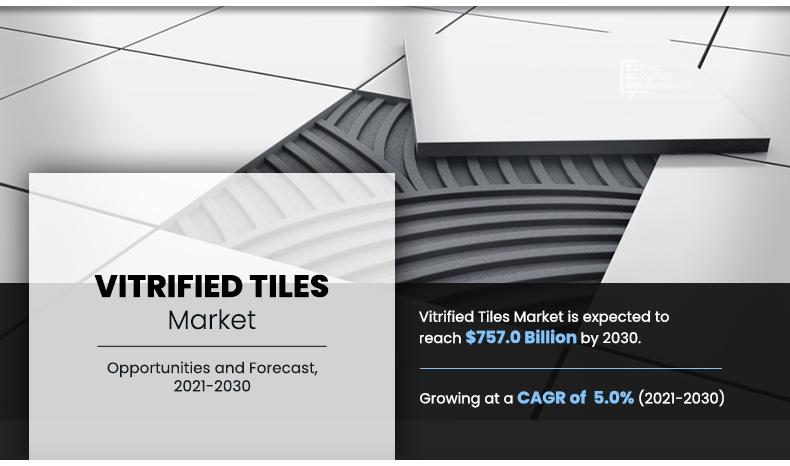 Vitrified tiles are of various types such as full boy, glazed and double charged vitrified tiles. Glazed vitrified tiles are expected to dominate the market during the forecast period, as they are durable as well as scratch resistant and are easy to install. Such tiles have very less water absorption and are stain resistant. Such factors are expected to provide significant growth in the vitrified tiles during the forecast period.
Vitrified Tiles Market

---
By Product Type
Glazed vitrified tiles segment is projected to grow at a significant CAGR
In addition, key players are expanding their business to strengthen position in vitrified tiles and showcase latest vitrified products. For instance, in June 2021, Crystal Ceramics Industries Private Limited, a subsidiary of Asian Granito, expanded its vitrified tile production capacity at its Meshana Plant by 12,000 square meter per day, bringing the total capacity to 36000 sq. m/day. Crystal Ceramics Industries also intends to produce 600mm x 1200mm glazed vitrified tiles in big scale. Such market strategies by key players in vitrified tiles market are expected to provide significant growth in the market during the forecast period.
The novel coronavirus has rapidly spread across various countries and regions, causing enormous impact on lives of people and overall community. Originating as a crisis to human health, it now poses significant threat to worldwide trade, economy, and finance. Due to the continuous lockdown in key global countries, the COVID-19 pandemic has halted production of many items in the vitrified tiles business. The players in vitrified tiles market can afford a complete lockdown only for a limited period, after which they would have to alter their investment plans. Furthermore, number of COVID-19 cases are expected to reduce in the near term as vaccine for COVID-19 has been introduced in the market. This is further expected to lead to re-initiation of vitrified tiles companies at their full-scale capacities, which would aid the vitrified tiles market share to recover by the start of 2022. After COVID-19 infection instances start to decline, equipment and machinery producers must focus on protecting their staff, operations, and supply networks in order to respond to urgent emergencies and establish new methods of working.
Vitrified Tiles Market

---
By End User
Residential segment holds dominant position in 2020
The vitrified tiles market is segmented on the basis of product type, distribution channel application, end user, and region. By product type, the market is divided into glazed vitrified tiles, full body vitrified tiles, and double charged vitrified tiles. By distribution channel, the vitrified tiles is divided into online, and offline. By application, it is divided into floor tiles, and wall tiles. By end user, it is divided into residential, and non-residential. Region wise, the market is conducted across North America (the U.S., Canada, and Mexico), Europe (the UK, France, Germany, Italy and Rest of Europe), Asia-Pacific (China, Japan, India, South Korea, Thailand, Vietnam, Indonesia, Philippines and Rest of Asia-Pacific), and LAMEA (Latin America, the Middle East, and Africa).
Competition Analysis
Key companies profiled in the vitrified tiles industry report include ABK Group, Altaeco S.p.A, Aparna Enterprises Ltd, Asian Granito India Limited, Casalgrande Padana spa, Ceramica Del Conca spa, Kajaria Ceramics Limited, Lamosa Group, Mohawk Industries, Inc., and SCG Ceramics.
Vitrified Tiles Market

---
By Region
Asia-Pacific holds a dominant position in 2020 and is expected to grow at a significant rate during the forecast period.
Key Benefits For Stakeholders
The report provides an extensive analysis of the current and emerging vitrified tiles market trends and dynamics.  
In-depth emerging vitrified tiles market analysis is conducted by constructing estimations for key market segments between 2021 and 2030. 
Extensive analysis of the emerging vitrified tiles is conducted by following key product positioning and monitoring of top competitors within the market framework.
A comprehensive analysis of all the regions is provided to determine the prevailing opportunities.
The global emerging vitrified tiles market forecast analysis from 2021 to 2030 is included in the report.
The key players within emerging market are profiled in this report and their strategies are analyzed thoroughly, which help understand the competitive outlook of the emerging vitrified tiles industry. 
 Vitrified Tiles Market Report Highlights
Aspects
Details
By End User

RESIDENTIAL
COMMERCIAL
OTHERS

By Geography

NORTH AMERICA
EUROPE
ASIA-PACIFIC
LAMEA

Key Market Players
CERAMICA CARMELO FIOR LTDA., LAMOSA GROUP, MOHAWK INDUSTRIES INC., RAS AL KHAIMAH (RAK) CERAMICS, SCG, ABK INDUSTRIE CERAMICHE SPA, ALTAECO S.P.A., PT ARWANA CITRAMULIA TBK, AGL, CASALGRANDE PADANA S.P.A.