Wafer Level Packaging Market Research, 2030
The global wafer level packaging market size was valued at $4.5 billion in 2020, and is projected to reach $23.6 billion by 2030, growing at a CAGR of 18.8% from 2021 to 2030. Wafer level packaging (WLP) is a method of attaching packaging components to an integrated circuit (IC) prior to dicing the wafer. This procedure varies from a traditional method, which involve slicing the wafer into separate circuits (dice) before attaching the packaging components.
The automotive segment has been negatively impacted by the COVID-19 pandemic outbreak.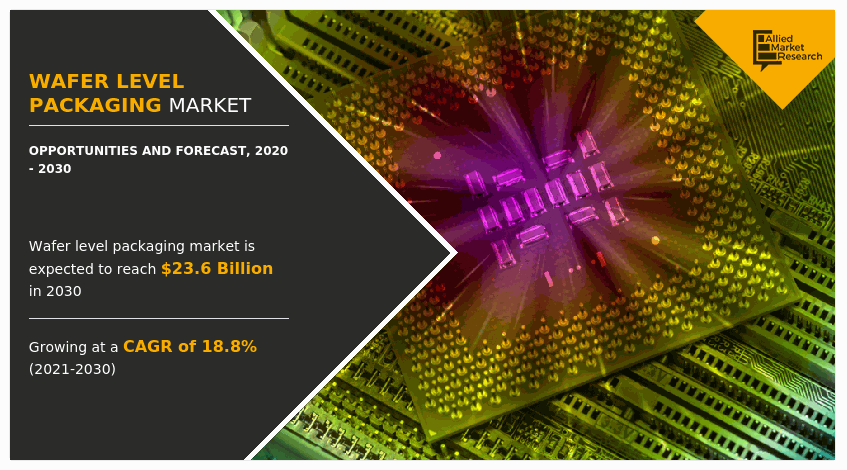 Growth of the global wafer level packaging industry is anticipated to be driven by factors such as rise in adoption of high-speed, compact size, and less expensive electronic products. In addition, wafer level packaging's technological superiority over traditional packaging techniques and the impending need of circuit miniaturization in microelectronic devices boost the market growth. However, complexities in manufacturing process act as major restraint for the market. On the contrary, rise in use of wafers in the automotive industry is expected to fuel the market growth during the forecast period.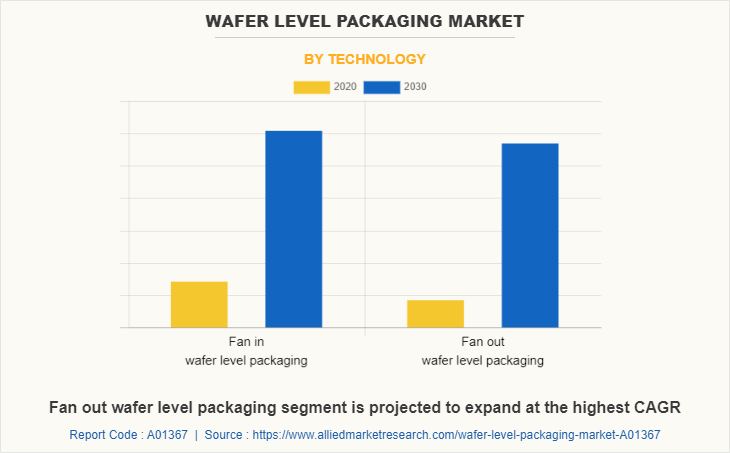 The wafer level packaging market is segmented into Technology, Type and End User. By technology, the market is classified into fan in wafer level packaging and fan out wafer level packaging. Depending on type, it is categorized into 3D TSV WLP, 2.5D TSV WLP, WLCSP, Nano WLP, and others. On the basis of end user, the market is divided into consumer electronics, IT & telecommunication, automotive, healthcare, and others.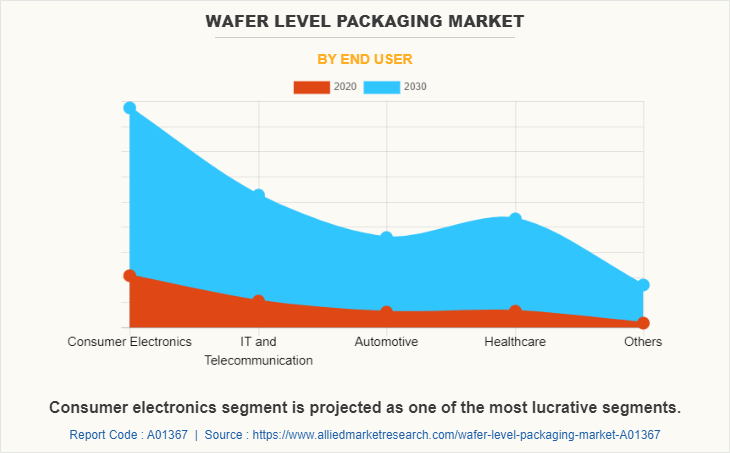 By region, the wafer level packaging market trends are analyzed across North America (U.S., Canada, and Mexico), Europe (UK, Germany, France, and rest of Europe), Asia-Pacific (China, Japan, Taiwan, India, South Korea, and rest of Asia-Pacific), and LAMEA (Latin America, the Middle East, and Africa). Asia-Pacific dominated the wafer level packaging market in 2020, and is projected to register significant growth rate during the forecast period,owing to growth in the automotive segment. Furthermore, Asia-Pacific is expected to witness significant growth by the end of the forecast period, followed by LAMEA.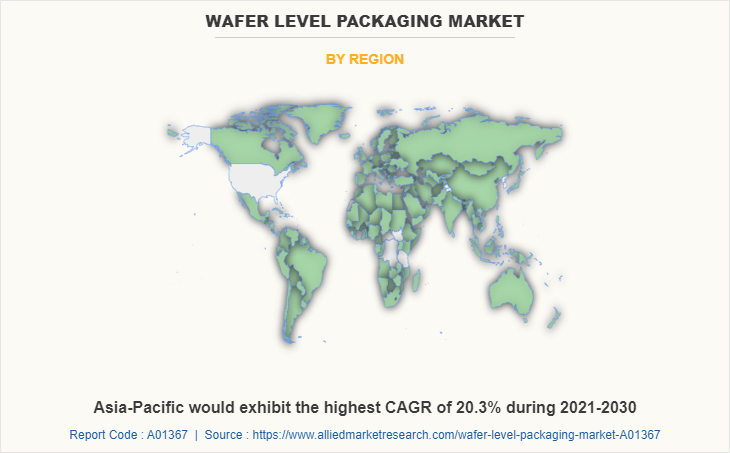 Leading wafer level packaging industry manufacturers such as Applied Materials Inc, Qualcomm Technologies Inc, Amkor Technology Inc, and Jiangsu Changjiang Electronics Technology Co Ltd are focused on their investments on technologically advanced, cost-effective, and more secure products & solutions for various applications. Also, In semiconductor advance packaging sector wlcsp package, wlcsp process flow, and wafer chip scale package are in the latest trends.
TOP IMPACTING FACTORS
The prominent factors that impact the wafer level packaging market growth include rapid development in the semiconductor industry, high adoption of consumer electronics devices, and increase in demand for ultra-thin wafers. In addition,surge in Internet of Things (IoT) technologyfuels the market growth. However, high initial investment restricts the market growth. On the contrary, rise in investment in wafer fabrication equipment and materialsis expected to create lucrative opportunities for the market.
COMPETITION ANALYSIS
Competitive analysis and profiles of the major wafer level packaging market playerssuch asAmkor Technology Inc, Applied Materials Inc, ASML Holding N.V, Deca Technologies, Fujitsu, Jiangsu Changjiang Electronics Technology Co Ltd, Lam Research Corporation, Qualcomm Technologies Inc, Tokyo Electron Ltd, and Toshiba Corporation have been covered in the report.
COVID-19 IMPACT ANALYSIS
The outbreak of COVID-19 has significantly affected the electronics and semiconductor sector. Business and manufacturing units across various countries were closed in 2021, owing to rise in number of COVID-19 cases, and are expected to remain closed in second quarter of 2022. Furthermore, partial or complete lockdown disrupted global supply chain posing challenges for manufactures to reach customers.
The COVID-19 pandemic impacted the society and overall economy across the globe. The impact of this outbreak has grown day-by-day as well as affected the overall business globally. The crisis has created uncertainty in the stock market and has resulted in falling business confidence, massive slow down of supply chain, and increased panic among customers.
Asian and European countries under lockdowns suffered major loss of business and revenue, owing to shutdown of manufacturing units. Operations of the production and manufacturing industries were heavily impacted by the outbreak of the COVID-19 disease, which further impacted growth of the wafer level packaging market outlook.
In addition, the COVID-19 pandemic has impacted the electronics sector as production facilities stalled and closed, which, in turn, boosted demand for electronics and semiconductor products in these industries. Its major impact includes a large manufacturing interruption across Europe and interruption in Chinese parts exports, which hinder the wafer level packaging market opportunity. It is expected that the demand for new and innovative products could surge once the economy begins to recover. Companies are looking forward to invest in next-generation products using new technologies, as it is expected to boost its goodwill, once customer demand surges.
KEY BENEFITS FOR STAKEHOLDERS
This study comprises analytical depiction of the global wafer level packaging market size along with current trends and future estimations to depict imminent investment pockets.

The overall wafer level packaging market analysis is determined to understand the profitable trends to gain a stronger foothold.

The report presents information related to key drivers, restraints, and opportunities with a detailed impact analysis.

The current wafer level packaging market forecast is quantitatively analyzed from 2020 to 2030 to benchmark the financial competency.

Porter's five forces analysis illustrates the potency of the buyers and the wafer level packaging market share of key vendors.

The report includes the market trends and the market share of key vendors.
 Wafer Level Packaging Market Report Highlights
Aspects
Details
By Technology

Fan in wafer level packaging
Fan out wafer level packaging

By Type

3D TSV WLP
2.5D TSV WLP
WLCSP
Nano WLP
Others

By End User

Consumer Electronics
IT and Telecommunication
Automotive
Healthcare
Others

By Region

North America (U.S., Canada, Mexico)
Europe (U.K., Germany, France, Rest of Europe)
Asia-Pacific (China, Japan, Taiwan, India, South Korea, Rest of Asia-Pacific)
LAMEA (Latin America, Middle East, Africa)

Key Market Players
Amkor Technology, Inc., Deca Technologies, Lam Research Corporation, ASML Holding N.V, Tokyo Electron Ltd., Applied Materials, Inc., Fujitsu, Toshiba Corporation, Qualcomm Technologies, Inc., Jiangsu Changjiang Electronics Technology Co. Ltd