Waste-derived Biogas Market Outlook - 2030
The global waste-derived biogas market size was valued at $52.9 billion in 2020, and is projected to reach $126.2 billion by 2030, growing at a CAGR of 8.5% from 2021 to 2030. Biogas is a renewable, environmentally friendly fuel created by converting various forms of organic waste into gas. It finds its major application in road vehicle fuel and industrial applications such as municipal electricity production and on-site electricity production. Organic nutrients collected throughout the production process add to the circular economy impact of the biogas production.
Due to disruptions in the worldwide supply chain and a slight reduction in investment for new projects of biogas, the COVID-19 outbreak is likely to have a minor impact on the global waste-derived biogas plant industry.
The growth of the global waste-derived biogas market is expected to be driven by rise in environmental awareness and increase in supply concerns connected with the usage of fossil fuels. Moreover, rapid infrastructure development and rise in energy demand from the commercial & industrial sectors act as the key driving forces of the global market. Furthermore, implementation of stringent pollution regulations, increase in understanding of environmental conservation, rise in concern about overuse of fossil fuels, and surge in corporate initiatives against corporate social responsibility (CSR) activities are notably contribute toward the growth of the waste-generated biogas market. However, the market growth is projected to be hampered in the coming years by expensive initial manufacturing setup costs. On the contrary, surge in demand for renewable energy resources due to depleting fossil fuel resources and exponential increase in population are predicted to provide lucrative opportunities for the industry development during the waste-derived biogas market forecast period.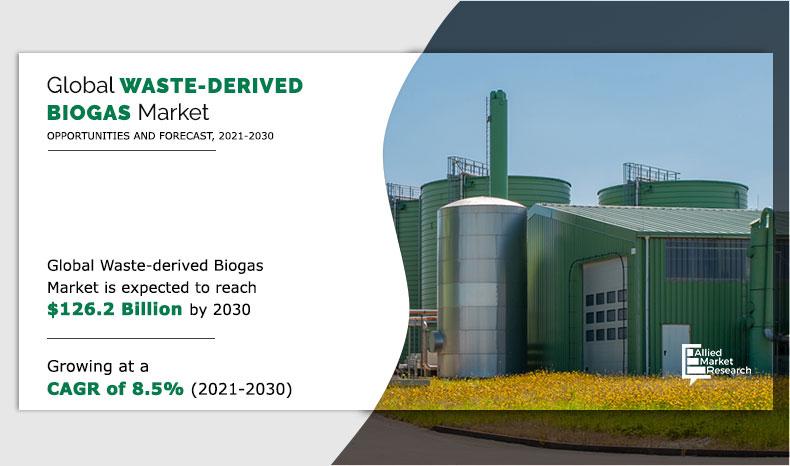 The global market is segmented into type, application, and region. Depending on source, the market is segregated into livestock manure, sewage, food waste, and crop residue. The applications covered in the study include residential, commercial and industrial.  Region wise, the market is studied across North America, Europe, Asia-Pacific, and LAMEA.
The key players studied and profiled in the report include AAT Abwasser - und Abfalltechnik GmbH, Bekon Biogas Energy Inc., Biogen Greenfinch, Cargill Inc., Clarke Energy, Environmental Products & Technology Corp., N-bio GmbH, Siemens AG, WELTEC BIOPOWER GMBH, and Zorg Biogas.  The global waste-derived biogas market report provides in-depth competitive analysis as well as profiles of these major players.
Waste-derived biogas market, by application
By application, the industrial segment is expected to contribute 52.8%. Low cost & maintenance coupled with increase in  energy prices is anticipated to boost the waste-derived biogas industry development.
Waste-derived Biogas Market

---
By Application
Industrial is projected as the most lucrative segment.
Waste-derived biogas market, by source
Depending on type, the crop residues segment is expected to contribute 55.4% share in the global waste-derived biogas market. This is attributed to the fact that crop residue can be used in the production of biogas, which is composed mainly of methane (CH4) and carbon dioxide (CO2).  In addition, biogas can be used in many parts of the world for low-cost heating and cooking. Furthermore, it is be used to generate mechanical or electrical power.
Waste-derived Biogas Market

---
By Source
Crop Residues is projected as the most lucrative segment.
Waste-derived biogas market, by region 
Region wise, Asia-Pacific is expected to garner 40.1% of the waste-derived biogas market share. India, China, and Japan are expected to be key markets in Asia-Pacific, owing to rapid industrial development, rise in consumer awareness regarding use of biogas, and high investments for new projects. Furthermore, favorable government policies such as  nation-wide zero organic waste to landfill boost the market growth. In addition, government introduces policies to encourage early investment in processing of waste to produce energy, which contributes toward the market growth.  
Waste-derived Biogas Market

---
By Region
Asia-Pacific holds a dominant position in 2019 and would continue to maintain the lead over the forecast period.
Key benefits for stakeholders
The report outlines the current waste-derived biogas market trends and future estimations from 2020 to 2030 to understand the prevailing opportunities and potential investment pockets. 
Porter's five forces analysis helps analyze the potential of buyers & suppliers and the competitive scenario of the industry for strategy building.
The major countries in the region have been mapped according to their individual revenue contribution to the regional market.
The key drivers, restraints, & waste-derived biogas market opportunities and their detailed impact analysis are explained in the study.
The profiles of key players and their key strategic developments are enlisted in the report.
Impact of COVID-19 on the global waste-derived biogas market
Some of the major economies suffering from the COVID-19 crisis include Germany, France, Italy, Spain, the UK, and Norway. Many industries have been shut down due to lack of raw material availability and disruptions in the supply chain, owing to the virus outbreak. In addition, the worldwide lockdown has suspended the municipal electricity production, on-site electricity production, and transportation fuel activities, which declined the demand for waste-derived biogas.
Manufacturing of oil & gas and other products across the globe was halted, due to unavailability of raw materials and dearth of labors, which hampered the waste-derived biogas market growth.
Moreover, increase in demand–supply gap, price volatility, and government policies such as increased emphasis toward the bio-based products and incorporating green initiatives are expected to affect the growth of various end-use industries. In terms of its immediate and long-term effect on industry and consumers, the COVID-19 pandemic has outpaced any headwind ever encountered.
 Waste-derived Biogas Market Report Highlights
Aspects
Details
By Type

Live Stock Manure
Sewage
Food Waste
Crop Residue

By APPLICATION

Residential
Commercial
Industrial

By Region

North America (U.S., Canada, Mexico)
Europe (France, Germany, UK, Spain, Italy, Rest of Europe)
Asia-Pacific (India, China, Japan, South Korea, Australia, Rest of Asia-Pacific)
LAMEA (Latin America, Middle East, Africa, Rest of LAMEA)

Key Market Players
Cargill, Inc., Environmental Products & Technologies Corporation, BEKON GmbH, AAT ABWASSER- UND ABFALLTECHNIK GMBH, Siemens, Evoqua Water Technologies LLC, N-bio GmbH, Weltec Biopower GmbH, BIOGEN (UK) Ltd., Zorg Biogas