The global waste management market size was valued at $1,612.0 billion in 2020, and is expected to reach $2,483.0 billion by 2030, registering a CAGR of 3.4% from 2021 to 2030. Waste management is the collection, transportation and disposable of garbage, sewage, and other waste products. It involves treating solid waste and disposing unwanted products and substances in a safe and efficient manner. Waste management includes all types of waste including solid, liquid, or gas. Waste management deals with municipal, industrial, and hazardous waste. Municipal waste generally refers to residential waste and non-hazardous waste generated in towns and cities. Industrial waste refers to waste generated in industries while production and manufacturing processes. Hazardous waste refers to waste generated in pharmaceuticals, medicals, chemicals, and paint manufacturing industries.
Furthermore, major activities performed on waste are its collection and disposal. Collection services refer to collection & transportation, storage & handling, and sorting of waste. Whereas, disposable services refer to segregation of waste into landfills, recycling, compositing, and anaerobic digestion.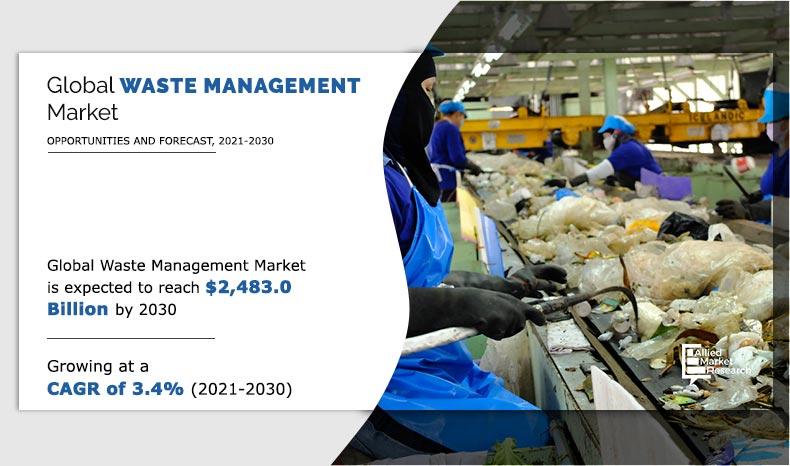 Growth of the global waste management market is driven by proactive government measures to reduce illegal dumping. Moreover, increase in adoption of WTE incineration and recycling techniques is expected to promote the waste management market growth. The Environmental Protection Agency (EPA) introduced the Resource Conservation and Recovery Act (RCRA) with an aim to reduce open dumping and manage hazardous and nonhazardous waste. In addition, surge in population and increase in globalization has led to an increase in the overall waste volume, worldwide. Urban population produced about 1.3 billion tons of municipal solid waste (MSW) in 2012, which is expected to grow to 2.2 billion tones by 2025. Moreover, increase in industrialization in emerging economies, such as India, China, and Taiwan has led to development of chemical, oil & gas, automobile, and medical industries, which generates enormous amount of waste and causes pollution. Moreover, Increase in environmental awareness regarding renewable waste management systems among people and rise in CO2 emissions, globally, are expected to generate growth opportunities for waste management systems market. These factors are expected to significantly contribute toward growth of the global waste management market. 
However, high cost of procuring and operating waste management solutions is expected to hamper the market growth.  In addition, waste management is labor intensive and can consume a lot of amount as their wages. Similarly, costs of transportation of waste can take up a lot of allocated amount as the cost includes collection cost and further transportation to landfills or recycling facilities. Cost recovery for waste services differ largely from income levels. Thus, making the waste management market a little rigid, considering the investments related to its process, which, in turn, hampers the market growth.
Due to lockdown, owing to coronavirus, the waste production drastically declined from industries and commercial sector as industries and offices were partially or completely shut down. However, the municipal waste increased from residential areas. Furthermore, due to decline in manufacturing operations of new goods, led to fall in demand for recyclable material such as rubber and plastic. However, reopening of production facilities and introduction of vaccines for coronavirus disease are anticipated to lead to re-initiation of waste management companies and waste recycle industry at their full-scale capacities.
Waste Management Market

---
By Type
Industrial Waste segment holds the largest share in Waste Management market
Conversely, rise in awareness among public and government agencies about these solutions and surge in need to develop waste-to-energy solutions are expected to provide lucrative growth opportunities for market players during the forecast period. Owing to these opportunities several waste management companies have adopted strategies such as business expansion, acquisitions, agreement, and partnership to offer better services in the market. For instance, in March 2019, Veolia announced partnership with Nestle to develop recycling programs to recycle plastic waste. Similarly, in February 2020, Suez entered an agreement with the Shanghai Chemical Industry Park to recover hazardous waste from automotive sector and clients inside the industrial park.
The global waste management market is segmented on the basis of type, service, and region. On the basis of type, the market is divided into municipal waste, industrial waste, and hazardous waste. On the basis of services, it is classified into collection services and disposable services. The collection services segment is sub segmented into collection & transportation, storage & handling, and sorting. The disposable services segment is further segregated into landfills, recycling, compositing & anaerobic digestion, and others. Region wise, the market is analyzed across North America, Europe, Asia-Pacific, and LAMEA.
Waste Management Market

---
By Service
Disposing segment holds dominant position in 2020
By type, in 2020, the industrial segment dominated the waste management market, in terms of revenue and the hazardous segment is expected to witness growth at the highest CAGR during the forecast period. On the basis of service, the disposal segment led the waste management market in 2020, in terms of revenue, and is anticipated to register the highest CAGR during the forecast period. Region wise, Asia-Pacific contributed for the highest waste management market share in 2020, and is anticipated to secure a leading position during the forecast period.
Competition analysis
Waste Management Market

---
By Region
Asia-Pacific holds a dominant position in 2020 and LAMEA is expected to grow at a highest rate during the forecast period.
Key Benefits For Stakeholders
The report provides an extensive analysis of the current and emerging waste management market trends and dynamics. 
In-depth waste management market analysis is conducted by estimations for the key segments between 2021 and 2030. 
Extensive analysis of the market is conducted by following key product positioning and monitoring of top competitors within the market framework.
A comprehensive analysis of four major regions is provided to determine the prevailing opportunities.
The waste management market forecast analysis from 2021 to 2030 is included in the report.
Key market players operating in the market are profiled in this report and their strategies are analyzed thoroughly, which help to understand the competitive outlook of the waste management industry.
 Waste Management Market Report Highlights
Aspects
Details
By Type

Municipal Waste
Industrial Waste
Hazardous Waste

By SERVICE

Collection Service
Disposable Service

By Region

North America (U.S, Canada, Mexico)
Europe (UK, France, Germany, Spain, Italy, Denmark, Norway, Ireland, Portugal, Greece, Rest of Europe)
Asia-Pacific (China, Japan, South Korea, India, Australia, Rest of Asia-Pacific)
LAMEA (Latin America, Middle East, Africa)

Key Market Players
COVANTA HOLDING CORPORATION, CLEAN HARBORS, INC., REMONDIS SE & CO. KG, DAISEKI CO. LTD., REPUBLIC SERVICES, INC., WASTE MANAGEMENT INC., SUEZ, HITACHI ZOSEN CORPORATION, BIFFA PLC, VEOLIA ENVIRONNEMENT