Waste to Energy Market Outlook - 2027
The global waste to energy market size was valued at $35.1 billion in 2019, and is projected to reach $50.1 billion by 2027, growing at a CAGR of 4.6% from 2020 to 2027. Waste to energy (WtE) or energy from waste (EfW) is a process of energy recovery, and the technique of generating energy in the form of heat or electricity from the primary treatment of waste. Most of the WtE processes produce heat or electricity directly through thermal combustion or generate a combustible fuel commodity, including methanol, methane, synthetic fuels, or ethanol.
Continuing the delivery of basic waste management service like waste collection and management has become a major challenge for cities having maximum fallout from COVID-19. As now the world is unlocking halted operations implemented during pandemic, and it is expected that government will partner with the private sector through public-private partnerships to discover sustainable solutions for energy generation from waste.
The global waste to energy market growth is driven by increase in demand for incineration process and rise in public WtE expenditure. Moreover, increase in inclination of consumers toward efficient and easy WtE conversion techniques, such as incineration, gasification, pyrolysis, and various biochemical treatments, including aerobic and anaerobic digestion, is expected to significantly boost the market growth.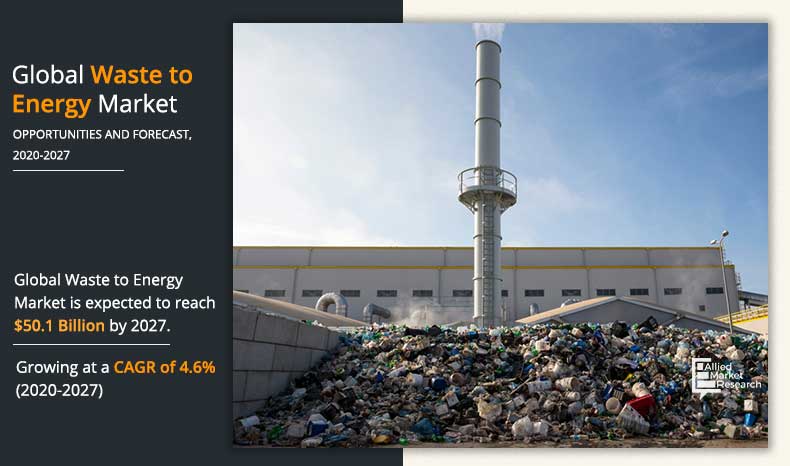 The impact of government regulations on global waste to energy market is positive. These regulations encourage the use of waste to energy for meeting the needs of electricity. The U.S. has several federal laws and regulations that govern renewable energy grid interconnections. Federal Power Act (FPA) gives federal authority over electric utilities. The Public Utility Regulatory Policy Act (PURPA) mandates utilities to buy electricity from qualifying facilities, introducing competition into wholesale power markets. Energy Policy Act enables electricity generators to participate in wholesale power markets free from Security and Exchange Commission (SEC) supervision. Public Utility Regulatory Policy Act (PURPA) offers the way for small non-utility generators to enter the market, including renewable energy developers. Further, Canada has set a target of increasing the share of zero-emitting sources to 90% by 2030. The target aims to promote use of renewable and clean energy and contribute toward significant greenhouse gas reductions.
However, rise in concerns related to the environmental hazards associated with the incineration process is expected to affect the overall market growth in developed and developing countries. On the contrary, increase in investments in R&D activities to ensure reliability in terms of environmental effects is expected to provide lucrative opportunities for the market growth in the future.
Waste to Energy Market

---
By Technology
Biochemical segment is projected to grow with a CAGR of 5.0% during the forecast period.
The global WtE market is segmented on the basis of technology and region. On the basis of technology, the market is divided into thermal, biochemical, and others. The thermal process involves recycling of energy from MSW at high temperature. The thermal technology includes several processes such as combustion or incineration, gasification, and pyrolysis. The major difference among these technologies is the amount of oxygen and temperature involvement during the process that leads to the conversion to final product CO2 and water, or to intermediate useful products.
The incineration segment is anticipated to register a significant CAGR during the forecast period. Increase in waste generation across the world significantly drive the demand for incineration process on a global scale. As the incinerators can treat all kinds of wastes, this process is highly preferred other thermal waste treatment technologies.
Waste to Energy Market

---
By Thermal Technology
Incineration is projected as the most lucrative segment.
The global waste to energy market size is analyzed across North America, Europe, Asia-Pacific, and LAMEA. The market is in its nascent stage. However, rise in demand for power generation and inclination toward renewable energy sources drive the demand for waste to energy in developed and emerging economies. At present, Europe is the major player in the waste to energy market and other regions such as Asia-Pacific, North America, and LAMEA are providing various market opportunities to key players. Asia-Pacific is anticipated to be the fastest growing segment in the waste to energy market.
The key players have adopted various market penetration and growth strategies, such as mergers & acquisitions, to strengthen their Waste to Energy Market share. The key players operating in Waste to Energy Industry include Waste Management Inc., Suez Environment S.A., C&G Environmental Protection Holdings, Constructions industrielles de la Méditerranée (CNIM), China Everbright International Limited, Covanta Energy Corporation, Foster Wheeler A.G., Abu Dhabi National Energy Company PJSC, Babcock & Wilcox Enterprises, Inc., and Veolia Environment.
As companies around the world flow forward with their waste to energy initiatives. Taking a collaborative approach allows organizations to get assistance with known weaknesses while improving the possibilities of favorable results. For example, one new association in the West Midlands vicinity of the UK with Wheelabrator, a waste to energy specialist, is partnering with Verus Energy Limited and Low Carbon, the two environment-centric companies. The collaborative effort will provide enough electricity for around 70,000 houses diverting 395,000 heaps of garbage from landfills or export operations. A similar agreement between a waste management plant and utility carrier is underway inside the United Arab Emirates.
Waste to Energy Market

---
By Region
Asia-Pacific is expected to grow with a CAGR of 4.8% during the forecast period.
COVID-19 Impact on Global Waste to Energy Market
The outbreak of COVID-19 has disrupted the global economy by halting the operations of major industries such as recycling waste industries and energy generating industries. The industries are being kept closed or operated under restricted environments such as less employees and working times. Lockdown was imposed in many countries such as the U.S., China, Spain, Austria, Poland, Korea, India, Germany, the UK, Italy, and France. The pandemic resulted in shortage of labor and raw materials in the recycling and energy generating industry. The severity of the impact may result in closure of some waste to energy manufacturers. Manufacturers had their production halted due to non- availability of labor. This led to a reduction in production output and thus incurring economic losses.
Key Benefits for Stakeholders:
The report provides extensive qualitative and quantitative analyses of the current waste to energy market trends and future estimations of the market from 2019 to 2027 to determine the prevailing opportunities.
Comprehensive analysis of factors that drive and restrict the growth of the market is provided.
Estimations and forecast are based on factors impacting the market growth, in terms of both value and volume.
Profiles of leading players operating in the global waste to energy market analysis are provided, and this helps in understanding the competitive scenario globally.
The report provides extensive qualitative insights on the significant segments and regions exhibiting favorable market growth.
The global waste to energy market forecast is done from 2020 to 2027.
 Waste to Energy Market Report Highlights
Aspects
Details
By Technology

Thermal

Incineration
Pyrolysis
Gasification

Biochemical
Others

By Region

North America (U.S., Canada, Mexico)
Europe (France, Germany, UK, Spain, Italy, Russia, Rest of Europe)
Asia-Pacific (China, Japan, India, Australia, South Korea, Rest of Asia-Pacific)
LAMEA (Brazil, Argentina, Saudi Arabia, South Africa, Rest of LAMEA)

Key Market Players
ABU DHABI NATIONAL ENERGY COMPANY PJSC (TAQA), JOHN WOOD GROUP PLC, BABCOCK & WILCOX ENTERPRISES, INC., C&G LTD., CHINA EVERBRIGHT INTERNATIONAL LIMITED, COVANTA HOLDING CORPORATION, SUEZ, VEOLIA, WASTE MANAGEMENT, INC., CNIM, BLUEFIRE RENEWABLES, ENER-CORE, INC., PLASCO ENERGY GROUP, INC., WHEELABRATOR TECHNOLOGIES INC.