The global water heater market was valued at $32,603 million in 2017, and is projected to reach $48,519 million by 2025, growing at a CAGR of 5.1% from 2018 to 2025. A water heater, also known as geyser, is a heating device that uses energy from various external sources and transfers it to heat the water. Water heater comes in various types such as gas-based water heater, instant water heaters, storage water heaters, and solar water heater. The selection of a proper water heater depends upon several important factors such as the type of building that it is to be installed into, requirements of the householder, availability of fuel types, fuel cost and efficiency of the system, storage and distribution temperature, installation and maintenance cost, and safety of the user. The instant water heater segment accounted for the highest share in 2017. However, the water heater market for solar segment is anticipated to witness lucrative opportunities throughout the forecast period.
The growth of the global water heater market is driven by factors such as inclination of consumer toward the adoption of energy efficient systems, favorable government subsidies that encourage the use of solar water heaters, surge in number of hospitals and hotels, and increase in population and improved infrastructure in rural areas. In addition, rise in disposable income of the consumers coupled with improved lifestyle is significantly boosting the market. Furthermore, growth in concern among consumers regarding natural resources and energy is encouraging the consumers to shift toward energy-efficient water heating systems. This has fueled the demand for solar water heaters leading to increase in their adoption by several households as they use solar energy as the heat source can provide the greatest savings of all. Although, the buying and installation cost is high, it's operating cost is quite low. Conversely, rise in electricity prices, high operating costs, and technical issues associated with electric water heaters are expected to hamper the growth of the global water heater market. However, rapid urbanization and development of global regions in context with construction of new residential and commercial buildings and infrastructure are anticipated to fuel the water heater market globally.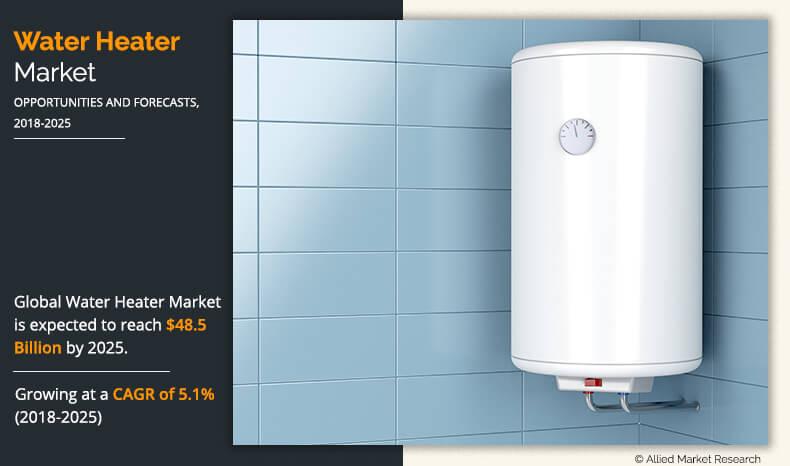 Get more information on this report : Request Sample Pages
The report segments the global water heater market based on type, application, and distribution channel. Depending on type, the market is divided into gas, instant, storage, and solar water heaters. Based on application, it is classified into commercial, residential, and industrial. Based on distribution channel, it is categorized into supermarket/hypermarket, specialty stores, e-commerce, and others (wholesalers, distributors).
The residential segment dominated the global water heater market in 2017, accounting for around 46% of the overall revenue. This was due to rapid urbanization, rise in income level of the consumers, and innovative marketing strategies implemented by the leading manufacturers. Furthermore, this segment is expected to grow at the highest rate during the forecast period.
In 2017, the specialty store segment led the global market, owing to facilities such as free demo, home delivery, after sale services, and consultation. Companies are investing in these stores owing to their numerous benefits and wide reach. Thus, specialty stores are expected to expand in upcoming times and thus, boost the sale of water heaters.
Key Benefits For Stakeholders
This report provides an extensive analysis of the current trends, emerging estimations, and dynamics of the global water heater market from 2018 to 2025.
The key countries in all the major regions are mapped based on their market shares.
Porter's five forces analysis highlights the potency of buyers and suppliers to enable stakeholders to make profit-oriented business decisions and strengthen their supplier buyer network.
A comprehensive analysis of factors that drive and restrict the growth of the global water heater market is provided.
An in-depth analysis of the global water heater market helps to determine the prevailing market opportunities.
 Key Market Segments
By Type

Gas
Instant
Storage
Solar

By Application

Commercial
Residential
Industrial

By Distribution channel

Supermarket/Hypermarket
Specialty Stores
E-Commerce
Others (Wholesalers, distributors)

By Region

North America
Europe

UK
Germany
France
Spain
Italy
Rest of Europe

Asia-Pacific

China
Japan
India
Australia
South Korea
Rest of Asia-Pacific

LAMEA

Latin America
Middle East
Africa