Water Meter Market Statistics- 2030
The global water meter market size was valued at $19,700.0 million in 2020, and is projected to reach $29,159.4 million by 2030, registering a CAGR of 4.1% from 2021 to 2030.  The process of measuring water usage is known as water metering. Water meters track how much water is used in residential and commercial buildings that are connected to a public water delivery system. They are also utilized to figure out how much fluid is flowing through a certain section of the system. Water meters come in a variety of shapes and sizes, and are differentiated by flow measuring technique, end-user type, needed flow rates, and accuracy requirements.
The COVID 19 outbreak has affected the growth of the water meter industry owing to the lockdown measure in the countries and delay in production and manufacturing of water meter which are utilized in residential, commercial, and industrial spaces.
The global water meter market is led by increased water use, growing need for water management, worldwide industrial expansion, supporting government laws, need to enhance water utility usage and efficiency, and increased need to decrease non-revenue water losses. In addition, water usage is growing day by day as population grows. The amount of water that is not returned to the source after use is referred to as consumption. Water meters have an impact on water usage as they charge users based on the amount of water consumed. They also make it simpler to discover leaks in water line, resulting in reduced water waste.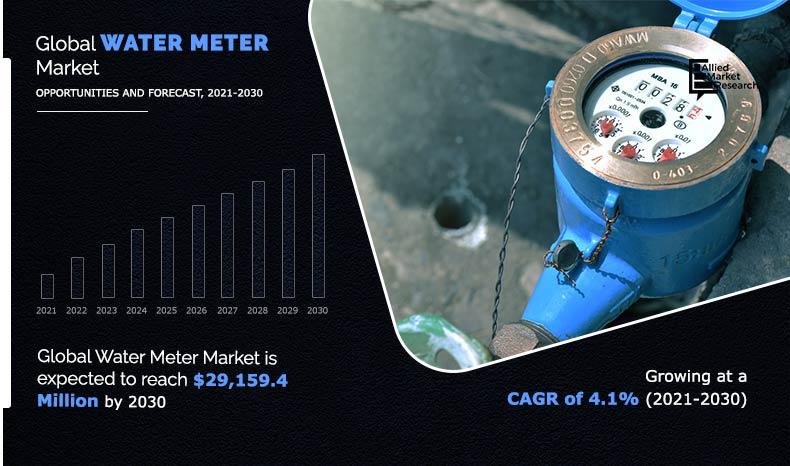 Novel coronavirus has rapidly spread across various countries and regions, causing enormous impact on lives of people and overall community. Originating as a crisis to human health, it now poses significant threat to worldwide trade, economy, and finance. Due to continuous lockdown in key global countries, the COVID-19 pandemic has halted production of many items in the water meter business. The players in water meter market can afford a complete lockdown only for a limited period, after which they would have to alter their investment plans. Furthermore, number of COVID-19 cases are expected to reduce in the near term as vaccine for COVID-19 has been introduced in the market. This is further expected to lead to re-initiation of water meter companies at their full-scale capacities, which would aid the water meter market to recover by the start of 2022. After COVID-19 infection instances start to decline, equipment and machinery producers must focus on protecting their staff, operations, and supply networks to respond to urgent emergencies and establish new methods of working.
Water Meter Market

---
By Product Type
Smart Water Meter segment is projected to grow at a significant CAGR
According to the UN Water Development Report, global water usage has increased by 1% per year since the 1980s and is predicted to continue at this pace through 2050. This growth in demand for water is fueled by residential and industrial sectors. Hence, owing to such factors, various key players are coming up with new and advanced water meter products for residential and industrial sectors. For instance, in January 2020, Master Meter Inc. has launched the Sonata Ultrasonic meter for residential purpose. Sonata combines very precise flow measurement with smart IoT-ready electronics to give a constant and reliable stream of revenue as well as intelligence to provide important real-time data straight from the meter.
Water Meter Market

---
By End User
Residential segment holds dominant position in 2020
The water meter market is segmented on the basis of product type, distribution channel, end-user, and region. By product type, the market is divided into standard water meter and smart water meter. By distribution channel, it is divided into online and offline. By end user, it is divided into residential, commercial, and industrial. Region wise, the water meter market analysis is conducted across North America (the U.S., Canada, and Mexico), Europe (the UK, France, Germany, Italy, and Rest of Europe), Asia-Pacific (China, Japan, India, South Korea and Rest of Asia-Pacific), and LAMEA (Latin America, the Middle East, and Africa).
Competition Analysis
Key companies profiled in the water meter market report include Apator SA, Arad Group, Badger Meter, Inc., Elster Group GmbH, Gioanola S.R.L., Kamstrup A/S, Maddalena Spa, Master Meter, Inc., Mueller Systems, LLC., and Sensus (Xylem Inc.).
Water Meter Market

---
By Region
Europe holds a dominant position in 2020 and Asia-Pacific is expected to grow at a significant rate during the forecast period.
Key Benefits For Stakeholders
The report provides an extensive analysis of the current and emerging water meter market trends and dynamics.  
In-depth emerging water meter market analysis is conducted by constructing market estimations for key market segments between 2021 and 2030. 
Extensive analysis of the emerging water meter market is conducted by following key product positioning and monitoring of top competitors within the market framework.
A comprehensive analysis of all the regions is provided to determine the prevailing opportunities.
The global emerging water meter market forecast analysis from 2021 to 2030 is included in the report.
The key players within emerging water meter market are profiled in this report and their strategies are analyzed thoroughly, which help understand the competitive outlook of the emerging water meter industry. 
Global Water Meter Market Segments
Key Segments
By Product Type
Standard Water Meter
Smart Water Meter
By Distribution Channel
By End User 
Residential
Commercial
Industrial 
By Region
North America
Europe

Germany
France
UK
Italy
Rest of Europe

Asia-Pacific

China
India
Japan
South Korea
Rest of Asia-Pacific

LAMEA

Latin America
Middle East 
Africa
Key Players
Apator SA
Arad Group
Badger Meter, Inc.
Elster Group GmbH
Gioanola S.R.L.
Kamstrup A/S
Maddalena Spa
Master Meter, Inc.
Mueller Systems, LLC
Sensus (Xylem Inc.)
 Water Meter Market Report Highlights
Aspects
Details
By PRODUCT TYPE

Standard water meter
Smart water meter

By DISTRIBUTION CHANNEL
By END USER

Residential
Commercial
Industrial

By Region

North America (U.S., Canada, Mexico)
Europe (France, Germany, Italy, Spain, UK, Russia, Rest of Europe)
Asia-Pacific (China, Japan, India, South Korea, Australia, Thailand, Malaysia, Indonesia, Rest of Asia-Pacific)
LAMEA (Brazil, South Africa, Saudi Arabia, UAE, Argentina, Rest of LAMEA)

Key Market Players
G. GIOANOLA S.R.L., MASTER METER, INC., XYLEM INC., KAMSTRUP A/S, ELSTER GROUP, BADGER METER, INC., MULLER SYSTEMS LLC,, ARAD GROUP, APATOR SA, MADDALENA SPA