Water Purifier Market Research, 2031
The global water purifier market size was valued at $29,998.15 million in 2020, and is projected to reach $92,082.60 million by 2031, growing at a CAGR of 10.1% from 2022 to 2031. 
The water purifier is defined as a device used to decontaminate water from harmful substances, chemicals, pathogens, microorganisms, and other dissolved solids and make it portable.             
Increase in disposable income in emerging nations boosts water purifier market growth. Increase in income level surges the purchasing power of customers, which in turn results in improved standard of living. In addition, the demand for water purification systems in developing countries is fueled by increase in availability of safe water by municipalities and upsurge in the number of water recycling treatments. Some of the emerging nations, such as Brazil and China, witnessed an increase in disposable income, owing to skill development of the population and rise in employment in service-centered industries. This increased the demand for water purification systems in these fields and contributed toward the development of the water purifier. Increase in concerns toward health and well-being among the global population has led to the adoption for hygiene practices. This serves as a key factor that substantially contributes toward the growth of the global market. Moreover, widespread availability of healthcare services, change in economic & social systems, and improved diagnostics have improved the health of consumers across various regions. Therefore, increase in health consciousness and upsurge in incidence of waterborne diseases fuel the demand for water purification systems.
According to the UN and the WHO, a child and approximately $3.5 million people die in every 21 seconds annually, in developing countries due to waterborne diseases caused by drinking contaminated water. The situation in developing economies is worse due to scarcity of fresh water, rise in pollution, and rapid surge in population. Thus, growth in incidence of waterborne diseases significantly fuels the demand for water purifiers. Diminishing quality of water is a serious health hazard. It poses huge risks to the health, causing various water-borne diseases. The declining water quality is a result of dumping untreated sewage, chemicals, pesticides, nutrients, and garbage from industries, agriculture, and municipal corporations into waterbodies. Most of the water supplied by municipal authorities in urban areas is unsafe to drink and requires further decontamination from heavy metals, virus, cysts, bacteria, and other toxins. Industrialization is expected to rise, leading to increased water pollution in the coming years, thus creating an increase in demand for water purifiers.
The renowned market players focus on launching well-equipped products with advanced water purification technologies. These players have heavily invested in R&D activities to introduce water purifiers equipped with reverse osmosis, ozone, ultra-violet, ultra-filtration, activated carbon, and candle filtration technologies. Moreover, purifiers installed with Wi-Fi technology and filter pitchers are launched in the market. The market players are expected to launch more innovative products and solutions to cater to the rise in demand for potable water.
The market is segmented on the basis of technology, distribution channel, portability, and end user. Depending on technology, it is classified into UV, RO, and gravity based. By distribution channel, it is divided into retail sales, direct sales, and online. By portability, it is bifurcated into portable and non-portable. By end user, the market comprises of commercial and residential. Region-wise, the market is analyzed across North America (U.S., Canada, and Mexico), Europe (Russia, Rest of Europe, and Western Europe), Asia-Pacific (China, Japan, India, South Korea, and rest of Asia-Pacific), and LAMEA (Brazil, Middle East, and rest of LAMEA).
The consumer goods industry is majorly impacted due to COVID-19 pandemic. During the initial period of the COVID-19 pandemic, strict lockdowns and complete social-distancing were imposed globally. Disturbed supply chain and production have impacted the water purifier market negatively. Due to lockdowns, the development of water purifier hampered, which resulted in low supply, thus impacting the water purifier market negatively. Increase in awareness about the water hygiene and health is expected to offer significant growth in the water purifier market.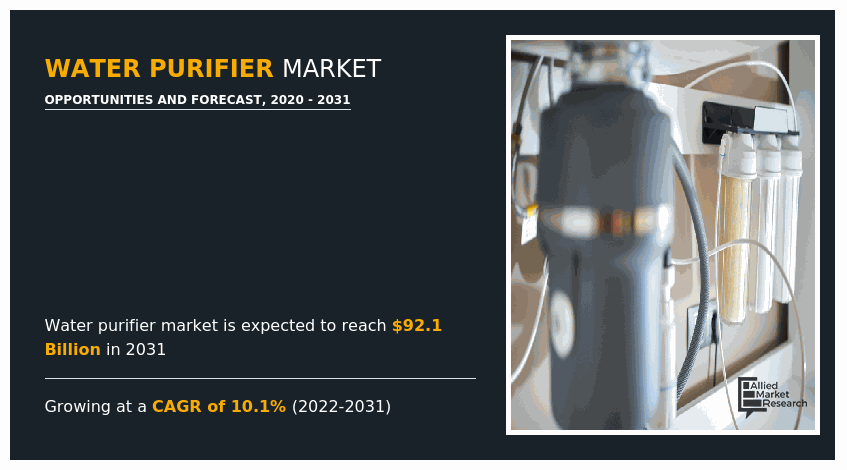 On the basis of technology, the market is classified into UV, RO, and gravity based. In 2020, the RO water purifier segment occupied the largest water purifier market share of 66.3%, followed by the UV segment with 20.4%, and is expected to grow at the highest CAGR of 9.5% during water purifier market forecast period. RO water purification systems are widely adopted across the globe, due to their performance efficiency, low electricity consumption, and regular technological innovation. However, the UV & gravity-based water purifier segments are expected to witness decline in water purifier industry growth during the forecast period, as UV water purifiers are less efficient and cost-effective as compared to RO water purifiers, which increases RO water purifiers' adoption among low-income groups.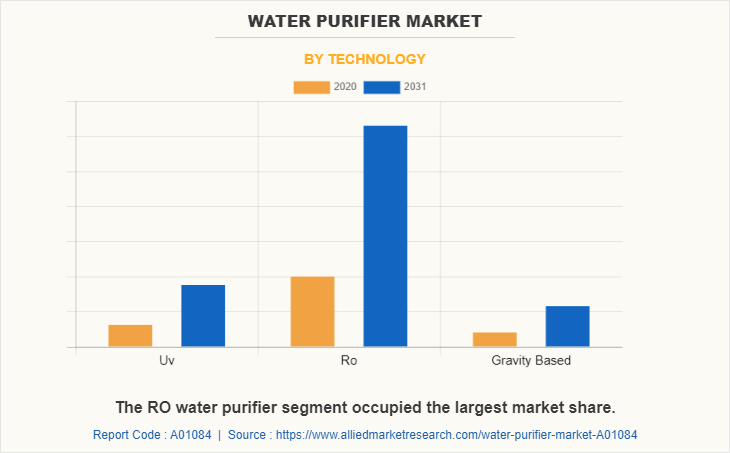 On the basis of distribution channel, the market is segmented into retail stores, direct sales, and online channels. The retail stores segment held a major water purifier market share of 73.4% in 2020 as compared to others. This was attributed to higher affinity of consumers toward physical stores, as they are perceived to be safe and allow consumers to try the product before purchase. Moreover, retail stores have the added advantage of immediate gratification, which further boosts its popularity. Leading brands in water purifiers that use retail stores and direct sales, are now expanding their channel into online divisions to attract more customers.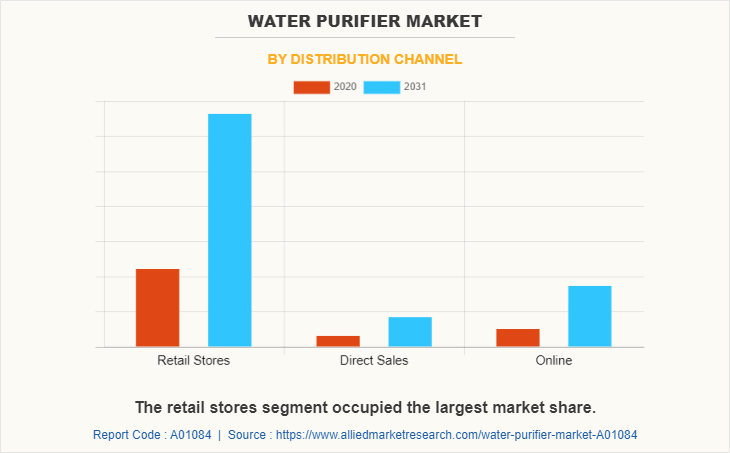 On the basis of portability, the market is segmented into portable and non-portable water purifiers. In 2020, the non-portable segment was leading the sector owing to increase in adoption among households and corporate offices, hospitals, and others. Further, availability at affordable cost is another factor that drives the growth of the non-portable segment in the global market. Penetration of these water purifiers is expected to increase in the coming years due to its capability to purify and store large amount of water.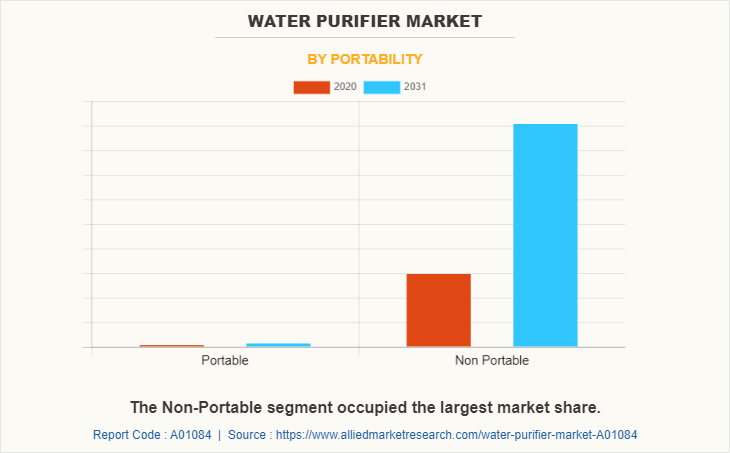 On the basis of end user, the market is categorized into commercial and residential. The residential users segment occupied a significant market share of 74.3% in 2020 and is expected to grow at a CAGR of 9.9% from 2022 to 2031. The water purifier gained popularity among residential users, due to deteriorating water quality, rise in urbanization, and surge in incidence of waterborne diseases. However, the commercial segment accounted for 25.7% market share in 2020 and is expected to grow at a CAGR of 10.6% in the near future, owing to rise in the number of offices, schools, restaurants, and hotels all around the globe.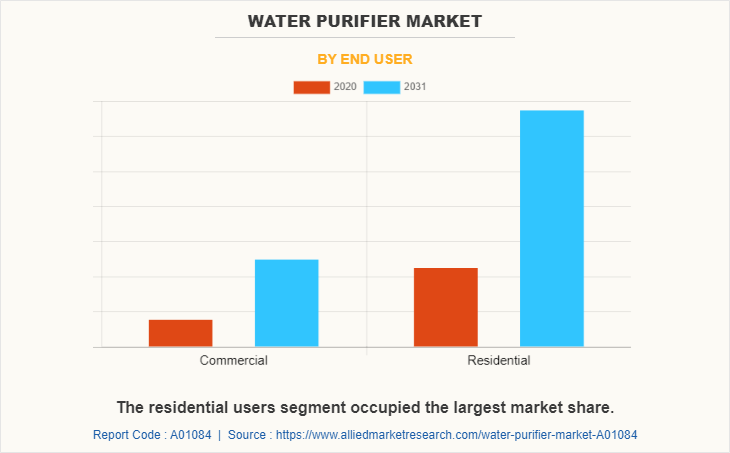 Region-wise, Asia-Pacific was the largest market in 2020, as the region comprises of around 60% of population of the globe, including China, India, Vietnam, Thailand, Indonesia, Philippines, and Macau as the emerging markets. The global market is highly competitive in the region. Global brands strive amongst themselves to deliver better value propositions and effective marketing strategies. Tata Chemicals, Eureka Forbes, Midea Water Appliances, and Kent RO are amongst the leading water purifier companies operating in the market.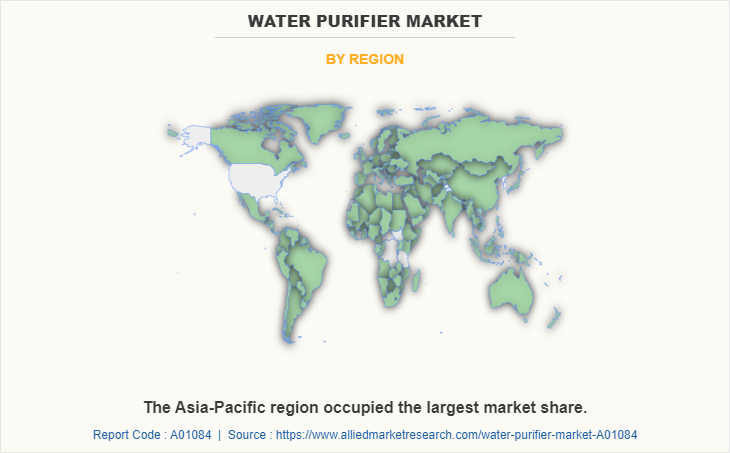 Some of the major players operating in the global market include, Amway Corporation, A. O. Smith Corporation (Aquasana Inc.), Best Water Technology, Eureka Forbes Limited, Halo Source Inc., Kent Ro System Ltd., LG Electronics, Panasonic Corporation, Suez Water Technologies & Solutions (SUEZ), and Tata Chemicals Ltd.
Key Benefits For Stakeholders
This report provides a quantitative analysis of the market segments, current trends, estimations, and dynamics of the water purifier market analysis from 2020 to 2031 to identify the prevailing water purifier market opportunities.
The market research is offered along with information related to key drivers, restraints, and opportunities.
Porter's five forces analysis highlights the potency of buyers and suppliers to enable stakeholders make profit-oriented business decisions and strengthen their supplier-buyer network.
In-depth analysis of the water purifier market segmentation assists to determine the prevailing market opportunities.
Major countries in each region are mapped according to their revenue contribution to the global market.
Market player positioning facilitates benchmarking and provides a clear understanding of the present position of the market players.
The report includes the analysis of the regional as well as global water purifier market trends, key players, market segments, application areas, and market growth strategies.
 Water purifier Market Report Highlights
Aspects
Details
By Technology
By End User
By Distribution Channel

Retail Stores
Direct Sales
Online

By Portability
By Region

North America (U.S., Canada, Mexico)
Europe (Russia, Western Europe, Rest of Europe)
Asia-Pacific (Japan, China, India, South Korea, Rest of Asia-Pacific)
LAMEA (Brazil, Middle East, Rest of LAMEA)

Key Market Players
Tata Chemicals Ltd, LG ELECTRONICS, Panasonic Corporation, BEST WATER TECHNOLOGY, A. O. SMITH CORPORATION (AQUASANA INC.), EUREKA FORBES LIMITED, HALO SOURCE INC., amway corporation, SUEZ WATER TECHNOLOGIES & SOLUTIONS, KENT RO SYSTEM LTD