Water Soluble Polymer Market Overview:
The global water soluble polymer market accounted for a revenue of $33,096.8 million in 2017 and is anticipated to generate $52,737.2 million by 2025, growing at a CAGR of 6.0% from 2018 to 2025. Water soluble polymers are compounds that exhibit a change in their physical properties on exposure to aqueous systems. Usually, water soluble polymer chains comprise of hydrophilic groups that are substituted or incorporated into the backbone of the polymer. The hydrophilic groups can be nonionic, anionic, amphoteric, or cationic. Water soluble polymers have numerous applications in food, pharmaceuticals, paper, construction, adhesive, water treatment, paint, textiles, coating, and other industries. Polyvinyl alcohol, a water soluble polymer, is extensively used to strengthen textile yarn and papers, especially textile yarn to make it more resilient to oils and grease. In food, casein is used as a nutritional supplement, thickener, emulsifier, and texture stabilizer in cream-based soups, sherbet, pudding, custard, and others.
Increase in demand for water soluble polymers in water treatment plants across the globe majorly drives the water soluble polymer market. Furthermore, enhanced oil recovery of crude oil has gained huge adoption in the petroleum industry, which further increases the demand for water soluble polymer. However, volatile prices of water soluble polymers hamper the market growth. Conversely, increase in demand for water soluble polymer among emerging economies in the Asia-Pacific is anticipated to provide new opportunities for the key players.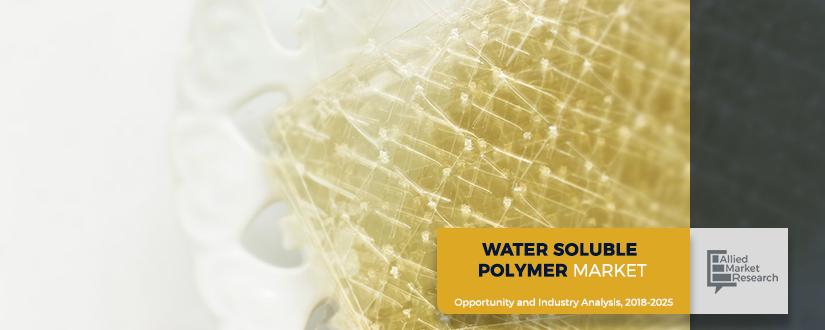 The global water soluble polymer market is segmented based on type, application, and region. Based on type, it is categorized into polyacrylamide & copolymers, guar gum & derivatives, polyvinyl alcohol, casein, gelatin, polyacrylic acid & copolymers and others. By application, the market is classified into water treatment, detergents & household products, paper making, petroleum and others. Based on region, the market is analyzed across North America, Europe, Asia-Pacific, and LAMEA.
The key players analyzed in this report are The Dow Chemical Company, BASF SE, Ashland, SNF Group, Kemira, J.M. Huber Corporation, Kuraray Co., Ltd., Barzaghi Srl, Mitsubishi Chemical Holdings Corporation, and Gelita AG.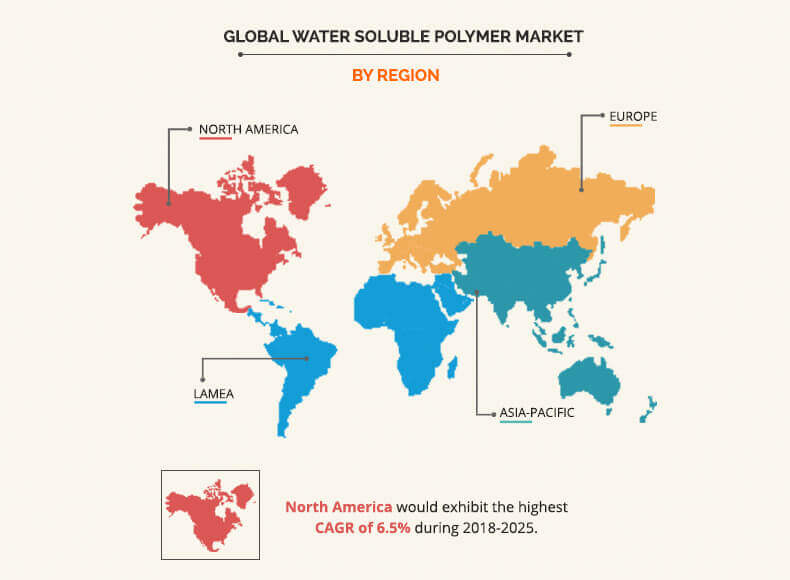 The North America water soluble polymer market is expected to witness significant growth during the forecast period, owing to increase in demand for sewage treatment and water treatment chemicals. Furthermore, the high demand for conventional food in this region is expected to boost the growth of the water soluble polymer market.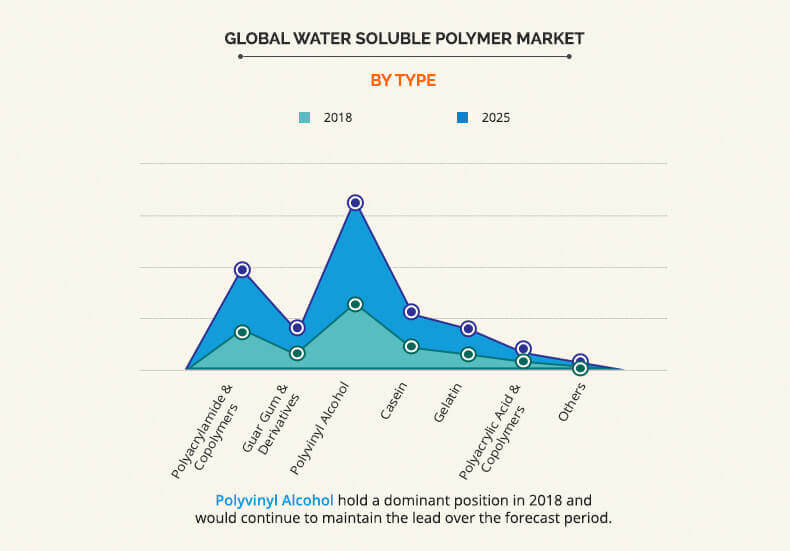 The guar gum & derivatives is the most lucrative segment of the market, owing to easy availability and low price. Furthermore, guar gum is widely used in the paper industry, as it accelerates mass hydration of paper pulp with a strong reduction of refining process.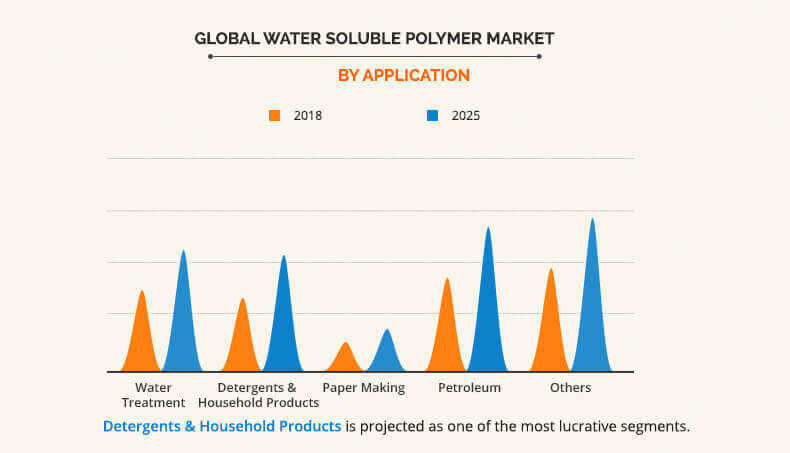 The detergents & household products segment is estimated to grow at the highest CAGR during the forecast period. The water soluble polymer serves as an anti-redeposition agent in detergents and household products. Furthermore, large per capita consumption of detergents & household products in emerging economies has fueled the growth of this segment.
Key Benefits for Water Soluble Polymer Market:
This report entails a detailed quantitative analysis of the current market trends from 2018 to 2025 to identify the prevailing opportunities along with a strategic assessment of the global water soluble polymer market.
Market size and estimations are based on comprehensive analyses of the source type, application, and developments in the industry.
A qualitative analysis of the market with respect to innovative products and devices is included in the report to facilitate strategic business planning.
The development strategies adopted by key players are enlisted to understand the competitive scenario of the market.
 Water Soluble Polymer Market Report Highlights
Aspects
Details
By Type

Polyacrylamide & Copolymers
Guar Gum & Derivatives
Polyvinyl Alcohol
Casein
Gelatin
Polyacrylic Acid & Copolymers
Others

By APPLICATION

Water Treatment
Detergents & Household Products
Paper Making
Petroleum
Others

By Region

North America (U.S, Canada, Mexico)
Europe (UK, Germany, France, Russia, Norway, Rest of Europe)
Asia-Pacific (China, India, Japan, South Korea, Australia, Rest of Asia-Pacific)
LAMEA (Brazil, Argentina, Saudi Arabia, South Africa, Rest of LAMEA)

Key Market Players
KURARAY CO., LTD, The Dow Chemical Company, Mitsubishi Chemical Holdings Corporation, Barzaghi Srl, BASF SE, J.M. Huber Corporation, GELITA AG, Kemira, SNF Group, Ashland