Waterjet Cutting Machines Market Research, 2030
The global waterjet cutting machines market size was valued at $1,098.90 million in 2020, and is projected to reach $1,986.40 million by 2030, growing at a CAGR of 6.1% from 2021 to 2030. The waterjet cutting machine is flexible and can cut irregular shapes from any material with high precision and edge quality. The abrasive-coated waterjet cutting machine can cut about any shape and thickness, including bonded laminated materials such as rubber-lined wear plates and aluminum composite panels. It is a cold cutting technique, which avoids heat distortion and hardened edges. It offers an advantage for delicate metal production and products that require extra machining after cutting. In addition, the waterjet cutting machine provides excellent cutting quality, ensuring a precise output without the need for a second finishing step. This saves time by increasing the speed of cutting process and improving the overall efficiency.
The COVID 19 outbreak has affected the growth of the waterjet cutting machines industry owing to the lockdown measure in the countries and delay in production and manufacturing of waterjet cutting machines which are utilized in automotive, aerospace, and other industries.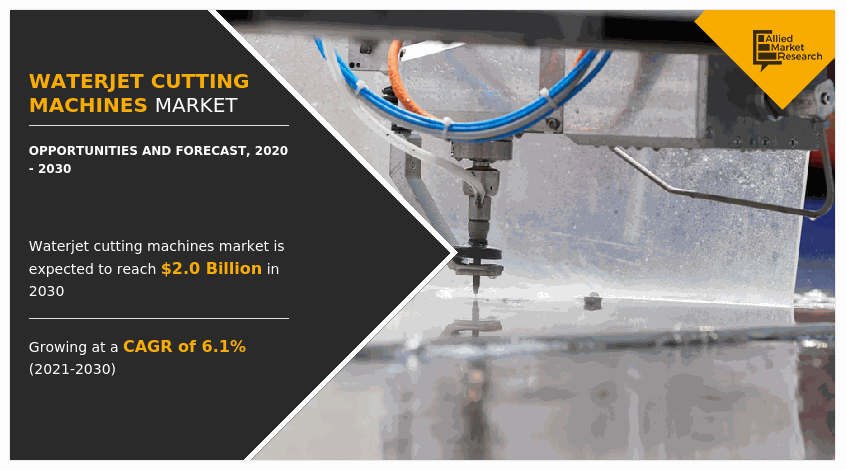 Waterjet cutting machines are highly adopted in industries such as automotive, aerospace, electronics, textile, construction, and mining. These machines are used in the automobile industry to cut titanium and steel and other metals. These machines are used for production of metal gaskets for vintage automobiles, disc brakes, clutches, and other components for racing cars, custom vehicle bodywork, and delicate fittings and brackets. These machines are used for a variety of tasks in the electronics industry, including circuit board cutting and design, control panels, generator components, electrical enclosures, and other related equipment. Such wide range of applications are expected to provide lucrative growth in the waterjet cutting machines market.
Waterjet Cutting Machines Market

---

By Type
Abrasive waterjet cutting machines segment is projected to grow at a significant CAGR
Furthermore, advance technologies such as 3D cutting and multi-axis waterjet cutting machines are expected to make the waterjet cutting process easier to use and expand its global reach. Nano jet cutting and micro waterjet cutting are examples of newer advancements that might help the global waterjet cutting machines market's expansion. To meet the demands of a wider consumer base, market companies have created low-cost waterjet cutting equipment. For instance, in January 2021, Belotti Spa introduced NOVA, a Nesting Series CNC waterjet cutting technology. This series can be used for machining even small and very precise final products. It can operate at very high-quality standards and tight tolerance range.
Waterjet Cutting Machines Market

---

By End User Industry
Automotive segment holds dominant position in 2020
The novel coronavirus (COVID19) has rapidly spread across various countries and regions, causing enormous impact on the lives of people and the overall community globally. It began as a human health condition and has now become a significant threat to global trade, economy, and finance. The COVID-19 pandemic has halted production of many products in the waterjet cutting machines market, owing to lockdowns. Furthermore, the number of COVID-19 cases is expected to reduce in the future as the vaccine for COVID-19 is introduced in the market. This has led to the reopening of waterjet cutting machines companies at their full-scale capacities. This is expected to help the market recover by the start of 2022. After COVID-19 infection cases begin to decline, equipment & machinery producers must focus on protecting their staff, operations, and supply networks to respond to urgent emergencies and establish new methods of working.
Waterjet Cutting Machines Market

---
By Region
Asia-Pacific holds a dominant position in 2020 and is expected to grow at a significant rate during the forecast period.
The market is segmented on the basis of type, dimension cutting, end-user industry, and region. On the basis of type, the market is classified into abrasive waterjet cutting machines and non-abrasive waterjet cutting machines. By dimension cutting, the market is divided into one-dimensional cutting, two-dimensional cutting, and others. By end-user industry, it is classified as automotive, metal fabrication, electronics, aerospace, and others. Region-wise, the global market analysis is conducted across North America (the U.S., Canada, and Mexico), Europe (the UK, France, Germany, Italy, and Rest of Europe), Asia-Pacific (China, Japan, India, South Korea, and Rest of Asia-Pacific), and LAMEA (Latin America, the Middle East, and Africa).
COMPETITION ANALYSIS
The key players operating in the global waterjet cutting machine are Colfax Corporation, Conzzeta (Bystronic Laser AG), Dardi International Corporation, Flow International Corporation (Shape Tech Group), KMT Waterjet, OMAX Corporation, Resato International B.V., Jet Edge, and Wardjet, Belotti SPA.
KEY BENEFITS FOR STAKEHOLDERS
The report provides an extensive analysis of the current and emerging

waterjet cutting machines market

trends and dynamics. 

In-depth

waterjet cutting machines market

analysis is conducted by constructing market estimations for key market segments between 2021 and 2030.

Extensive analysis of the

waterjet cutting machines market growth

is conducted by following key product positioning and monitoring of top competitors within the market framework.

A comprehensive analysis of all the regions is provided to determine the prevailing opportunities.

The global waterjet cutting machines market

forecast analysis from 2021 to 2030 is included in the report.

The key players within waterjet cutting machines market are profiled in this report and their strategies are analyzed thoroughly, which help understand the competitive outlook of the

waterjet cutting machines

industry.
 Waterjet Cutting Machines Market Report Highlights
Aspects
Details
By Type

Abrasive Waterjet Cutting Machines
Non Abrasive Waterjet Cutting Machines

By Dimension Cutting

One Dimensional Cutting
Two Dimensional Cutting
Others

By End User Industry

Automotive
Metal Fabrication
Electronics
Aerospace
Others

By Region

North America (U.S., Canada, Mexico)
Europe (Germany, France, U.K., Italy, Rest of Europe)
Asia-Pacific (China, Japan, India, South Korea, Rest Of Asia Pacific)
LAMEA (Latin America, Middle East, Africa)

Key Market Players
Flow International Corporation, SpaceClaim Corporation, Dardi International Corporation, Colfax Corporation, OMAX Corporation, Jet Edge, Inc, Resato International BV, Koike Aronson, Inc, Shape Technologies Group, Hypertherm, Inc